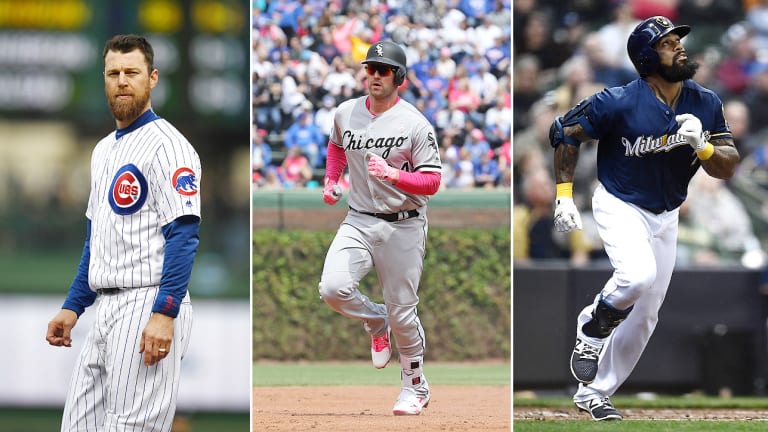 Central Divisions Lead the Way on This Week's Fantasy Baseball Waiver Wire
The players you should be targeting on your league's fantasy baseball waiver wire.
It's another week on the waiver wire that lacks a true standout player, but there is still plenty of value to be found as we head into the middle of June. With that in mind, we'll get right to the quick-hitting advice on the best players you can find this weekend on the typical fantasy baseball league's waiver wire.
Ben Zobrist, 2B/OF, Cubs
Kris Bryant and Anthony Rizzo are the only true everyday players on the Cubs, with Joe Maddon using his roster's unparalleled versatility to fill in the remaining five spots, other than the battery. Zobrist has hit his way into more playing time than expected at the beginning of the year, even if he still isn't quite a regular the way, say, Javier Baez or Kyle Schwarber is. The good news, though, is that when he does play Maddon typically slots him toward the top of the lineup, and the Cubs are third in the majors in runs per game, behind the Red Sox and Yankees. Zobrist may not play every day, but, if your roster can handle that, he's a worthwhile player in most fantasy formats.
Matt Davidson, 1B/3B, White Sox
Davidson returned from the DL earlier this week, and is 2-for-14 with two walks in four games since getting back on the field. He is one of the most improved players in the majors, cutting his walk rate by five percentage points while improving his walk rate by nearly a staggering 300%. The batting average won't be pretty, although that's not the detriment it used to be, and Davidson has a .358 OBP, .494 slugging percentage and 11 homers in 187 plate appearances. This is a very useful player.
Eric Thames, 1B/OF, Brewers
Thames, who has been on the DL since the end of April because of a torn ligament in his thumb, began a rehab assignment at Triple A Colorado Springs on Friday. The team did not commit to a timeline, but he could return as soon as Monday if all goes well. No matter what, though, it appears he'll be back with the Brewers in short order. Jesus Aguilar has emerged in Thames' stead, but he will return to a regular role, with Craig Counsell saying that he'll see some time in the outfield to ensure that the Brewers can get their best bats in the lineup as often as possible. Before the injury, Thames slashed .250/.351/.625 with seven homers in 74 plate appearances.
Max Muncy, 1B/3B/OF, Dodgers
Muncy continues to swing a hot bat, going 8-for-20 with three homers in his last five games. He's now slashing .262/.368/.566 on the year, and it's hard to imagine him not having a secure spot in Dave Roberts' default lineup for the foreseeable future. Muncy has spent most of his time since becoming a regular hitting second, although Roberts does bump him down into the middle of the order from time to time. Either way, he's manning a lucrative spot in the lineup and taking full advantage.
Analyzing the Transformation of Andrew Benintendi's Swing
Avisail Garcia, OF, White Sox
Garcia, who's been nursing a hamstring injury since the very beginning of the season, finally ran bases earlier this week, the first time he has been able to move as he normally would. He's expected to begin a rehab assignment next week, and if he doesn't experience any setbacks, he should rejoin the White Sox by the end of June. If you have a free DL spot to play with, he's well worth a stash. Garcia broke out last season, hitting .330/.380/.506 with 18 homers, 27 doubles and 80 RBI.
Daniel Robertson, 2B/3B/SS, Rays
Robertson is a versatile player, providing eligibility at three positions. He plays every day, bouncing all over the lineup, but spending most of his time in the top-half. He's just 24 years old, and was on top-100 prospect lists heading into the 2015 and 2016 seasons. And, of course, he's providing a little value across the board, hitting .263/.389/.433 with seven homers, 18 RBI and 27 runs in 208 plate appearances.
Derek Dietrich, 1B/2B/3B/OF, Marlins
The argument for Dietrich is quite similar to the argument for Robertson. He, too, is versatile, giving you eligibility at four positions. He, too, plays every day and hits in the top half of the order. He's not as young as Robertson, but he has been more productive this season, slashing .284/.336/.450 with seven homers, 23 RBI and 28 runs. Given all the spots he can play for a fantasy team, it shouldn't be hard to find room for him on a roster in most leagues.
Travis Jankowski, OF, Padres
Jankowski's bat has cooled off over the last couple weeks, but he's still hitting a strong .304/.375/.383 in 128 plate appearances. What's more, after spending the first month of the season at Triple A El Paso, Jankowski hasn't stopped running since getting called back up to the majors, swiping 10 bags in 12 attempts. He had just a .310 OBP for his career entering this season, but even if his rate stats fall off a bit, there's enough on-base ability here for him to be a real weapon in the stolen base department.
Harrison Bader, OF, Cardinals
Bader is earning more playing time, starting seven of the Cardinals' last 12 games. He's making the most of his opportunity, slashing .262/.336/.439 with five homers and six steals in 119 plate appearances. The Cardinals are desperate for offense, with Marcell Ozuna and Matt Carpenter falling short of expectations, Dexter Fowler struggling again, and Paul DeJong on the DL. Put simply, Bader is swinging the bat too well for Mike Matheny to ignore. So long as he's playing mostly every day, he deserves a spot on a roster in all but the shallowest of fantasy leagues.
The Unprecedented Brilliance of Justin Verlander
Jake Bauers, 1B/OF, Rays
The Rays promoted Bauers from Triple A Durham on Thursday. This is not expected to be another Willy Adames situation. Bauers is likely here for the long haul after hitting .279/.357/.426 with five homers, 14 doubles and 10 steals in 222 plate appearances with the Bulls. Playing time could be an issue, but if Bauers proves his bat is ready then Kevin Cash will find a spot for him in the lineup. Kick the tires here, and see what the Rays have got in Bauers, who was ranked 45th by Baseball America and 64th by MLB.com on their respective top-100 prospect lists entering this season.
Andrew Heaney, SP, Angels
Vince Velasquez, SP, Phillies
Junior Guerra, SP, Brewers
We'll call these three guys the usual suspects. There are no Keyser Soze-level surprises here, though, just three pitchers about whom we've written enough in our waiver wire columns this season. They're also all between 40% and 50% owned in Yahoo leagues, so it's possible that they're finally about to pitch their way out of this space. Still, they're three guys who should have your attention if they're available, regardless of league size.
Trevor Cahill, SP, A's
Cahill got knocked around a bit in his last start, allowing four runs on seven hits in a no-decision against the Royals. He still gave his fantasy owners some value, though, with six strikeouts in the outing. Cahill owns a 2.77 ERA, 3.05 FIP and 0.99 WHIP, with 47 strikeouts in 48 2/3 innings this season. He'll start against the Royals again on Saturday.
Steven Wright, SP, Red Sox
Wright took a spot start in place of the injured Drew Pomeranz earlier this week, and he might hold onto a place in the rotation for the foreseeable future. The knuckleballer was excellent in his outing against the Tigers, tossing seven shutout innings with six strikeouts, allowing two hits and three walks. Wright has been effective as a long reliever for the Red Sox this season, but with Pomeranz struggling mightily before going on the DL, he could secure himself a spot as a starter with another strong outing or two.
2018 MLB Draft: Pick-by-Pick Analysis of the First Round
Carlos Rodon, SP, White Sox
Rodon, who has spent the entire season on the DL because of a shoulder injury that required surgery last September, will make his season debut against the Red Sox on Saturday. Rodon looked great while on his rehab assignment, allowing three earned runs on 13 hits while striking out 28 batters and walking just five in 17 2/3 innings spread across four outings. Injuries have beset him his entire professional career, but he's still just 25 years old and retains the look of a potential frontline starter.
Mike Soroka, SP, Braves
Soroka has made two rehab starts, one with Low A Rome and the other with Triple A Gwinnett. In those two starts, he has allowed one run on three hits, striking out 10 and walking one in eight innings. He'll likely make one more rehab start, and then rejoin the Braves rotation, which would put him on track to be back in the majors in about two weeks.