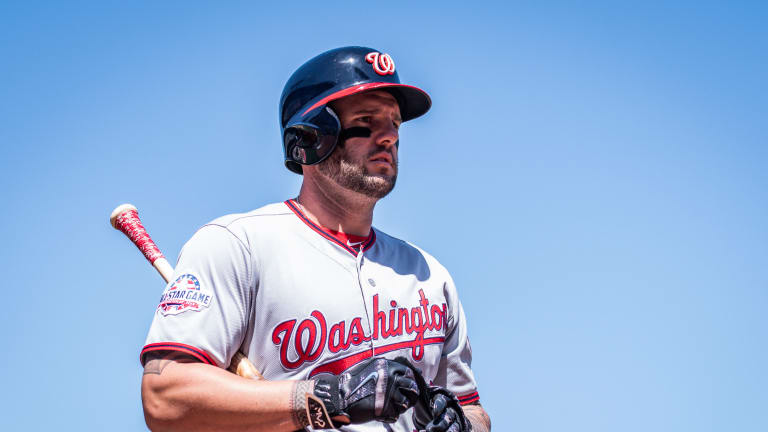 Matt Adams Returns to Cardinals, Claimed on Waivers From Nationals
Adams played for the Cardinals from 2012-2017.
Adams played for the Cardinals from 2012-2017.
The Cardinals have claimed first baseman Matt Adams on waivers from the Nationals, the team announced Tuesday.
The Nationals will receive cash considerations from the Cardinals in exchange for Adams.
The news of Adams' trade came just minutes after the Cubs acquired Daniel Murphy in a trade with Washington.
Adams was placed on a revocable waiver Friday, along with teammates Bryce Harper, Gio Gonzalez, Mark Reynolds and Murphy, The Washington Post reported Tuesday.
Following Tuesday's trades, Nationals owner Mark D. Lerner released a letter to fans, explaining the roster moves.
"At the trade deadline, we faced an honest challenge of sticking with the roster and believing play would improve, or making moves for the future," Lerner said in the letter. "We gambled at the deadline, I admit it. We believed that the talent was still there, and that we would just need inspired play and a few lucky breaks. The decision then was driven by heart and our desire to give this team every opportunity to turn the season around."
Lerner called Murphy one of his "all-time favorite Nationals" before wishing Adams good luck with the Cardinals.
"Matt Adams was such a great addition to our team this year," Lerner said. "He was a solid contributor, providing value off the bench as well as the starting lineup wherever needed. Matt is the consummate professional and we wish him the best in St. Louis."
Adams, 29, signed as a free agent with the Nationals in December, agreeing to a one-year, $4 million deal.
The first baseman/outfielder previously played for the Cardinals for the first five and a half seasons of his career before being traded to the Braves in May 2017. During 486 games with St. Louis, Adams hit .271 with 56 home runs.
In his return to the Cardinals, Adams will likely see more playing time in the outfield or as a designated hitter, considering home run crusher Matt Carpenter plays first base for St. Louis. Carpenter was quick to welcome Adams back to the team on Tuesday, joking he would "bathe" his former teammate in salsa.
In 94 games this season, Adams is batting .257 with 18 home runs and 48 RBI.