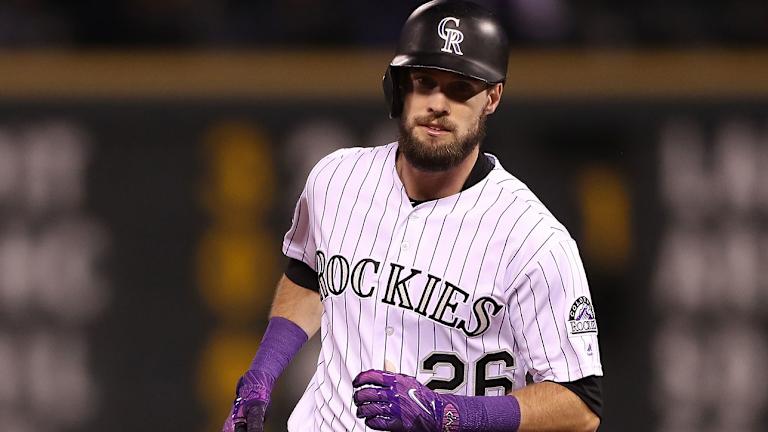 David Dahl Powers Rockies to Win vs. Phillies, Second Wild-Card Spot
The Rockies moved a half-game in front of the Cardinals for the second wild-card spot and trail the Dodgers by a half-game in the NL West.
The Rockies moved a half-game in front of the Cardinals for the second wild-card spot and trail the Dodgers by a half-game in the NL West.
DENVER — David Dahl went 3 for 5 on the night. Now, he's thinking 5 for 5 the rest of the way — wins to close out the regular season.
That would guarantee the Colorado Rockies a playoff spot.
Dahl homered for a second straight game, a three-run shot in the third, and the Rockies vaulted into the final NL wild-card spot by beating the Philadelphia Phillies 10-3 on Tuesday.
The Rockies' fifth straight victory moved them a half-game in front of St. Louis for the second wild-card after the Cardinals lost 12-4 to Milwaukee. Colorado also pulled within a half-game of the NL West-leading Los Angeles Dodgers, who lost 4-3 to Arizona. With five games remaining, the Rockies have a chance to win their first division title.
MLB Standings: Playoff, Wild-Card Races Plus Matchups If Season Ended Today
"It's hard not to get caught up in the standings. You try not to. You got to go out and win," Dahl said . "But I think everybody peeks at it."
Charlie Blackmon extended his hitting streak to 17 straight games with two hits, and pinch-hitter Carlos Gonzalez added a two-run double. The Rockies scored eight of their 10 runs with two outs.
"That's the best time to score them," Blackmon cracked. "Right when they think they're about to get out of the inning, you hang a couple of runs on them."
The game-changing hit was delivered by Dahl, who lined a fastball from Vince Velasquez (9-12) to left for his 12th homer — nearly to the same spot where Dahl hit a two-run homer the previous night. Dahl also added a run-scoring single as part of a three-hit, 4-RBIs evening.
"This is a fun race and I'm enjoying it," Dahl said. "I'm trying not to put pressure on myself."
Reliever Chad Bettis returned to his starter's role for a night and went 2 2/3 innings, allowing one unearned run. The Rockies used seven relievers , with DJ Johnson (1-0) getting one out in the third to earn his first big league win. He didn't think manager Bud Black would use him in that tight of spot.
"Bud's No. 1 rule: Be ready for everything," Johnson said. "That's what I prepare myself for every day."
Odubel Herrera gave the Phillies a 1-0 lead with an RBI bloop single in the third. The rest of his night wasn't as smooth: Herrera didn't exactly hustle out of the batter's box on a double play in the first and dropped a fly ball in right during the second. He was taken out as part of a switch in the fifth.
"We have the highest expectation that our players will give all they have on every single play," Phillies manager Gabe Kapler said.
Asked if he got maximum effort from Herrera out of the batter's box, Kapler responded: "That is something I would like to go back and look at."