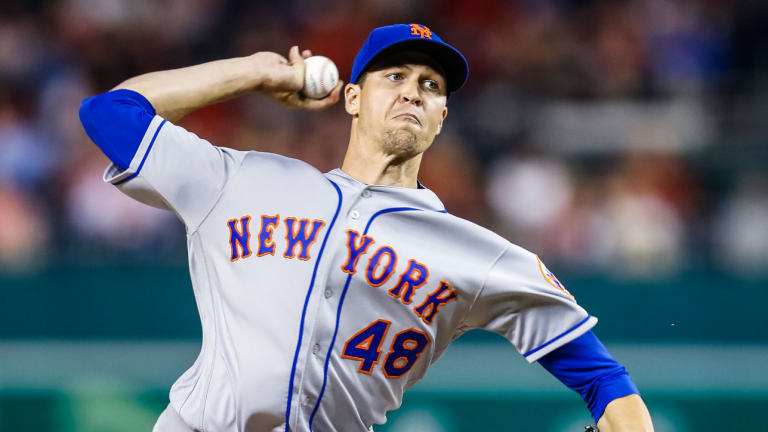 The Case for Jacob deGrom as NL MVP
There's no questioning Jacob deGrom put up one of the best pitching seasons in recent memory, but will it be enough to make a push for MVP on a lowly Mets squad?
There's no questioning Jacob deGrom put up one of the best pitching seasons in recent memory, but will it be enough to make a push for MVP on a lowly Mets squad?
Editor's note: SI is highlighting the top candidates in a crowded race for the National League MVP award. Check out our primers on Lorenzo Cain, Javy Baez, Freddie Freeman and Christian Yelich.
There is something a little dangerous in a pitcher winning an MVP award. The pitcher, if he's a starter, plays in approximately 200 of a season's 1,500 innings. Granted, for those innings, he is the most important player in the game, his impact manifesting itself on every pitch. His role, though, is unavoidably situational, optimized in a way few hitters' are.
There is something even more dangerous in a pitcher on a non-contending team winning the MVP. Value is value in baseball—the game at its most basic is the collision between run prevention and run production—but doing one's work in games with lower stakes feels like something of a cop-out, even if where the team sits in the standings isn't really up to the guy who works every fifth day.
And there is something more dangerous still in handing an MVP to a pitcher on a non-contending team, a team that posted just a 14-18 record in his starts, amounting to a winning percentage worse than its overall figure. Think of it—the team was likelier to win with its other pitchers on the hill; could he really be its most valuable player, let alone the league's? Reiterating from above: value is value. But is value value if the team is unable to make much use of it?
Award voters, a typically conservative bunch, should discard their worries, own all that danger, and hand the Mets' ace, Jacob deGrom, not just the Cy Young but the MVP. For one simple reason: Have they seen the guy pitch?
2018 MLB Awards: Who Are Our MVP and Cy Young Award Winners?
Only 16 men have thrown 200-plus-inning seasons with an ERA under 2.00 since the pitcher's mound was lowered after '68 (Greg Maddux, Roger Clemens, and Pedro Martinez all did it twice). That club now welcomes deGrom as a member. Only four pitchers in that group (again Pedro did it twice) struck out more men than deGrom's 269. 
At the plate, hitters posted a .196/.244/.277 batting line against him; deGrom, a converted shortstop with an OK .186/.221/.218 career line to his name, essentially turned the average opposing hitter into a good hitting pitcher. Ozzie Albies went 3-for-18 against him; J.T. Realmuto 1-for-10; Bryce Harper 1-for-7. He did his best pitching when he or his defense had worked the Mets into some trouble. With men in scoring position, deGrom held opposing hitters to a .142/.195/.209 line.
He wasn't just brilliant but reliable too; after a May injury scare, he made 24 straight starts of six innings or more, never allowing more than three runs. As good as Max Scherzer and Aaron Nola have been, they have had off nights, but when deGrom has an off night, he's still on.
Whichever WAR is your bag—Baseball-Reference or Fangraphs—deGrom leads the NL in both, not just for pitchers but all players. And while WAR is calculated based on general run prevention, not based on game situations, deGrom also leads the NL in win probability added, which measures a player's situational performance. So much for not helping his team win; he helps the Mets and helps them and then helps some more, and they respond by crying out for further help. (His misfortune, win-loss-record-wise, will go down in history; the Mets' bats simply never showed up while he was on the mound.)
I admit to a touch of fear that sabermetric study will advance sufficiently in the next decade to yet again reengineer the way we think about achievement and in the process teach us that deGrom's heroics were less than what they seemed, that performance in games played while a team is well out of contention matters just as much as Little League statistics. Such nagging worry would push me toward a close runner-up candidate if there were one. But who would that be? Christian Yelich? Javier Baez? Max Scherzer? No other player's case is in the neighborhood of deGrom's. So go forth, voters, and live dangerously. Hand the NL MVP to the electric pitcher whose 10 wins will never tell the story of just how dominant he was.