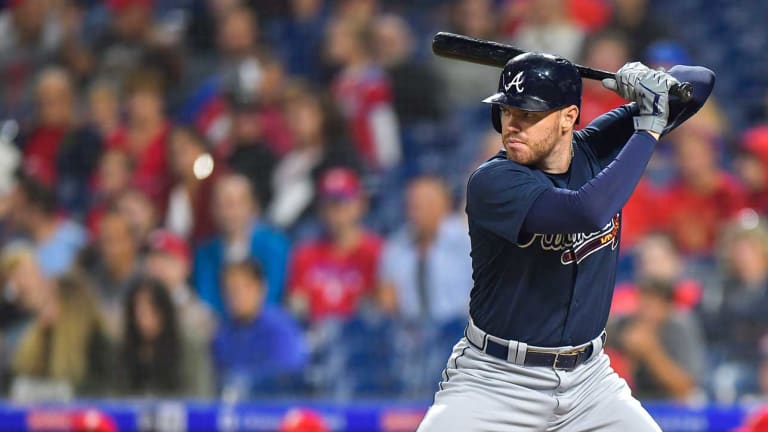 The Case for Freddie Freeman as NL MVP
As the Braves best player by a number of different measurements, Freddie Freeman deserves thorough consideration for National League MVP honors this season.
As the Braves best player by a number of different measurements, Freddie Freeman deserves thorough consideration for National League MVP honors this season.
Editor's note: SI is highlighting the top candidates in a crowded race for National League MVP award. Check out our primers on Lorenzo Cain, Javy Baez, Jacob deGrom, and Christian Yelich.
In February of 2011, I wrote this SI cover story about the Braves' promising pair of 21-year-olds, Jason Heyward and Freddie Freeman. They'd been fast friends since Atlanta drafted both of them as high schoolers in 2007, and were about as inseparable as baseball players get. Salt and Pepper, their teammates called them. Guess which was which.
Still, back then it was clear which of them was the phenom, the superstar. Heyward had been the 11th overall pick, Freeman the 78th. On our cover, it was Heyward who was front and center. Freeman stood behind him, in the supporting role that it seemed certain he'd always play. 
Then something strange happened. Heyward stopped getting better; his career highs in OPS (.814), home runs (27), and RBIs (82) came in 2012, when he was 22. But Freeman kept improving; over his last six seasons, he hasn't posted an OPS anywhere near so low as Heyward's all-time best.
The Braves signed both to extensions within a day of one another in 2014. On Feb. 4 of that year, they gave Heyward two years and $13.3 million. On Feb. 5, they extended Freeman for eight years at $135 million. One of them was going to be the bridge between the Chipper Jones era and the winning teams of their future, and it wasn't going to be Heyward.
Congratulations to Marwin González and Jon Lester: 2018's Truly Mediocre Players
The Braves bet right. While Heyward has generally struggled through a stop in St. Louis and now with the Cubs–who gave him an eight-year, $184 million contract extension before the 2016 season, and for which Chicago has mostly received strong fielding–Freeman kept progressing even as the Braves stunk. Now they are good again, the NL East champs, thanks in part to the precocious contributions of a new set of phenoms, Ronald Acuna and Ozzie Albies. But Freeman, who just turned 29, is their glue, the guy who has been there through it all, and also their best player. He leads them in WAR (6.0 according to Baseball Reference, 5.0 according to FanGraphs), but also in batting average (.311), RBIs (95), and hits (186). He's near the top of the National League in all those categories, too: either fourth or fifth in WAR, depending upon your preferred purveyor; fifth in batting; ninth in RBIs; first in hits. 
The MVP, of course, is awarded based upon only a single year's work, and although we are in the final week of the regular season, as many as seven players remain in the running. There's a strong argument for Freeman based on his production alone, but when the race is so tight perhaps it's not the worst idea to try to factor in things you can't see or statistically measure, like the years of dedication Freeman has put into the Braves that are surely rubbing off on the newcomers, and a role as the franchise's centerpiece that he never shook off even when things were bad. He's the heart of the only division winner this year that almost nobody saw coming. That should be worth something, even as a tiebreaker.