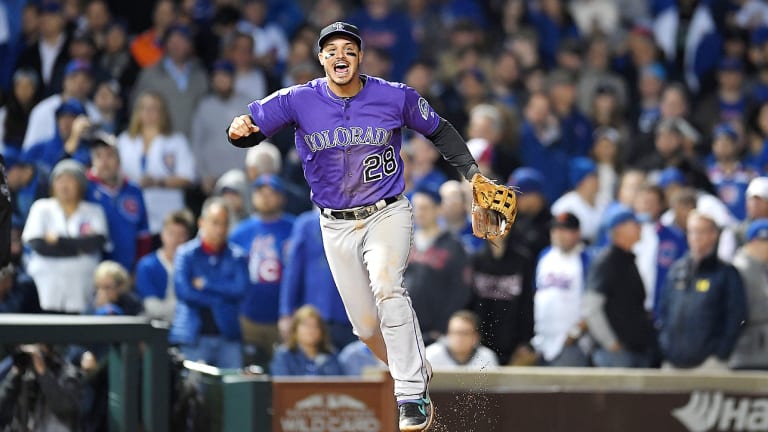 Nolan Arenado Leads a Deep, Star-Studded Third Base Position
Third base remains one of the best positions in fantasy baseball.
Third base is always one of the fun positions for fantasy owners to draft. Nolan Arenado is a mortal lock for 40 homers and 130 RBI and a perennial MVP candidate. Jose Ramirez was one of two players, along with Mookie Betts, to break MLB's six-year 30-30 drought last season and has finished third in AL MVP voting the last two seasons. Manny Machado finally found a new home in San Diego, but, from a fantasy perspective, it didn't really matter where he eneded up. He was going to be a first-round pick regardless. Kris Bryant is three years removed from an MVP season and fully healthy after the shoulder injury that derailed his 2018 campaign. Anthony Rendon is one of the league's most underappreciated players, hitting .305/.389/.534 with a total of 49 homers, 192 RBI and 169 runs the last two years.
The next wave of big names at third base arrived last year. Alex Bregman hit .286/.394/.532 with 31 homers, 51 doubles, 103 RBI, 105 runs, and 10 steals. Eugenio Suarez was right there with him, slashing .283/.366/.526 with 34 homers and 104 RBI, and is entering his age-27 season. Miguel Andujar nearly bested Shohei Ohtani for the AL Rookie of the Year last year, and the position will be favored to take him the award with presumed superstar Vlad Guerrero Jr. on the horizon in Toronto. Matt Chapman got a ton of attention for his elite glove, but he also hit .278/.356/.508 with 24 homers, 42 doubles, 68 RBI and 100 runs. This position is going to be in good hands for a long time.
Do not fear if you miss out on all 10 of the players mentioned above. The position features bankable veterans, such as Matt Carpenter, Travis Shaw, Josh Donaldson, Justin Turner, Wil Myers and Mike Moustakas, and upside plays in Rafael Devers, Miguel Sano, Ian Happ and Jake Lamb. It isn't hard to see why this is a fun position in the fantasy baseball world, season after season.
Three Burning Questions
1. Can Kris Bryant bounce back?
We're already on the record here on SI Fantasy as believing Kris Bryant is one of the biggest fantasy bargains this season, but we can't possibly have a third base primer without talking about his disappointing 2018 season. Bryant had the worst year of his MLB career, though "worst" is sort of misleading since it wasn't exactly a bad season. He hit .272/.374/.460 with 13 homers, 28 doubles, 52 RBI and a 118 OPS+ in 457 plate appearances across 102 games. I implore you to pay close attention to those last two numbers. Bryant spent about two months on the DL because of a shoulder injury, and while it didn't cost him the entire year, it robbed him of his effectiveness from the moment it happened in late May.
The note in the AP game recap from the Cubs' win over the Reds on May 20 barely received any notice. "3B Kris Bryant was sore after sliding hard into bases a couple of times during Saturday's doubleheader. [Ian] Happ started at third base." At the time, it didn't seem cause for concern. Bryant jammed his shoulder a bit the day before, and the Cubs would be off the next day and just played a doubleheader, so why not get him a couple days off, right? Little did anyone know how that injury would mar Bryant's season .
Bryant was compiling another excellent season when he suffered the shoulder injury, hitting .305/.427/.583 with eight homers, 14 doubles and 24 RBI at the close of business on May 19. He got the next couple days off and returned to the lineup on May 22, seemingly no worse for wear. Over the next month, he hit .248/.317/.345 with one homer, finally going on the DL with left shoulder inflammation on June 26. The left shoulder is the lead shoulder for a right-handed batter. When it's injured, it's awfully tough for a righty to produce any power. Bryant returned for two weeks in July before going on the DL because of the shoulder a second time. He didn't get back on the field until September. All told, he hit .252/.338/.382 with five homers in 272 plate appearances after the injury.
It doesn't take a doctor to see what happened to Bryant last year. The shoulder injury did not require surgery, and he enters 2019 with a clean bill of health. Bryant had a 1.010 OPS before hurting his shoulder last year, and while he certainly would've fallen off that pace, it should drive home that he was the exact same player he'd always been before suffering the injury. Back at 100%, Bryant could prove to be the ultimate steal in fantasy baseball leagues this season.
BELLER: First Base Primer and Rankings
2. Is there another Eugenio Suarez this season?
Last year, Eugenio Suarez's steady build culminated in a breakout season that landed him near the top of many offensive leaderboards and has him situated to be among the premier hitters in the league for the next half-decade or so. Sometimes, hunts for "this year's player X" are quixotic. Just because a player of a certain type broke out one year doesn't mean another who fits, either exactly or somewhat, his mold will do so the next year. This season, however, someone is ready to follow in Suarez's footsteps. We can find him in Oakland.
Matt Chapman was one of the key players in the A's unexpected run to a 97-win season and playoff berth last year. We referenced his numbers in the intro to the primer, but just to refresh your memory—and save you the scroll—he hit .278/.356/.508 with 24 homers, 42 doubles, 68 RBI and 100 runs. Last season was Chapman's first full campaign in the majors, but he did play 84 games and rack up 326 plate appearances in 2017. The strides he made between those two seasons suggest that a Suarez-like breakout is a real possibility this year.
We're going to leave behind all the surface stats and look at Chapman under the hood. Surface stats, of course, don't materialize out of thin air. They come from approach and adjustments, and a hitter's ability to put those into practice. This is where we want to look at a player's advanced stats to see if his statistical improvements have a sound foundation. Chapman's do, beyond a shadow of a doubt.
Consider a handful of the most substantive advanced metrics: walk rate, strikeout rate, whiff rate, hard-hit rate, HR/FB ratio, o-swing rate (the rate at which a hitter swings at pitches outside the strike zone) and z-swing rate (the rate at which a hitter swings at pitches in the zone). With the exception of Chapman's walk rate, which remained flat and impressive at 9.4%, every one of those moved in the right direction last year. Here are Chapman's marks for each of those metrics, with 2017 listed first.
Walk rate: 9.8%, 9.4%
Strikeout rate: 28.2%, 23.7%
Whiff rate: 11.5%, 8.8%
Hard-hit rate: 36%, 43.2%
HR/FB ratio: 13.9%, 15.2%
O-swing rate: 28.5%, 23.5%
Z-swing rate: 57.2%, 58.9%
BELLER: Second Base Primer and Rankings
What do all those numbers tell us? First, that Chapman has an excellent handle on the strike zone. Any player who cuts his o-swing by five percentage points and walks in more than 9% of his plate appearances isn't flailing at pitches. They tell us that he is confident in his approach, with his increased aggressiveness on balls in the zone. The dramatically reduced strikeout and whiff rates are a combination of those two. Chapman is attacking the pitches he wants to put into play, and isn't getting fooled by pitches out of the zone. Finally, they tell us that Chapman hits the ball with authority. His hard-hit rate ranked 25th in the majors, just ahead of Nolan Arenado, Giancarlo Stanton and Bryce Harper. His average exit velocity of 93.1 mph ranked fifth in the majors, trailing only Aaron Judge, Nelson Cruz, Joey Gallo and Stanton.
Now in his age-26 season, the same age Suarez was last year, Chapman is ready to take the next step. Everything in his pedigree—he was a first-round pick in 2014 and made it to the majors three years later—and year-over-year growth from his rookie to his second season suggests he is the type of player who still has improvement ahead of him. There are ton of big names at third base and you shouldn't be avoiding any of them, but at an average draft position of 101.20, Chapman is my co-favorite target at the hot corner, along with Bryant.
3. Has the Vlad Jr. hype gotten out of hand?
The term can't-miss prospect may be a misnomer considering that no prospect is a sure thing. Having said that, Vlad Guerrero Jr. is as close as any player has been to being a literal can't-miss prospect, and he has the undivided attention of the entire baseball world. That includes the fantasy baseball community, which has pushed his ADP all the way up to 43.85, ahead of Anthony Rendon's and Eugenio Suarez's. So, has the hype gotten out of control?
Guerrero first showed up on top-100 prospects lists before the 2017 season, when he was 18 years old. He spent that year playing Low-A and High-A ball, slashing .323/.425/.485 with 13 homers, 28 doubles and more walks than strikeouts in 527 plate appearances. He entered last year as a consensus top-three prospect and delivered once again. With the exception of four games, he spent the entire year at Double-A New Hampshire and Triple-A Buffalo. The uptick in competition didn't exactly have much effect on him. Guerrero hit .381/.437/.636 with 20 homers, 29 doubles and one fewer walk than strikeouts in 408 plate appearances. This year, he is the No. 1 prospect in baseball according to all three of the primary rating services.
BELLER/SHAPIRO: Is Xander Bogaerts or Gleyber Torres the Better Fantasy Player?
The hype isn't unwarranted. Once the Blue Jays are done manipulating his service time, he'll be up in the majors, which should give him about 140 games in the bigs this year. He's yet to struggle at any point in his professional career, and will be expected to be an immediate success story, just like Kris Bryant was after similar service time shenanigans in 2015.
While it's understandable to feel that the hype is out of hand, Guerrero may be an instant superstar, but I cannot endorse taking him over Rendon or Suarez. We already know what those two players are. Guerrero remains but a theory. An enticing, heady theory, but a theory nonetheless. I'll take him over players like Miguel Andujar and Josh Donaldson, but I can't eschew the surefire production of Rendon or Suarez for him, and I prefer Matt Chapman 60 picks later, as well.
2019 Fantasy Baseball Rankings powered by FantasyProsECR ™ - Expert Consensus Rankings
ADP - Average Draft Position