UFC's bolstered offer helps Alvarez; could lead to second matching offer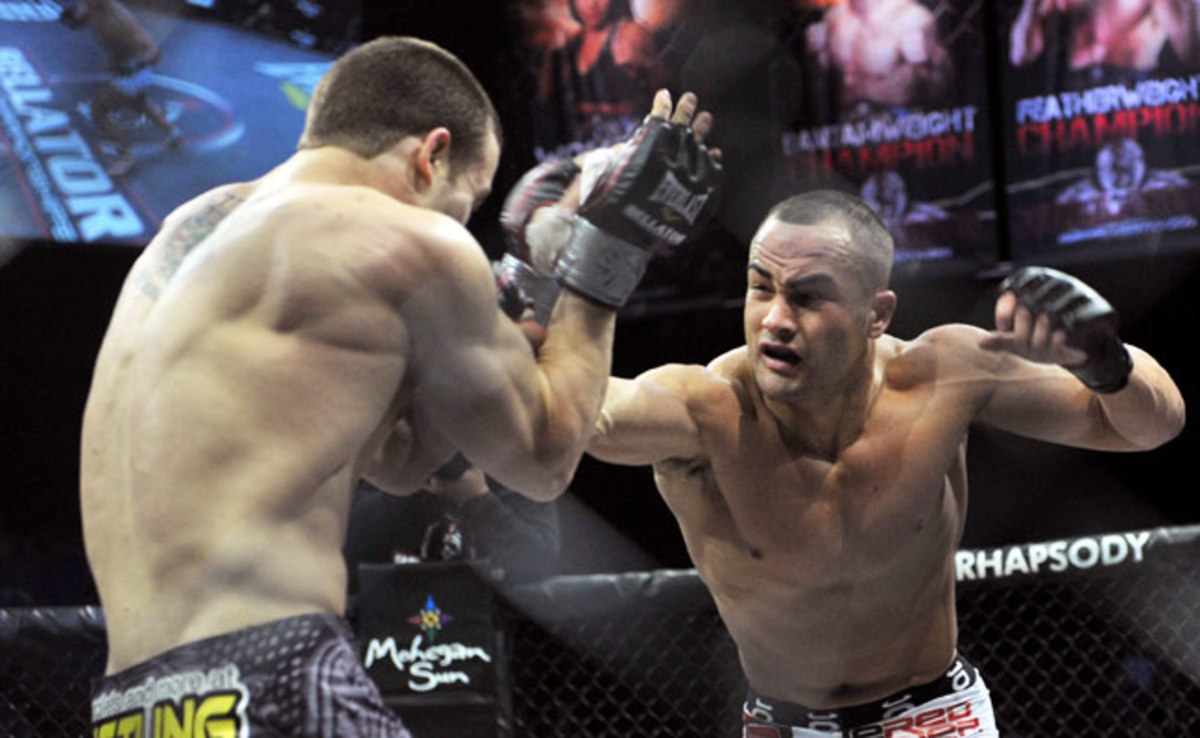 UFC owners Zuffa LLC has bolstered its efforts to sign free agent Eddie Alvarez with an offer to fight at UFC 159: Jones vs. Sonnen on April 28 in Newark, N.J., according to a Jan. 10 letter included in a counterclaim Alvarez filed this week in United States District Court. The two parties are set to face Judge Jose Linares for the first time on Friday, Jan. 25, where Alvarez hopes to obtain an injunction against Bellator so he can accept the UFC's offer.
The 28-year-old fighter's filing will be paired with a Bellator MMA (formerly Fighting Championships) complaint filed against Alvarez on. Dec. 31 for breach of contract after the fighter turned down an offer made to him during an exclusive 14-day matching period with the promotion. Alvarez, a former lightweight champion who fought for Bellator nine times in three-and-a-half years, entered free agency in November to field a new offer from the UFC.
The Viacom-owned Bellator had 14 days in which to review the UFC offer and match it to keep the Philadelphia native under its banner, and the Southern California-based promotion believes it has satisfied those requirements. However, fighter and promotion disagree on the interpretation of language in Alvarez's original contract, as it pertains to what a "match" would truly constitute in this case.
Alvarez's representation and Bellator are also at odds regarding interpretation of the fighter's UFC contract offer, particularly if the promotion was guaranteeing Alvarez an immediate title shot -- the only instance, along with subsequent title defenses, where the fighter would be eligible to collect substantial pay-per-view revenue that Bellator would have to match.
Zuffa's letter to Alvarez's attorneys clarifies that it had been prepared to offer Alvarez a bout (not specified as a title fight) at UFC 158: St. Pierre vs. Diaz on March 16 in Montreal, but it rescinded the offer due to promotional timing concerns.
In addition, Zuffa currently has a standing offer to Alvarez for a bout at UFC 159 in late April, but has altered its original contract offer to include the pay-per-view revenue perk (in addition to the negotiated $75,000 show and $75, 000 win purses), despite it not being a title fight. According to Alvarez's UFC offer, included in Bellator's complaint, the fighter stands to make an additional $1.00 for every buy between 200,000-400,000 units, $2.00 for each buy sold between 400,000- 600,000 units and $2.50 for each buy sold over 600,000 units. However, Zuffa contends it must have Alvarez's unfettered commitment by Jan. 27 to get the full 90 days it says it needs to properly promote the bout.
This letter has done two things. It has set a time expiration in which Alvarez's litigators can plead on Friday that a prudent decision is needed as to not impede on Alvarez's immediate ability to make a living. It has also raised the monetary stakes quite significantly from a five-figure to potential seven-figure payday for the father of three.
Alvarez's lawyers can also feasibly argue that this specific pay-per-view, which will be headlined by an incredibly controversial and well publicized title bout between UFC light heavyweight champion Jon Jones and Chael Sonnen, has favorable potential to generate buys toward the higher end of that pay-per-view revenue spectrum. These are figures that Bellator, which has yet to promote a pay-per-event, could have to prove it can match as early as Friday's hearing.
However, the addition of a pay-per-view bonus also alters UFC's initial offer to Alvarez, opening the door for Bellator to argue that it has the option to match the modified offer, per the verbiage in Alvarez's original Bellator contract. Bellator could also ask for reasonable time to do this, and there is no time limit set on this second matching period in the contract.
Frank Smith, Alvarez's litigation attorney, views Zuffa's letter as a bout agreement -- traditionally a second document the fighter signs into informing him of the opponent, date and venue of his next fight --- and doesn't constitute a change to Zuffa's original offer.
"We may hear [with Monday's response] that [Bellator] believes this document changed [the offer], but I don't have much of a problem with that because every single MMA contract has bout agreements that go along with it," said Smith. "The deal is what it is. The UFC intended to give us a title fight, meant for it to be pay-per-view. The first fight, that would be on the Jon Jones card, it would not be a title fight, but it's still a big pay-per-view, so they're doing the best they can with the timing."
Representatives for Bellator, which drew nearly one million average viewers for its first live televised show on Spike TV last Thursday, declined to comment on Alvarez's counterclaim when reached by SI.com.
United State District Judge Jose L. Linares has asked Bellator's litigator, New Jersey-based attorney Patrick English, to provide by Monday its response to Alvarez's Order to Show Cause, a preliminary step to determine if Bellator's legal argument is viable. Alvarez's attorneys can file a response to this by Wednesday, two days before Friday's hearing.
On Friday, Judge Linares has the option to grant Alvarez's injunction request or decline to make a ruling upon further review of the case. The latter would prevent Alvarez from accepting the April 27 bout and any future bouts offered by the UFC until (and if) a judgment is reached in his favor. The two parties are also free to discuss and potentially reach a settlement on their own at any time.
In the interim, Zuffa announced on Jan. 15 that Strikeforce lightweight champion Gilbert Melendez will meet UFC champion Benson Henderson in a non pay-per-view headlining title bout at UFC on Fox 7 on April 20 in San Jose, Calif. That event will be televised live on Fox's broadcast network.