Demetrious Johnson is now a full-time fighter and husband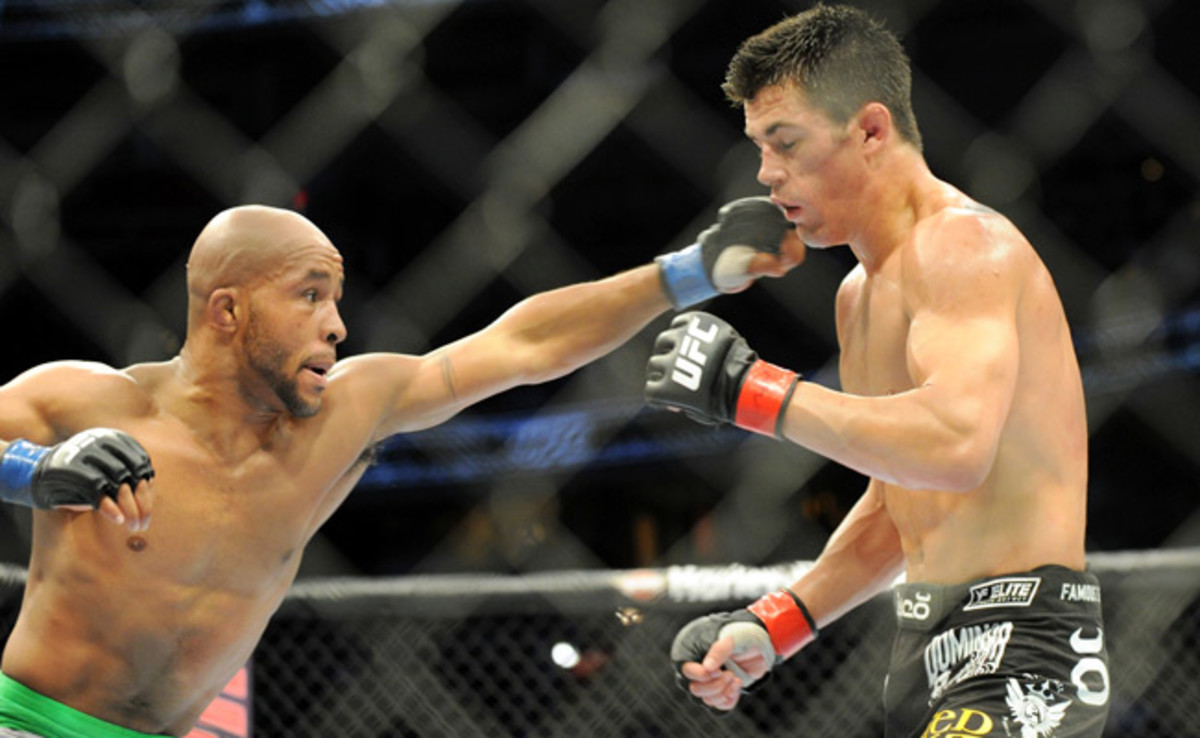 UFC flyweight titleholder Demetrious Johnson, 26, will defend his belt for the first time Saturday against John Dodson. While the two might be fighting each other for a title, they're both simultaneously fighting, together, against the popular perception that flyweights can't throw down.
Johnson tells SI.com about major changes in his life since winning the inaugural flyweight belt last September against Joseph Benavidez, his thoughts on Dodson, and how one of the toughest fighters in the UFC says "Pookie" with a straight face. Some content has been edited for length and clarity.
SI: For most of your MMA career, you've worked full-time and shoehorned training into your day. What is your schedule like now that you're a full-time fighter?
Johnson: I wake up around 8:30, 8:45. I eat my breakfast, hit the road by 10AM and get to the gym by 11. My first session is between 11 and 1pm and then after that I'll get lunch with my coaches and training partners. The next session will start at 5 at night and then I'll train from 5 to 8:30 and then get home at 9:45 or 10 at night. Then get up and do it all over again. Some days I have off like Thursday and Sunday but typically Monday, Tuesday, Wednesday, Friday and Saturday are dedicated to training if I'm in fight camp.
Dodson told me that you two are basically "mirror images of each other." What is it that Dodson does exceptionally well in the octagon?
He likes to keep a lot of distance between him and his opponents. He has that one knockout power. And he likes to use his athletic ability to frustrate his opponents. [They're] great techniques he does.
You've spoken publicly in the past about how important your wife, Destiny, has been to you and your UFC career. How does being married affect you as a fighter?
I believe me being married, having a life outside of fighting, gives me a mental break. I have Thursday off. I spend the day with my wife, we did some wonderful things [Thursday] morning, got to see my brother-in-law wrestle. So I'm not thinking about fighting right now. I'm thinking about life and that's how it should be. My mind can't always be on fighting.
It takes a special woman to marry a guy who gets punched in the face for a living. How did you propose?
One of my good friends, we used to work at Red Lobster, and me and him used to race together [with] our Honda Civics. To fast forward, he set something up at the waterfront saying, "Will you marry me, Pookie?" He called me and said, "Hey, my car broke down. Can you come pick me up?" I told my wife, "Hey, we have to go get Stevie. He was racing downtown Tacoma at the waterfront." She goes along with it, [and] we pick him up supposedly. We walk to his car, and sure enough, tea light candles were lit up, "Will you marry me, Pookie?" and she said yes.
Lots of UFC fans are reluctant to watch smaller fighters in the cage. Why should they watch?
Just watch. That's all I've got to say. Just watch.