Rousey wins in victory for women's MMA fighting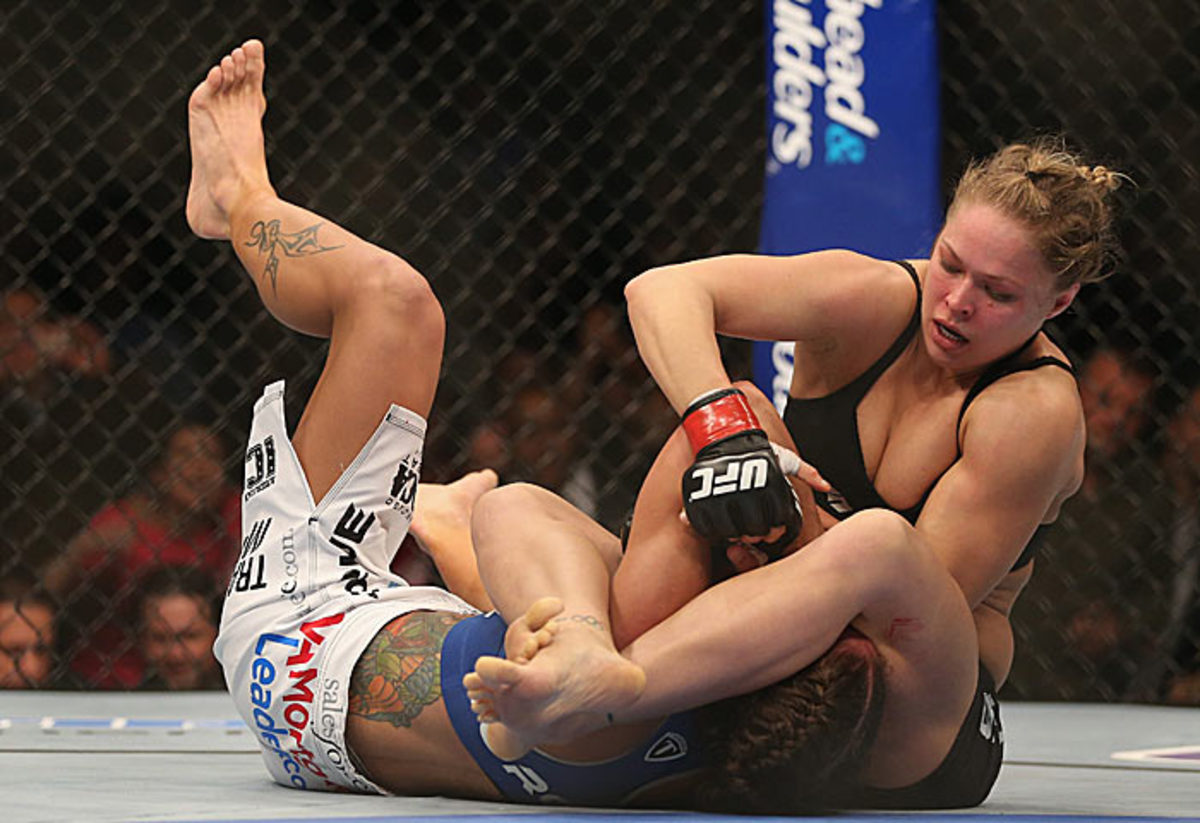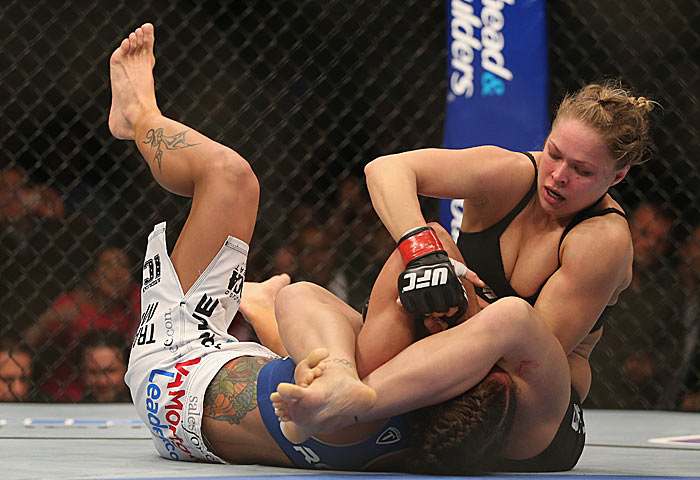 What a victory.
Ronda Rousey was the one who had her hand raised late on Saturday night, as she always does, but if referee John McCarthy had sufficient hand-raising capacity he also might have raised the hands of Liz Carmouche, of Dana White and his UFC team, of all the women who compete at the top level of mixed martial arts, even of the sport itself.
Everybody wins.
Well, everybody except the online Neanderthals -- a dwindling number, yet full-voiced -- who shockingly and shamefully continued spewing hate on the women's game even as the electricity from the main event of UFC 157 was still reverberating around the Honda Center in Anaheim, Calif., as well as in the homes and barrooms of satisfied pay-per-view customers worldwide.
What a debut for women in the UFC. What a fight, period.
Rousey's submission victory at 4:49 of the first round keeps her resume unblemished. It now shows one more notch just like all that came before -- another first-round finish, another armbar. But this was different. The women's bantamweight champion (7-0), who had vanquished five of her six previous opponents within the first minute, had a fight on her hands this time.
Since Ronda's fights are measured in seconds, let's recap according to ticks of the clock: It took six seconds for Rousey to land her first punch, a left jab against a backpedaling Carmouche, and just another four seconds for the champ to get a firm clinch on her opponent against the cage. Twenty-six seconds in, Rousey got the takedown she sought and ended up in side control, a great position from which to initiate that killer armbar. Fight over?
Not quite. Carmouche (8-3) spent five years in the US Marine Corps, including three tours of duty in Iraq. She has that battle-tested mettle at her call, not to mention the fortitude it has taken her to come out as a lesbian and blaze a trail as the first openly gay fighter in the UFC. She had plenty of fight left.
Within 15 seconds, Liz had squirmed out from under Rousey and positioned herself behind the champ. When Ronda stood up, Carmouche went with her, attached to her back, arms wrapping around her face, groping for a choke. The fight was not yet a minute old, and as expected, someone was in trouble. But it wasn't the underdog challenger.
As Rousey tried to dislodge her and the crowd roared, Carmouche cranked the champ's neck to one side, waiting for an opening that might allow her to sink in a choke. Liz was doing just fine with the neck crank, actually, as Ronda's face reddened from the strain. The moment was reminiscent of when a fighter no less indomitable, Jon Jones, was caught in a Vitor Belfort armbar early in their fight -- except on that September night in Toronto, the champ quickly escaped and it wasn't until afterward that we learned he had damaged his arm. This time the possibility of a shocking upset lingered in the air for a good 30 seconds, which was the time it took Rousey to finally shake Carmouche off her back.
At that point, Rousey took a step back and a deep breath as Carmouche lay on the mat, inviting her to engage. Ronda obliged, and with just under three minutes to go in the round she once again ended up on top of the challenger, in side control. She landed a succession of short punches to the face, evaded some clever attempts at a reversal, and finally gained armbar position with just under a minute left. Carmouche kept her arms locked for as long as she could, hoping to make it to the horn, but when Ronda pried the right arm free and stretched it out, Liz tapped with 11 seconds to go.
"It was a great fight," Carmouche said afterward in the cage, to the cheers of a crowd that mostly had come to see her opponent, no doubt, but walked out of the building looking forward to seeing her again, too. "I thought I had it. And, you know, like everything, you make a mistake and it turns around."
Rousey, as it turned out, had more than a neck crank on her mind during the close call. "Trying to think about my bra falling down and her on my back at the same time," said the champ, referring to a near wardrobe malfunction. "So next time, bigger bra."
Now, that's a brand new fighter concern for the previously all-male UFC.
Speaking of which, it was a good thing the women were around to provide some main event thrills. Months ago, there was grumbling when the fight card was announced and a light heavyweight fight between former champ Lyoto Machida and Dan Henderson, a multi-division champ from Pride and Strikeforce, was slotted in the co-main, beneath Rousey and Carmouche.
As it turned out, Machida's uneventful split-decision victory was better off as a three-rounder. Ten more minutes of that circle dance would have put the whole building asleep.
Lyoto played his usual matador role and Hendo tried a few bull rushes, but the dagger never came out and there definitely was no "ole!" from the crowd. The fans saw more idle staredown than at the weigh-ins, and they let the fighters know about it. Their boos drowned out much of Machida's post-fight interview, although he could be heard apologizing: "Sorry if the fight was not good for you, but thank you for coming, everybody. Next time ..."
As he trailed off, you had to wonder: Next time, what? Next time, he'll not sit back waiting for something to happen? And how will that next time take shape? The victor was promised a shot at the winner of April's Jon Jones-Chael Sonnen title fight, but you never know. Dana White always says he likes to give fans the fights they want to see. And there's surely no groundswell of anticipation for Machida's next move.
The same cannot be said for the women who entered the cage a few minutes later. Rousey won the fight. Carmouche won respect. The UFC and women's MMA won fan approval. It was a big night all around.
Especially for Rousey. We saw her face down adversity for the first time inside the cage. We saw her once again finish a fight. And that's what it's all about, as she made clear when asked whether she'd been affected by all of the hoopla surrounding this historic night. "It was different," she acknowledged. "But there's no amount of press that can save these girls from me."