Finally sober and still undefeated, Spadafora wants shot at Mayweather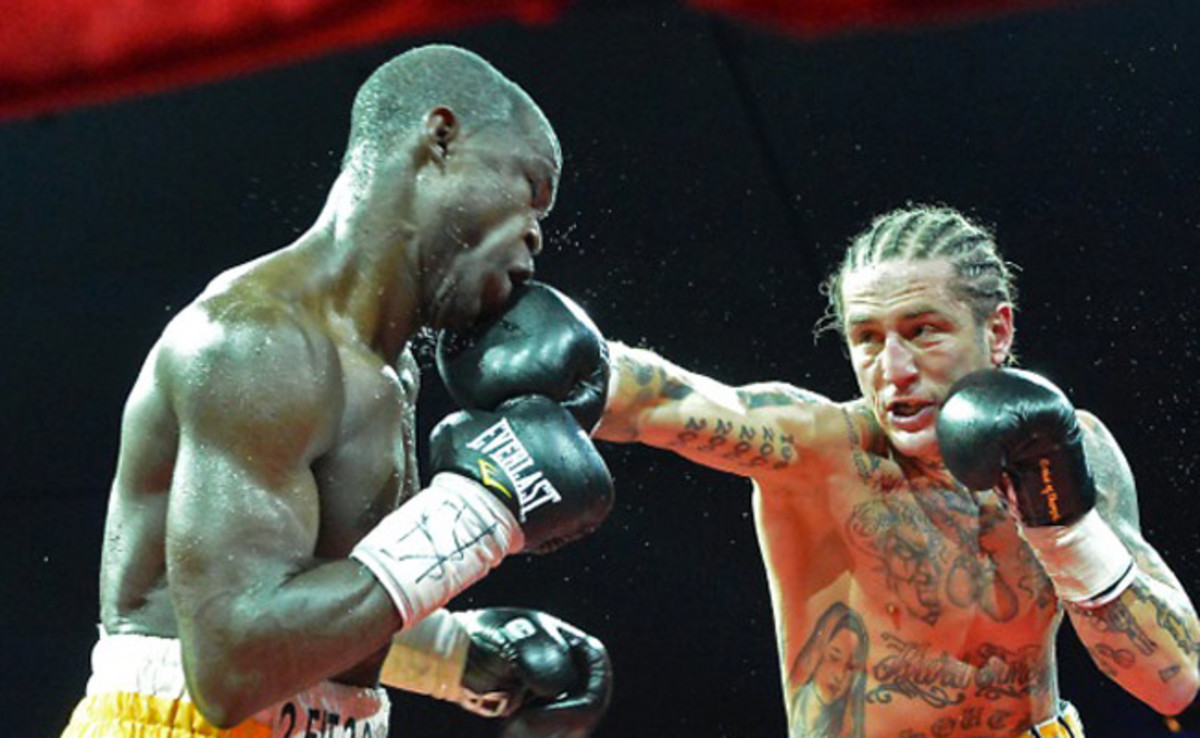 AMBRIDGE, Pa. -- Paul Spadafora struts into Tommy Yankello's World Class Boxing Gym with a cream-colored pit bull named Baby. As the dog tugs on a chain leash, the uneasiness is palpable. Her foreboding fangs and conspicuously muscular physique epitomize every U.S. Postal Worker's worst nightmare.
Nonetheless, within moments of arrival, Baby casually meanders between heavy bags and weight benches in pursuit of a friendly pat. Once it becomes clear that the pugnacious-looking pooch is only on the prowl to make a new buddy, she quickly wins over the room.
Spadafora can relate.
"A lot of the public thinks I'm a thug or bad guy," he says as he watches his pet curl up at his feet. "That's the misconception about me. I'm actually a good guy. I don't want to hurt anybody."
And he certainly doesn't want to inflict any more damage to himself.
Since returning from a seven-month stay at Transitions Recovery Program in Florida last summer after nearly overdosing on heroin, Spadafora has been on the fast-track to resuscitate his once luminous boxing career. After severing ties with long-time manager Al McCauley and promoter Michael Acri in July to rejoin ex-trainer Yankello, new manager Robert Ortense, advisor Joe Horn and Troy Ridgley of TNT Promotions (a company advised by Roy Jones Jr.), the former IBF lightweight champion has scored unanimous decisions over Humberto Toledo and Solomon Egberime to remain undefeated (47-0-1, 19 KOs).
A win over Rob Frankel (32-11-1, 6 KOs) Saturday at the Mountaineer Racetrack and Resort in Chester, W.Va., could possibly inch the 5-foot-9 southpaw closer to his ultimate goal -- a megabout against WBC welterweight champion Floyd Mayweather Jr. (43-0, 26 KOs). Spadafora believes he edged the ubiquitous pound-for-pound king in a sparring session 12 years ago and, if given the opportunity, trusts history will repeat itself.
Even though middle age is approaching and the window of opportunity continues to close, Jones thinks Spadafora is an interesting anomaly who still packs the punch to finish the job. "[Paul] is a 37-year-old white boxer who has never been beaten, and that's just unheard of," he jokes. "Right now he has the best record outside of Mayweather, but he should probably be dead or in jail for life. God must be looking out for him in some kind of way."
Spadafora can't help but agree. Many of the tattoos that stretch across his sinewy frame reveal an ominous timeline of tragedy and pain. The most significant artwork covers the space on his left forearm. It serves as a permanent reminder of the only opponents to hand him losses, the only adversaries to push him toward multiple arrests and the near-shooting death of a past girlfriend. "Right there is the word 'Truth,' and it's surrounded by an ecstasy pill, crack pipe, needle and [heroin] stamp bag, and a gun," he says, tracing over the images with his finger. "All of these things nearly ruined my life."
Spadafora's assiduous efforts to stay clean and sober haven't gone unnoticed by Yankello, who only hopes that his prized pugilist has knocked out the inner demons that nearly cost him everything. "I made a deal with my new manager -- if I do drugs, I'm out," Spadafora says. "One slip up, I'm done. And for me, that means death."
*****
Spadafora grew up the second oldest of three boys, outside of Pittsburgh, in an area aptly called The Bottoms, a hardened, blue-collar McKees Rocks neighborhood that hugs the banks of the Ohio River. His earliest childhood memory includes the sound of a bullet piercing through the family room window as he took a bath. When Spadafora was 9, his father, Silvio, died of a drug overdose. Following the funeral, Spadafora temporarily lived with his stepmom before returning to his biological mother, Annie, who had substance abuse problems of her own. His older brother, Harry, took over as the surrogate parent.
Through it all, sports were an escape from his chaotic home life. Spadafora excelled at youth football and basketball. Since it was rare for a relative to attend any of his games, he was initially happy when another adult -- a coach -- began to take an interest in him. The man bought Spadafora shoes, gave him rides around town and paid to have braces put on his teeth. These were unaffordable luxuries that eventually enticed Spadafora to move in with the coach just before he entered the seventh grade.
But he learned quickly that the gifts came with a risk. It started with the awkward flirting. Then came the playful invitations to wrestle. One night, Spadafora walked downstairs and caught the man rolling around with another child in the dark. "The coach never did anything wrong to me, but I knew his intentions," he says. "I was a kid from the streets and woulda [hurt] him had he tried."
Spadafora stayed with the man for more than a year and started drinking alcohol as a means to dull the tension. The timing was fortunate when he finally returned to his mother. The coach was later arrested on two counts of statutory rape and is now a registered sex offender. "The guy fell in love with me," Spadafora admits. "I was poor and stayed by his side to get things I needed. It was a survival technique. To this day, I don't feel bad about how things went down."
But he does have other regrets -- namely the crimes he committed as a kid. Spadafora burglarized houses with a group of older teens. It would have continued had he not been caught and sent to juvenile court. "I was the little kid who would knock on the front door," he says. "If someone was home, we'd know we couldn't break in. If they weren't, we took whatever we could."
Spadafora yearned for stability, but it never came. His mother rarely had money to pay rent. They relocated often. As a result, Spadafora transferred schools every few months and repeatedly was forced to adapt to life as the new kid. This led to numerous fights and subsequent expulsions.
While his past made him tough, Spadafora longed for the comforts of a normal upbringing. "I don't remember having any birthday parties or having any Christmas trees," he says. "There were years of my life when no adult was really there for me."
*****
It only seemed natural that Spadafora would eventually discover boxing. His father was a former Golden Gloves champion. His older brother was becoming a successful amateur with ambitions of turning pro. The sweet science was in the family bloodlines. "I always felt like a boxer when I was fighting in the street," he says. "When Harry [Spadafora] brought me to the gym one day, that was it."
Spadafora became a quick study under Charles "P.K." Pecora and by 14 was routinely sparring with professional fighters. He was naturally right-handed, but adopted his older brother's southpaw stance. This, coupled with deceptive speed and agility, made it difficult for opponents to connect on clean punches. Over time, he became one of the best conditioned athletes in the gym, built to go the distance.
But most impressive was Spadafora's intuition. He became a prescient counter-puncher who saw the ring like a chess board. "Even when he was younger, he always seemed to be a move ahead of his opponents," Yankello says. "Larry Bird always had an instinct to know where the basketball was coming off the backboard. Paul was like that as a boxer -- always in the right position."
By 16, Spadafora had already won Golden Gloves titles while simultaneously contributing to his high school varsity football and basketball teams. Pecora put things into perspective for him. "P.K. told me that I was never going to be dunking a basketball or playing in the NFL, but had a good future in boxing," he says. "Then we talked about why I was even in high school, so I dropped out the next day."
As Spadafora gained direction in the ring, his life unraveled on the streets. On the night of Dec. 24, 1994, Spadafora was a passenger in a car that crashed into a telephone pole after a failed attempt to outrun police. Both he and the driver were inebriated. An officer approached and accidentally discharged his gun, lodging a bullet into Spadafora's left leg. Spadafora filed a lawsuit and won a judgment, but the injury derailed any chance of earning a spot on the 1996 U.S. Olympic Boxing Team. "Paul has always had issues to deal with," Yankello says. "Everything in his [personal] life had been so scattered, but when he got into the gym he was completely focused. He always trained like a madman."
After nine months of intensive therapy following the shooting, that's exactly what Spadafora did. He returned to Pecora, shook off the rust and made his professional debut on Oct. 18, 1995, gutting out a four-round unanimous decision over Steve Maddux. With his first victory in hand, Spadafora surged up the IBF lightweight ladder, winning his next 14 fights, with eight knockouts. "I was always on the undercard in the beginning, and when I looked out I wouldn't see or hear too many people," he says. "I always knew that if I wanted to fight in front of fans, I needed to be the main event."
Spadafora would eventually get his chance, but he'd have to do it without the guidance of his greatest influence. Pecora passed away from a stroke in July 1997, a death that cost him a sage mentor and a father figure. But with his next fight only weeks away, Spadafora had little time to mourn the loss, so he pushed forward with Yankello. "P.K. had always said Paul was really good and would be a great pro," Yankello says. "I always knew he had it -- the ingredients and potential to go really far, to be a champion."
Spadafora strung together a few more victories before getting past the biggest challenge of his career -- veteran Rocky Martinez. In spite of Spadafora winning via unanimous decision, a relatively lackluster performance prompted ESPN2 Friday Night Fights commentator Max Kellerman to call him "a B-level fighter." The criticism made Spadafora hungry. "I was overweight before the bout and had to lose it, and it was a depressing fight," he says. "[Kellerman] was right that night, but what he said put a fire in my belly and drove me to another level."
That level was experienced by Israel Cardona on Aug. 20, 1999 for the IBF's vacant lightweight crown. Spadafora emphatically manhandled the 5-to-1 favorite en route to winning a 12-round unanimous decision and a world championship. The belt was his finish line, a culmination of the blood, sweat and tears he had shed throughout a childhood he almost didn't survive. "I remember round-by-round winning every second of that fight," he says. "Boom, Boom, Boom ... here he comes! Bap, Bap, Bap! For all of the struggle and everything I went through growing up, it was to be there in that moment."
It wasn't until he faced Mayweather during an impromptu sparring session at a suburban Las Vegas gym in 1999 that Spadafora felt absolute omnipotence. "Floyd said 'I'm the best fighter in the world,' and 'Does your boy wanna get some work?'" Yankello says. Spadafora politely accepted the challenge and the two champions went toe-to-toe, exchanging body shots and pushing the pace through six rounds.
At the very end, Mayweather collapsed to the canvas with a bloody nose as Spadafora casually trotted to his corner. "Mayweather wasn't in the shape that Paul was -- I'll give him that -- but it wasn't his first day back in the gym either," Yankello says. "That guy is always in shape. He's the one who asked for the sparring session. When they sparred that day, [Mayweather] thought he would be getting the better of Paul, but he didn't."
Spadafora knows who won.
"I feel like when I'm at my best, I'm the best pound-for-pound fighter in the world," he says. "If it wasn't for some of my stupid choices, maybe I woulda had Mayweather's life."
*****
Spadafora retained his title with a TKO victory over Renato Cornett. He continued to roll the next two years with wins over Victoriano Sosa, Mike Griffith, Billy Irwin, Angel Manfredy and Dennis Holbaek Pedersen to capture the IBC lightweight title. Spadafora regularly was called "The Pittsburgh Kid," a nickname once shared by Pecora and Billy Conn, the city's last champion from more than a half-century earlier. He was even dubbed Pittsburgh's fourth franchise behind the Steelers, Pirates and Penguins.
Spadafora's success in the ring led to wealth beyond his wildest dreams. He closed on a large house in his old neighborhood. He purchased a new Hummer H2. He had millions in his bank account. Life was as good as it had ever been for him. But when he wasn't training for an upcoming opponent, he'd get bored. Boredom would lead him to the bottle. And the bottle was a gateway to nearly every drug in existence.
Spadafora met Nadine Russo at a local bar following the Manfredy victory. The two began dating. "[Nadine] was the first person I ever did coke with," he says. "I'm not gonna lie -- I was scared."
But he wasn't scared enough to quit. Spadafora started using cocaine without his girlfriend and even stepped up the habit with ecstasy and crack. After a while, he even began taking drugs while training for big fights, making his blood-soaked unification bout draw against WBA champion Leonard Dorin even more unbelievable. "Paul was pissing blood the week leading to the fight," Yankello says. "I found out later on that he was doing drugs during training camp. I used to think it was just the alcohol, but I noticed he started doing other drugs. If he would have been clean, he would have destroyed [Dorin]."
Spadafora relinquished his IBF and IBC lightweight belts in June 2003 and moved to the more manageable 140-pound junior welterweight division. Acri hoped to put together a rematch against Dorin or a monster matchup with Mayweather or Arturo Gatti. The next month, under the advisement of management, Spadafora replaced Yankello and co-trainer Jesse Reid -- two close people in his inner circle -- with legendary trainer Emanuel Steward. "Paul was so strong-armed, manipulated and influenced by the rest of his team that he made that decision based on stuff he didn't know," Yankello says. "It was upsetting, but I truly don't blame him for some of the pressure he was going through."
That pressure eventually led to the most traumatic moment of his life. In the early morning hours of Oct. 26, 2003, after a night of heavy drinking, Russo drove Spadafora's Hummer over a median strip while pulling into a McKees Rock's gas station, slashing two tires. According to newspaper reports, Russo would later testify that they engaged in a heated argument. Panicked, she pulled Spadafora's .38 revolver from her purse and aimed it at him. A tussle ensued for control and the gun accidentally went off, sending a bullet into Russo, an inch below her right breast. The footage was captured on a gas station surveillance video.
Although the details of the ordeal are hazy to Spadafora, he remembers sobering up in the back of a squad car while paramedics attended to Russo. "Cops were calling me a scumbag," he says. "If Nadine would have died, only me, her and God would have known what really happened that night. All of these people wanted to judge me, and they had no idea what really happened."
Russo pulled through and was discharged from the hospital a few days later. Spadafora was released on bond and charged with attempted homicide, aggravated assault, reckless endangerment, and violation of firearms laws. Both would later call the ordeal a drunken accident and remain in a relationship and Russo would give birth to their son, Geno, a year later.
While awaiting trial in September 2004, Spadafora was charged with public drunkenness, reckless endangerment and disorderly conduct in Mercer County. He spent two months behind bars before his February 2005 court date for the Russo shooting. Due to sparse evidence and Russo's refusal to testify against Spadafora, he pleaded guilty only to second degree assault. Judge Jeffrey Manning sentenced him to seven months at Camp Hill Penitentiary and an additional six months at Quehanna Boot Camp in Karthaus, Pa. "I remember looking out into the yard thinking 'This is ridiculous,'" he says. "I was a world champion. I was on HBO only months earlier."
*****
Spadafora set his sights on making a comeback after his release from prison. However, after nearly destroying his career, he would have to start from ground zero. Following a 32-month layoff, Spadafora returned to the ring on Nov. 22, 2006, to face Frankie Zepeda in the ballroom at the Avalon Hotel in Erie, Pa. Spadafora won by TKO in five rounds. "My promoter [Acri] told me we were gonna take a [purse] cut and fight in this ballroom, and I didn't understand why I wasn't back on TV," he says. "These other fighters went to jail and they'd get back on TV quickly, and I was like 'Why am I in a ballroom?'"
Over the next three years, Spadafora handily beat six more journeymen to remain undefeated. Nevertheless, time continued to tick away and he felt increasingly frustrated that he wasn't getting the big-money bouts he thought he deserved. He was no longer living the lavish lifestyle of a world boxing champion and was forced to sell his home and Hummer. "I started having trouble looking in the mirror," Spadafora says. "I was always depressed, never had any money and was never fighting nobody. I didn't have any hope."
It wasn't until January 2011 that he felt a renewed sense of optimism upon learning that his name was being shopped around as a potential opponent for Mayweather. Writers hyped the 1999 sparring session (which was preserved on camcorder footage and posted on YouTube) and argued that Spadafora's style would be a perfect tune-up for Mayweather in preparation for a potential clash with Manny Pacquiao. Mayweather's father, Floyd Sr., even endorsed the bout during an interview with OnTheRopesBoxingRadio.com. "[Floyd Jr.] would love to do that with Spadafora," he said. "As a matter of fact, Spadafora is trying to get the money right now. That's what he needs. If he needs the money, he can get it. If he needs a whupping, he can get it and a whupping he's going to get."
By summer, Spadafora's team had grown increasingly optimistic that the fight would come to fruition. Spadafora spent long hours at the gym with a renewed sense of purpose. It seemed as if he was finally headed in the right direction. Once again, he had motivation.
And then -- POOF -- the opportunity disappeared. Mayweather signed to fight Victor Ortiz in August 2011. Spadafora was shattered. "All year long I was told I'm fighting Mayweather," he says. "I had went a year without fighting anyone. I didn't even have enough money to buy a soda. I thought, No Mayweather fight, I'm done."
Spadafora sank into a deep depression that fall and was arrested twice in two months for driving under the influence of alcohol. Months behind on child support payments, he squatted in an abandoned apartment that lacked heat, running water and electricity. Each day he'd cry, snort cocaine, smoke crack and then cry some more as he pondered the desultory path of his career and the systematic deterioration of his life. He'd rest an AK-47 assault rifle on his lap and gaze at it for hours. He was a lot like the gun -- loaded and dangerous. "I was ready to rob and kill a drug dealer," he says. "I had it justified in my mind."
Following a heroin binge that nearly killed him, Spadafora had a moment of clarity. He needed help, and fast. Desperate, he reached out to a friend with connections at the local chapter of the Pittsburgh Boilermaker's Union. Through the Union's financial backing, Spadafora was offered a paid sponsorship at Transitions Recovery Program. The plush North Miami Beach rehabilitation center served a clientele that included Hollywood celebs and professional athletes. Without hesitation, he boarded a plane for Florida the next morning.
Once there, the floodgates opened and he let go of everything -- the death of his father, his day-to-day survival with a pedophile, crime, incarceration, rampant drug abuse and his compulsive self-destruction. "I had to sit in front of people and tell my life story," he says. "I cried, because it hurt so bad. I had to do some real soul searching."
The experience was rejuvenating and it reminded him that boxing was the only influence that kept him grounded, even if only successfully for short periods. Staying clean would be Spadafora's primary objective, but he knew it would be made easier by making a few major changes to his career. He needed fights and needed money, so he did what he felt was necessary.
Spadafora returned to Pennsylvania and immediately dropped McCauley and Acri. He reunited with Yankello -- a man who saw him through some of his most impressive victories -- and joined forces with TNT Promotions. "Paul was once at the top, and he could get back to the top with the right people around him," Roy Jones Jr. said. "Not many people would want to take a chance on him, but we're willing to take that gamble and see what happens."
So far, commanding victories over Toledo and Egberime, along with his steadfast commitment to sobriety, indicate that TNT might be holding a winning hand. "Paul is as good as he's ever been," Yankello says. "He's a little more aggressive, has more power and knows how to use it better than before. Mayweather may be slightly faster, but Paul makes up for it by always being in the right position. Mayweather has never fought anyone with the style, intangibles and skills that he brings."
*****
Spadafora no longer lives life at Formula One speed. As he prepares for Frankel, he spars, runs, eats, sleeps and then wakes up to repeat the entire cycle. Yankello's younger brother, TNT Chief Operations Officer Mark Yankello, is looking forward to Saturday's fight. "Paul realizes he doesn't have room for error," he says. "Frankel has nothing to lose and has wanted this fight forever but, like fine wine, Paul has gotten better over time. He certainly looks like he can beat the best fighters in the world right now."
In addition to random drug testing, Spadafora's contract with TNT requires community service hours. He's mandated to make public appearances and speak to children about taking the right avenues during childhood. "We want him to have positive surroundings," Jones says. "I want him to pay back more to society to show that he is serious about changing."
Spadafora has no designs to circumvent the gorier details of his past as long as his mistakes can be used as a teaching tool. "I will talk about all of this stuff because there are guys like me in this world who are [messed] up," he says. "They have no mother, no father, but they have something like a boxing gym. I'm gonna to be real -- I was a criminal! I was arrested for the first time when I was 12 years old, and what did I do? I headed to the boxing gym. Anything I can do to help another person would be great."
He also wants to be a positive influence for his children. In addition to Geno (now 8), Spadafora has two daughters (Giana, 10, and Tua, 7) with Crystal Connor, a previous girlfriend. On his right forearm, opposite of the limb that showcases imagery of the substances that once poisoned his life, is an inked sketch of all three kids. When put together, the tattoos juxtapose the blessings and disasters that have defined his existence.
"[My children] never have asked me about that 'Truth' tat, but I'm sure it will come up," he says. "I want to be a good father. I want to be there for my kids. My sponsor in Florida said I should talk to them like they're adults. I want to explain to them that drugs and alcohol can change everything for the worse."
Spadafora leans against a squat rack and marvels at the second chance he's been given. For years, his name oscillated between the sports pages and crime section of newspapers. Now that he's finally clean and sober and re-setting his sights on another world championship, he's grateful it didn't end up in the obituaries.
So is his dog, Baby, as she gets a much-deserved belly rub from her master.
"I want to be remembered as a world-caliber fighter and a good person," Spadafora says. "I also want to be remembered for my resiliency. I've already made a comeback -- I'm still fighting! I've already turned everything around and not everyone gets that. People living in crack houses quit on life and usually give up, but I won't stop until [a title] is won. And it's gonna get done."
Chris Scarnati is a New Orleans area sportswriter.