Latest win leaves Floyd Mayweather with few worthy challengers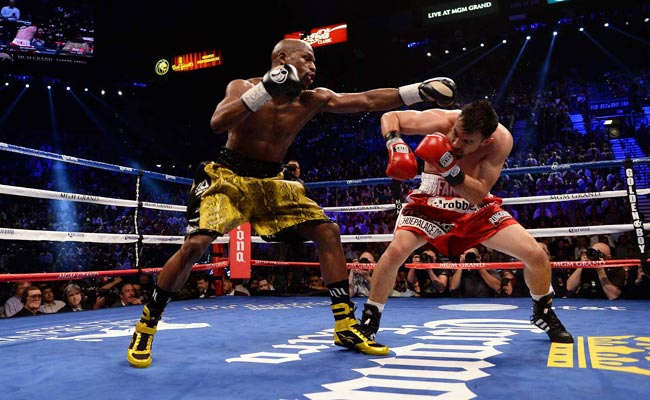 LAS VEGAS -- Press conferences involving Floyd Mayweather are part circus, part sideshow, with drips and drabs of usable information slipping out in between. Credentials are dispensed to whomever Mayweather's team feels deserves them, with the spaces they are held in having a barroom-like atmosphere.
Last Saturday night, hours after Mayweather had defended his WBC welterweight title against Robert Guerrero, the press center at the MGM Grand was packed. A heated argument broke out between junior welterweights Karim Mayfield and Danny Garcia. "Reporters" made statements, rather than asking questions. Liquored up men and women burst out in cheers when Mayweather speaks, like supporters at a rally.
Through it all, Mayweather was unflappable. A prevailing storyline during the buildup to his fight with Guerrero was how, and in what ways, Mayweather's two-month stint in prison changed him. And though there is no way to truly tell if it did, one thing is clear: There is a calmness to Mayweather, an ease to him rarely seen before. Whether it was remaining settled while Ruben Guerrero, Robert's father and trainer, called him a "woman beater" during the final press conference or scolding his father for cursing during interviews or imploring Floyd Sr. to show good sportsmanship in the ring after the fight, Mayweather showed a maturity rarely seen before.
"I'm older and wiser," Mayweather said. "I don't need to put myself in any rough predicaments anymore. I've done all that. I don't have to come out and tell you guys how fast my hands are or how good my jab is. I just have to go out there and do it. I've already done everything to build a fan base, I don't have to do anything else but go out there and perform."
As he stood at a podium, Mayweather was asked the question that occasionally has rattled him before: Who's next? Years past, Mayweather has been hammered by questions about Manny Pacquiao, questions that invariably led to frustration to bubble into his voice, that led him to pivot back to tired talking points like "All roads lead to Floyd Mayweather" and "If you are the best, take the test."
But the possibility of Pacquiao is gone, erased by one Juan Manuel Marquez right hand. And suddenly, the field of prospective opponents isn't so threatening. It seemed laughable that Mayweather would live up to the six-fights in 30-months he announced as part of his new deal with Showtime in February. But, really, what's stopping him?
Over the next months, there will be plenty of buzz about a possible matchup with Saul 'Canelo' Alvarez, the uber-popular junior middleweight titleholder who is being built up as boxing's next big star. But Alvarez's resume of notable fights is paper thin; his narrow decision win over Austin Trout last month stands as his biggest win to date. Moreover, he fights in a weight class (154 pounds) that Mayweather rarely ventures into. He did it in 2007, against Oscar De La Hoya, and again last year, against Miguel Cotto. If Alvarez isn't willing to come down to 147 pounds -- or fight him at a catchweight of 150 -- why should Mayweather move up? And that could be the deal breaker: Golden Boy CEO Richard Schaefer told SI.com that Canelo "cannot go lower than 154" for a Mayweather fight.
And beyond Canelo, who is out there? "There are still tough competitors still in the sport," Mayweather said. "I want to compete with the top competition." But who? Danny Garcia? His wide, looping punches would make him target practice for Mayweather. Amir Khan? Khan suffered two losses in 2012 and has looked shaky in his last two wins. Devon Alexander? Lamont Peterson? Lucas Matthysse? Do any of these prospective opponents appear to be any significant challenge to Mayweather's throne?
Five fights and I'm done, Mayweather said on Saturday, and those five fights, with guarantees that will exceed $30 million each time, could prove to be the easiest money he has ever made. Whether he admits it or not, Mayweather didn't want any part of Pacquiao. Offering Pacquiao $40 million for a fight that could have been worth in excess of $200 million was a joke, as was continuing to press the issue of testing when Pacquiao had publicly declared that he would submit to it. That decision will always taint Mayweather's past, but it will have no bearing on his future.
Pacquiao is gone, defanged by Marquez, a super fight with Mayweather reduced to simulations on Playstation consoles. Mayweather now has a chance to do what few great fighters have done: Retire undefeated, retire at the top of the sport.
"I wanted to be at this level my whole life," Mayweather said. "This is my job, I love my job. I feel like I was built for this."