Luke Rockhold looks to beat up another bully in his UFC debut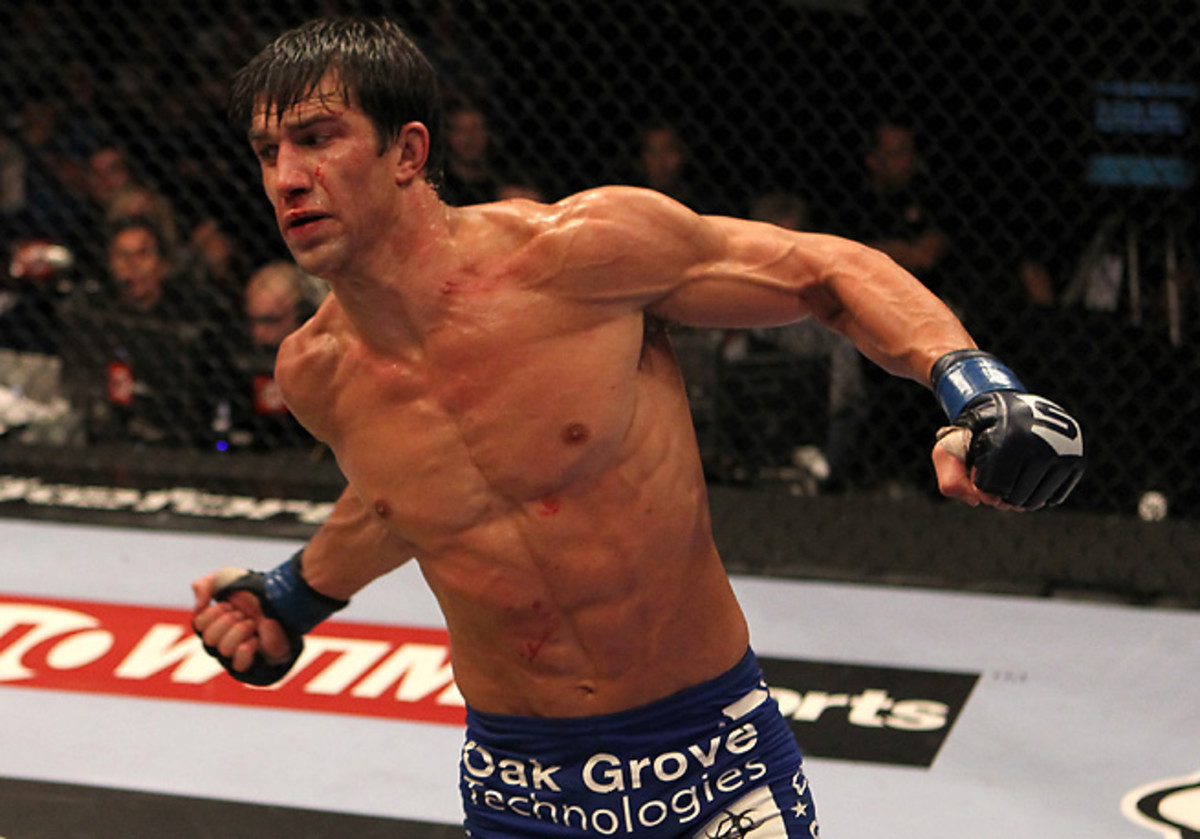 The most legendary fight of Luke Rockhold's life thus far won't show up on Sherdog or be broken down statistically by FightMetric. It lives -- as the best folklore often does -- purely as an oral tradition passed down and around to the next generation, sometimes embellished, oftentimes tailored, by those who were at that Santa Cruz, Calif., surf shop Memorial Day weekend of 2003.
Rockhold was 18, athletic, and, by all accounts, righteous. Like a lot of young people living in Santa Cruz that holiday weekend, Rockhold and his friends cruised on bikes the city famed for its beaches and laidback lifestyle. That is until they rolled up to a nearby surf shop where a local band was playing. The music carried and the beer flowed, with everyone having a good time until one of Rockhold's friends approached him saying that a notorious local jerk slapped him for no reason. Rockhold cut through the crowds, looking for the guy who hit his friend.
"What the hell," Rockhold asked the man, roughly 10 years his senior. "Why don't you just apologize? You know you're out of line."
The guy looked at Rockhold.
"What? Who are you?" the man asked Rockhold, then promptly threw a beer in the teen's face with one hand and launched a cheap shot with the other.
Though blinded by the beer, Rockhold managed to grab the guy's arm and head before launching him to the ground with a judo throw, then posturing up some ol' fashioned ground and pound. The older man's friends pulled Rockhold off before he could beat an apology out of the guy. But hours later, when Rockhold rode across town to visit his older brother, Matt, his reputation had preceded him. Matt's phone had rung what seemed like 100 times with the first draft of Luke's legend.
"I was just an 18-year-old kid just looking to get respect," says Rockhold, now 28, remembering the fight. "Everyone was super excited about it because a lot of people didn't like the guy."
Rockhold will find himself in similar circumstances on Saturday, when he makes his UFC debut against Vitor Belfort in the headline fight of UFC on FX 8 from Santa Catarina, Brazil. Like that day at the surf shop, Rockhold will take on an older, disliked opponent in Belfort, 36, who is derided in the larger MMA community for his use of testosterone replacement therapy. And like his 18-year-old self, Rockhold, the final Strikeforce middleweight champion, will be trolling for respect, but this time within the UFC ranks.
The Rockhold-Belfort matchup possesses all the elements necessary to upend the Santa Cruz fight as Rockhold's most legendary. The fighters have engaged in a war of words regarding Belfort's TRT use that's ended with Belfort questioning Rockhold's manhood and Rockhold all but calling Belfort a cheater. But beyond the emotional lies the technical.
Rockhold, the No. 5 ranked middleweight who was never knocked down in his 10-1-0 Strikeforce career, will face off with the second-ranked Belfort (22-10-1), whose 10 first-round finishes are the most in UFC history. While Belfort has landed 80.7% of his significant strikes to his opponents head -- a whopping 17% more than the UFC average, Rockhold has absorbed a mere 1.62 significant strikes per minute, almost a full strike less than the UFC average. On the ground, the fight looks just as tight, with Rockhold claiming five submission wins -- tied with Tim Kennedy for the Strikeforce record -- and Belfort taking down every opponent he's attempted to get to the ground, boasting six of 10 takedown attempts.
Though fighting Belfort in his home country, Rockhold knows he's the white hat to Belfort's cartoonish villain character beyond Brazil's borders. It's a role the Santa Cruz-native has played all his life. Despite growing up in a town famed for it's beaches, liberal marijuana laws and its frequent veterans demonstrations for peace, Rockhold grew up a fighter. Whether it was to confront the kid cheating on the handball court in elementary school, to shoo the crosstown kids trying to sneak into parties where they weren't invited, or to challenge the two brothers bullying everyone else, Rockhold was always ready to posture up.
"I was never the bully, I was always the one trying to clean up the situation," he says.
WAGENHEIM: Silva still on top of the MMA pound-for-pound rankings
Rockhold was genetically gifted, preternaturally talented, even in grade school. The son of Steve, a former college basketball star at UC Santa Barbara who tried out for the Golden State Warriors and logged pro minutes in Europe, the younger brother of Matt, a pro surfer, and Dave, who entertained college volleyball scholarships, Rockhold took up wrestling and placed second in 173-pound division of California's Central Coast Section championships his senior year.
By 2006, at 21, Rockhold placed second at the Pan American Championships in jujitsu as a blue belt entering his first major competition. He then entered the US Open jujitsu tournament in the absolute division, where he squared off against an opponent he remembers as a 6'4", 280-pound former football player. "It was David and Goliath," Rockhold says. Despite being down most of the match, Rockhold came back to outpoint his bigger, more experienced opponent. It would turn out to be a life-changing win. "It gave the me a confidence that if I could beat this guy. . ." Rockhold left the thought open, the possibilities endless.
Two weeks after his U.S. Open win, he traveled Highway 17 from Santa Cruz to nearby San Jose's American Kickboxing Academy, home to fellow MMA stars Cain Velasquez and Daniel Cormier. Though he entered the academy for some light shadowboxing, he ended up in the cage with a training partner preparing for a UFC fight, finishing him with a chokehold. AKA's head trainer, Javier Mendez, wasted little time in giving Rockhold his honest assessment. "You could be a world champion," Medina told him. On Rockhold's very first day.
But it hasn't always been quite that easy. In Rockhold's second professional fight, against a replacement opponent on one day's notice, Tony Rubalcava caught him with a flurry of punches for a TKO. "I was in the gym, competing with the best guys in the world and I was doing very well. I didn't think anyone could touch me at that point in my career," he says of the loss. "That kind of stuff scares you."
Injuries, though, have done what opponents haven't: knocked him out. He suffered a shoulder injury in 2010 that kept him out of the ring for 17 months. After winning the Strikeforce belt in September 2011 with a unanimous decision over Rolando Souza, he broke his hand during his first title defense against Keith Jardine in January 2012, then suffered a ligament injury in his wrist that sidelined him from appearing in the Strikeforce swan song last January. His matchup with Belfort will be his first time in the cage since his win over Kennedy in July 2012.
Belfort is a challenge Rockhold isn't taking lightly.
"Vitor, he's well-rounded," Rockhold says. "I focused on my footwork a lot. I focused on my wrestling, my offense. . . I'm going to throw a full arsenal of strikes right off the bat and just pressure him. . . I feel like my skills are up to par where I can go in there and make a statement."
But Rockhold is betting on the one element of his game that can't be refined through practice or developed in a laboratory: His heart.
"I have the will to win," he says. "I'll put my will up against any body's any day."
He's proved it over and again. And this time, he just might give the folks in Santa Cruz something new to talk about.