Transgender Fallon Fox attracts extra attention ahead of fight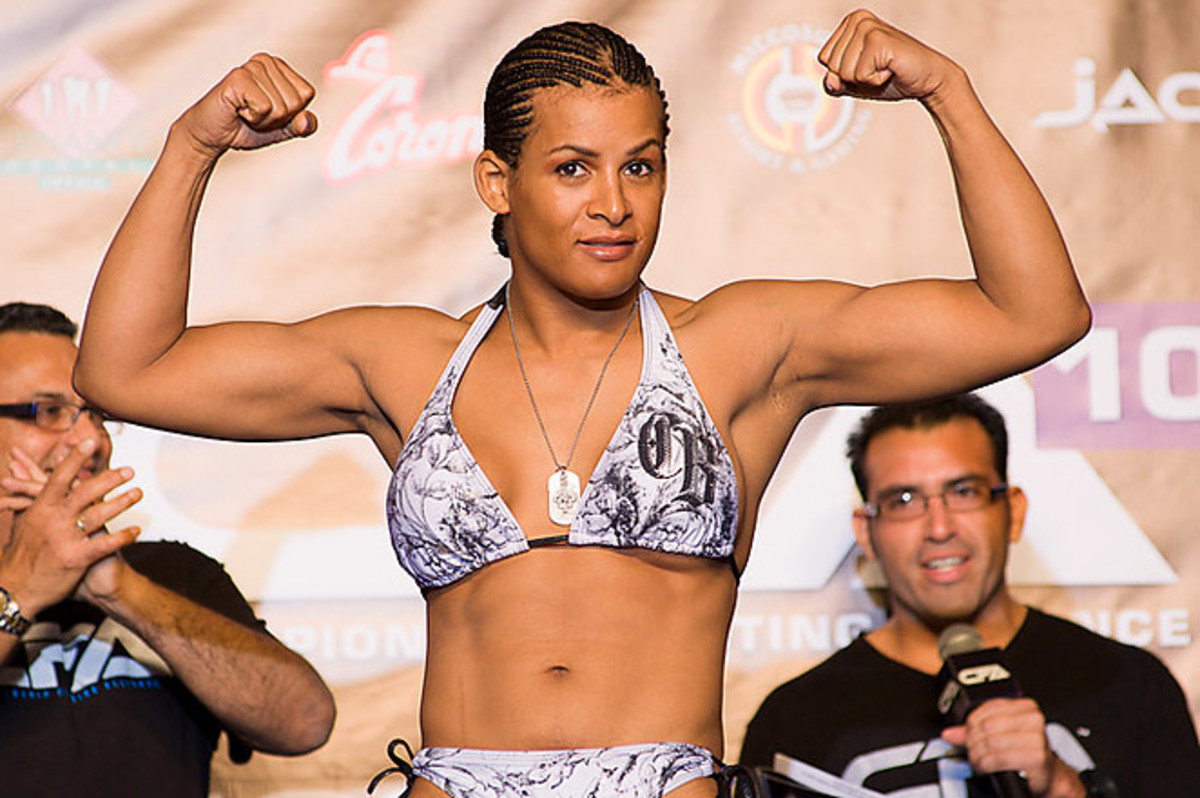 It's just another fight, say Fallon Fox and Allanna Jones, the two women competing this Friday at Championship Fighting Alliance 11 (AXS TV, 9:00 p.m. ET) in Coral Gables, Fla. For them, it's a matter of winning, and the better fighter that night will advance on to the promotion's tournament final and a chance at its $20,000 grand prize.
For nearly everyone else, it's the first chance to watch Fallon Fox compete since she came out as MMA's first, on-record transgender fighter in early March. That makes this no ordinary fight.
Fox's admission that she'd undergone gender reassignment surgery in 2006 and supplemental hormone therapy prior to becoming a professional female fighter last May has sparked intense debate in and out of the mixed martial arts community. It's generated national attention from outlets like CNN and the New York Times, and divided athletes, promoters, medical professionals and fans, some of whom argued if the 37-year-old Fox should be allowed to compete again at all.
As it turns out, that battle has already been fought and decided. Last July, the Association of Boxing Commissions' 42-member medical advisory board presented recommended transgender policy at its annual convention -- a pre-emptive move to address the growing number of transgender athletes emerging in both amateur and professional sports. These recommended guidelines, which identify the surgical and medically-supervised hormone therapy documentation required for participation, were modeled after policies already adopted by International Olympic Committee and the NCAA. Most importantly, these guidelines signified that transgender athletes should be acknowledged in mixed martial arts, based upon a medical perspective.
In April, the Florida State Boxing Commission, which had already licensed Fox and allowed her to fight in its jurisdiction prior to her voluntary disclosure, deemed that the 2-0 fighter had the legal right to compete again in its state without transgender policy in place.
"Chapter 548 and the rules promulgated under its authority do not address or prohibit transgender participants [in mixed martial arts]," wrote Ronnie Whitaker, a representative for Florida's Department of Business and Professional Regulation, in a statement to SI.com. "Fallon Fox's application was reviewed and approved based upon current law."
For Friday's fight, Fox will not be required to produce documentation of her transgender medical history, including hormone therapy data, as there is no law in place that can ask her to do so. (For the record, Fox has been on hormone therapy for a decade, well over the IOC and NCAA's 1-2 year standards.) Eventually, Florida's requirements will change.
Last Friday, the FSBC held its second public hearing to discuss the adoption of transgender policy. Commission members reviewed the IOC, NCAA and ABC-recommended guidelines, as well as proposed policy recently drafted by the California State Athletic Commission, where Fox had also applied for a license last February. FSBC Executive Director Cynthia Hefren said the five-member commission recommended its state move in the direction to draft and adopt policy that only allows for re-assigned transsexual athletes (those having undergone complete surgery) to compete in MMA. Hefren acknowledges that the exclusion of hormone-therapy-only transgender fighters will undoubtedly lead to more public discussion. The passage of policy is still months, if not more than a year away, she noted.
On the west coast, CSAC Executive Officer Andy Foster said proposed transgender policy is still in its drafting phase, a collaborative undertaking between the commission's medical board and the National Center for Gay and Lesbian Rights.
"I think what you will see come out of this will be a thoughtful, politically correct and fair compromise for all athletes," said Foster, who estimated that it could take approximately one year for the finished transgender policy to move through the multi-layered regulatory process and be voted into law.
Like in Florida, Fox and other transgender MMA applicants would not have to wait for the policy to be passed, confirmed Deputy Attorney General Karen Chappelle.
"An applicant would only need the commission to approve his or her license based on the current requirements in place," said Chappelle.
Since Fox's reluctant announcement last March, MMA's regulatory wheels have moved relatively quickly, though overall public reaction hasn't been nearly as progressive. Curiously, both male and female fighters have been asked to comment on Fox and some of the strongest responses have come from the men.
A low point came on April 8, when UFC heavyweight Matt Mitrione called Fox a "lying, sick, sociopathic, disgusting freak," during an audio interview with MMAFighting.com. Mitrione was promptly suspended by UFC owners Zuffa LLC., though the promotion booked the fighter for his next bout only 16 days later. Mitrione's representation released a statement on his behalf on April 26, in which he apologized "for my hurtful comments about Fallon Fox and a group within our society, which, in truth, I know nothing about."
To balance out Mitrione's admitted ignorance, UFC light heavyweight champion Jon Jones applauded Fox for her bravery not long after.
"I think Fallon Fox, that's a strong person," said Jones, when queried during a UFC press conference. "Despite what the person has been through in their life, that's a strong person. I'm a fan of that person because of what they've gone through and what they're willing to go through."
Female fighters, some of whom could feasibly face Fox down the road, have had split responses, but there's no argument that the topic has produced immeasurable buzz.
Parlaying the massive attention Fox has already garnered (and will continue to generate) into revenue opportunities has also been a mixed bag, particularly from potential sponsors. Fox's manager, Brett Atchley, said the harshest response he got to an inquiry came from a company he described as a "top-five UFC sponsor."
"They emailed me that they weren't interested in providing a political platform for her or him to stand on," said Atchley. "They added that they didn't appreciate the inference that it would create incredible exposure for their product and recommended I drop [Fox] like a hot rock."
A majority of the sponsors Atchley has approached have been more tactful in their responses, he said, though they've stated they're passing to avoid the controversy that follows her.
Not all have shied away, though. Atchley said he was able to procure a deal with another UFC-visible sponsor for Fox during a 10-minute email exchange and has had greater success with non-traditional MMA sponsors who have a presence outside the niche sport.
"Those sponsors are more than happy to support her," said Atchley.
Others have seen the division over Fox as an opportunity. In April, Mark Cuban's AXS TV announced that it would live-broadcast Friday's main card, which includes Fox's fight against Allanna Jones (2-1) in the co-main event.
"Fallon is an up-and-coming fighter," wrote billionaire entrepreneur and Dallas Mavericks' owner Cuban via email. "I think people will want to see how far she has come and how well she performs."
The AXS broadcast's added reach cannot be emphasized enough. It will guarantee additional viewers in the five-figure range (Cuban anticipates between 500,000 and possibly over 1 million viewers), which will magnify the CFA's audience astronomically. As of Wednesday afternoon, the FSBC's Hefren said that approximately 600 tickets had been sold to CFA 11 and live attendance was expected to cap out at around 2,000 people.
Getting the chance to perform in front of a larger audience will be an added boon for the fighters who share the card with Fox. It wasn't something that Fox's opponent, Allanna Jones, took into account when she accepted the bout back in March. To the contrary, Jones said she waited a few extra days before she gave CFA promoter Jorge De La Noval her answer.
"I thought if I did take the fight, I might get backlash," said the 26-year-old Jones, who hails from Lansing, Mich. "I didn't want any negative feedback from any women fighters in the MMA community who thought it might not be right."
Jones, a self-professed tomboy who grew up watching Laila Ali and was taught to box by her two older brothers, said her decision has brought minimal response from her peers.
"My mother didn't like it at all and some of my family really don't think it's right, but they all support my decision," said Jones, who also touts a 6-2 amateur record.
Much has been made of what perceived advantages Fox might or might not have over for opponents. Some concede that Fox's male physiology may have been dramatically altered by surgery and years of hormone therapy, but argue that it can never be entirely erased. Jones doesn't really care.
"I believe she will [have an advantage] maybe in strength and she still does have the bone structure of a man, but I really haven't been paying attention to it," said Jones. "I've been focusing on what I need to do to win."
Again, to Jones and Fox, this is just another fight. Jones sees a clear advantage on its feet, while Fox believes her well-roundedness will overcome Jones' "one-dimensional" style.
"I don't think her kickboxing, wrestling or jiu-jitsu is going to be as good as mine," said Fox, who completed a six-week training camp for the bout at the Midwest Training Center in Chicago.
When the cage door closes on Friday, will the audience watch this one as they would any other fight? Probably not. With her admission of who she is and what she's been through, Fox's performance will be scrutinized and analyzed differently than any other fighter's. If she wins, particularly in dominant fashion, detractors will likely cite a lack of competitive equity and the debate will begin all over again.
Just another fight, say the two women who'll face off on Friday. But to everyone else this is no ordinary fight.