U.S. skier Steven Nyman wins World Cup downhill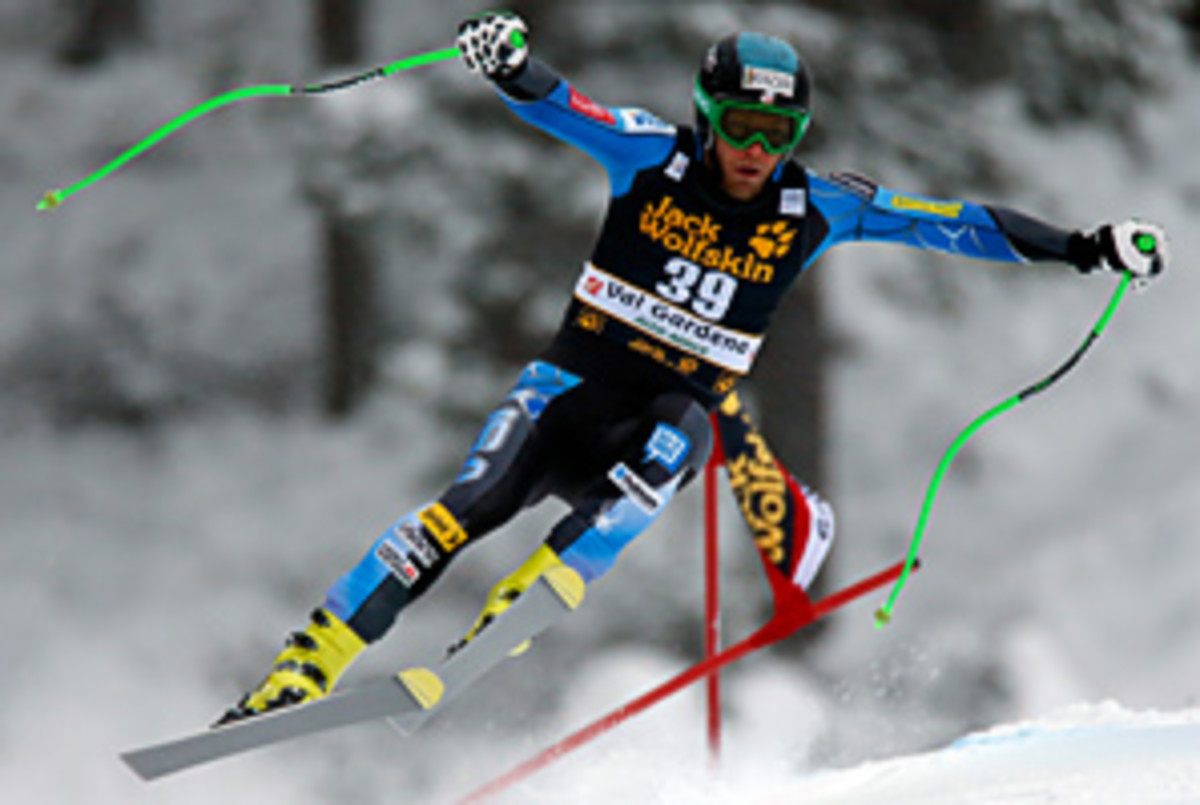 VAL GARDENA, Italy (AP) -- American skier Steven Nyman took advantage of changing conditions for an improbable win in a World Cup downhill that was shortened because of heavy snowfall and low visibility on Saturday.
Nyman also won this race in 2006 - his only previous victory - but struggled with injuries in recent seasons. He started with the No. 39 bib, with the first 30 start positions reserved for the top-ranked skiers.
"I'm pretty psyched," Nyman said. "Weather is definitely a huge factor. ... On days like today you just got to hope for good conditions and take advantage of it."
Rok Perko of Slovenia, another late starter, finished second for his first career podium result, 0.19 seconds behind Nyman's time of 1 minute, 28.82 seconds. Downhill world champion Erik Guay of Canada was third, 0.24 back.
Norwegian teammates Kjetil Jansrus and overall World Cup leader Aksel Lund Svindal finished fourth and fifth, respectively.
The start of the race was delayed for more than two hours due to the weather conditions, which also changed once the event got underway. With the start lowered to the super-G, about 30 seconds were cut from the race.
Dominik Paris of Italy took the early lead before about a 20-minute delay due to fog rolling in across the course. When the fog moved out, Guay put down a blistering run that might have been good enough to win if the conditions remained the same.
But it then stopped snowing and the fog lifted even more and all of a sudden later starters had a chance.
Perko started 35th, and Nyman was able to watch his run on a TV screen at the start.
"When I heard Rok coming on the lead I was like, `Right on, the door is open,"' Nyman said. "I hit the soft snow in some places, but I nailed the line I wanted to hit and just kept working the terrain and searching for my tuck everywhere I could and it was good. ... It was awesome."
No man had won a downhill with such a high start number since Fritz Stribl wearing No. 43 in Val d'Isere, France, in 1996.
Back in 2006 and 2007, Nyman posted three podium finishes in a 12-month span and appeared ready to join Bode Miller and Daron Rahlves as accomplished American downhillers.
But then the injuries hit: A bulging disk in his back that pinched a nerve and required him to wear a custom-fitted cast for six weeks; a badly bruised shin; operations on both knees; and a year ago, a torn Achilles tendon, which kept him out all of last season.
"I had a lot of confidence and then I lost it because of the injuries, but now it's back," Nyman said. "It's just been a journey. I've always believed I had the speed and I hope to continue proving it throughout the year - that's my goal: consistency."
Perko's previous best result was 12th in two downhills in Kvitfjell, Norway.
Guay won the downhill at the world championships in Garmisch-Partenkirchen, Germany, two seasons ago - but hadn't cracked the top 10 in his last four races.
Considering the changing conditions, however, Guay wasn't certain of making the podium until the end.
"It was a nervous race for me until No. 60 (the last racer) came through," Guay said. "I knew it was going to be that kind of race today. (Nyman) definitely took advantage of his start number. He threw it down and he's on top."
Nyman's ski man Leo Mussi previously worked for Kristian Ghedina, the Italian who shares the record of four downhill victories in Val Gardena.
"Now Leo has six wins," Ghedina said. "Leo is the man in Val Gardena."