Marcel Hirscher wins worlds slalom at home in Austria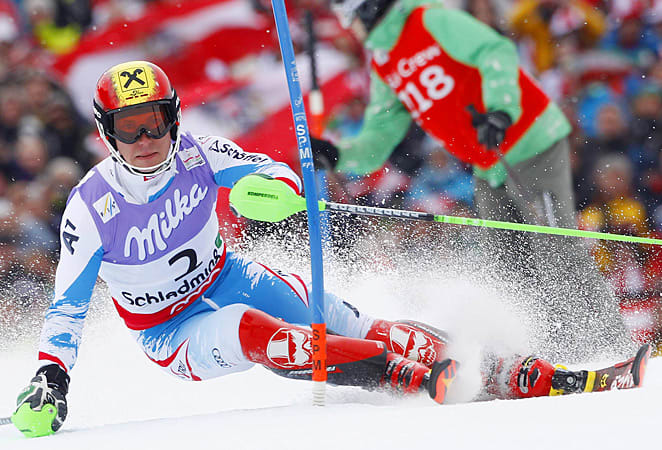 SCHLADMING, Austria (AP) -- Overall World Cup champion Marcel Hirscher won the men's slalom title Sunday on the last day of the skiing world championships for his first individual gold medal at a major event.
Cheered loudly by a home crowd of 35,000, the Austrian overcame the pressure of expectation to earn the host nation its second gold of the worlds, after the mixed team event.
Hirscher held onto his first-run lead to finish in a combined time of 1 minute, 51.03 seconds. Felix Neureuther of Germany was 0.41 seconds back in second. Hirscher and Neureuther are also 1-2 in the World Cup discipline standings.
Two-time former champion Mario Matt of Austria took third, 0.65 behind.
"It's awesome," Hirscher said. "I forced myself to think, `There's nothing at stake, it's just ski racing, it's just a game.' That helped me to handle the pressure. The atmosphere was sensational, super. I had to be careful not to blow it all for them."
Hirscher missed the 2011 worlds because of a broken foot. On Thursday, he injured his back and neck during training but finished second to Ted Ligety in GS the next day and followed it up with Sunday's win. It was the 14th gold in slalom for Austria.
His father and coach, Ferdinand Hirscher, called it "a wonderful day."
"It was very tense as we had to change something on the setup of his boots this morning," Ferdinand said. "But Marcel always stays cool. He tries not to think about titles and championships. He just concentrates on the information the coaches are giving him before a run."
Italian great Alberto Tomba said the Austrian's achievement was "super, super."
"I said three days ago, Marcel is going to win," said Tomba, the 1996 world slalom champion. "It's super he's done it. Felix and Mario were also great."
Ligety, a three-time champion, failed to finish when the American lost his balance and his left boot clicked out of the bindings 15 seconds into his run.
Olympic winner Giuliano Razzoli of Italy skied out on the bottom part in his first run, and defending world champion Jean-Baptiste Grange of France finished 2.43 off the lead in 12th place.
Neureuther, who trailed Hirscher by 0.28 after the first run, won his first individual medal at a major competition.
"It's fantastic," Neureuther said. "I usually try to hide my emotions but I can't do that now. I've finally done what I've tried to do many times before at big events. I am really happy and proud."
Neureuther helped Germany win bronze in the team event. Maria Hoefl-Riesch, who won the women's super-combined title, added two more medals for Germany.
"Everybody was talking about this duel: Marcel vs. Felix - and that's what it was," Neureuther said. "I just tried to avoid the mistakes I made at other championships."
Matt won the world slalom title in 2001 at home and again in 2007. He led the race briefly after a strong second run but was overtaken by both Neureuther and Hirscher.
"You have to fully attack but avoid making it a useless run," Matt said. "I lost a bit of time with a small mistake on the bottom, but I have to be satisfied with bronze."
The course caused many racers problems as mild temperatures softened the top layer of snow.
"The snow felt weird," Hirscher said, and Neureuther added it was "extremely difficult to gain speed on this course. You just don't get the right feeling on it."
Ligety's attempt to win a fourth medal failed shortly after starting his first run.
"I just kind of made a mistake," Ligety said. "I wanted to go really hard forward on the ski and I just peeled it right out of the back of the binding."
Ligety, who also captured the super-G and super-combined titles, could have equaled the 45-year record held by French great Jean-Claude Killy, who won four golds in 1968.
Ligety helped the United States top the medals table, even without Lindsey Vonn, who suffered a season-ending knee injury in the opening race. Mikaela Shiffrin added another gold in the women's slalom, and Julia Mancuso took bronze in super-G.
"It was an awesome world champs," Ligety said. "Of course it was a bummer to go out in the slalom. I just had the ski peel off again, which has been happening this year ... I feel pretty good for the most part. I'm not at the level of consistency of Hirscher or Felix, but I still feel like I have good speed relative to those guys. I just don't put together runs like those guys do."
Ligety's teammates David Chodounsky and Will Brandenburg also failed to finish the opening run.