Oehling Norbert, Serwa take first in Sochi World Cup ski cross event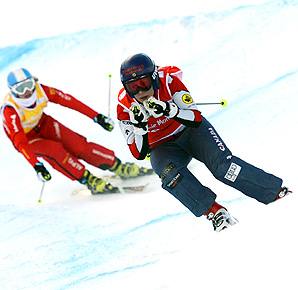 SOCHI, Russia (AP) -- Victor Oehling Norbert of Sweden won a men's ski cross for his first freestyle World Cup victory, and Kelsey Serwa led a Canadian 1-2 in the women's race.
Oehling Norbert led the big final race from the start, beating Canadian Christopher Delbosco, who finished second in his first race of the season after being sidelined with an injury. Germany's Andreas Schauer was third.
Alex Fiva, who leads the discipline standings, fell midway through the final. Serwa overtook overall women's leader Fanny Smith early in the race to win her second title of the season, ahead of fellow Canadian Marielle Thompson, defending World Cup champion. Smith fell on the last turn and finished third.
Fiva leads the standings with 474 points after eight of 12 races this season. Fellow Swiss skier Armin Niederer is second with 429 points, while Tomas Kraus of the Czech Republic has 322 for third.
Smith tops the women's discipline with 476 points. Ophelie David of France is second with 416 points and Serwa is third with 401.
This competition was the last of the International Skiing Federation's test events for freestyle skiing and snowboarding at the Roza Khutor Extreme Park, which will be used for next year's Sochi Olympics.
The competitions were marred by mild weather, which brought a mixture of heavy snowfalls and rain that forced organizers to cancel the slopestyle and parallel slalom events. The qualification for the ski cross was rescheduled to early Tuesday because of heavy snowfall Monday.
The skiers struggled on a tough course. Florian Eigler fell and crashed into the safety net in the men's first round, while fellow German Sabina Weilharter landed hard off a last jump near the finish in the women's quarterfinals. There were no immediate details on their injuries.
The next Word Cup ski cross event is Feb. 24 in Harrachov, Czech Republic.