Heat unveil 'nickname jerseys' for LeBron James, Dwyane Wade, Ray Allen, rest of roster
Nicknames jerseys for LeBron James (left), Dwyane Wade (middle) and Ray Allen (right). (Heat.com)
After months of teasing and a few leaked images, the Heat have unveiled their full list of "nickname jerseys" that will be worn for the first time on Friday when they visit the Nets in Brooklyn.
Many of the nicknames were expected ("King James" for LeBron James, "D. Wade" for Dwyane Wade and "Birdman" for Chris Andersen) and some had been announced earlier (J. Shuttlesworth for Ray Allen, a nod to his famous portrayal of Jesus Shuttlesworth in He Got Game). Still, Miami had a few surprises up its sleeve, as all 15 players -- even Greg Oden, who hasn't played during the regular season -- got their own custom threads.
The Heat are currently selling the "Name Collection" jerseys online, and they released images of the nickname jerseys in Miami's home white uniform style, which can be seen below.
Heat unveil 'nickname jerseys' for LeBron James, Dwyane Wade, Ray Allen, rest of roster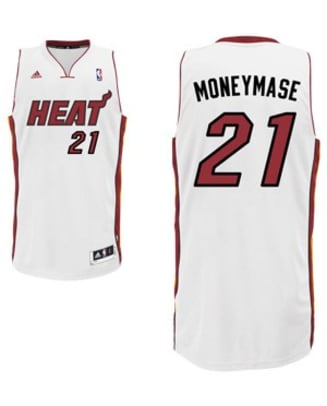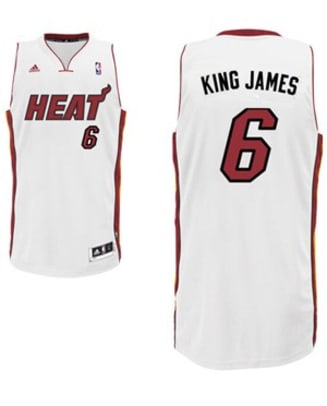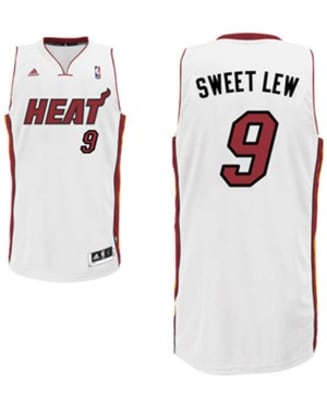 Here's the full list with jersey number, player name and the nickname that will appear on their back of the jersey.
#34 Ray Allen | J. Shuttlesworth
#11 Chris Andersen | Birdman
#50 Joel Anthony | Doc
#31 Shane Battier | Battle
#8 Michael Beasley | B Easy
#1 Chris Bosh | CB
#15 Mario Chalmers | Rio
#30 Norris Cole | Cole Train
#40 Udonis Haslem | UD
#6 LeBron James | King James
#22 James Jones | JJ
#9 Rashard Lewis |  Sweet Lew
#21 Roger Mason, Jr. | Moneymase
#20 Greg Oden | G.O.
#3 Dwyane Wade | D. Wade
As if we needed any more proof that NBA nicknames generally lack in originality, 12 of the 15 nicknames are related to the player's initials or his last name.
Brooklyn has also unveiled a number of the nickname jerseys to be worn by its players. Here's a partial list gleaned from the team's website...
Nickname jerseys for Kevin Garnett (left), Paul Pierce (center) and Deron Williams (right). (Nets.com)
#30 Reggie Evans | Joker
#2 Kevin Garnett | The Big Ticket
#7 Joe Johnson | JJ
#47 Andrei Kirilenko | Кириленко
# 11 Brook Lopez | Brooklyn
#34 Paul Pierce | Truth
# 1 Mason Plumlee | Plums
#31 Jason Terry | Jet
#8 Deron Williams | D-Will