A Hero For The Wired World: Michael Jordan reaches new heights
In this SI 60 selection, Pulitzer Prize winner David Halberstam writes about why Michael Jordan was the perfect athlete for the perfect time in America.
In a satellite age, Michael Jordan has become the fast-rising global star of basketball's fast-rising global show
In honor of Sports Illustrated's 60th anniversary, SI.com is republishing 60 of the best stories in the magazine's history. Today's selection is "A Hero For The Wired World," by David Halberstam, which ran in the Dec. 23, 1991 issue in which Michael Jordan was chosen as the Sportsman of the Year. Halberstam won the Pulitzer Prize in 1964 for his reporting for The New York Times and later became a leading author and historian, including writing several books about sports. One of them was Playing For Keeps: Michael Jordan And The World He Made, published in 1999.
Halberstam wrote two stories exclusively for SI, the first in 1987 on Magic Johnson, Larry Bird and the issue of race in the NBA. The second was this essay discussing Jordan's talent and popularity just as he was nearing his peak as the world's most famous and influential athlete. 
In some mysterious way the word has gotten out. The Chicago Bulls bus, the bus that he rides on (which is as close as most of these fans will ever get to the street where he lives), is to leave the Westin Hotel in Seattle at 5 p.m., and by 4:20 the crowd has begun to gather in the lobby, concentric rings of fans or, more properly, worshipers: They are more white than black, more young than old, more male than female, but they cut across every ethnic and demographic line. It seems almost ceremonial, a certain hum of anticipation rising each time the elevator opens. Finally at 4:50 -- for he likes to be the last man on the bus -- the door opens, and out he comes, in his Michael Mode: His smile- and-sign-and-move-and-s mile-and-sign-and-keep-moving drill is flawless. He is the seigneur -- swift, deft, graceful, never rude -- in the splits of the second in which he at once enters and departs their lives. ''I actually saw him live,'' a boy says. Fame is indeed fleeting for those whose closest connection to it is to stand and work the 60 yards from the Westin elevator to the team bus.
I have not seen fame like this in almost 30 years. I think of the time, in 1960, when I was the one reporter in the country allowed to ride the train bearing Elvis Presley back to Memphis from the Army, and I think of John Kennedy in that same year, when he campaigned in California, and I watched the teenyboppers and saw the first reflection that in a television age, politics had become theater. I do not cover rock concerts, but I presume Mick Jagger and others who play at his level deal with this all the time. In a pretelevision age, Joe DiMaggio had fame like this and was comparably imprisoned, though his fame was limited largely by the boundaries of the 48 contiguous states.
There is an even greater dimension to the fame of Michael Jordan. He is one of only two black American athletes who, almost 45 years after Jackie Robinson broke into baseball, have finally become true crossover heroes -- that is, they receive more commercial endorsement deals from the predominantly white, middle-class purveyors of public taste than do white athletes (the other is the pre-HIV Magic Johnson; the jury is out on Bo Jackson now that he's a mere one-sport man). But unlike Johnson, Jordan has created a kind of fame that exceeds sports; he is both athlete and entertainer. He plays in the age of the satellite to an audience vastly larger than was possible in the past and is thus the first great athlete of the wired world.
55: Remembering the night Michael Jordan announced his return to dominance
His good looks -- indeed his beauty, for that is the right word -- are a surprise to older white Americans, who by cultural instinct grew up thinking that Gary Cooper and Gregory Peck and Robert Redford and Paul Newman were handsome but did not see beauty in a young black athlete with a shaved head. Jordan has given us, then, among other things, a new definition of American male beauty. Not surprisingly, in many households it has been the children who have taught the parents about him and about his fame, artistry and beauty.
About a year ago New York Governor Mario Cuomo gave a speech bemoaning the disappearance of the athlete as hero in America. Where have you gone Ted Williams and Joe DiMaggio? he asked. A friend of mine named Dick Holbrooke, a former U.S. State Department official, wrote him that comparable heroes still existed, but that their names were Michael Jordan and Magic Johnson and that today's children were inspired by the grace and ease with which they carried their fame. Cuomo called back and said, I stand corrected.
Jordan, infinitely disciplined, product of a very strong, very ambitious family, knows innately how to handle this staggering role -- to deal with the media, to know what to say and what not to say and when to hide and when to go public, and to smile always. He is the first new-age athlete. And he is the right athlete at the right time. He plays the right sport, for its purpose is easily comprehensible even in a country where basketball has not yet taken root. Had the satellite been pervasive 20 years earlier, Pele, also playing an international sport -- soccer -- on a level above even the best players of his day and with a charm that radiated easily across national boundaries, might have been first. Perhaps Muhammad Ali might have been first, but he was politicized by his conversion to Islam and the Vietnam War. Besides, Ali's , considerable charm notwithstanding, boxing was never the ideal sport for the young, with whom all idolatry of this kind must start. Ali, far more graceful than most boxers, conquered his opponents by stylishly punching them senseless; Jordan meets his opponents and conquers by gracefully soaring over them.
More, he does this for an audience that greatly exceeds that of the ballet. This is sports as ballet, something utterly new and modern, its roots African- American, ballet as a contested sport. No one, after all, ever guarded Baryshnikov. When we talk in Jordan's hotel room, I talk to him about Baryshnikov and Nureyev and their beauty and grace, and he listens, curious, patient, intrigued by these stories of potential rivals, and when I am through, he asks only one question about Baryshnikov: ''How tall is he?'' Short, I answer, quite short -- low center of gravity. I detect a small smile, a category 4 smile, almost invisible, a smile of private victory: Michael's pleasure as he thinks about posting up Mischa.
Jordan's is the most original of performances. What thrills the fans -- and the other players and his coaches -- is that almost every night there is something unique in his moves. It is not, says Bulls coach Phil Jackson, that Jordan's hangtime is so great; there may well be others in the league with greater hangtime. What sets Jordan apart, Jackson says, is what he does in the air, the control, the vision, the ability to move his body after he has seemingly committed it. If Jordan, Jackson notes with a certain delight, is the lineal descendant of those great basketball innovators who went before -- Elgin Baylor, Connie Hawkins and Julius Erving, each learning from and expanding upon the accomplishments of his predecessors -- then the most exciting question is, What is the next great player going to be able to do?
Ever since the coming of the communications satellite, there has been an inevitability to all this -- that there would be an athlete of Jordan's surpassing international fame, that he would most likely come from soccer or basketball, because they are the most readily understandable of international games, the games that essentially explain themselves. Since America is the home team in the wired world, it would likely be an American sport. But American football has too many rules and cloaks its players in uniforms that deny individuality. Baseball has complicated rules too and seems, in contrast with basketball, a languid sport to the uninitiated, building slowly over an entire season. That left basketball. It was therefore almost a given that the first athletic superstar of the wired world would be a black American basketball player who played above the rim.
The last great export of America in the postindustrial international economy may be entertainment and media. We as a country are now to the rest of the world what New York was to the rest of the nation when New York was merely a domestic media capital. (Consider the relative fame and success in endorsements of, say, Joe DiMaggio and Mickey Mantle of New York compared with Stan Musial of St. Louis and Hank Aaron of Milwaukee-Atlanta.) We do not, as a nation, merely reprocess the talents of others through our powerful communications system; like any good isolationist society, we tend to export, first and foremost, our own deeds, concerns and talents.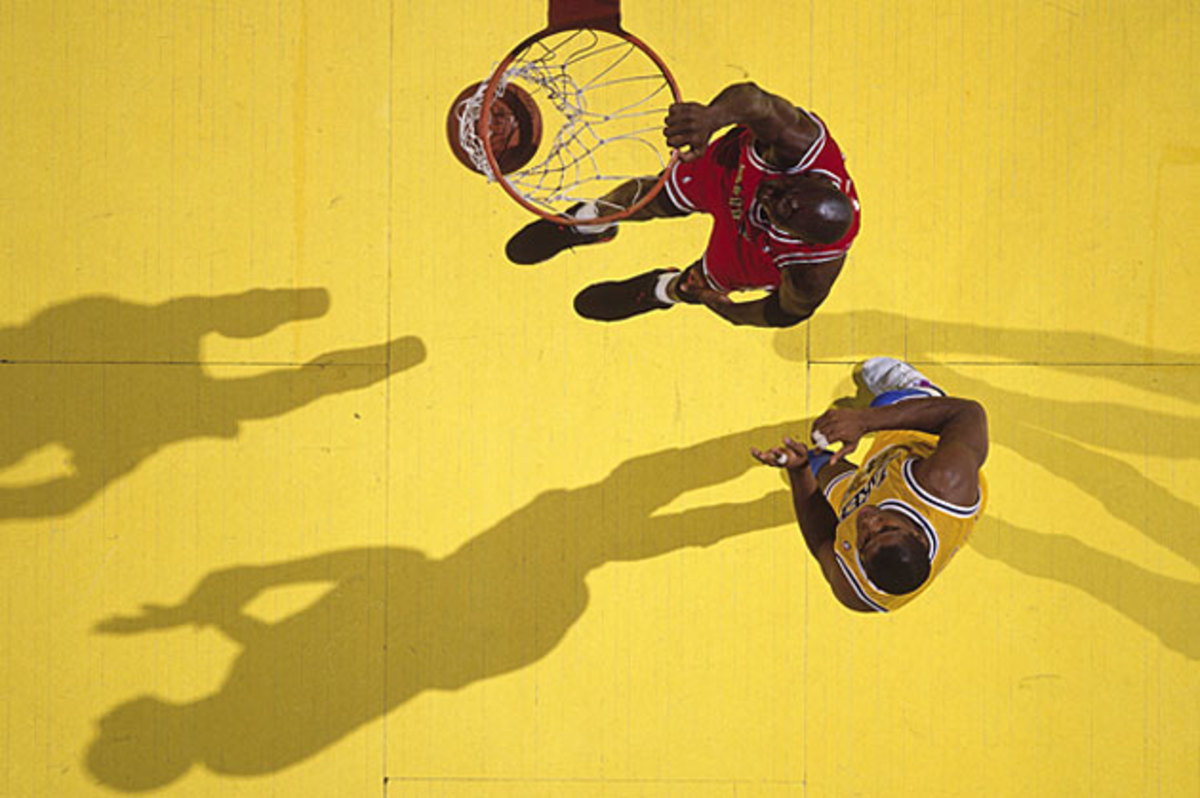 Jordan's fame is of a kind that builds on itself. Images in our world beget additional images. Having seen one dazzling image, we hunger for another. We fear only boredom. Because Jordan's athleticism is so great, the camera seeks him out every night. And because the camera singles him out, he in turn receives the endorsements, particularly the immensely skillful Nike commercials. What we finally come to is not merely the sale of sneakers but the creation of a myth, a movie in continuum, made up of brief commercial bites -- the Michael Jordan story: Chapter 1, Michael soaring into space; Chapter 2, his palship with Mars Blackmon (even mocking Jordan's own lack of hair). In the end, he is a film star as well as an athlete.
The decision to broaden the story, year by year, was made by Jim Riswold, who writes the Nike commercials. He had heard early in Jordan's career that Bill Russell, not a man lightly given to compliments about other players, had told James and Deloris Jordan that their son was an even better person than he was a basketball player. We will proceed, Riswold thought, to show that. And he has. The Michael Jordan story, as told by Nike, has become such a cultural event that the release of a new commercial is preceded by great secrecy. We are allowed to know only that a new Michael commercial is soon to appear on a television channel near you. Then there is a screening for journalists. A screening of a commercial for journalists! Of the next episode, to be unveiled at the Super Bowl, all we are allowed to know is that it portrays Michael with another American icon, someone older from outside sports. (The smart money is on a carrot-eating wabbit of cartoon ancestry.)
Jordan is a reflection of what the world has become and of the invisible wires that now bind it. CNN, the network of the satellite, has been in operation for little more than a decade; the rise of the NBA as an international sport has taken place largely in the past five years. Some 75 nations received some combination of regular-season and playoff games in 1990-91, and that figure is up to 88 this season. The internationalization of the sport, of course, has dovetailed almost perfectly with Jordan's pro career. He had been half hidden in college in the controlled North Carolina offense. Nike had signed him in '84, thinking it was getting one of the better players of the year. It did not know that it was getting the greatest athlete in the world. He was immediately able to showcase his abilities at the Los Angeles Olympics, while the world watched. From then on, the legend built.
When Nike bid to represent Jordan, his agent, David Falk, insisted that he not sign on as just another basketball player endorsing a sneaker, but that he have his own line. In time Nike agreed, and Air Jordan was created. Nike, which had come upon stagnant times in the sneaker wars, thought the Air Jordan line might do about $10 million in business the first year. Instead, despite the attempts of the NBA commissioner to ban the Jordan shoe, Nike sold $130 million worth of Air Jordans. Thus began the legend (and the dilemma) of the young man who is the most talented athlete in basketball but whose fame and income transcend the game, making him entertainer as well as player. For everything in a media age must entertain; that Jordan can do so is his great value. He is not just the ultimate player; he is the ultimate show.
SI 60 Q&A with Alexander Wolff: No Michael Jordan? No problem
It is about more, of course, than scoring and smiling. Being a Pied Piper is not enough. He is a warrior, a smiling warrior to be sure, and that too comes through to the fan. There is an intensity to his game, a feral quality, and an almost palpable desire to win. Great athletes are not necessarily nice people, in the traditional definition of nice, which implies a certain balanced, relaxed attitude toward life. They are, at least in their youth, obsessed by winning, by conquering others. Jordan is, for all the charm and the smiles, the athlete personified, egocentric and single-minded, tough and hard -- hard on himself, on teammates, on opponents -- fearless and unbending, never backing down, eager to put his signature on an opponent, looking for new worlds and teams to conquer.
There are endless testimonials to this intensity: Michael wanting and needing to win at everything he does -- pool, cards, video games; Michael staring for hours at a blank television set late at night after missing a critical foul shot in the final seconds of a playoff game against Cleveland; Michael, in the Finals against the Lakers last spring, hurting his toe, which then swelled up badly, and trying to play in a special shoe that gave him more room but also limited his ability to cut, coming over to the Bulls bench early in the game and saying to the trainer, ''Give me the pain,'' which translated meant give me my regular shoe, and I'll play in pain.
He had hated the reputation, which he bore in his early years in the NBA, that he was a great player, perhaps the greatest ever to play the game, but that he would never be able to win a championship ring. This was so, it was said, because the Bulls offense, like it or not, would revolve too much around him, and in the playoffs, at the highest level of the game, he would, in this most team-oriented of sports, subtract rather than add by playing into the hands of the defense. He became, year by year, a more complete player. But what also became clear about him -- as it was clear about DiMaggio -- was that he was the ultimate big-game player, the bigger the game, the better he played, and the better and tougher he played in the final quarter, and even more, in the last four minutes, when everyone else was exhausted. All of his skills came together last year in the Finals, giving him the championship some said he would never attain.
Now, with that championship under his belt, he pushes for a second and for wider victories. His teammates at Nike and Gatorade are thinking now of Europe. His teammate NBA commissioner David Stern is thinking of the rest of the planet. Their time is clearly coming. The phenomenon of the athlete as global figure grows at an accelerating rate. The Olympics loom ahead, and when Michael leads the U.S. team in the gold medal game just outside Barcelona on Aug. 8, some 2.5 billion viewers in 170 countries will likely tune in.
And this is just the beginning. The stadium is now the world. Sports, particularly soccer and basketball, are ever more international (in soccer, only America lags behind the world, and that is partly generational; younger Americans are already more connected to the game than their parents were). The commercial impulse for more international competition can only grow -- the shoe companies and the soft drink companies are increasingly international, and they hunger for this limitless audience.
As for Michael, he is contemplating other fields. We are sitting in Jordan's hotel room, and he is talking about playing another sport. It is hard to tell when he is entirely serious and when he is daydreaming. Sometimes the daydreams sound very real. Bo Jackson, he is saying, made it possible to be a two-sport man, opened it up for me. He clearly would like to compete against Jackson's achievement. Besides, all that jumping is hard on the knees. Football, he says . . . I could be a wide receiver. Almost nothing I couldn't catch. ''But I won't go over the middle.''
Then he goes on to baseball. He ponders a career there, for he loves the game and would still like to give it a try. At 28, could he hit the curveball? The question is tantalizing.
In the meantime, as his fame grows, his right to privacy shrinks. Almost everywhere he goes in the world now, he draws large, demanding crowds. Paris, cool to basketball, disdainful of Americans, was a surviving safe haven, a place where he could walk around with ease and relative anonymity. But the next Olympics, he knows, may cost him even Paris.