NBA playoff race X-factors as regular season hits its stretch run
Hassan Whiteside, Paul George and Tyreke Evans are among the biggest X-factors of the final weeks of the regular season.
With less than a month remaining in the regular season, a plethora of fringe playoff teams are fighting for their right to compete in postseason action. Parity in the Eastern Conference has five teams jockeying for two positions, while a trio of Western Conference foes remain in the hunt for the No. 8 spot.
If the teams in question have any hope of locking up a playoff seed, they'll need their stars to perform at an elite level. That's a given. Eric Bledsoe needs to continue his tremendous two-way play for the Suns to have a chance, just as Anthony Davis must keep performing at an MVP-caliber pace (and stay healthy) for the Pelicans to have any shot at the final playoff spot out West.
Those two alpha dogs are extremely important, but they aren't the X-factors of their respective rosters. That distinction falls on the unsung contributors who often mean the difference between a win and a loss. The No. 1 options are expected to be transcendent on a nightly basis, but the glue guys will prove to be the barometer determining a late run to the playoffs.
Here are the biggest X-factors as the playoff race heats up:
In addition to losing LeBron James to his home state of Ohio, the Heat have had to deal with a rash of injuries decimating the roster. Josh McRoberts remains doubtful to return this season after suffering a torn meniscus in his right knee in December. Chris Bosh is sidelined for the foreseeable future due to blood clots in his lungs, and Miami stalwart Dwyane Wade has been banged up as well.
• MORE NBA: All-Lifeline Team: Five veterans in need of rescue
D-Wade and new acquisition Goran Dragic (who's been solid aside from his three-point shooting) will continue to lead by example. The biggest X-factor is center Hassan Whiteside.
Top 10 PER Rankings | PointAfter
The 25-year-old big man has been remarkably effective in South Beach by posting a PER of 26.4, which slots him sixth in the league between MVP candidates James Harden and LeBron James. He was dominant throughout January and February, but some of the mystique he put on display previously has wavered a bit in March.
Hassan Whiteside: March Game Log | PointAfter
Whiteside has still thrown up five double-doubles in the month, but he only had two rebounds in a March 6 loss against the Wizards and fouled out against OKC on March 22 after 24 minutes of action. The Marshall product also lost his cool against Boston, shoving Kelly Olynyk and earning a one-game suspension.
Those are the types of mental mistakes Miami can ill afford at this point of the season. Whiteside has proven himself as a breakout talent, but his consistency and maturity will determine whether or not the Heat get into the playoffs at season's end.
The Hornets surprised the NBA community in a big way last season under head coach Steve Clifford. They morphed from 2013's worst defensive team in terms of efficiency to finishing sixth last season by surrendering just 101.2 points per 100 possessions.
That production hinted toward a bright future, but the Hornets have struggled to score in 2014-15 and thus sit nine games below .500—outside of the playoff picture. Kemba Walker, Al Jefferson and Michael Kidd-Gilchrist all have to step up as the core starters, but now's the time for failed free-agent signee Lance Stephenson to make something (anything) happen.
Lance Stephenson 2014-15 Shot Chart | PointAfter
The Brooklyn native's shot chart with Charlotte resembles a crime scene. It's totally overrun with ominous red, especially from beyond the arc, where Stephenson hasn't been able to shoot the ball into a swimming pool—much less a basketball hoop. Not surprisingly, his efficiency, which was on a yearly upward trend with the Pacers, has fallen off a cliff.
Lance Stephenson: PER Throughout Career | PointAfter
Stephenson flirted with an All-Star appearance a season ago, but his confidence is now in hiding. He's been a shell of himself following the change of scenery, but that needs to change if the Hornets are going to make a late push.
In truth, just about every player on the Celtics roster could be deemed an X-factor at this point. Rather than boasting one or two primary stars, Brad Stevens' rag-tag crew features a collection of solid role players.
• MORE NBA: Mailbag: Favorites to grab final playoff spots?
Crowder, the versatile 24-year-old, is one of the few forwards remaining in the rotation after a slew of midseason moves and injuries. He was never given a chance to shine as a member of the Mavericks, but he's played a significant role in Boston by averaging more than 24 minutes per contest. His offensive efficiency could use some work—he's shooting 42.1% from the field and 30.8% from deep with the Celts—but the team's offensive production has been much better with Crowder on the court.
Jae Crowder: On/Off Stats (with Celtics) | PointAfter
Boston scores more than five points per 100 possessions better with Crowder in the mix. His individual scoring prowess doesn't raise eyebrows, but his influence on those around him has been a key for Stevens' rotation. If he can score more effectively moving forward, that will be a great sign for Boston's playoff aspirations.
Indiana's postseason hopes haven't looked very rosy, but after dropping seven straight, the Pacers managed to pull off a huge win against Washington on Wednesday.
Indiana Pacers: 2014-15 Wins and Losses | PointAfter
They're not dead in the water yet by any means, but a valiant return from All-Star small forward Paul George would greatly improve Indy's chances of avoiding a spot in the lottery.
Paul George 2013-14 Stats | PointAfter
The two-time All-NBA Third Team member had a phenomenal year a season ago. His ability to score in bulk, rebound, dish out assists and play lockdown defense has proven to be an irreplaceable part of Indiana's identity. Hence why the team won 56 games last season and now has slim odds of reaching 40 wins without him.
The Pacers desperately need a spark, and George can no doubt provide it. The X-factor in this scenario, however, is whether or not the 24-year-old can ramp up his conditioning in time to contribute before it's too late. Head coach Frank Vogel has said he's not ready to play, so we'll have to wait and see.
Deron Williams is averaging just 12.9 points per game while shooting an ugly 38.3% from the field. Unfortunately for Nets fans, those numbers have been a microcosm of the team as a whole. The offense is sputtering, Joe Johnson has been playing hurt, and head coach Lionel Hollins still can't decide who to start in the frontcourt among Brook Lopez, Mason Plumlee and Thaddeus Young.
There are a lot of question marks facing this team's playoff hopes, but 25-year-old rookie Bojan Bogdanovic is providing a beacon of hope as the team's newfound X-factor.
Bojan Bogdanovic: 2014-15 Shot Selection | PointAfter
The 6'8" Croatian has been horrific on long two-point jumpers this season, but the majority of his shots have come from behind the arc, where he's been red hot of late. In March (while averaging 26.5 minutes per game), Bogdanovic is draining 40.9% of his long range looks and 50.4% of his shots overall.
Hollins has no choice but to ride the hot hand into Game 82. Right now, it appears that "Bogie" is his man.
Anthony Morrow, Thunder
Injuries have been the most prominent obstacle facing Oklahoma City. Kevin Durant has been on the shelf since mid-February and Serge Ibaka has missed OKC's past eight games. Russell Westbrook has been carrying Scott Brooks' crew by posting triple-doubles with alarming frequency, but even the voracious point guard can't do it alone. Insert sharpshooter Anthony Morrow:
Anthony Morrow 2014-15 Shot Chart | PointAfter
The 29-year-old three-point specialist has been elite when shooting above the break and from the right corner. He doesn't provide much on the defensive end of the floor, but he's drained a stellar 50 percent of his triples during March. That's alleviated at least some of the pressure on Westbrook's shoulders.
• MORE NBA: Thunder finally on track thanks to Westbrook
Three-Point Percentage Leaders (min. 200 attempts) | PointAfter
Even though Morrow is actually shooting below his career average (42.7%) from long range, he ranks within the NBA's top 10 in terms of percentage—both for all qualified players and those who have attempted at least 200 threes. His instant offense off the bench has been a welcome fit for OKC, but ultimately the Thunder need KD back healthy if they're going to make any noise in the postseason (assuming they get there).
Before the 2014-15 season even started, Markieff Morris was seen as a key X-factor for the Suns. Having lost sharpshooting big man Channing Frye in free agency to Orlando, Phoenix tabbed "Keef" as the full-time starter in the Valley of the Sun.
Morris made a smooth transition initially by averaging career bests in a variety of statistical categories and showing off some crunch-time chops. He had a brutal February, though, by shooting 38.2% from the field and 31.8% from three-point range. The Suns went 3-8 in that timeframe.
Markieff Morris: 2014-15 Shot Selection | PointAfter
It's disappointing that Markieff has been so lackluster from beyond the arc, but he's been stellar at knocking down long twos (47%). He's averaging 17.7 points and six rebounds per game in March, while shooting 49.1% from the field. His three-point touch has deserted him (just 26.3% for the month), but his other numbers are up and the Suns are 5-2 over their past seven contests.
They'll need an amazing finish to catch Westbrook and the Thunder, but that's not out of the question if Morris continues to up his game.
Tyreke Evans has been a true enigma for New Orleans. He's a big part of what the Pelicans do as a team, but he's also a wild card who can often mean the difference between winning and losing.
Tyreke Evans 2014-15 Shot Chart | PointAfter
He's been mediocre to downright bad in terms of shooting from everywhere on the floor aside from the right corner. When he's isolating and trying to play hero-ball as a scorer, that's a recipe usually spelling disaster for the Pelicans. When he's acting as more of a point guard and distributor, he puts his teammates in a great position to win.
In games in which Evans has notched double-digit assists, the Pels boast a 10-4 record. They're a longshot to overtake both the Suns and Thunder over the next 10-plus games, but they can't be ruled out if Evans is dishing out dimes and leaning on "The Brow" for crunch time scoring.
More from Ben Leibowitz:
PointAfter is part of the FindTheBest network, a research website that's collected all the information about Tyreke Evans, Markieff Morris and Paul George and put it all in one place so you don't have to go searching for it.
Join FindTheBest to get all the information about NBA Players, NBA Teams and thousands of other topics.
Ugliest jerseys in NBA history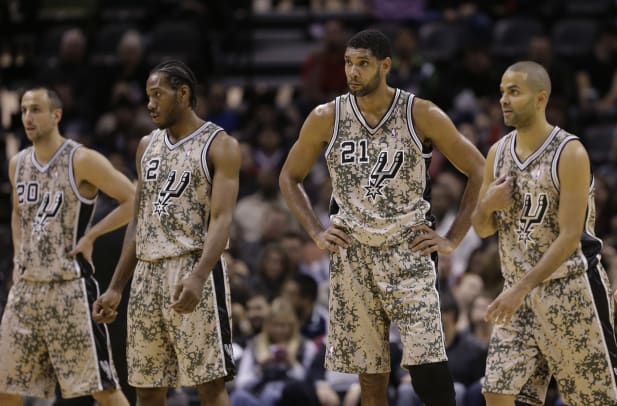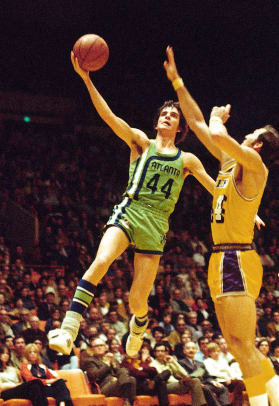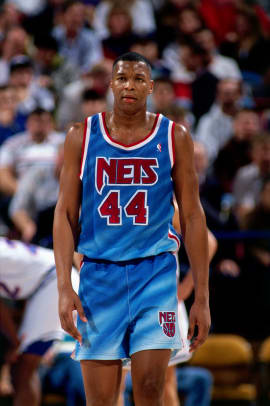 ​