SI cover: LeBron James has Cavaliers on brink of NBA Finals
Cleveland Cavaliers forward LeBron James is on this week's cover of Sports Illustrated.
Cleveland's sports fortunes took a turn on July 11 when Akron, Ohio, native LeBron Jamesannounced on Sports Illustrated that he was returning home to play for the Cavaliers after spending the previous four seasons with the Miami Heat.
James, of course, was selected with the No. 1 pick by the Cavaliers 11 years earlier, leading the team to one NBA Finals appearance and several other playoff appearances, though the Cavs never won the title.
No Cleveland professional sports team has won a championship since the Browns took home the 1964 NFL title.
James, who is on the cover of this week's Sports Illustrated, said in that July essay that he wouldn't promise a championship to Cleveland, but he wanted to make a difference in a region that has struggled through hard times, both in the sports world and financially.
How James is leading the Cavaliers to the brink of the NBA Finals is something to behold.
He is playing almost 42 minutes each game in the postseason, and has led the team without All-Star forward Kevin Love, who is out for the year with a shoulder injury. Star point guard Kyrie Irving has also been hobbled by injury.
With the Cavaliers about to make their first NBA Finals appearance since 2007, the days of burning James' jersey after he took his talents to South Beach are a distant memory.
LeBron James bearing unprecedented load as Cavaliers close in on Finals
For more on James, check out Mark Bechtel's story in this week's Sports Illustrated (subscribe here).
Also in this issue: features on the Kansas City Royals, Los Angeles Dodgers outfielder, Joc Pederson and Boston Red Sox outfielder Mookie Betts.
Subscribers and newsstands in Maine, Vermont, New Hampshire, Massachusetts, Connecticut, New York, New Jersey, Ohio, Pennsylvania, Delaware, Washington D.C., Virginia, Maryland, West Virginia, and Ohio will receive this cover.
Not in the area to buy the regional or national issue? Buy single issues here.
LeBron James' SI Covers
LeBron James SI Covers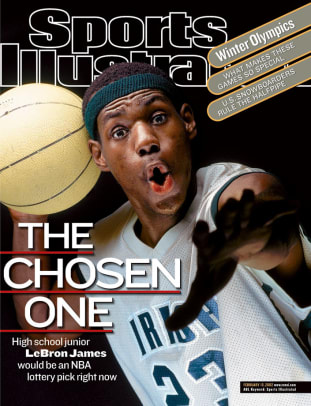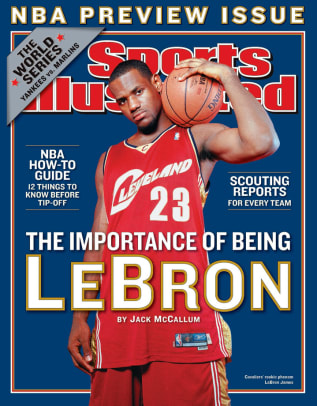 2015 Sports Illustrated Covers
2015 Sports Illustrated Covers