NBA Common Sense Mock Draft 2.0: New No. 1, two trades and more twists
With the lottery order now set, SI.com's Common Sense Mock Draft returns to project the first 30 picks in the 2015 NBA draft.
With the lottery order now set for the upcoming draft, it's time to unveil a new edition of SI.com's Common Sense Mock Draft.
As a reminder, the CSMD is similar to other standard mocks, only it places a heavier emphasis on team need and fit—occasionally at the expense of player value. Note that this mock includes multiple projected trades. For clarity, each pick involved in one of the trades is starred.
Without further ado, let's get to our Mock Draft 2.0:
• MORE NBA: Mannix's latest Mock Draft | Draft deep dive | Finals roundtable
RECORD: Duke, Freshman | 6-11, 270
• SI ROUNDTABLE: Okafor or Towns at No. 1?
2. Los Angeles Lakers
RECORD: Kentucky, Freshman | 6-11, 250
The Lakers happily nab Towns with the second pick, partnering him with Julius Randle to form a Kentucky-schooled frontline for the future. The big man brings mountains of upside and will lead the transition into the post-Kobe era—or become a very valuable trade chip should L.A. decide to go all-in before No. 24 calls it quits.
3. Philadelphia 76ers
RECORD: China, Age 19 | 6-5, 190
After trading for Nerlens Noel two years ago, drafting Joel Embiid last season and dealing 2013 first-round pick Michael Carter-Williams to Milwaukee at this year's deadline, the Sixers will likely look to upgrade their backcourt. Mudiay may need some time to refine his point guard skills and work on his shooting, but his developmental trajectory jibes with Philadelphia's slow timeline for contention. Mudiay is one of the best athletes in this draft class and offers good size for his position.
RECORD: Ohio State, freshman | 6-5, 180
We know Phil Jackson likes Russell and that he should be able to make a relatively fast transition to the NBA game. The Knicks haven't had a cornerstone point guard since (welp) Stephon Marbury and will place their faith in Russell to grow into an asset and elevate what might be a mediocre supporting cast for several years to come.
5. Orlando Magic
Orlando bolstered its perimeter defense over the last two drafts by selecting Victor Oladipo and Aaron Gordon. New Magic coach Scott Skiles has a track record of producing stingy defensive units, yet Orlando could use an injection of offensive talent after finishing No. 27 in the league in efficiency last season. Assuming Skiles can coax better defensive play out of the players already on board, Hezonja could boost Orlando's prospects on the other end of the floor.
 With Rudy Gay and DeMarcus Cousins in place and having taken Nik Stauskas last season, the Kings could pass on a slew of top-notch wings and frontcourt types and deal the pick to a team like Boston in order to acquire more assets. The Celtics roster features several skilled young bigs, but none with the ability to anchor a defense like Cauley-Stein. He'll thrive alongside a solid guard corps and help push Boston's rebuild forward.
RECORD: Duke, freshman | 6-6, 225
While Denver has yet to identify Brian Shaw's permanent replacement, it can't go wrong with picking Winslow, a wing with All-Star potential who, at the very least, should provide help on the defensive end right away. Whatever the team-building vision of Denver's next coach, this pick boils down to selecting the best player on the board.
Stan Van Gundy's built around physically dominant big men before (see Howard, Dwight) and here he follows the same blueprint, taking Porzingis to help complement the blossoming Andre Drummond. Though he won't be ready for big minutes his rookie season, Detroit could snag its future four-man regardless of Greg Monroe's decision to stay or go.
With Michael Kidd-Gilchrist holding a starting spot in Charlotte's rotation, there may be some reluctance to use a first-round pick on another defensive-minded wing. Yet Johnson exceeded expectations on offense during his lone season at Arizona, as he showcased the ability to create his own shot off the dribble and knocked down over 37% of his three-point attempts. While Johnson may project as a better defender than scorer, he and Kidd-Gilchrist could help Charlotte shut down opponents on the perimeter.
10. Miami Heat
David West will likely return to the Pacers on a player option this summer, but Indy needs to find a successor for the 34-year-old. Indiana could add a potential replacement in Kaminsky. Though he may be relegated to limited minutes as a rookie, the former Wisconsin standout, an adept three-point shooter and playmaker, would make for a favorable frontcourt complement to Roy Hibbert, who operates mostly from close range and is renowned for his defense.
 With Rudy Gobert and Derrick Favors in place and the available wing crop a bit thin, Utah adds an extra first-rounder and hands the point guard reins to Dante Exum. The Wizards leap at the skilled Turner, who could be their center of the future, and offer the disappointing Burke a change of scenery. And hey, it can't hurt that they're expected to bid heavily on another ex-Longhorn one year from now…
13. Phoenix Suns
Phoenix signed the Morris twins to four-year contract extensions last summer and former lottery pick Alex Len showed signs of improvement last season, but Phoenix could try and strike gold with Lyles, a top talent who played a secondary role with Kentucky last season. Lyles would be a good fit for the frontcourt because of his shooting ability and offensive versatility. The Suns ranked No. 26 in the league in effective field goal percentage after the All-Star break last season.
14. Oklahoma City Thunder
In the short-term, Dekker should be able to step into Kyle Singler's bench role and offer a bit more versatility on the defensive end. The Thunder are going all-in as Kevin Durant approaches free agency and Dekker looks more prepared than most to chip in early, plus he brings big-game experience. As his skill set expands at the NBA level, so should his value.
15. Atlanta Hawks (via Nets)
RECORD: Arkansas, Sophomore | 6-11, 240
Paul Millsap is set to enter unrestricted free agency this summer, and Al Horford has just one year remaining on his deal. Whether the Hawks re-sign those players or not, it shouldn't dissuade them from taking a skilled big man who could provide an instant boost on the glass, where Atlanta ranked No. 22 in the league on the defensive end and No. 30 on the offensive end last season. Portis was one of the best rebounders in the SEC in 2014-15 and could infuse energy into any frontcourt.
16. Sacramento Kings*
 After moving down, the Kings fill a gigantic need with Jones, who despite starring in the Final Four might still be undervalued in this point guard crop. He's a guy who does what his team needs, understands the game on a cerebral level and bottom line and fills in the gaps for his team on offense. If he and DeMarcus Cousins develop the type of chemistry Jones had with Jahlil Okafor, it certainly won't hurt as the Kings try to keep their mercurial star happy.
17. Milwaukee Bucks
RECORD: Kentucky, Freshman | 6-6, 206
Michael Carter-Williams regressed as a three-point shooter last season, and the Bucks could lose Khris Middleton, one of their top three-point shooters, after he becomes a restricted free agent this offseason. Milwaukee attempted only 22.3% of its field goals from beyond the arc last season, which ranked No. 25 in the league. Booker could space the floor with his ability to knock down long-range shots.
Houston is reportedly in love with Tyus Jones. Another report has the Thunder promising to draft Payne at No. 14. Our scenario ignores both and lands the Rockets with the latter—the latest mid-major point to raise his stock into the first round, and the type of playmaker James Harden wants to help ease his load.
 Utah ranked first in the league in defensive efficiency after the All-Star break last season. If the Jazz can even come close to matching that mark next year, it stands to reason they could compete for a playoff spot with a slight uptick on the other end of the floor. Hunter, a skilled guard renowned for his three-point shooting, could provide Utah a much-needed spark off the bench.
As Toronto bounces back from a disappointing playoff performance, Grant's experience, size and playmaking ability adds depth and diversity to the Raptors' backcourt. He'll learn from Kyle Lowry and DeMar DeRozan and could become a rotation contributor sooner than later.
RECORD: Washington, Sophomore | 7-0, 250
The Mavericks will have to make a decision on Tyson Chandler in free agency this summer. Even if they elect to bring him back—or potentially try to lure Texas native DeAndre Jordan from Los Angeles—Dallas shouldn't hesitate to take a talented big man in this spot. Prior to being dismissed from a program for the second time in three years last January, Upshaw emerged as an elite rim protector. His 17.4 block percentage over 19 games would have ranked first in the nation if he qualified.
22. Chicago Bulls
Chicago brings in new backup point guards like rock bands cycle through drummers. That comes to an end with Wright, who has the college experience Chicago's front office loves and sits as the most NBA-ready playmaker on the board. He's got the size to handle both guard spots and his defensive skills will let the Bulls switch more on the perimeter. If he can take some pressure off Jimmy Butler on that end and lead the second unit right away, he'll provide a huge boost.
Portland was bounced in the first round of the playoffs after posting a 99.0 offensive rating in five games against the Memphis Grizzlies, well below their regular-season mark in that category. With offensive juggernauts Golden State, San Antonio, Los Angeles and Oklahoma City lurking in the West, the Blazers need more production from their wings to keep up.
The Cavs will be contenders every year, so long as they have LeBron James, and in Harrell they get one of this draft's most ready players. His 6'7" height is less of a concern thanks to a ridiculous 7'4" wingspan—in a small-ball heavy league he could even play some center. Harrell brings some of the same qualities as Tristan Thompson, adding depth in a role that's worked wonders for Cleveland in these playoffs.
25. Memphis Grizzlies
The Grizzlies' top priority in free agency will be re-signing Marc Gasol, but they could also lose reserve center Kosta Koufos, who will become an unrestricted free agent. Looney may need some time to hone his offensive skills, but he profiles as a solid rebounder and flashed the ability to knock down jump shots last season at UCLA, making 41.5% of his (only 51) three-point attempts.
26. San Antonio Spurs
RECORD: Virginia, Junior | 6-6, 227
With Manu Ginobili nearing the end of his illustrious career, it's time for the Spurs to search for a replacement shooter. Enter Anderson, an athletic wing who sank 45.2% of his three-point attempts last season at Virginia and would provide a nice complement to Kawhi Leonard. 
27. L.A. Lakers (via Rockets)
After selecting a franchise cornerstone in Towns at No. 2, the Lakers could add another intriguing piece to their frontcourt near the end of the first round. McCullough's lone season at Syracuse was interrupted by a torn ACL in January, but he has the potential to help down the road as a defender and rebounder off the bench. At the draft combine last month, his wingspan measured at 7'3 ¼".
28. Sacramento Kings*
RECORD: Kansas, Freshman | 6-8, 240
 Alexander's a great value pick here—let's not forget he was a top-10 player on many draft boards a year ago. He's got a ton of physical ability, and though he may not look like a star anymore, at the very least he could become a valuable contributor and do some dirty work next to DeMarcus Cousins.
29. Brooklyn Nets (via Hawks)
RECORD: North Carolina, Junior | 6-5, 200
The first time Brooklyn will exert full control over its first-round pick is 2019. It swapped its pick with the Hawks this year as part of the 2012 Joe Johnson trade and the 2013 trade that sent Paul Pierce and Kevin Garnett to Brooklyn will force the Nets to either swap or hand over their first-rounders in next three drafts to Boston. Brooklyn likely won't find a franchise-altering player this late in the draft, but Tokoto is an elite athlete who could turn into a strong perimeter defender.
30. Golden State Warriors
The Warriors add yet another shooter and get a lengthy power forward who should give them even more lineup options with continued improvement. He fits their switch-heavy, spread-it-out philosophy and could become a very valuable cog in time as Golden State's veteran-heavy roster ages.
• GALLERY: Teams that beat the draft lottery odds over the years
Beating the NBA Draft Lottery Odds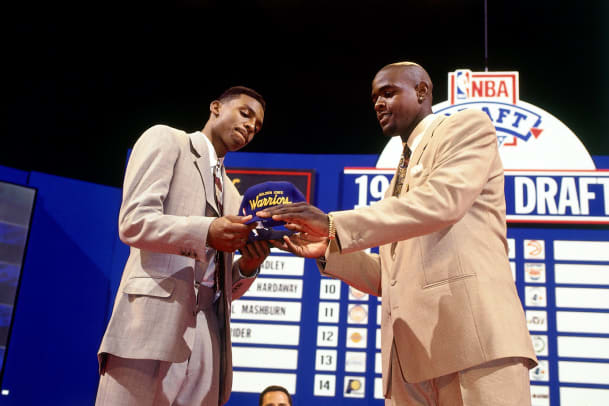 ​