NBA Mock Draft 4.0: Deep class could fuel movement as trade talks heat up
Karl-Anthony Towns looks like a lock for No. 1, but the rest of the 2015 NBA draft is up for grabs.
A few notes before jumping into SI.com's penultimate mock draft…

There is a very real chance multiple teams could trade out of the top 10. The Knicks, Kings and Hornets are all open to a trade, and Denver is unpredictable. Several executives say it is as volatile of a top 10 as they have seen in years.

Is DeMarcus Cousins available? On Monday, that answer was no, as Kings owner Vivek Ranadive and vice president Vlade Divac publicly vowed Cousins wouldn't be dealt. Today? Different story. Yahoo! Sports reported that Kings coach George Karl has been leading the charge to move Cousins out of town; Cousins reacted to the report by tweeting emojis meant to depict a snake in the grass. Has Karl forced the teams hand? Is the relationship salvageable? The Lakers have been in hot pursuit of Cousins (more on that below) and will likely spend the next two days constructing trade scenarios for Sacramento.

Et tu, Boston? Celtics GM Danny Ainge isn't shy. Armed with multiple picks, the Celtics are in a strong position to move up.

Without further ado, here's SI.com's Mock Draft 4.0:
• MORE NBA: SI's Top 60 | Needs for all 30 teams | Most critical off-seasons
RECORD: Kentucky, Freshman | 6-11, 250
• SI ROUNDTABLE: Okafor or Towns at No. 1?
2. Los Angeles Lakers
RECORD: Duke, freshman | 6-11, 270
• MORE NBA: Kobe reacts to lottery results
3. Philadelphia 76ers
RECORD: Ohio State, freshman | 6-5, 180
What is Philadelphia up to? That's what several executives have asked in recent days. It's hard to believe the Sixers would take Kristaps Porzingis, not with a gaping hole at point guard and Russell, who is well liked in the organization, on the board. More likely: Philadelphia is trying to manipulate the Knicks or Magic to trade up for Porzingis. You know Sixers GM Sam Hinkie loves collecting draft picks.
Rumors of an Eric Bledsoe deal with Phoenix don't appear serious at this point, though several rival executives say the Knicks are willing to deal. If they don't, Porzingis has a lot of support amongst Knicks execs. A Porzingis pick won't be popular amongst Knicks fans—he's at least two years and a lot of weightlifting away from offering much of anything at the NBA level—but he has enormous offensive potential. Emmanuel Mudiay and Willie Cauley-Stein remain in play here, too.
5. Orlando Magic
The Magic covet Porzingis—and sources say Orlando is the preferred destination of Porzingis's camp—but it's looking likely the Magic will have to trade up to get him. Winslow is a reasonable alternative. The Magic backcourt is crowded but a defensive minded swingman who has been favorably compared to Jimmy Butler is tough to pass up. European guard Mario Hezonja is another option.
6. Sacramento Kings
• MORE NBA: Common Sense Mock Draft 2.0
The Nuggets have done extensive research on Hezonja, a flashy two-guard with a solid all-around offensive game. Hezonja is a polished scorer who can score both in transition and in the half-court, two qualities that will make him immediately valuable in Mike Malone's system.
Stan Van Gundy has made it clear: Unless a superstar is available, the Pistons will keep the pick. Van Gundy says the team won't draft for position; they will take the best player on the board. That could be Booker, a young (18) sweet shooting two guard who will need seasoning but could turn into a high level starter down the road.
• MORE NBA: Kaminsky prefers Okafor over Towns
10. Miami Heat
I'm hearing mixed messages out of Indiana. Team president Larry Bird likes Willie Cauley-Stein, but there is strong support for Payne, a dynamic playmaker who thrives in the pick-and-roll. The Pacers have been looking to get more athletic at the point guard position, and Payne fits that bill.
12. Utah Jazz
RECORD: Georgia State, Junior | 6-6, 190
Several lottery teams like Hunter; who will be the one to pull the trigger? Utah could use a big like Willie Cauley-Stein or Trey Lyles but with its starting five set, and with an obvious need for perimeter shooting, Jazz GM Dennis Lindsey is in a position where he can afford to take a risk. Hunter has wowed coaches with his shooting at workouts; defense and lower body strength questions are what push him back on most draft boards.
13. Phoenix Suns
Yes, the Suns already have a center. And, yes, Cauley-Stein is not the offensive-oriented big they sorely need. But Cauley-Stein is one of the lowest risk players in the draft. He's an elite defender who several scouts have compared to Tyson Chandler—with even more mobility on the perimeter than Chandler has. Simply put, Cauley-Stein could be too tempting to pass up. Trey Lyles will be appealing here, too.
14. Oklahoma City Thunder
The Thunder has shopped Perry Jones, Jeremy Lamb and Steve Novak, according to sources, largely for financial reasons, but OKC has been probing teams for draft picks in return. Rival execs believe Oklahoma City covets Payne here, but if he is off the board Kaminsky is an offensive-minded complement to a Serge Ibaka/Steven Adams front line and could play alongside Enes Kanter in a rarely seen scoring front court in OKC. Kaminsky's ability to match up physically against bigger 4-5 men is a common concern.
15. Atlanta Hawks (via Nets)
Celtics GM Danny Ainge is one of the most aggressive executives during the draft process. Boston would love to move up, and they have engaged at least one top-10 team, per a source. One GM said the Celtics "are one of the few teams thinking big." How big? Two executives who have spoken to Boston's front office say no one is untouchable on the roster. If the Celtics stay put, Oubre looks to be the best player on the board.
17. Milwaukee Bucks
RECORD: Arkansas, Sophomore | 6-11, 240
Bucks GM John Hammond says Milwaukee will take the best player on the board, and that there are 4-5 players the team has zeroed in on. Power forward isn't a position of need for Milwaukee, but Portis is a high motor player who does a lot of things well, including knocking down perimeter shots.
The Rockets have engaged a few teams in trade talks and are willing to move back—or even out—of the first round, per several rival executives. Grant is the one of the most seasoned playmakers on the board; he can backup Patrick Beverly and has the size to play alongside him.
19. Washington Wizards
The Wizards would love to see Looney here. Washington has looked hard at several frontcourt players and Looney, a rugged rebounder with tremendous physical tools, is a nice fit. The Wizards could use a floor spacing big and Looney showed flashes of a perimeter game that extended beyond the three-point line with the Bruins last season.
Predicting Lyles's draft stock has been tricky. He underachieved last season, but teams love his talent and openly wonder if he will thrive outside of the shadow of Karl-Anthony Towns and Willie Cauley-Stein. He could go as high as No. 10. Lyles played out of position at Kentucky last season, which contributed to his defensive woes, but scouts are skeptical that he has NBA-level athleticism. It's an NBA axiom: power forwards should be shot blockers or three-point shooters—or both. At this point, Lyles is neither.
The Mavericks are point guard shopping (again) and Jones is one of the best prospects. Jones isn't especially big or athletic but he's an intelligent playmaker—a quality Rick Carlisle would love to cultivate.
22. Chicago Bulls
The Bulls crave offense, but Hollis-Jefferson has been impressive in workouts and his ability to defend at an NBA level is undeniable. Short term, Hollis-Jefferson will be limited to scoring in transition. If his offensive game can be developed, he's a steal here.
The Blazers—with Wesley Matthews and Arron Afflalo headed to free agency—need perimeter depth. Anderson is an elite defender who shot the ball well from three-point range last season at Virginia. If he can be a threat from three in the pros, he's a nice pick here.
Zach Randolph will turn 34 this off-season, and though he is still highly productive, it's never too early to look towards the future. Harrell is a relentless rebounder who makes up for a lack of size (6'8") with an impressive wingspan (7'4"). A year or two getting worked over by Randolph at practice could be educational.
26. San Antonio Spurs
Last June, the Spurs drafted Kyle Anderson, a long, unselfish playmaking prospect. Wright is carved from a similar mold and, at 22, won't face as much of a learning curve. Cliff Alexander could be tempting here, too.
27. L.A. Lakers (via Rockets)
The Lakers need a guard and Rozier is one of the best available. More scorer than playmaker, Rozier will have to learn to be more of a distributor at the next level. But he has good physical tools and could develop into a productive Jamal Crawford-type off the bench.
RECORD: Kansas, Freshman | 6-8, 240
It wasn't long ago that Alexander was considered a lottery pick. A turbulent season at Kansas put an end to those thoughts, but there is no denying Alexander's potential. He's a big, physical shot blocker who plays well off the ball. At the back end of the first round, Alexander is a worthy risk.
29. Brooklyn Nets (via Hawks)
RECORD: LSU, Sophomore | 6-10, 239
Martin is an athletic forward prospect with a similar skill set to Thaddeus Young, the Nets forward who will be a free agent next month. Martin can face up, score off the dribble and run the floor. His post game is rudimentary at this point, but teams that have scouted Martin project him as a versatile role player who can provide instant offense to a second unit.
30. Golden State Warriors
RECORD: Syracuse, Freshman | 6-10, 212
McCullough—whose season ended early due to a knee injury—would seem to be an ideal fit for Golden State's up-tempo system. He is long, athletic and has a nice looking jump shot. He will need to bulk up and the knee injury was certainly a setback, but the deep Warriors can afford to be patient with a player with terrific talent.
• GALLERY: Teams that beat the draft lottery odds over the years
Beating the NBA Draft Lottery Odds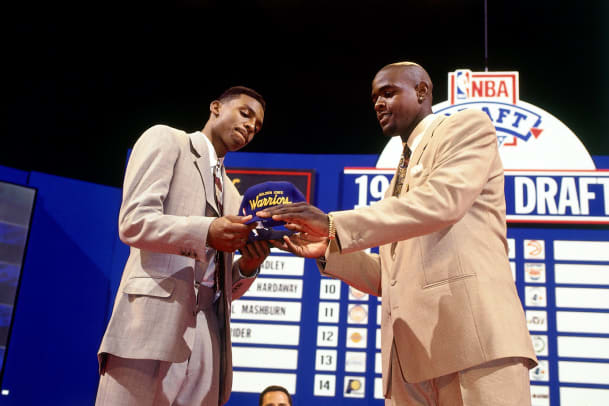 ​