Former Sixers, Nets star Darryl Dawkins dies at age 58
Former NBA star Darryl Dawkins has died at age 58.
Former NBA star Darryl Dawkins has died at age 58.
The Lehigh County coroner's office confirmed the news to WFMZ-TV (Lehigh Valley, Pa.). Dawkins's family released a statement through the NBA, announcing that he died of a heart attack.
"It is with great sadness that we share the passing of our beloved husband and father, Darryl Dawkins, who succumbed today to a heart attack," the statement reads. "Darryl touched the hearts and spirits of so many with his big smile and personality, ferocious dunks, but more than anything, his huge, loving heart.  His family, wife Janice, children Dara, Tabitha, Nicholas and Alexis, along with countless family, friends, and fans, all mourn his loss. More than anything Darryl accomplished in his basketball career as the inimitable 'Chocolate Thunder,' he was most proud of his role and responsibility as a husband and father.  We ask that the public please respect our privacy as we grieve his loss."
• MORE NBA: Players remember Dawkins | SI Vault: Dawkins, NBA manchild
The NBA also released a statement: 
A 6'11" center, Dawkins earned the nickname "Chocolate Thunder" during his playing days for his high-flying, powerful dunks. He famously broke two backboards in 1979, one with with a slam he dubbed the "The Chocolate-Thunder-Flying, Robinzine-Crying, Teeth-Shaking, Glass-Breaking, Rump-Roasting, Bun-Toasting, Wham-Bam, Glass-Breaker-I-Am-Jam."
[youtube:https://www.youtube.com/watch?v=TtJawsitMsA]
A native of Orlando, Dawkins became the first player drafted to the NBA straight out of high school when he was selected by Philadelphia with the fifth pick of the 1975 draft. He appeared in three NBA Finals with the 76ers. In 14 NBA seasons, Dawkins averaged 12 points, 6.1 rebounds and 1.4 blocks per game. His final seasons were plagued by injury.
After Dawkins retired from the NBA, he played briefly with the Harlem Globetrotters and entered coaching, with stops in the American Basketball Association, the United States Basketball League, and Lehigh Carbon Community College.
GALLERY: Sports Illustrated's best photos of Darryl Dawkins
SI's Best Photos of Darryl Dawkins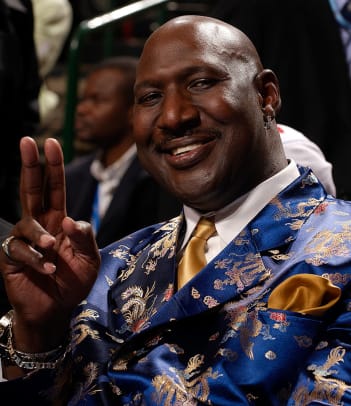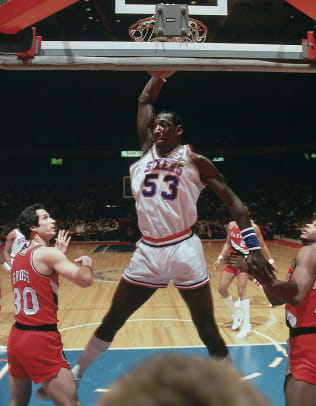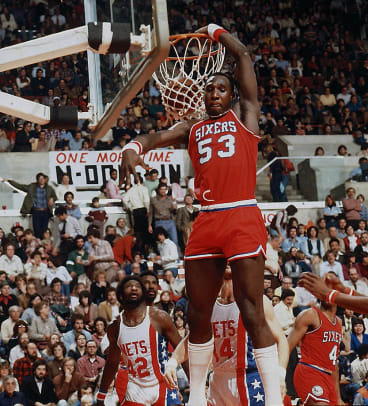 - Jeremy Woo