SI Vault: The extremely high bar set for NBA manchild Darryl Dawkins
Darryl Dawkins' former coach, Dave Wohl, writes about the high expectations set for the NBA's first manchild. 
Editor's note: Darryl Dawkins, a former star with the Sixers and Nets, died on Aug. 27, 2015, at the age of 58. In honor of the legacy he leaves behind, SI Vault takes a look back at his career, starting with his entry into the NBA as an 19-year-old manchild. This story originally ran in SPORTS ILLUSTRATED on April 11, 1988. To subscribe, click here.
Close your eyes. Imagine you are 18 years old again and back in high school. But now you are 6'10" and weigh 240 pounds. Everyone in school knows your name. No one insults you when you walk through the halls. You are a terrific athlete. You have muscles layered on muscles, sculpted on a body that can move with the speed and reactions of players who are a foot shorter. And you can play basketball. Really play. You have the height and power for the inside game, and you also have 20-foot jumpers and no-look passes and behind-the-back dribbles down pat. You can rebound and you can block shots so hard and so far they look as if they were fired from a cannon. A basketball is half hidden by your monstrous hands. Your team wins the state championship because of you. The colleges are all kicking down your mother's front door to get you to sign with them and come to their campuses and chase coeds, pledge fraternities and decipher the complexities of English 101. Your house is mobbed with recruiters who smile all the time, displaying ear-to-ear teeth. But over in the corner is a small man in a dark trench coat who crooks his finger and beckons you. He opens a suitcase. It is filled with a million dollars.
"It's yours, "he says with a smile.
"What college are you from?" you ask him, unable to take your eyes away from the money.
He pauses before lie answers: "The college of hard knocks, Baby. The pros. And we want you. YOU got potential!"
Suddenly the alarm clock goes off and you wake up and realize you haven't grown an inch since the night before. Judging from how long it takes you to get from the bed to the bathroom, your reactions haven't improved, either. You realize it was only a dream.
• MORE NBA: Sixers, Nets legend Dawkins dies | Players remember Dawkins
Darryl Dawkins, who bypassed college and strode into the NBA directly from high school, had the same dream—but he never woke up. His dream merged into reality with such swiftness that at times it was hard for him to tell the two apart. Was he an 18-year-old high school kid playing in the pros, or was he a pro with the adolescent cares of a high school kid?
"Darryl has always thought life was a big lark." says Pat Williams, the Philadelphia 76ers former general manager. "He never realized how serious this business is to most of us who make a living at it."
"What is your church preference, Darryl?"
"Redbrick, "Sir Slam replied.
It seems hard to believe that he has played 13 seasons in the NBA. Wasn't it only yesterday that he was plucked out of Maynard Evans High School in Orlando, Fla., taken as a hardship case in the first round of the 1975 draft by the 76ers and given a seven-year contract worth one million dollars? Don Nelson, the former Milwaukee Bucks coach, thought at the time. "In a few years we [are] all going to be treated to seeing one of the greatest centers in the game."
Instead, Dawkins's career is foundering. To most NBA coaches and fans and to the media, Dawkins is one of the greatest disappointments of all time.
But why?
Dawkins averaged almost 13 points a game through 712 regular-season games and more than 100 playoff games. He has played in the NBA championship finals three times and in the conference playoff finals three other times. Only once has a team he was on not made the playoffs: in 1986-87, with New Jersey, when he missed all but six regular-season games because of a back injury, which required surgery. He has played with some of the best in the league during the last decade: Julius Erving, Maurice Cheeks, Buck Williams, Bobby Jones, Doug Collins. And he is the third-leading field goal percentage shooter in NBA history.
Even though he has achieved some dubious records as well, including most fouls committed in a season (386), his is still a career that should satisfy many players and critics. Dawkins himself seems pleased with his accomplishments. "I've had some good days and some bad days, but overall I'm happy with it," he says. Others aren't. For there were times he so completely dominated games that people wondered why he couldn't do it every night.
One word, potential, has manacled Dawkins as securely as any ball and chain. When it finally died, of frustration, on the lips of one coach, it was quickly taken up by the next—and the next and the next.
Ask Dawkins about that word, and he shakes his head. "It made me mad. Damn mad, really," he says. "Because everyone wanted to compare me to Chamberlain. I ain't got nothing to do with him. I'm just Darryl Dawkins, and that was never good enough."
"What is your favorite color, Darryl?"
"Plaid, "Chocolate Thunder replied.
Perhaps nothing in his career defines Darryl Dawkins better than the time he destroyed a backboard in Kansas City. It happened on the night of Nov. 13, 1979. There were 9,180 in the Municipal Auditorium to see the 76ers play the Kings. When it happened, 38 seconds into the third period, it was so terrifying in its ferocity and so unexpected that anyone in the audience who blinked at that precise moment missed it.
Dawkins, swooping in from the right side, had risen far above the rim, and the ball looked tiny and helpless in his huge hands as he readied to slam it. He had done this a thousand times before and had delighted the fans by gracing each of his dunks with imaginative names. There were the Rim Wrecker, the Go-Rilla, the Look Out Below, the In-Your-Face Disgrace, the Cover Your Head and the frightening Spine Chiller Supreme. But this one was different.
From his toes to the top of his head, 82 inches away, Dawkins said he was overcome by a force he later called Chocolate Thunder. He claimed he could not control its desire to "escape out of my body."
A moment later the backboard exploded with a crackling pop that sprayed thousands of shards of glass onto the floor. Players in the vicinity of the basket were momentarily stunned, then scrambled to get out of the way. There was a second or two of hushed disbelief, and then the arena broke into pandemonium.
NBA players remember Darryl Dawkins
It took one hour and eight minutes to replace the basket. For not only had Dawkins shattered the glass board, he also had bent the basket support pole with the force of his dunk. As both teams temporarily left the floor, the crowd began to mill around the court, picking up pieces of glass as souvenirs. Then Larry Staverman, the Kings' vice-president of operations, suggested the team should sweep up the pieces and sell them.
Of course, Dawkins had to name the Kansas City dunk, but this one required something special. He kept the world in the dark for a week before finally immortalizing Kansas City's Bill Robinzine (who had the misfortune of being under the backboard as it disintegrated) by calling it the Chocolate-Thunder-Flying, Robinzine-Crying, Teeth-Shaking, Glass-Breaking, Rump-Roasting, Bun-Toasting, Wham-Bam, Glass-Breaker-I-Am Jam. That seemed to say it all.
But, as always, the sensational dunk didn't mean much. His team lost, and everyone wanted to know why a guy that big and that strong and that fast, one who could break backboards in a single bound, couldn't manage to get more than six rebounds a night.
"When did you start naming dunks, Darryl?"
"It started against Buffalo. I threw one down against this guy. BOOM! He ducked and looked back at me and said, shocked, 'What was that?' I thought about it for a second and I said, 'Yo-Mama!' "
The speculation on his potential began early for Dawkins and reached a crescendo in his last year of high school. As a senior at Maynard Evans, where he averaged 20 points and 11 rebounds a game, Dawkins had already grown to 6'10", his height while in the NBA. Jack McMahon, who was then an assistant coach and scout for the 76ers, remembers the first time that he saw Dawkins play. "Pat Williams had gotten a tip from an old friend of his, former major league pitcher Jim Kaat, that there was a high school player we should come down and look at," McMahon says.
So McMahon was dispatched to Florida with orders to phone Kaat on his arrival, and Kaat would make arrangements for McMahon to attend the game. McMahon arrived in Orlando, called Kaat and got a housekeeper who spoke only Spanish. Unable to contact Kaat, he was momentarily at a loss. "I didn't even know Dawkins's name or where he played, because Kaat was supposed to be arranging all of this," he says. McMahon finally called a local paper and asked where he could see the best big man in the city play that night. He got to the gym early and watched the JV game. Then the small gym began to fill rapidly. "I started talking to people around me about Darryl and everyone loves him and then they come out of the locker room," McMahon says, chuckling as he recounts the story. "Out come a few little guys. Like normal high school kids. Then out comes Darryl. He had his head shaved back then. But, hey, no way can this kid be in high school! He's got to be 25 years old. Same body as he has now. Got 44 points with four guys sagging back on him every time."
McMahon was impressed enough to give Williams an ecstatic report, and then they waited for Sixers coach Gene Shue to get a chance to scout Dawkins. Both were concerned because, says Williams, "Gene was usually not overly impressed with young players."
Shue finally saw Dawkins in the state tournament in Jacksonville. That night, Williams, who was at the Atlantic Coast Conference Tournament in North Carolina, remembered being so anxious to hear Shue's reaction that he pulled off the road and called the coach's motel room from a pay phone. Shue, as the others before him, couldn't believe the size of Dawkins. "He was a giant playing with little kids. He did unbelievable things on the court for someone that size," Shue recalls. However, Shue noticed something else, an omen of things to come. "Even then he was inconsistent. He did the good things only every so often," he says.
​Williams had thought about scouting a high school player after the Utah Stars of the American Basketball Association drafted Moses Malone out of Petersburg. Va., in 1974. "I wondered if there was another Moses out there." Williams says. So he put together a list of high school players who had the potential to be in the NBA.
There were but three names: Bill Cartwright, Bill Willoughby and Dawkins. After seeing each of those players, and also weighing the merits of Marvin Webster, Joe Meriweather and Rich Kelley, the top senior centers coming out that year, the Sixers staff decided that Dawkins was worth the gamble.
When he heard the news, Al Domenico, the 76ers trainer, thought, "Are we nuts? What can you possibly do with a kid coming out of high school?" Steve Mix, one of the team's veterans, remembers wondering "why we wasted a good draft pick."
Others had few doubts. McMahon, one of the league's most astute judges of talent, thought Dawkins "was probably still going to grow. He could possibly get to seven foot three in a few years. No other center at that time had that potential."
"When is your birthday, Darryl?"
"January 11th."
"What year?"
"Every year," Chocolate Thunder retorted.
Being 18 is a time for many things in a young man's life. It is a time to rejoice in that feeling of invincibility that youth brings. There are cars, girls, parties, hanging out with the guys, sports. And in the privacy of his room an 18-year-old stares at the posters of his favorite professional stars, and dreams. But what do you do when the next time you walk out your door the dream is reality?
"Everyone always thinks because you are big for your age that you can handle things better or you are more mature when in reality nothing is further from the truth," says Bob Lanier, the former Milwaukee Bucks center. Julius Erving puts it even more simply: "When they see a seven-footer, everyone thinks—the Franchise. How many players could handle that at 18?"
It was at this point in his young life that Dawkins made a decision that will be debated whenever his name comes up. He chose not to go to college. The chance to help his family made the Sixers' offer one he couldn't refuse.
He had originally planned to attend college, and had narrowed his choices to Florida State and Kentucky. But financial considerations left him little choice. As he says today, the decision was a relatively easy one: "I knew when I saw my grandmother working two jobs just to barely make ends meet, and she gave me her last 10 dollars just so I could buy some sneakers, that I had to do it."
Though his mother and father were separated at the time, they both left the decision to him. "My mother always told me that I should learn to make my own decisions," says Dawkins, "because then if they didn't work out I would have to live with them."
A sense of family burns strongly in Dawkins. He grew up the second-oldest child in a family of four brothers and two sisters. And though he describes his childhood as "poor but happy," the fact that the Dawkins children sometimes had to live with relatives because money was scarce left an indelible impression on him.
Dawkins was raised by his late grandmother, Amanda Celestine Jones, and she had a profound influence on his early life. By the time Darryl was nine, she had taught him to clean, cook, iron and sew. "She said I might never get married so I'd better learn to do these things for myself," he says. In addition, there were always odd jobs to do. "If you didn't work, you didn't eat," he says. So Darryl and his brothers picked fruit, raised chickens, chopped wood and painted houses. His brothers and sisters were his best friends, and he rarely developed close friendships with other kids. "Our nearest neighbor was probably a mile away," Dawkins recalls. He didn't change when he joined the 76ers. He didn't develop many close friendships outside his family and a few trusted advisers—such as Rev. William Judge—who had counseled him during his high school days. He had many acquaintances but few saw beyond the laughing, wisecracking mask he wore most of the time. When a conversation or interview struck a raw nerve, he reacted like a comedian—deflecting questions, going into his Chocolate Thunder/Lovetron patter—to lead the talk to safer ground.
NBA players remember Darryl Dawkins
The feeling is almost unanimous among those who have coached or played with Dawkins that college would have been an enormous stimulant to his early development.
Billy Cunningham, who coached Dawkins for five years in Philadelphia, believes "the extra time you can spend with a player [in college] and the daily structure would have been beneficial."
Similar sentiments are echoed by many of Dawkins's former teammates. Erving, who completed only three years at the University of Massachusetts before joining the ABA in 1971, says Darryl would have benefited from "just the repetitive drills you do in college. If you do something a thousand times more, it instinctively becomes part of your game. What he also missed was just the fun you have during those college years. It's a great time for self-discovery and laughter without a lot of pressure on you to be great. A lot of the time that coaches thought Darryl should be working harder on basketball he was out having fun like any other 18-or 19-year-old kid. Life was still just fun to him; it wasn't a business."
There are dissenters who claim that college wouldn't have helped Dawkins all that much. McMahon says, "Darryl was meant to be a ballplayer. The problem was not the lack of college, but that the group of players he broke in with could lend him no direction."
There were times when the fast track of pro ball threatened to derail Dawkins. He was young, single and had money to spend and a willingness to enjoy the pleasures that await any new sports celebrity in town, especially one with his size and penchant for the flamboyant. There were women and cars and parties and an ever-increasing number of glib quotes.
When he showed little improvement in his basketball skills, his off-court diversions became a source of irritation to 76er management. "The more the coaches could see how little he was using his skills, the more they felt they could teach him," Erving says.
"If he had one thing that held him back from greatness, it was that he was easily bored. He had a very short attention span," says Doug Collins, now the coach of the Chicago Bulls.
Dawkins, surprisingly, agrees with Collins. "If I learned how to do a move, why did I have to spend another hour doing it 500 more times?" he says. "I already showed you I could do it." Dawkins complained that former Nets coach Larry Brown kept him after practice 20 minutes every day for extra work. Did it help? "I'll admit it helped a little," Dawkins says. "But I could do most of that stuff in five minutes. Why did I have to stay for 20?"
His limited attention span was never more evident than during a practice, recalled by Cunningham, that Dawkins cruised through without breaking a sweat. "Darryl wasn't pushing himself, so I stopped practice," Cunningham says. "I went over to him and really read him the riot act. Really yelled at him. He had his head down and promised me he would do better." An incredulous smile forms on Cunningham's face as he finishes the story. "And then as I walked away—he tripped me! I couldn't believe it. What can you do? I finally cracked up laughing like everyone else."
Shue, his first coach in the pros and one whom Dawkins claims to like, says, "Darryl was always just a fun-loving giant. He enjoyed the good times more than the job. He should have been a better player, but he could never motivate himself to work at it."
McMahon agrees: "He loved the money, the action, the limelight; loved the whole scene. He just never loved basketball."
Dawkins disputes that. "I used to take losing hard in the beginning. I'd be really upset," he says. "The veterans would tell me that it would drive you crazy if you let every loss bother you. There was always a game the next night to get even. So after that I didn't let each loss bother me as much.
"Coaches only thought you worked hard if you had your tongue hanging out and were grunting and grimacing. But I go around with a smile on my face, and everyone thinks I'm not working hard."
The Philadelphia team that Dawkins played on his first year in the NBA hardly supplied the tranquil, stable atmosphere that a player directly out of high school needed. Back then, the 76ers were often described as a Wild West show. The players were talented, individualistic, spectacular, controversial and flamboyant. They swaggered into arenas and dared people to beat them. Cunningham, who was in the last year of his playing career, says one of the problems was that "everyone wanted to be a star." There were stars galore throughout the lineup: established stars like George McGinnis and, the next season, Julius Erving; rising stars like Collins and Mix; and, of course, the impatient young trio of rookies, Joe Bryant, Lloyd—now World B.—Free and Dawkins. Says Cunningham, "Everyone was concerned with projecting a certain image; fighting for recognition on a very talented team."
Dawkins remembers how impressionable he was that first year: "I'd come into the locker room at halftime and one guy would be smoking a cigarette and another would be drinking a beer. I just did the same thing."
The team was a great draw on the road, fueled as much by the controversial statements that appeared in the press as by the display of talent on the floor. No one was readier with a quote, a quip, an impersonation or an observation on life than Dawkins. Neil Funk, the team's broadcaster at the time, says, "Darryl got lost in the shuffle early with that team. He wasn't playing much at first, and he tried to get attention with his personality. He tried more than anyone to say the most outrageous or controversial thing."
GALLERY: Sports Illustrated's best photos of Darryl Dawkins
SI's Best Photos of Darryl Dawkins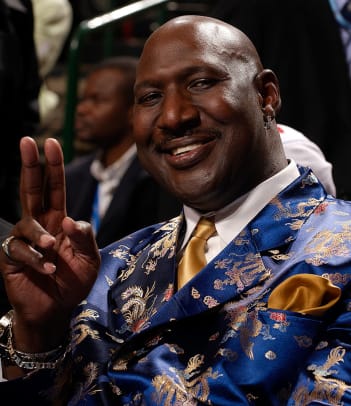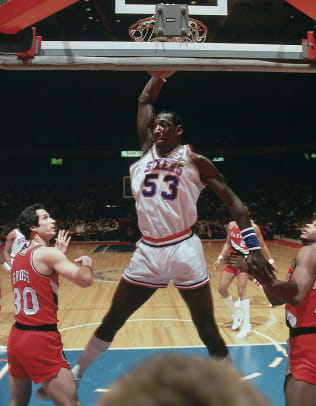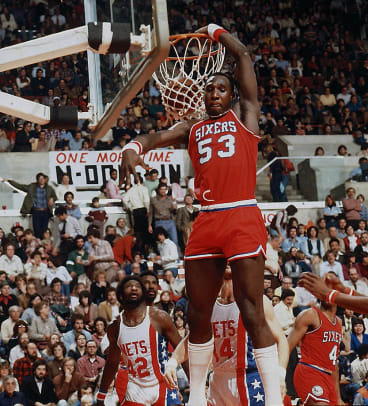 Dawkins's imagination was wondrous. He could entertain with tales of interplanetary space travel or, on a moment's notice, deliver a lecture on the definition of funk—not Neil. He had a larger-than-life personality and the timing of a stand-up comic. One moment he would be talking seriously with Collins about his wish to get married and start a family, and a moment later he would walk outside the locker room and announce to the waiting throng that he was throwing a party and every woman in the city of Philadelphia was invited.
Funk believes Dawkins utilized this kind of behavior as a shield. "Darryl was scared that he wasn't going to be everything that people projected him to be," Funk says. "To relieve some of that pressure he hid behind his outrageous personality. What 20-year-old wouldn't be scared in that situation?" Though reluctant to admit it, when pressed, Dawkins will confess to the fear. "Yeah, sometimes it scared me a little." he says. "I didn't know what else I could do to satisfy everyone. Everyone always expected more."
Especially the 76ers. They reached the NBA finals three times during Dawkins's years in Philadelphia, but gradually management's patience faded, and he was traded, in 1982 at age 25, to the New Jersey Nets.
"Darryl, do you know where they signed the Declaration of Independence?"
"Of course. At the bottom," responded Double D.
The trade to New Jersey left Dawkins with the feeling that his career was bottoming out. He had parted on bitter terms with 76ers owner Harold Katz, who made no secret of his belief that Darryl just did not consistently work hard enough for the money he was being paid. Dawkins, who had come back after breaking a leg during the season to participate in the playoffs, thought the gesture was proof enough of his heart.
In New Jersey he went through four coaches in five years, including myself in his last two seasons. He had both his best and his worst seasons with the Nets.
He either played well or was recovering from injuries; as always there seemed to be no happy middle ground for him. In 1984-85, after what Don Nelson thought would be the turning point in Dawkins's career, he suffered a back injury and missed 43 games.
The year after that, my first as a head coach, Dawkins got off to a great start and then had a back injury necessitating the first of two operations to repair disk problems. A measure of Dawkins's value to that team: With him in the lineup our record was 29-22; without him we were 10-21.
Having played against Dawkins during my last three years as a player with Houston and New Jersey and now having coached him, I have seen him come full circle. In writing this story I have listened to all the opinions, excuses and reasons for why his career has turned out the way it has. And many times I agreed with what was being told me because I had gone through similar experiences with Dawkins.
Yet, trying to define Darryl Dawkins is difficult indeed. There are so many different Darryl Dawkinses, and each seems inconsistent with the others.
There is the man who shows enormous love and care for his family. He has bought homes for both his mother and grandmother. He supports other family members.
There are the hours during the Christmas holidays when he gladly tours the children's and veterans' wards of local hospitals, looking as if being there gives him more pleasure than it does those he visits.
Kids flock to him at games, at summer clinics or just in the street. He never turns them away. He is a master at drawing them out, telling them they must owe him some money, don't they? He gives them nicknames that make them giggle.
When Free was lying on the floor after being injured in a playoff game in 1977, Dawkins was so concerned about his friend that he picked him up in his arms and carried him all the way to the dressing room, as though Free were his little brother. Yet when Dawkins thought his teammates did not back him up sufficiently during a fight with Maurice Lucas in the second game of the '76-77 NBA finals against the Portland Trail Blazers, he was so enraged that he tore lockers from the walls, caved in a toilet stall and barricaded the door so that the team could not get back into the dressing room in the Spectrum.
There were other sides to his personality. He says he had problems with his first two business agents, which left him bitter. Eventually he wound up owing the IRS a great deal of money and had a lien slapped on his salary, and the bank that held the mortgage on the house he bought for his mother threatened foreclosure. He sometimes refuses to pay small debts. Lewis Schaffel, the former Nets chief operating officer, recalls, "I could call him up at the last minute to do a clinic, and he would always come. But if he owed you five dollars, you could never find him."
He was equally hard to figure on the court. I congratulated him once when he got 10 rebounds. He looked up and said, "Thanks, but don't expect that tomorrow night." He was afraid that if he kept performing at a high level, everyone would expect it and sooner or later he would disappoint them.
The list of stories about Dawkins—funny or sad or compassionate or interplanetary—is endless, but the stories are camouflage. They obscure the big question: Why wasn't Dawkins great? Erving says, "Darryl wasn't driven to be the greatest basketball player ever. Knowing him, that was probably for the best. His personality might not have let him deal well with that level of success." Erving recalls his own days at the top of the ABA: "There were many times I wanted to run for cover. There were definitely times it became overwhelming."
Were the expectations for Dawkins impossibly high? Mike Schuler, who worked as an assistant under Larry Brown in New Jersey and who now coaches the Portland Trail Blazers, thinks so. "Sometimes we coaches are our own worst enemies. We see every single wart and are so critical of our own players," he says. "Few players will ever live up to our expectations. We just expect too much."
GALLERY: Best NBA players ever by jersey number
Best NBA Players by Jersey Number
That has not stopped coaches on other teams from being intrigued at the thought of coaching Dawkins at some point in his career. Nelson says there was a period of four or five years when probably every NBA coach "felt he could be the guy to really reach him, the guy who could tap into his potential and make him a perennial All-Star. But those expectations are gone now."
Not quite, but they are fainter. Pistons coach Chuck Daly believes Dawkins may play again—not necessarily with Detroit. A few other coaches say they have not written off the possibility of obtaining Dawkins—if he is in shape, if he wants to play, if his head is on straight. If, if, if, if.
Go back to last November: Dawkins weighs close to 300 pounds but is telling anyone who will listen that this season he is going to be like "Agent 0014—twice as bad as 007!"
He has not played much for almost two years. In that time he has had back surgery twice and his wife of one year has committed suicide. His father has been diagnosed as having stomach cancer. There are rumors of financial trouble. He rarely answers his phone or his doorbell. There are no more names for his dunks, because there have been no more dunks. He was traded twice within two months, first on Oct. 8 to Utah and then on Thanksgiving Day from Utah to Detroit, where after only two games he was placed at his own request on the suspended list because of his personal problems.
He wishes he could stop en route to Lovetron, his imaginary planet, and sort out all of these puzzling and upsetting developments. He has not heard the word potential for almost two years.
Dawkins and I are sitting in a Mexican restaurant in the North Jersey suburbs. He is eating a tortilla after having unscrewed the top of the pepper shaker and poured half its contents onto his food. I laugh when I see him do it because it reminds me of the first time I ate with him after becoming the coach of the Nets. He had produced his own bottle of Tabasco sauce that day to add a little spice to the meal.
He says the events of the past three seasons—the operations, the death of his wife, the trades—are finally fading from his thoughts. He has started to work out. He wants to play again. "If not here, maybe in Europe." He's not concerned about finding a new team. "Someone always needs a big body," he says.
Would he change anything if he could do it all over again? Dawkins doesn't even pause to reflect on the question. He has answered it to himself many times. "No," he says, shaking his head. "I wouldn't change a damn thing. I always liked being Darryl Dawkins."
I'm tempted to say that this is tragic. I think of the words of the philosopher Santayana, who once said, "Those who cannot remember the past are condemned to repeat it."
Yet I realize that I am still subjecting Dawkins to the parameters of my own standards. I want him to live up to my expectations regardless of his own hopes. Perhaps I am the one who has not learned from the past. After all, whose expectations should we live up to? Our own or everyone else's?
Dawkins is 31 and believes he can play four or five more years. He says he has nothing to prove to anyone. And don't expect him to change Just because he plays in a new location. He will play as he always has, smiling and joking and conserving energy as the veterans told him to a long time ago.
Though he has never reached his potential, he has, curiously, outlasted it. He has evolved from the next coming of Chamberlain into simply another big body that somebody, somewhere, will need. He has wrestled with the monster called Potential, and he has won because he has not let it destroy him.
Most of us will judge him solely on what he could have been in the beginning or what he was when his career ended. Too many will be blinded by the flashes of brilliance that never materialized into consistent greatness. They will overlook much of Dawkins's career. No, it was not great. But it was solid. Perhaps he could have been more if he had had the inclination. There were times when he teased us with a hint of how he could dominate a game. And we went home in awe and yet sad because we knew of no spell to make it happen more frequently. But few players could make us feel that way even once.
Darryl Dawkins is content with his career and with himself. He has endured the burdens heaped on him when he was 18 years old. He has carried the weight of others' dreams and desires and expectations and is still able to get up in the morning and smile at the reflection in the mirror.
We should all be so lucky.