Kobe Bryant retiring after the season sets himself, and the Lakers, free
Kobe Bryant announced he's retiring at the end of his 20th NBA season. Sports Illustrated breaks down why this benefits the NBA icon and the rebuilding Los Angeles Lakers.
LOS ANGELES — A Lakers season built on denial and wishful delusions, one that has been engulfed in losing and swamped by criticism, received what it needed Sunday: an honest acknowledgment.
Kobe Bryant, as joyfully defiant as any athlete in the history of professional sports, finally waved the white flag on a storied 20–year career, formally announcing his retirement at the end of the 2015–16 season.
"This season is all I have left to give," Bryant wrote in a poem, entitled "Dear Basketball," that was published on The Players' Tribune. "My heart can take the pounding. My mind can handle the grind. But my body knows it's time to say goodbye. And that's OK. I'm ready to let you go."
• GOLLIVER: Kobe on Kobe: Lakers legend relives 20–year NBA journey
This was the most accurate self–assessment Bryant has given in weeks. Clinging fiercely to the glory he accumulated by winning five titles and earning 17 All–Star nods, Bryant has endured a month to forget. On the court, he's chucked up bricks and airballs, struggled to get to the hoop off the dribble, and missed three games due to minor maladies. In front of the cameras, Bryant seemed to be living in an alternate reality, certain that his shooting form would return and even suggesting, after a loss to the Warriors, that he "could've scored 80 tonight [and] it wouldn't have made a damn difference."
Bryant is hardly the first future Hall of Famer to engage in defensive bluster during his twilight years, but his singular status with the Lakers—his league–high $25 million contract and 20 years of service—looped his entire organization into what has often devolved into a charade. Bryant has overshadowed these Lakers just as he dominated this year's media guide, which featured 20 photos of him and none of his current teammates.
His coach, Byron Scott, has been forced to step in front of the arrows, telling reporters that Bryant has earned the right to take any shot he wants, that Bryant was immune from benching despite the uneven quality of his play, and that Bryant's supposed minutes limit might fluctuate from night to night.
Scott is hardly the only key figure at Bryant's mercy this season. By re–signing Bryant to a two-year extension in 2013, the Lakers' front office set itself up to fail in each of the last two summers. Part–owner Jim Buss and GM Mitch Kupchak have been forced to pitch free agents on an indeterminate partnership with Bryant and stuck preaching patience to talented draft picks like D'Angelo Russell and Julius Randle. Unsurprisingly, the "strategy" hasn't worked: Pau Gasol and Dwight Howard went on to greater success elsewhere, all of the A–list and B–list free-agents passed on the chance to ride shotgun to Bryant, and Russell and Randle have been stuck in Bryant's shadow rather than fully blooming on their own.
• BALLARD: Final fascinating days of NBA superstar Kobe Bryant (8.25.14)
The Lakers' season has been a Groundhog Day–like series of missed jumpers from Bryant. As he tries in vain to generate a clean look through pump fake after pump fake, Russell and others look on, the clock ticking on their youth.
Full credit to L.A.'s supporting pieces: none has publicly questioned Bryant's incredibly high usage rate or huge playing–time burden. It's unclear whether they were acting out of respect to Bryant or out of self–preservation: certainly there's no player on the 2–13 Lakers with the juice to survive a showdown with the all–powerful Bryant. Either way, this cold war—waged between Bryant's vision of the Lakers and what a rebuilding team should look like—has played out in embarrassing fashion. L.A. is the West's worst team, it has the second–worst record in the NBA, and Bryant unequivocally has been a part of the problem rather than a potential solution.
The news value in Sunday's announcement comes not from the substance of the words, which aren't a surprise to anyone who has watched Bryant this season, but from the act of Bryant delivering them.
By surrendering to Father Time early, seemingly months before he had originally planned, Bryant has changed the tenor of his team's season and helped set a course for his franchise's future.
Bryant has freed Scott, Buss and Kupchak, Russell and Randle, from uncertainty, each in their own way. Scott should face significantly less scrutiny for his handling of Bryant's touches and minutes. Buss and Kupchak are now free to pitch the 2016 free agency class, from Kevin Durant on down, the prospect of stepping in as the undisputed face of the Lakers. Russell and Randle now know exactly when their time is coming, and they understand that their play this season will be secondary to Bryant's victory lap.
• JENKINS: Kobe Bryant, Lakers preparing for a D'Angelo Russell-led team
Within hours of Bryant's letter going live on Sunday, the Lakers' new reality was setting in. Outside Staples Center, a local television reporter broke the news to a fan in a Bryant jersey. "What?!?," he replied, crestfallen, looking at his equally stunned companion. "Are you serious? Are you serious?" Inside the building, the Lakers handed out a letter from Bryant to each fan. Fans bearing cell phones and media members with video cameras and boom mics encircled Bryant's warm-up routine. "Kobe, we love you," fans shouted repeatedly, as the Lakers got closer to tipping off against the Pacers.
Bryant's announcement disposed of the questions that have dogged his play, here at its worst, and replaced them with tributes to his best work. NBA commissioner Adam Silver immediately released a statement of congratulations that referred to Bryant as "one of the greatest players in the history of our game." Well–wishes poured in from his colleagues around the league. While Bryant said more than once he wanted to avoid an adulatory farewell tour, it will surely beat the public flogging he's taken in recent weeks. Bryant, whose post–playing career will see a jersey retirement (or two) and a statue outside the Staples Center, will be better for it. The Lakers, now and later, will be better for it.
Bryant missed his first six shots on Sunday. During his first attempt, the crowd rose halfway out of its seats in anticipation. After his fourth attempt, one heckler yelled, "Retire." After the sixth, a fan yelled, "Alright, Kobe, keep shooting!" Finally, he hit his seventh shot, an up-and-under layup, and dozens of fans stood to applaud.
Open Floor Podcast: ESPN's Baxter Holmes on Kobe and the Lakers
Sunday's announcement was a relief and a release, but it's still first and foremost a goodbye from a living legend. Hopefully the basketball world—Bryant's millions of fans and many critics—unite during his final act. Hopefully the groans dissipate and give way to full–throated appreciation as his career's end approaches. Hopefully Bryant's retirement declaration will have a freeing effect upon him too.
In the end, Bryant couldn't will his legs to hold up at age 37, he couldn't achieve All–Star level play through the power of his intense self–belief, and he could no longer bear the weight of a team on his back.
Rare Photos of Kobe Bryant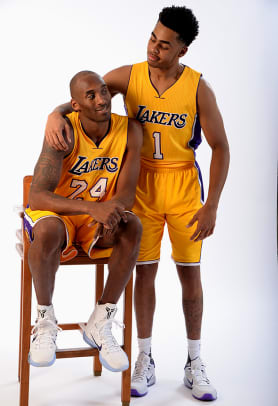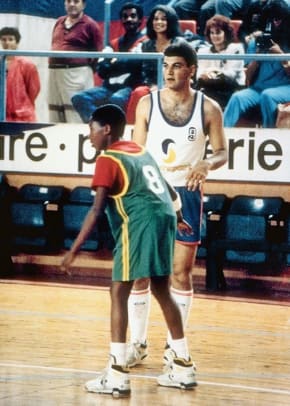 There's no shame in any of that, and his only way out was to preemptively bow out. Rather than counting every miss during those 1-for-14 nights, it's time to count down to the day Bryant trades the world of LeBron James and Stephen Curry for a spot next to Michael Jordan and Magic Johnson in the basketball clouds.
As Bryant stepped to the free–throw line in the second quarter, the Lakers already trailing big, another fan began serenading him. "There's only one—Kobe Bryant," the fan wailed. "There's only one—Kobe Bryant." The chant continued off on and throughout the second half, as the Lakers mounted a dramatic and unexpected comeback effort that wound up falling short in a 107–103 loss. In the closing seconds, after Bryant hit a three-pointer and before he airballed another that could have forced overtime, the lone fan's singing was drowned out by loud "Ko-Be, Ko-Be" cheers. That's the spirit.