Where does Craig Sager get his suits?
Where does Craig Sager get his suits and shoes?
Get breaking news and SI's biggest stories instantly. Download the new Sports Illustrated app (iOS or Android) and personalize your experience by following your favorite teams and SI writers.
Broadcaster Craig Sager stands out along the sidelines for his bright and colorful suits. In a profile by Lee Jenkins in the latest issue of Sports Illustrated, Sager describes the attention to detail when it comes to selecting his work attire.
Every suit and pair of shoes has a tie to the home team, host city and time of year. Many are custom-made at shops like Rex in Miami or A. Taghi in Houston.
"This might have been for a sofa or a curtain," Sager says in the piece. "I thought it would make a nice coat."​
Fashion has always been a strong suit (no pun intended) for Sager.
"For a long time you probably just knew him for the clothes, bold threads connecting a colorful life. Boys at Batavia (Ill.) High were required to wear black or navy blazers for their graduation pictures. Sager showed up in an electric blue Nehru jacket, confounding the photographer. He was an athlete before he was a dandy, a walk-on football and basketball player at Northwestern who sustained two concussions returning kicks in his first fall camp, sending him to the cheerleading squad instead."
• JENKINS: Craig Sager: Always on the bright side
Sager wears size 12 shoes and has been loyal to Friedman's Shoes in Atlanta. The store has provided everything from "alligator and crocodile, lizard and snake, pink and peach, bloodred and money-green" patterns.
Craig Sager's Wildest Suits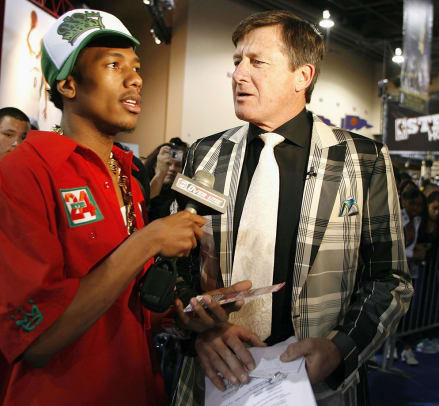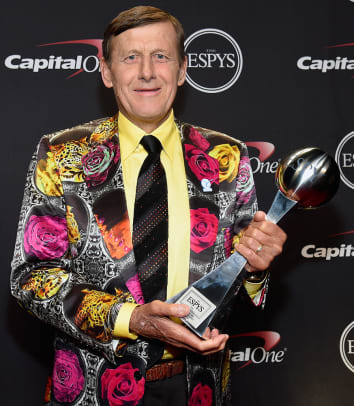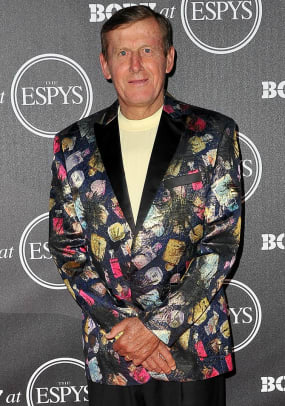 The story also details Sager's battle with acute myeloid leukemia. Last month, Sager gave an interview to HBO, during which he discussed his diagnosis. He later made it clear that the medical prognosis of three to six months to live for a diagnosis of his leukemia was for someone who is not undergoing treatment.