NBA Finals: Warriors' bench sinks Cavaliers in Game 1
The Golden State Warriors role players played a large part in their team's Game 1 win over the Cavaliers. 
Your teams on the go or at home. Personalize SI with our new App. Install on iOS or Android.​
Stephen Curry was able to sit back and watch as his team took control of the game.
The NBA's first unanimous MVP was outshined by his teammates in Game 1, as the Warriors bench drove the team to a 104–89 victory over the Cavaliers to start the Finals.
Shaun Livingston, whose statue outside Oracle will be of him posting up a backup point guard, went off for the Warriors, scoring 20 while carrying the team during a key stretch in the fourth quarter. Leandro Barbosa added 11 points, with Andrew Bogut, Festus Ezeli and Andre Igoudala combining for 24 more.
Curry made only 3-of-13 shots entering the fourth, and sat for the first half of the final frame, finishing with 11 points. Curry's Splash Brother Klay Thompson also struggled, scoring nine amid first-half foul trouble. Both finally got going late, with each hitting a three on back-to-back possessions in the fourth to ice the game.
• MORE NBA: Shaun Livingston, Warriors' bench pick up Splash Brothers
LeBron James continued his singular brilliance from last year's Finals, scoring 23 while bruising his way to the rim on numerous occasions to makeup for his failing jumper. Kevin Love added a double of 17 points and 13 rebounds, but struggled for large stretches of his first Finals game. Kyrie Irving continually found his way to rim on offense, but was the main victim of Livingston's outburst in the fourth.
Some of last year's Finals tropes were back Thursday night—Igoudala's defense and clutch shot making, the Cavs' offense working best when the pace was slowest and James's baffling inability to score when guarded by Curry. Other factors from the last series were absent, such as the large doses of Matthew Dellavedova or Cleveland's commitment to mucking up the pace.
Gallery: LeBron James vs. Stephen Curry

LeBron James vs. Steph Curry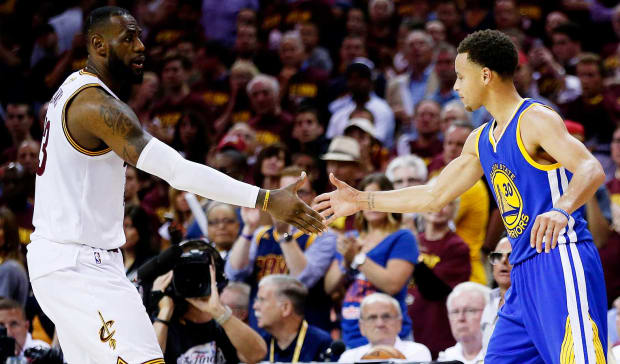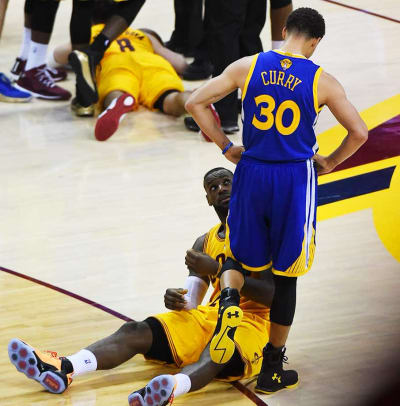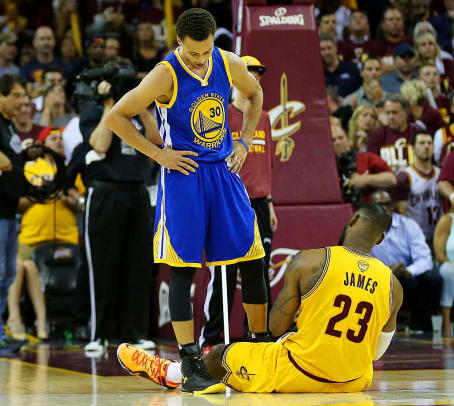 Ultimately, Game 1 came down to who Shaquille O'Neal lovingly refers to as "the others." The Cavaliers' historic three-point shooting from Rounds 1–3 was absent, with J.R. Smith, Channing Frye and Iman Shumpert failing to make much impact from the outside. Meanwhile, the Warriors survived a shockingly poor shooting night from their stars—so much so that a Barbosa injury in the first half was almost cause for concern.
For Cleveland, there is perhaps some hope in being able to slow down Curry and Thompson. But the Cavaliers will quickly need their role players to rise to the level of Golden State's, or else this could be a shorter series than last year.
#http://www.120sports.com/video/v181767390/warriors-pull-away-in-game-1
For Golden State, there's comfort in knowing even when the game's two best shooters aren't scoring, they have enough offense to scratch out a win.
Game 2 of the Finals is Sunday.