Warriors get physical, wear down Cavaliers to grab 3-1 Finals lead
The Warriors used tough defense, unyielding execution to bury the Cavaliers and take a 3–1 NBA Finals lead. 
Your teams. Your favorite writers. Wherever you want them. Personalize SI with our new App. Install on iOS or Android.​
Any pretense of finesse fell away in the second half of Game 4. Screens were set as shoves, while off-ball defense devolved into desperate holds. Players on both sides got their bumps and elbows in during the space between plays—none of which was whistled as an actual infraction. Those bits that were called for fouls seemed incidental by comparison. What, after all, is the harm of a rip-through when so many of the possessions prior ended in casual mauling?
It was during this stretch—the most aggressive and heated of the series by far—that the Warriors made meaningful separation. A grabby game plays into Golden State's switching, ball-hawking defense. Even potential mismatches are a bit more manageable when anything goes; hand-checks, slaps at the ball, and physical contests can equalize situations that might otherwise prove dangerous.
Splash Brothers heat up, Warriors pull away: Finals Game 4 highlights
Despite their typecasting as a jump-shooting outfit, these Warriors are aggressors. They will play as ferociously as they're allowed and win more and more possessions the further the line is pushed. Opponents, by and large, will not out-shoot them nor out-pass them. If the Warriors are allowed to scrap their way through possessions as well, they'll likely stand as victors—as was the case in their 108–97 win over the Cavs in Game 4 of the NBA Finals.
Cleveland seemed to suffer once every possession became wearying. Sapped players tend to take their time getting downcourt and tired legs don't work as well off the ball. In tandem, those factors undercut what had been a smooth, well-meaning offense in the first half, leaving behind an iso-driven mess in its place. The Cavs didn't enter this game looking to play one-on-one basketball. It simply became the easiest option once things tightened up in the second half. Kyrie Irving danced, LeBron James drove directly into the defense, and an all-too-familiar recipe for defeat began to take shape.
• MORE NBA:Warriors bury Cavs from deep | Green, LeBron get in scuffle
Golden State's defense might not get enough credit for that specific encouragement. The harder an opponent works, the more easily they can talk themselves into attacking one defender in a straight, predictable line as being a good source of offense. It rarely is. Even in those cases when opponents can take advantage of a switch, the Warriors tend to trade three points for two (as they did in hitting a Finals record 17 shots from long range) and boost their efficiency by forcing turnovers along the way. Their very architecture is made to withstand direct assault.
Credit for that is shared across the board, though a disproportionate amount is due to Draymond Green and Andre Iguodala. Both embody a form of defense that is somehow as furious as it is logical; they spend possessions flying around the floor and landing precisely where they mean to, often just in time to prevent a shot from going up or taking away the cleanest angle. Their rugged, thankless work at the peak of Game 4 distinguished the Warriors from their quality competition. 
​
It was then that Stephen Curry (38 points, 7 of 13 3FG, six assists) and Klay Thompson (25 points, 4 of 9 3FG) stepped in to settle the game and, likely, the series. Those two combined for the lion's share of the Warriors' third-quarter offense and many of the game's gutsiest plays. Cleveland leveraged the lax officiating in much the same way Golden State did. It hardly mattered; Curry was still able to fight his way into open threes and Thompson played the Cavs' overly aggressive pursuit against them. Any razzle dazzle was kept to a reasonable minimum for the sake of high-functioning offense: smart passes out of pick-and-rolls, resourceful cuts to scramble the defense, and opportunistic passing. 
Photos of every 3–1 comeback in NBA playoff history
NBA Playoff 3-1 Comebacks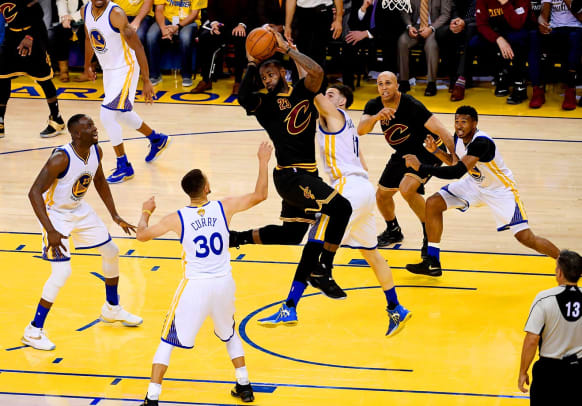 The Warriors are able to go against the grain of a physical game and still deliver that kind of performance. Such is the difference between them and most everyone else, including the Cavs. Toughness takes many forms. For some it's imposing defense, overpowering post play, or the rugged pursuit of rebounds. For Golden State it lies in indomitable execution, unyielding to the last.