Jarrod Uthoff's journey down the Iowa River into the NBA draft
Jarrod Uthoff is an intriguing NBA draft prospect with size and limitless range whose basketball journey began along the Iowa River.
Your teams on the go or at home. Personalize SI with our new App. Install on iOS or Android.​
The Iowa River flows for 320 miles before merging into the Mississippi. Its eastern branch winds down from the state's northern border. It convenes with the western arm in the southeast while connecting Jarrod Uthoff's humble beginnings and burgeoning adulthood.
Uthoff's father Dale and older brother Dale Jr., would loft a diapered, toddler Jarrod atop their shoulders, trek through the cornfield behind their Cedar Rapids residence and over the subsequent levy to catfish. In the cold winter, the Uthoff men would catch carp with worms. Striped bass appeared in the spring. Iowa's bountiful catfish season began in the end of May until the belly of fall. Dad would fry the day's catch in olive oil, mixing and matching seasoned breadings. Uthoff's grandfather was a raccoon hunter by trade, raising an outdoorsy son. Dale, an electrician, passed on the family values to his five children. "He instilled that in us," Uthoff says.
Roughly 30 miles downstream, Jarrod would stroll down the river with his girlfriend Jessie Jordan in August 2015. They walked hand in hand following a simple evening dinner, when suddenly, he dropped to one knee and proposed. "It was very basic, very Jarrod and I," Jordan said. They will wed on July 30. While Jordan has planned the reception with her mother, Uthoff has been jetting across the country, attempting to realize his dream and hear his name called during the 2016 NBA draft. Uthoff is perfecting his jump shot and hastening his lateral movement instead of deciding seating arrangements. "He doesn't care about those little details anyway," Jordan laughed.
​
Rather, four feet—the distance between the NCAA and NBA three-point lines— is the minutiae Uthoff concerns with these days. After shooting 38.3% from deep during his three years at the University of Iowa, scouts say the 6' 9" Uthoff's ability to stretch opposing NBA defense's out beyond the arc as a power forward will be the reason a team selects him in the second round on June 23. That number 23 is also significant: Uthoff's age during his rookie season after celebrating his birthday during the draft combine in Chicago.
Uthoff has long been a dead-eye shooter, though. "He's a great marksman," Dale Jr. says. When the Uthoffs weren't fishing for dinner, they would hunt on the family-owned 15-acre patch of timber 15 minutes east of their home devoid of cable and internet. Jarrod joined at 13—with both bow and shotgun—seeking deer, rabbits and squirrel. "I ate it all the time. It kind of tastes like a mix between turkey and chicken, when you're talking about squirrel," Uthoff says. "I wanna go moose hunting, I wanna go elk hunting, caribou bear, you name it."
"He'll be happy to sit up in a tree stand all day," Dale Jr. says. "He has way more patience than I do." Dale Jr. exercised his patience when constructing Jarrod's jumper in the family driveway, a cement hoops oasis amid a sea of Midwestern fields. Dale Jr., 13 years Jarrod's senior, near completed college before the youngest Uthoff child even touched a basketball. "A lot of kids start basketball too young and shoot with improper form," Dale says. "He didn't play much basketball until second or third grade and it really gave him more of a chance to develop proper shooting form and fundamentals."
• Read Sports Illustrated's cover story on Uthoff's stellar senior season
When Dale returned for weekends from undergrad at Drake University, Jarrod would promptly scurry out onto the driveway for his latest lesson. Ironic to Jarrod's present-day transition, Dale forbid the youngster from aimlessly launching threes. Over the years, the brothers used their mother Diane's video camera to assess Jarrod's motion. "We worked a lot on shooting form and rotation and follow through and some of those things," Dale says. He spent the summer after his college graduation driving Jarrod to basketball camps all over the state.
Jarrod blossomed into Iowa's 2011 Mr. Basketball and Gatorade Player of the Year, but signed with Wisconsin as the state's major basketball programs all underwent head coaching changes. It was in Madison where he met Jordan, a scene ripped from a romantic comedy. Both student-athletes—Jordan golfed collegiately—they lived on the same floor of Smith Hall. One late-summer day she was headed to the golf course, clubs in tow, when she first saw Uthoff. "He held the door open for me at the elevator and the rest is history," Jordan says.
Their Wisconsin romance only lasted one year. Amid Uthoff's freshman season red-shirting for the Badgers, he determined Bo Ryan's offensive system wasn't congruent with his preferred playing style. During one practice session on Wisconsin's scout team, Uthoff played the role of Iowa's Melsahn Basabe, a 6' 7", 220-pound forward who made his bones catching dump offs on the baseline and finishing with authority. Uthoff relished pretending to thrive in head coach Fran McCaffery's scheme. "It was very free-flowing, that was huge, the open motion that coach McCaffery has implemented," Uthoff says. "He lets his players play. That's what really intrigued me about it."
McCaffery's system coupled with Iowa's proximity to home made Uthoff's choice of transfer easy. Then, once the 2011–12 season concluded, Ryan assigned severe restrictions on Uthoff's transfer options—banning ACC and Big 10 schools along with Iowa State, Marquette and Florida. The conditions forced Uthoff to pay his own way to attend Iowa as the story morphed into national news that prompted Ryan to defend his decision on ESPN's Mike and Mike.
Transferring to Iowa also required a second straight redshirt season for Uthoff. "You just can't get too wrapped up in it," Uthoff says now. "The second you start paying attention to it and realizing your name's in the paper or whatever … You have to forget about it." Even still, it would be two years after leading Jefferson High School to its first Class 4A state tournament appearance since 1999 for Uthoff to play a meaningful basketball game.
Uthoff survived and flourished during the 2013–14 season. Jordan followed him to Iowa after a long year apart and, playing at long last, finished fourth for Iowa in scoring as Devyn Marble led the Hawkeyes back to the NCAA Tournament. Uthoff honed his skills battling against fellow big man Aaron White in practice. He repeatedly drilled Dirk Nowitzki's patented stepback to score over his bigger teammates. "They used to go at it and it was really good for both of them," McCaffery says. "Their styles really complimented each other." White's bruising interior game and Uthoff's finesse at the elbows and around the perimeter were a perfect confluence. The next season, the frontcourt duo combined for 28.8 points and 13.7 rebounds per outing, powering Iowa to 22 wins and a repeat appearance in the Big Dance.
See every No. 1 draft pick in the NBA lottery era
The NBA's No. 1 Draft Picks in the Lottery Era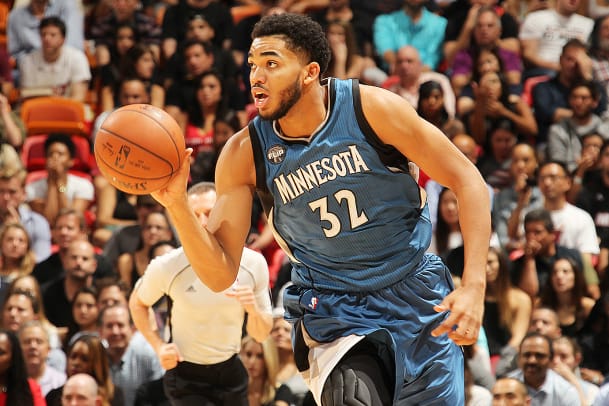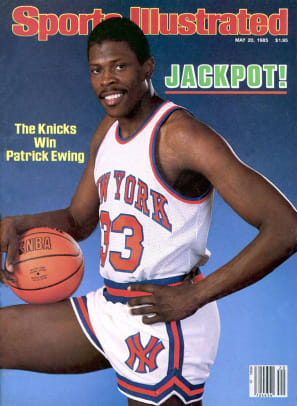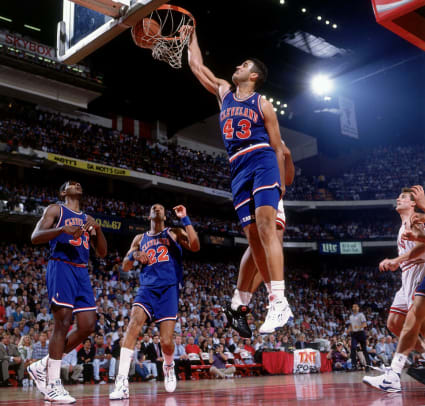 ​
The Washington Wizards selected White with the 49th pick in the 2015 draft. His graduation opened the door for Uthoff's offensive explosion this past winter. Uthoff was second in the Big 10 in scoring at 18.9 points per game, earning All-American honors as the Hawkeyes soared as high as No. 3 in the AP rankings. "What changed from my junior to senior year was more of my mentality," Uthoff says. "It was, 'When I step out on the court, I'm the best player on the court.' I expected the best out of my self. Success was just an afterthought."
Prior to the campaign, McCaffery pulled Uthoff into his office, issuing his star senior one of the greenest lights in the nation. "It's your team this year," McCaffery told him. "Don't confuse that with selfishness." Uthoff hoisted four more shots per game. "He had never been that guy," McCaffery says. "It's OK to miss five shots in a row. Go make the next seven."
Uthoff's clean conscious tested the limits of his shooting range. He could loft 30 footers in transition if he felt in rhythm, ultimately intriguing personnel throughout the NBA. While he'll be old for a rookie, Uthoff will bring a seasoned skill-set to the league, perfectly molded for the modern NBA four-man. It's the next progression in a journey upstream.