Despite record, LeBron James's greatness unmatched in NBA Finals
LeBron James has been the best player on the floor during the last five NBA Finals, including against Stephen Curry and the Golden State Warriors.
Your teams. Your favorite writers. Wherever you want them. Personalize SI with our new App. Install on iOS or Android.​
Something has to be said, before Game 7 of this NBA Finals, before the Golden State Warriors and Cleveland Cavaliers decide this year's championship, before analysts and pundits break down the trajectory of every mouthpiece and the historical importance of every turnover, something has to be said:
LeBron James has been the best player on the floor for the last five NBA Finals.
This is an incredible achievement. It is a testament to his stamina (no other player in the last 50 years has even played in five straight Finals), his talent, his drive, and yes: his ability to play his best when it matters most.
For some reason, some people like to poke holes in James's game, to make him out to be less than the sum of the parts of his game. I don't think that ruins his day anymore, but don't let anybody fool you. If you understand basketball, you understand you are watching all-time greatness. We may never see a Finals run like his again.
• LeBron delivers historic performance | Warriors are unraveling in Finals
What? But he might lose for the third straight year!
This is true. Also true: By rule, there are 10 players on the court at any given time. This is not one-on-one in your driveway. The argument that the best player should always win the series is reductive, or to put it another way: It's stupid.
Cleveland has a terrific team this year, but Golden State has a Hall-of-Fame backcourt and a deeper roster, with pieces that complement each other incredibly well. It is not LeBron James's fault that the Warriors are so good, just as it wasn't Jerry West's fault that the Bill Russell Celtics were so good, and it wasn't Michael Jordan's fault that, for a time, the Celtics and Pistons were better than his Bulls.
But, but, but ... LeBron wasn't the best player on the floor in the last five Finals!
Yes, he was. I assume we can all agree he was the best player in the 2012 Finals, when he won his first championship and the series MVP award for the Miami Heat. (Kevin Durant played very well in that series too, but his all-around game did not compare to James's.)
And of course, LeBron was the best in the 2013 Finals against San Antonio, when he led both teams in points, assists and steals and averaged 10.9 rebounds. If any other player had his Game 7 performance (37 points on 23 shots, just two turnovers), we would still be talking about it, but we tend to take these things for granted when James does them. And besides, the story of that Finals will always be Ray Allen's shot in Game 6.
• LeBron's dominance maddening for Warriors | 100 best Finals photos
But what about 2014? The Spurs humiliated him!
No. The Spurs humiliated his team. San Antonio beat the Heat in five games, paving the exit ramp out of Miami for James.
You might remember Kawhi Leonard winning MVP of that series while the Heat only won a single game. You might even remember LeBron cramping in one of the games in San Antonio.
That's all fine. The Spurs did whip Miami. But it wasn't LeBron's fault. He put on one of the best Finals performances you will ever see: 28.2 points, 7.8 rebounds, 4.0 assists, 2.0 steals. He made 70% of his two-pointers, 52% of his threes and 79% of his free throws. He did it with Leonard, one of the best defenders of this era, guarding him most of the time.
Yes, Leonard won the Finals MVP award. That's fine, too. When a series ends in five, the MVP should go to somebody on the team that wins. But does anybody really think that if you traded Leonard for James before that series, the Heat would have won more than one game?
The Spurs did not ask Leonard to do nearly as much as James did for the Heat. This has basically been true of every player in the league since LeBron was drafted in 2003. He is supposed to score like Kobe Bryant, rebound like Tim Duncan and set teammates up like Chris Paul. What's amazing is that, a lot of the time, he actually does that.
See every one of LeBron James's Sports Illustrated covers
LeBron James SI Covers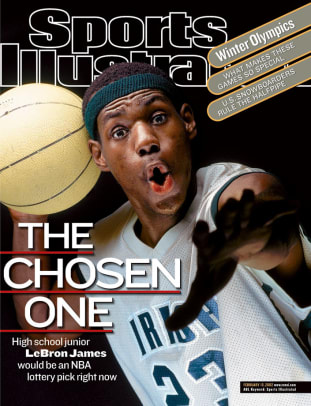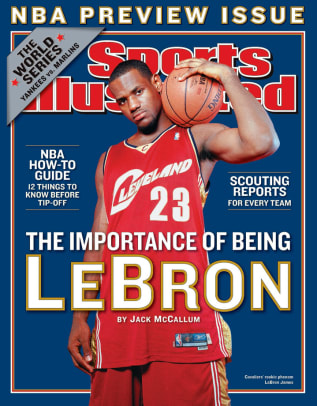 ​
And this brings us to last year's Finals. The Cavs stole two games from the Warriors despite starting James, Tristan Thompson, Matthew Dellavedova and two members of their janitorial staff.
James averaged 35.8 points, 13.3 rebounds and 8.8 assists. His shooting percentages weren't great, but that was because the Warriors knew he was the only guy they had to stop. (Cleveland's second-leading scorer in the series? The great Timofey Mozgov! Even Mrs. Mozgov can't believe that.)
Last year, James had to cook the meal, set the table and do the dishes all at the same time. Yet he still didn't commit as many turnovers as Stephen Curry did. Andre Iguodala won the Finals MVP—the second straight year the award went to a player who supposedly stopped LeBron, even though he really didn't. James was the best player on the floor. Swap Iguodala for James, and that series is a sweep.
Now James is back in the Finals, doing things that many Hall of Famers couldn't even dream of doing. He is leading all players in scoring, rebounding, assists, steals and blocks by such a wide margin that, no matter what happens in Game 7, he will lead the series in every category, unless Tristan Thompson passes him in rebounds. And he is doing it efficiently.
You may hear, before and after Game 7, that this is a referendum on LeBron. Nonsense. Golden State has a better team. The Warriors are so good that they blew out the Cavs in Games 1 and 2 even though the league MVP scored just 29 points ... total.
Cleveland can still win Game 7, but there is a reason that one of these teams won 73 games in the regular season while the other won 57. This is a team game. LeBron James is just so damn good, he makes us forget that sometimes.