LeBron James's dominance proves maddening for Warriors in NBA Finals
LeBron James has dominated the Warriors so thoroughly that he has driven them to act out of character. 
In the NBA, a superstar is measured by his presence. It cannot be tabulated in a box score—only outlined vaguely by scoring and rebounding totals, sketched out slightly by shooting percentages and raw plus-minus. It shapes a game even when a player seems not to be involved in the immediate action. The far side of the court is not beyond influence; the best players still dictate matchups, draw attention, and register doubt in their opponents' minds. In the moment, that presence manifests as the unambiguous threat to take over any possession at any time.
LeBron James projects such terror almost casually. Games 5 and 6 of these NBA Finals were populated with all kinds of noise—cross-talk, suspensions, foul trouble, flare-ups—but effectively shaped by James. It was his jumper that busted the cushion of the Warriors' defense, forcing Andre Iguodala to defend him more closely or surrender efficient attempts. With that shift, he pushed the Warriors back on their heels and found the means to get into the lane. From that came access to Cleveland's game. The trouble of playing Golden State is that their switching defense can be difficult to break down and force into rotation. James has successfully compromised it in two straight games against every possible combination of Warriors.
• LeBron turns in historic performance | Warriors unravel in Game 6
Earlier in this series, James was productive but flummoxed. Iguodala is the most proficient on-ball defender against LeBron in the league and Draymond Green an ideal, roving helper. Between them, Golden State was able to apply pressure on the ball while shrinking the floor to eat into the most predictable passing lanes. James turned the ball over 19 times between Games 2, 3, and 4—unusual disorder from one of the most cerebral players in the league.
James then assumed complete control through the next two games of the series. When Golden State played a traditional center, he strung out pick-and-rolls and attacked the space of the recovery:
[youtube=https://youtu.be/YSt8sJ692kw]
When the Warriors went small, James forced uncomfortable switches that brought an overloading defender to his side of the floor, if only to punish them with the pass:
[youtube=https://youtu.be/6ke1zvv0hlM]
Putting more bodies between James and the rim sprung leaks elsewhere, but covering him one-on-one set up some overmatched defender for the fall. Clout at that level engenders a certain hopelessness in an opponent. When James can not only score and set up his teammates with ease but go about both by manipulating the defense however he wishes, a team like the Warriors is left at the whim of a basketball genius. 
• Curry fined $25k for mouthpiece toss | Barnes not a max player
Greatest Game 7s in NBA History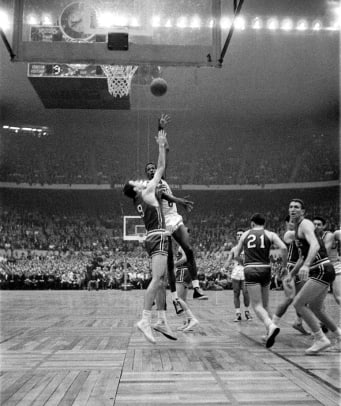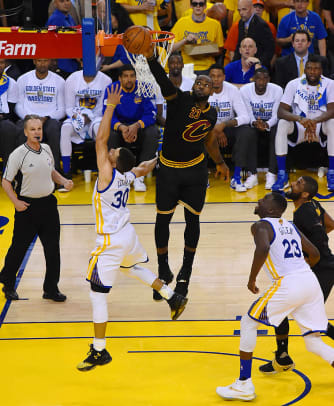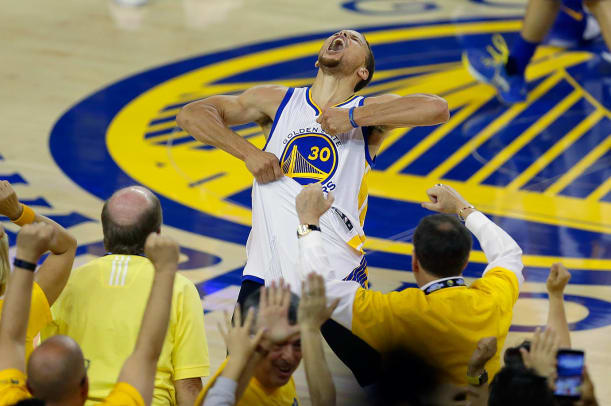 And so it wasn't enough for James to drop 41 points in the second straight game—he manufactured five of Tristan Thompson's six field goals, assisted on 12 of J.R. Smith's 14 points, and turned Mo Williams and Dahntay Jones (who hadn't seen a minute of meaningful play in the Finals) into spot scorers. James made himself available and refused to be ignored, darting into the lane from 25 feet out for cuts and offensive rebounds to salvage stalled plays. No Warrior seemed able to shake James on defense, either; both Green and Stephen Curry pump faked James desperately only to have their shots blocked, while Klay Thompson hesitated and passed out of crowds when James was near. Fast breaks were rebuffed by James alone. In time, every possession became a LeBron possession. 
Cleveland's season was saved through that dominion. A team as good as Golden State could not be toppled twice in a row without help, though in so many ways James makes his own. A skilled marksman like Smith can make good on a pass rocketed right into his shooting pocket. The energy that Thompson expends every trip down the floor is validated by a playmaker who regards him as a primary target. Even the way that James runs, cuts, and defends sparks a panic that all Cavaliers can feed off of. 
It is a testament to LeBron that Golden State, a team of remarkable basketball intelligence, has been prompted to do so many dumb things over the last two games. Great players inspire a senselessness in their opponents stemming from their unshakable frustrations. It is maddening to know that James is not only bigger, stronger, and faster than the man guarding him, but also several moves ahead. The Finals turned on that exasperation, and through it James and the Cavs might see a dream realized.