Kevin Durant to the Warriors might be the most fascinating NBA move ever
Kevin Durant joining the Warriors might be the most fascinating move in NBA history. SI.com's Andrew Sharp weighs the pros and cons of the former MVP's decision.
​Your teams. Your favorite writers. Wherever you want them. Personalize SI with our new App. Install on iOS or Android.
When some child from the future asks how this happened, tell them it started with 72 hours in the Hamptons. Everyone from Gregg Popovich to Tom Brady to Pat Riley showed up to recruit Kevin Durant over the course of the July 4th weekend, and the rest of the sports world spent the holiday living vicariously through Snapchat updates, Instagram posts and magical tweets. It was the NBA at its weirdest and best. There were cartoon scenes interspersed with wild plot twists, and millionaires and billionaires at the center of everything. NBA free agency gave us more drama and comedy than any show on television, and this weekend was another jaw–dropping episode.
And, having said all that, it's perfectly acceptable to hate how this weekend ended.
Basketball is entertainment at its core—look at Danny Ainge parading around in KD's shoes, look at Steve Ballmer sobbing—and it's fine to react emotionally and irrationally to any of this. Basketball is a world with its own logic and stakes and dramatic phone calls from 78-year-olds in West Virginia. Treating this like real life is actually more naive than understanding that sports is a fictional universe unto itself. That would be my first response to people who have scolded the world about criticizing Kevin Durant after choosing the Golden State Warriors.
KD's free to go wherever he chooses, yes. Obviously. But I sympathize with NBA fans who are disappointed by all this, because for most of the past two days, I've been conflicted, too.
"I was the second-best player in high school," Durant told Lee Jenkins a few years ago. "I was the second pick in the draft. I've been second in the MVP voting three times. I came in second in the Finals. I'm tired of being second. I'm not going to settle for that. I'm done with it."
If this is how Durant plans to finish first, it feels anti-climatic. He's great enough to win as the centerpiece on his own team, or at least great enough to try. The same logic applies to Stephen Curry, Draymond Green and Klay Thompson. Pairing them all together may make them unstoppable, but it may also make their individual stories less interesting. 
What made Durant's free agency fan fiction so addictive all along was the chance to imagine what he could do on his own—25 shots a game, no Westbrook, no ceilings. What if the games from his MVP season were only the beginning? The answer will have to wait. KD's role as a sidekick will continue. He just upgraded from Westbrook's radioactive energy to Curry's cold fusion efficiency. He inherits a roster that has all the talent the Russ-Harden-Ibaka-KD Thunder teams might have had, but with none of the flaws that initially made America fall in love with those teams. 
• Why Kevin Durant to the Warriors is the ultimate cop-out move
Durant probably won't carry a team to a title like Dirk Nowitzki, or even LeBron this year, because he won't have to. Likewise, Steph won't silence all the critics after this year's Finals, because now the critics will (fairly) say that he has the most loaded roster in NBA history. Nobody wants to be the guy who descends down from Mount Hot Take with a bunch of moralizing about competition and legacy, but it's OK to admit there are downsides to this story. It's actually much stranger to pretend there aren't any.
•​Gallery: Examining the biggest off-season NBA moves in history

Biggest off-season moves in NBA history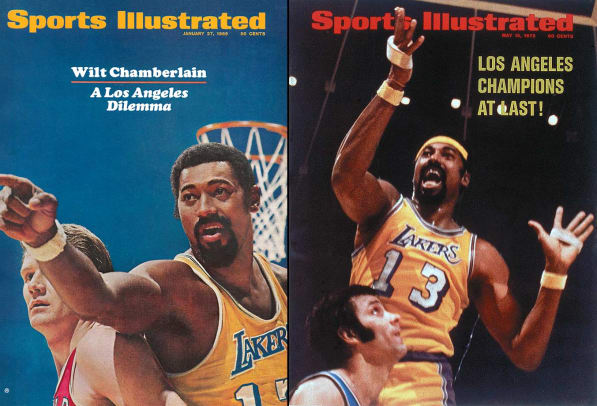 ​
After 24 months of free agency speculation, we just watched Durant choose the most cynical option on the board. This is so much more extreme than what LeBron did in 2010. Durant to the Warriors is LeBron's Decision, but if he'd gone to join Kobe and the Lakers after the Finals, and Kobe was still in his prime. It's completely unprecedented. 
But then, that's also the flipside of the story. If it's acceptable to hate Durant's choice, it's also important to understand that this is the most fascinating basketball decision in history. The spectacle alone could make an entire nation of League Pass addicts relocate to the West Coast just to keep up. 
I don't even know what this will look like. Can the Warriors score 120 points per game? Will defense even matter? What do we call the Death Lineup now that it's exponentially more lethal? Could any team in NBA history guard a pick-and-roll with Kevin Durant and Steph Curry? Even if the answer is yes, the Warriors would just kick it to Klay Thompson for a wide–open three. 
Joe Lacob's "light years ahead" interview was a punchline for weeks, and now it looks like prophecy. That may be another reason to loathe the Warriors, but it's also a reason to pay attention. They will have four All-NBA players in their starting lineup. There is more elite shooting in Golden State than the NBA has ever seen on one floor. The team that just finished the most dominant regular season in NBA history will bounce back from a Finals letdown by replacing Harrison Barnes with a Hall of Famer. The more this team is explained, the more incredible it becomes. 
• Hushing Loud City: Durant says goodbye to the city he helped shape

There have been concerns that this makes the entire NBA less interesting, and that's ridiculous. Everyone will watch this team. Everyone will speculate about this team, fear this team, probably come to love this team, and most of all, remember this team. If basketball is entertainment, it's also a living text that can be debated forever.
It'll be complicated, too. KD may not fit seamlessly, there could be injuries and depth issues, Westbrook could transform into a dragon on national television and burn down Oracle, etc. Anything is possible. The Warriors are not going to win the next five titles without a hint of adversity.
Most importantly, and why I've come to enjoy the idea after initially dreading it: This will never happen again. This is not a trend, or a blueprint for the league's future. It's more like a glitch in the matrix. There will never be another woefully underpaid MVP at the same time there's a historic spike in the salary cap, creating space for a second MVP. The same way the Celtics and Lakers could only happen in the '80s—when a combination of shortsighted management and fewer teams created loaded rosters on opposite coasts—the Warriors could only happen in the summer of 2016.
This a seismic shift that'll define how we watch and discuss basketball all year. And if you're not sure how to feel about this development, don't worry—there will be decades to decide.