The And1 mixtape tour brought streetball experience to the masses
Former And1 mixtape tour players reflect on their part in bringing streetball to a larger audience. 
Your teams on the go or at home. Personalize SI with our new App. Install on iOS or Android.
When And1 first came onto the scene, it provided a life-changing opportunity for some of New York City's greatest streetballers. Local legends Shane "Dribbling Machine" Woney, Wailyy "Main Event" Dixon, Anthony "Half Man, Half Amazing" Heyward, Dennis "Spyda" Chism and Robert "50" Martin would become known as the original six, players who shaped what streetball looked like for a mainstream audience and pushed And1 to the top.
And1 basketball has its roots laced tight on hundreds of outdoor battlegrounds, where the best come to prove themselves—Rucker Park, Dyckman, West 4th, Kingdom. New York City is the mecca of streetball and home to six basketball players who just wanted a shot. A shot at greatness, a shot at fame, better, a shot at being immortalized and proving they were more than what people thought, that they were the best non-NBA basketball players the world has ever known.
And1 streetball was intended to be as authentic as possible. At the same time, entertainment was entrenched deep into the streetball identity. The original six were out to take that identity to the masses and gain a chance for the next wave of streetball greats to play college, international, or even NBA basketball.
• Cuban: 'Villian' Warriors good for NBA | Duncan pens thank you letter
"We didn't care about popularity, or TV, or money," says The Dribbling Machine. "We just wanted to prove that New York City had some of the best talent not in the NBA. The goal was to open up door for guys to make it to the NBA, or make it overseas."
But the And1 squad was not naive enough to believe that they didn't have to put on a show to keep fans coming back. They realized their time in the spotlight was largely built upon entertainment value. For the original six, importance was placed on ensuring flash while keeping some form of traditional basketball alive.
"Entertainment basketball was just a facet of what we were bringing to the table," says Half Amazing. "We were also real ball players. It wasn't just an entertaining thing from my perspective. I was out to show these cats that you could also be entertaining playing authentic basketball."
Two major additions changed the game: Grayson "The Professor" Boucher and Phillip "Hot Sauce" Champion. Neither had the same basketball experience as the original six who built their fame by beating the best of the best in college, Europe, or the famed outdoor courts. For The Professor, making the And1 team was totally by chance.
"I only made my junior college team because my dad sold my coach his wedding ring," says The Professor. "A bunch of guys got hurt, so it ended up I played that year, but it was only five minutes a game. If the game was close, I wouldn't even get in. That was the extent of my basketball career, pre-And1. 
"[I] actually went there just to watch the game because I was such a fan," The Professor said. "I went in there and tried out and got the crowd excited with a few moves and they asked me to come inside and play against the And1 team. It just so happened that at that time they were having a nationwide contest looking for someone for the And1 team. I went through the process of elimination the whole summer. It was sort of a survivor-themed contest on ESPN and I ended up winning the contract in August of 2003."
The addition of The Professor was more than just another roster move. It was a shift in the team's culture. The And1 brand would never be the same again. The concern was no longer on keeping on-court credibility, or having the most talented players. And1 became about high-level sponsors and putting on the best show the world has seen. And what a show they would put on.
And1 gained popularity as players made entertainment a bigger part of the basketball equation. The ankle-breaking crossovers and jaw-dropping dunks became the magnet that drew a chorus of thousands of oohs and aahs that drowned out stadiums. The Professor became the king of the And1 circuit, the player crowds would beg to see. The stakes were raised even higher by crazy dunks such as Mr. 720's literal 720 throwdown. His dunks felt fabricated, even for those playing with him.
"It was a delayed reaction, wow that was crazy," Half Man, Half Amazing said. "Maybe 3-5 seconds later, I was like, 'did he just spin around twice?' Three seconds after I said it, the crowd reacted the same way. After that I just lost it. I lost it after that. To this day, until somebody can top that dunk, he is the greatest dunker on the planet. Everybody has dunked from the foul line in different forms or fashion. Nobody has ever done a 720, except Mr. 720."
As And1 continued to impress on the court, off-the-court sponsors came running to get involved with the new global sensation. ESPN and Mountain Dew became involved with the And1 tour. ESPN would send And1 to every corner of the globe, from the U.S. to Asia. "We were rock stars,"  Dribbling Machine​ said. "​If you weren't an All-Star in the NBA, we were more popular than you."  
• Who should the Warriors unretire? | Irving Q&A: Life as an NBA champion
While And1 ascended to unimagined heights in public, behind closed doors, things started to go into disarray. The original six saw the beginning of the end.
And1 was always supposed to hold onto the gritty, Saturday afternoon basketball games that focused on winning, not flash. The crossovers didn't matter. Only the score mattered. Basketball was valued.
"All we wanted to do was be heard, we could've taken what they had, taken a little piece of what we had and just put it together," Half Man, Half Amazing said. "That is all we were every trying to do, was mix the two. Entertainment basketball and authentic basketball put together and you have that perfect storm. There is nothing like it."
Player opinion was gone, traditional basketball was gone and big-money sponsors became more heavily involved in the selection of players, direction of the brand and the inner workings of And1. With heavy outside influence, it became easy for players to feel taken advantage of by those trying to make a quick buck.
"The original owners [took advantage of us], it was 100% they took advantage of the game," Dribble Machine said, "the ideas we have, the knowledge, a lot of the stuff that you see like the hashtags and a lot of stuff like that.
"The first time I realized it, one night I came home, I used to like watching poker. I saw one of the old owners playing poker and he lost, I think, $400,000 or $700,000 on a pair of 7's. All I could do is laugh to myself and say, there goes our money."
The original six had reached their breaking point. They decided to step away from the brand they had worked so hard to help build after experiencing the highs, lows and ultimate let down. It was time for a change.
After struggling with And1 for too long, Half Man, Half Amazing took to being an extra in movies. Movies offered an escape from basketball, but kept Half Man, Half Amazing in the spotlight. ​
​​Random people step up to take Spiderman one-on-one at the courts. The people are clueless, believing the one behind the mask is a joke of a basketball player. Two minutes later they find themselves lost as Spiderman puts together a mix of dribbling moves that leave them on the floor. The Professor had found his niche as a YouTube content creator through a variety of spoofs on basketball courts across the country.
"In 2013 a friend of mine came up with the Spiderman basketball idea, the guy [who came up with it] Set Free co-produces with me, it was for a prank," The Professor said. "We did it as a prank and then next you thing you know it was 20 million views in a week. We thought it would be innovative and now it has lasted for more than three years."
Three years later and The Professor still finds himself creating YouTube videos. His videos have stretched from Spiderman to Star Wars. The Professor finds himself in an odd space as part basketball player, part YouTube celebrity. 
After struggling with And1, The Dribbling Machine and Spyda are trying to find a way to make a lasting impact back on the streetball scene. As they say, the intent is to reinvent the wheel.
"And1 really needs to be back out there because it changed lives," The Dribbling Machine said. "It was bigger than basketball. I still hear it today, people telling me, man, 'If it wasn't for you, I wouldn't have went to college. If it wasn't for you guys, I wouldn't have got out of that gang. If it wasn't for you guys, I wouldn't have worked hard to take care of my family.'"
The impact of And1 and streetball has been so far reaching that Spyda is attempting to bring the original six back together for a reunion. 
"I'm doing transitional housing and I'm working a project right now to bring back streetball," Spyda said. "I'm open to working with any brand, even And1, Nike, Reebok to bring back the streetball, to help out the community. If you go and do your numbers, when we were touring and playing, there was not a lot of dropout in schools. Guys were more active, women were more active, people were more active in getting in the gym and playing ball. Even if it was just getting in there dribilling and working on moves, it kept people off the streets. It was definitely an educational movement for the community, to keep people from getting in so much trouble."
Here are the biggest off-season moves in NBA history
Biggest off-season moves in NBA history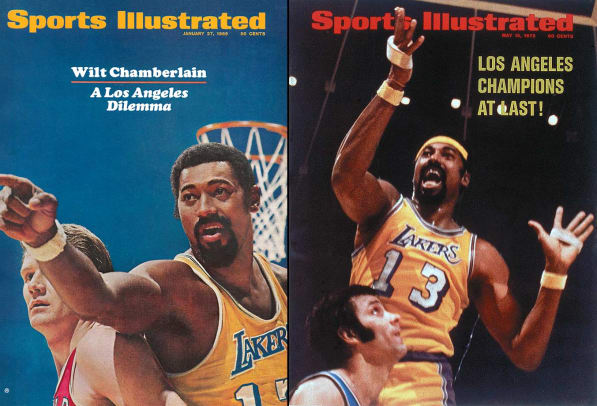 This reunion is more than something that Spyda is talking about, it is a movement he is actively prepping. Spyda, who has had several knee surgeries, continued working out and founded a company that will figure out how outsiders and the rest of the original six feel about a possible reunion.
"My thing is, get these guys at a round table, let's talk about it, let's set some goals and try and bring this thing back," Spyda said. "I don't want to use the word try, let's do it. The community needs it right now. I think everybody wants to see us come back and do a reunion. I'm preparing my body and my mind like I have been doing the last five years. Even going through both my repairings on my knees to get me back to who I am, do what Spyda does, what Spyda do.
"I plan on getting the guys back together to come up with a strategic plan. Should we go on the apparel route, or should we just go and just do us and bring the tour back. Even if we have to start one event at a time, just to get a buzz and get back out there. I created a company, I don't want to say the name right now, but I created a company and just am seeing if guys are down for the movement to get back in the community. I want to get back to donating to the community."
And1 has always been special. It created that barbeque atmosphere and gave players a chance at changing lives, and it was something that might only happen once in a lifetime, Half Man, Half Amazing says.
"And1 was lightening in a bottle," Half Man, Half Amazing said. "Nobody saw it coming and I will always, always cherish the memories I have with And1 playing with my guys. To everybody out there who ever had a doubt that And1 was fake, this coming from the o.g. Half Man, Half Amazing, we were the truest ball players out there. You will never be able to put a team together like that ever again. Period. Things like that only come around once."