Kyrie Irving Q&A: Cavs star on Kids Foot Locker, NBA Finals and more
Kyrie Irving, who partnered with Kids Foot Locker to donate 190 pairs of his signature sneakers, talked with SI.com about the Kyrie signature sneaker, NBA Finals and more. 
Your teams. Your favorite writers. Wherever you want them. Personalize SI with our new App. Install on iOS or Android.​
It was on the driveway of his West Orange, N.J., home that Kyrie Irving would work on his game for countless hours. When the sun went down, his father, Drederick, would park his car at the edge of the driveway and turn on the headlights to give his son another hour to put up shots. On those nights, a young Kyrie worked tirelessly on dribbling moves, and just like every kid with hoop dreams, he practiced hitting the last shot of a championship game.
His hard work came into fruition with 1:09 on the clock in Game 7 of the NBA Finals against the Warriors, when he found the ball in his hands and drilled a three that helped the Cavaliers clinch their first NBA title. 
To celebrate his championship run, Irving partnered with Kids Foot Locker to donate 190 pairs of his Nike signature sneakers to the Boys & Girls Clubs of Cleveland at the Kyrie Irving Basketball ProCamp. Each pair represents the number of points he scored in the NBA Finals. The camp kicked off a larger partnership between Kids Foot Locker and Irving with the GO BIG campaign, which encourages the youth to lead active and healthy lifestyles. After the event, Irving took some time to speak with SI.com about his Foot Locker partnership, the NBA Finals and more.
• Duncan retires without a whimper | Many lives of Tim Duncan
​Jarrel Harris: Can you talk about your relationship with Foot Locker and what you guys are doing today for the kids?
Kyrie Irving: I've been with Foot Locker for a little bit now. This year we are donating a pair for every point I scored in the finals to the Boys and Girls club. It is just great to be able to partner with anyone but especially when you have the chance to give back to the community, it just makes it that much more special. So I am very thankful that I am able to have this opportunity to donate to the Boys & Girls club. But I am also thankful to partner with Foot Locker which makes it that much more special.
JH:How crazy is it to see kids walking around in your sneakers?
KI: It is still new to me like the first time I saw someone with my sneakers on. Because I was really that kid that was drawing up and naming what I wanted to be my first shoe. What it would look like, the creative concept behind the the shoe and to see them wearing it, it gets me every time. I am just really thankful to be in the position that I am in because without the sacrifices of my dad, my sister, my whole entire family, I wouldn't be able to be me and I wouldn't be able to connect with kids the way I do. So I am just really thankful.
JH: How have the past three weeks been for you since winning the NBA title?
KI: It has been amazing. To say the least. It was history that we made. Just the way we did it, it was really a dream come true. Us just putting in the work the way we did and being down 3–1 with almost everyone counting us out and then to become champions, I am really happy. But I understand that now it gets much harder to even win another one, so the real work begins as we continue with this summer and once I am done with USA basketball, I can begin to focus on what our goals are for next season, so I am looking forward to enjoying the championship until the season.
• Retirement commemorative: A special farewell to Tim Duncan
JH: What is your favorite behind-the-scenes moment during the NBA Finals that stands out to you?
KI: I think what I most will remember is just every day talking about things that we can improve on through the media. I wasn't really watching all of the sports channels or listening to radio or anything like that, but I know everyone was counting us out since we were down 3–1. And I think that is what I will remember most. The Vegas odds, everyone counting us out and them basically saying Golden State was going to repeat and they were going to have the greatest season ever, which still could have happened but the momentum shifted in our favor and guys played unbelievable. Our team, we really came together at the right time and we were tested all year. To be able to come together like that through seven games in the NBA Finals, it's crazy to think about but it happened and now it is history. We brought Cleveland a championship.
JH: Can you describe your evolution from entering the league to where you are now?
KI: I can't sum it up in a minute, but I will try to do it in as few words as possible. It has been a roller coaster, but it has been a very fun roller coaster. Sometimes it has been really good, sometimes it has been really, bad but I am taking it all as a learning experience that has propelled me to be able to grow and learn in an environment that is conducive for me. I am just really happy that I have the trust in my teammates, trust in my coaching staff, and the trust of the organization to be who I am every single day.
With just as much criticism as anyone for who I am as a player, what I need to change in order for us to be successful or what I need to do in order for me to be a better player—all I did was just shut out all of that nonsense. Because at the end of the day, no one could be in my shoes but me and that is the only thing that matters. That has come with time as I become comfortable with who I have become as a man first, then as a basketball player because I know the preparation and the amount of time that I put into this game. So I can never be anyone but myself and I can never worry about someone's thoughts on me or whatever they want to say. All that matters is that I am being the best that I can be for my teammates and putting us in the position to win, so I could live with that.
JH: What was your initial thoughts on the free agency period? Were you surprised by some of the moves?
KI: I don't really have that many emotions or thoughts on it. I am happy that we have Mike Dunlevy as well as Birdman. That's all I am really concerned about.
JH: You are one of the most marketable faces in the league. What is some business or off-the-court advice LeBron has given you?
KI: In terms of that we all have our own identities. I think Bron has dealt with it on a far bigger stage than I have at a very young age. For me, I was just the guy that kind of got overlooked than happened to be just kind of good at basketball. So for me, I just really experience it, live in the moment and make the best decision for my brand as well as my family, and if I need some advice I can go to my mentors and I will talk to a few of my teammates. Bron, he is just always giving me the bigger picture and what we are preparing for, which I'm really thankful for having a guy like that who's been through years and years of business as well as personal success. It is great to learn from him. Every single day, I just have open ears and just listen.
NBA Playoff 3-1 Comebacks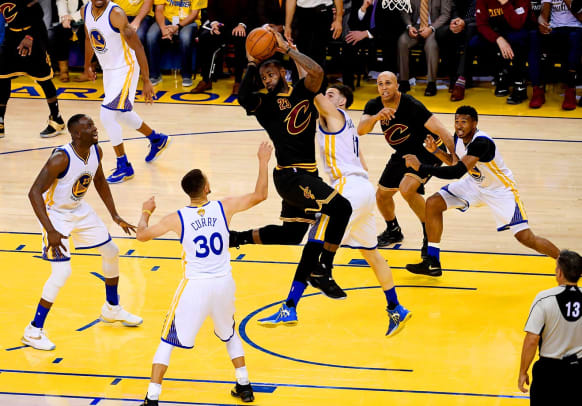 JH: What are looking for in a partnership with a brand?
KI: I just look for authenticity and genuine relationships. I feel like creative ideas can come from almost anyone, but if you have that genuine relationship and the communication is open and the authenticity is there and we just want the best, not only for each other but for everyone that is viewing our product that we're putting out, that's what I want and I always get that when I am trying to partner with a great brand. It goes way beyond the X amount of dollars. It goes way beyond how many people are going to see it. I love having great relationships from the guys who are just doing the lights all the way to the creative. I like all of them to feel a part of the team just like how I am part of the Cleveland Cavaliers. From guy 15 all the way down to 1.
JH: You directed some of the "Uncle Drew" commercials. Is directing or acting something you want to do in your future?
KI: I also did write some of the creative on it as well along with directing it. But it is really a great storyline that I am glad I partnered with Pepsi with—first Pepsi Max now Pepsi—but it is just an incredible storyline that has been influential in a lot of different areas, not just basketball, which I am happy about. But directing and acting in my future, I would love to do it, but I haven't given it that much thought as of right now but I think I can see it in my future.
JH: You have one of the best handles in the NBA. Do you have a most memorable crossover?
KI: I don't have one particular crossover, I just really hope to make the shot. That's all I really hope for, man. Sometimes the crossover they just happen so fast, I literally just want to make the shot. The move can be worth $5 to $10, but if your shot is 5 cents then, I mean, it is no good.
(Note: I think Kyrie is just being humble)
JH: Is there a sneaker in your signature line that stands out more than the others?
KI: I think this finals edition that will be coming out, I hope so, or my parade Kyrie 2's. Because those right there signify a very giant milestone in my career. The Kyrache's are great, the Ky-Rispy Kreme is even better. But having a championship shoe as well as a parade shoe, I've been watching Bron put out championship packs, I watched MJ put out championship packs, I watched Kobe put out championship packs, so now I get to put out one for myself, so I am really happy about that.
JH: What can we expect from the Kyrie 3's? Have you seen them?
KI: I have, I have! I can't really reveal too much, but I am going to say that it is going to be a very dynamic shoe that hopefully people will love.