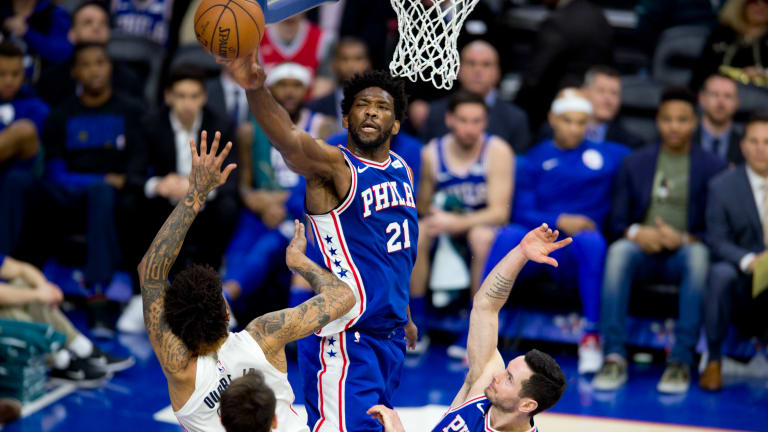 Menace to Society: Joel Embiid Will Make You Look Ridiculous
Joel Embiid is a menace on defense with the ability to make his opponents look quite foolish. The Crossover gives you a closer look at what makes the 76ers star stand out.
One can find evidence of Joel Embiid's defensive prowess just about anywhere. Dig into the numbers and you'll find that he completely changes the game around him, elevating the Sixers' coverage with his presence alone.
Watch him bat away his opponent's shots with ease and you'll understand how he became one of the NBA's most intimidating rim protectors in just his second season. Embiid is a menace. For as mythical as his offensive game may be, Embiid is just as rare a defensive specimen—if not more so.
The most compelling evidence comes through in the absurdity that swirls around him. Wherever Embiid goes, the ridiculous follows. Otherwise confident scorers lose their nerve. Polished veterans seemingly forget their fundamentals. Perhaps they've been reading his stats, which include 1.8 blocks per game, a top 10 defensive rating and more contested two-pointers than all but four players in the league. 
The sheer panic that comes in having an agile, intuitive seven-footer looming over a play saps the best basketball players in their world of their superpowers. It's as if they are so concerned with tracking Embiid's shadow that they forget, in that moment, who they are. See for yourself: 
No other player in the league makes his competition look quite so foolish. Those wild attempts, desperate passes, rushed moves, and excessive pump fakes speak volumes—and they're the reason why Embiid is such a masterful troll. Opponents can respond to the All-Star center's prodding trash talk however they like. But even as they fire back, their play signals an instinctive, flinching respect.