Washington Redskins 2013 Offseason Preview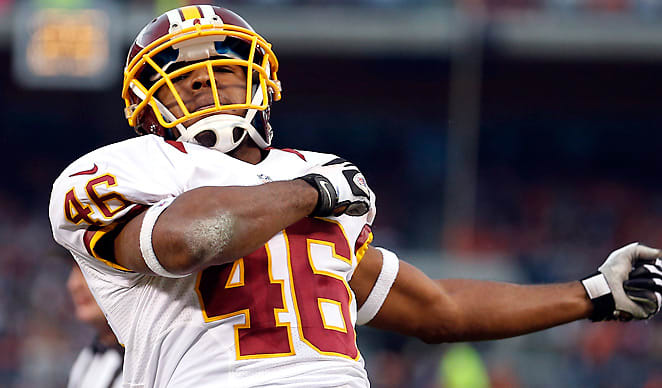 SI.com is laying out offseason road maps for all 32 teams as they start their journey for the Lombardi Trophy -- two teams per day, from the teams that need the most work to contend in 2013 to the ones that are in pretty good shape. See them all.
2012 Record: 10-6; lost to Seahawks in wild-card round Key Pending Free Agents:Lorenzo Alexander, LB; Fred Davis, TE; Kedric Golston, DL; Rob Jackson, LB; Kory Lichtensteiger, OL; Logan Paulsen, TE; Tyler Polumbus, OL; Sav Rocca, P List of Draft Picks (pending compensatory picks): 2 (51), 3 (85), 4 (116), 5 (147), 5 (155), 6 (181), 7 (212) Available Cap Space: About $4 million over the projected limit GM/Coaching Moves: Hired former Broncos assistant Keith Burns to be the special teams coordinator.
2012 Season Recap
Following an ugly 21-13 loss to the one-win Panthers in Week 9, the record fell to 3-6 and head coach Mike Shanahan believed the season to be a lost cause. He put his players on notice, announcing in his postgame press conference, "Now you're playing to see who, obviously, is going to be on your team for years to come."
Coming off their bye, the Redskins responded by going on a seven-game winning streak to capture their first division crown since 1999; it was also the first time since 2005 that Washington finished with at least 10 wins and the first time since '07 that it had qualified for the postseason.
Quarterback Robert Griffin III, the second overall pick out of Baylor and a former Heisman Trophy winner, was largely responsible for Washington's worst-to-first turnaround. He finished his rookie season with a 65.6 percent completion rate, throwing for 3,200 yards and 20 touchdowns, with just five interceptions. He also set the single-season rushing record for a rookie quarterback with 815 yards.
Yet the season ended in the worst way possible.
In a 24-14 divisional round loss to the Seahawks on Jan. 6, RGIII shredded his right knee, suffering a torn ACL, a torn LCL and meniscus damage. He had reconstructive surgery three days later, and while reports have suggested that he may be ready for the Redskins' season opener, there is no definitive timetable for his return.
Stat To Feel Good About
17. Consecutive field goals made by Kai Forbath, the most a kicker has made to start a career in NFL history. The previous record (16) was set by the Saints' Garrett Hartley in 2008 and 2009. Forbath led the league with a 94.4 percent conversion rate last season, hitting on 17 of 18 opportunities, including all 12 from 40 yards or longer.
If It Ain't Broke ...
Under normal circumstances, Alfred Morris likely would have been the NFL's offensive rookie of the year in 2012. Named the Redskins' starting running back after preseason injuries sidelined Tim Hightower, Evan Royster and Roy Helu Jr., the sixth-round pick out of Florida Atlantic finished second in the league with 1,613 rushing yards. The award, however, went to Robert Griffin III, the most dynamic threat in the Redskins' read-option attack.
With RGIII now recovering from surgery on his right knee, and with no clear timetable for his return, the question must be asked of Morris: Is he a legit star, or did he merely benefit from being the quarterback's sidekick?
Washington might become more predictable without RGIII, but coordinator Kyle Shanahan should make Morris the offensive focal point. The 24-year-old isn't just a hard-charging back capable of dragging defenders for several yards, he also has the field vision of a seasoned pro.
Consider his longest run against the Giants on Oct. 21. With three and a half minutes to play before halftime, taking a handoff up the middle, Morris ran straight into a pile of bodies and couldn't see daylight anywhere. So how did he finish with a 30-yard gain?
Moments before the snap, the Giants shifted part of their 4-3 alignment. Despite his limited visibility lining up seven yards deep -- behind RG3 and two other backs, no less -- Morris spied the shift and made a mental note of the extra space between Linval Joseph and Justin Tuck. With the ball in his hands, everything became a blur. He never actually saw the opening through which he ran to escape the scrum, but knew cutting to the right would be his only chance of finding positive yards.
"When they shifted to our left, I knew I couldn't go that way," he said in the postgame locker room at MetLife Stadium. "But I knew there'd be a chance to cut back the other way and get out. They were cheating over to our left, so I knew there was no way I could get out that way. I was definitely not going left."
Right tackle Tyler Polumbus leveraged Tuck's outside shoulder, pushing him toward the middle of the field as the play developed and forcing Morris to make a second cut before bolting into the secondary. He was finally brought down at the Giants' 22, but not before setting up a field goal that would give the Redskins a 13-10 lead.
"I thought I was going to be able to get between the guard and the tackle, but it didn't happen that way," Morris said of the second improvisation. "I had to jump-cut real quick and get some yards. The final cut to get outside the defensive end was reactionary."
No RGIII? No problem. Entrust Morris with the ball.
Troubling Stat
21. Missed tackles by London Fletcher, the most by any linebacker in the league, according to Pro Football Focus.
Must Fix It
Sentimentality has no place in the NFL, and the Redskins shouldn't be concerned about continuing Fletcher's streak of 240 consecutive games if he forgoes retirement and returns for a 16th season. He turns 38 in May and there will be no shame in missing a game to rest or recuperate. Make no mistake, Fletcher can still play at a high level. He led the team with 139 tackles last season and was named the NFC defensive player of the month for December. During the last five games of the regular season he had 51 tackles, three interceptions and two sacks; he also defended four passes. He did so despite battling an ankle injury that kept him out of practices and in a walking boot between games. But he would be wise to make sure nagging injuries don't become debilitating toward the end of the season -- he might even miss fewer tackles.
More On The To-Do List
1. Replace the grass at FedEx Field with artificial turf. It's a wonder this hasn't already happened. The "natural" grass was anything but when the Redskins hosted the Seahawks in a divisional playoff game on Jan. 6, and many believe it was a factor in the knee injury suffered by Griffin. General manager Bruce Allen has said the team won't install artificial turf, but will re-sod the grass at intervals throughout the 2013 season. But will that really fix the problem? Won't the ground still be cold and unforgiving in December and January? The Redskins often practice on FieldTurf made of tiny rubbery particles -- a design that reduces the risk of spikes becoming immobilized and knees bending in unnatural ways. With so much invested in RGIII, doesn't this seem like the safest bet?
2. Overhaul the secondary. It should be a primary concern. The unit ranked 30th in passing yards allowed (4,511) and gave up 31 touchdowns through the air, more than all but three other defenses allowed. According to Pro Football Focus, DeAngelo Hall surrendered 1,045 yards, the second highest total among all NFL cornerbacks in primary coverage.
3. Think creatively. Maybe it works, maybe it doesn't, but is there any harm in giving running back Evan Royster a chance to become a slot receiver? He's not going to start in the backfield as long as Alfred Morris is healthy, and the Redskins might need help at the position if the soon-to-be 34-year-old Santana Moss proves too expensive to keep. (Moss will probably have to restructure his contract given the Redskins' cap crunch if he wants to keep playing.) Though the sample sizes were small, Royster was more effective as a receiver (109 yards, 15 catches) than he was as a runner (88 yards on 23 carries) in 2012.
What We'll Be Saying In July
A new era has begun for the Redskins, and anything less than making the playoffs will be viewed as an unacceptable failure -- even if backup Kirk Cousins is the quarterback when the season begins. From the moment training camp opens, every step Robert Griffin III takes will be scrutinized with eagle eyes. This team is now expected to win after years of futility, but no one knows if the franchise quarterback will ever be the same player again. His health will be breathlessly debated until he proves himself on Sundays.
SEE ALL OF SI.COM'S OFFSEASON PREVIEWS