Collie determined not to let concussion stigma cloud his NFL future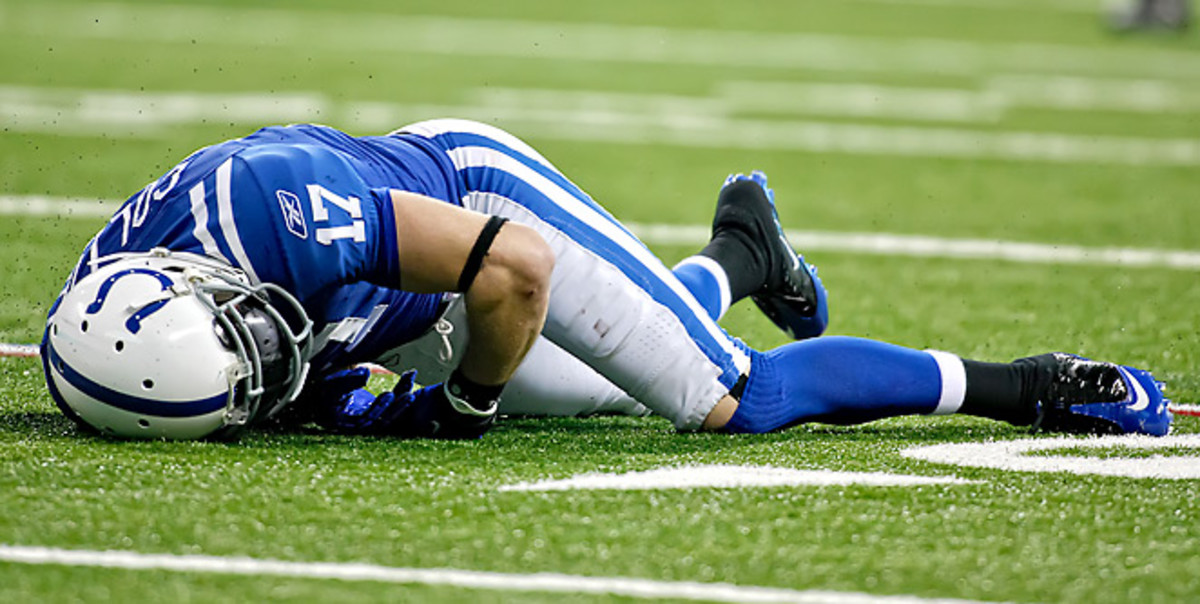 INDIANAPOLIS -- When the NFL's free agency period opens with the expected burst of activity next Tuesday afternoon, everyone involved will wear a label of some sort. Unrestricted, restricted, or franchise player, the tags are well-defined and widely recognized.
But for Austin Collie, the soon-to-be former Colts receiver and a victim of multiple concussions, there's quite a bit more to contend with than the usual designations. There's the perception that must be overcome -- by at least one NFL team -- that Collie is a fragile and injury-prone player, essentially damaged goods as he begins what he hopes is a comeback to remember in his fifth year in the league.
For the record, Collie, an unrestricted free agent who played in just one game last year, will be trying to convince teams that his right knee, the one that had season-ending surgery last September for a ruptured patellar tendon, is again whole. Or soon will be. But he knows they'll probably be even more wary of his head, after he suffered three well-chronicled concussions from November 2010 through the preseason of 2012, and left a fourth game due to concussion-like symptoms after he tried to return just two weeks after concussion No. 1.
"I definitely think there's a question mark surrounding me,'' Collie told SI.com recently, in a wide-ranging interview conducted near where he is rehabbing in Indianapolis. "I had those two high-profile concussions on national TV back in 2010, the year everyone started to really make a huge deal about concussions in this league, and there I was, Exhibit A, right in the middle of it all. So everybody obviously uses me as the poster boy for the concussion issue. That's the first thing that comes out. My name is used as the example.''
An example that's pretty understandably made in this era of heightened awareness of head trauma and its devastating after effects. The snap judgment is pretty easy to arrive at in his case: Collie seems as if he's tempting fate to continue his football career. He's 27, missed all or significant parts of two out of his four NFL seasons due to injury, and now he's got the knee issue to overcome in addition to wearing a scarlet "C'' on his jersey, (and it doesn't stand for captain). He's heard every argument for walking away from football, but he's not there yet. When he said recently that "it would take a doctor to tell me, 'You can't play any more,' '' he knows some will recoil at those sentiments and react as if he needs to be protected from himself.
Collie, more than most, has absorbed the stories of former NFL players who have suffered later in life due to the brain trauma they incurred while playing football. He says he understands there are risks that he will experience the same type of fate, but he hastily adds, there are no certainties. The majority of ex-NFL players don't have long-lasting effects of brain damage that ruin the quality of life in their post-career years. And he's not willing to give up his dream of playing in the NFL because there's a chance he'll be among the unlucky ones. Not yet. Not now. And he makes that point quickly apparent and forcefully.
"People tell me all the time that I should probably hang it up,'' Collie said. "Not my family, because my family knows I'm fine. But fans or whatever. Look, I get it. The head is a scary part of the body, and people are seeing these guys who played 20, 30, 40 years ago having issues and making it a match. They're automatically assuming that I'm going to be one of those guys or have exactly the same situation later in life. Honestly, it's getting to me. It's getting frustrating to deal with the perception, and this is like the first time I've admitted that.
"What kind of bugs me is that the (ex-)players that are mentioned, does anyone realize the doctors didn't know anywhere near as much then as they do now about brain trauma? Those guys who are having issues now didn't have much knowledge about concussions. They didn't have the information, the exercises, the supplements to help you recover from these injuries. Once upon a time they didn't have great fixes for ACLs, but there's been advances in surgeries and rehabs, and it's not a career-ending injury any more. So it's not really fair to say that the guys suffering from the effects of concussions who played years ago, that Austin is going to have exactly the same problems. We've had advances and benefits they didn't.''
The concussion issue is a complicated one, with no hard and fast rules about when or how much repetitive head trauma ensures neurological disease, or leads to a progressive degeneration of brain tissue, the likes of which are found in CTE (chronic traumatic encephalopathy). Collie said he and his family members have been on the lookout for the memory loss, depression, confusion or impaired judgment that often are symptoms of CTE, but have seen no signs.
"I've had the opportunity to work with one of the best neuro guys in the league and that's Hank Feuer,'' said Collie, of Dr. Henry Feuer, a longtime team physician for the Colts and a member of the NFL's Head Neck and Spine Committee. "I talk to Hank all the time, and he's put me through a set of tests. I talk to independent neurologists, too, and they've all said the same thing: 'Hey, you're good to go.' And that's my trump card against anyone who says I should quit. Because those people aren't doctors. They're just going off what they saw, a guy being carried off on a stretcher.''
Indeed, Collie's two diagnosed concussions in 2010 packed a strong visual impact, with the then-second-year receiver knocked flat on his back for about 10 minutes each time: in Week 9 at Philadelphia and again in Week 15 at home against Jacksonville. He left the Eagles game on a stretcher, but walked away on his own power against the Jaguars. In addition, he left a Week 11 game in the first quarter at New England that season, with concussion-like symptoms, a clear indication that he was not sufficiently recovered from the hit he took in Philly two weeks earlier.
Those images in part branded Collie, and when he suffered another concussion in Week 2 of the preseason last August at Pittsburgh, a blow that kept him out until Week 3 of the regular season, his history of head injuries became the narrative he was known by.
Overlooked was the fact that he had never had a concussion in college or in his rookie season of 2009, or that he played in all 16 games for the Colts in the franchise's lost year of 2011, without an issue. But when he returned to the lineup in Indy in Week 3 of last season, and almost immediately suffered the torn patellar tendon, Collie's Colts' career was essentially ended. Indy's dramatic turnaround story of 2012 went on largely without him.
"Obviously from the public's view it's going to take a few years of not having anything go wrong, because if it does, people are going to be like, 'Oh, this kid's fragile again,' '' said Collie, who had an impact rookie season for the Colts after being taken in 2009's fourth round out of BYU. "I'm not dealing with just a hamstring issue that keeps happening, like some guys are.
"But when you really look at my career, for three of my four years in the league, I've had over 50 catches and 500 yards, and 2011 was the only year I suffered in the touchdown category, playing with three or four different quarterbacks. People think I've been gone the past three years because of concussions, or that all I've been doing is getting hurt. I can't do anything about the perception. All I'm looking for is a chance, because it's been kind of a perfect storm type of situation I've been dealing with. I'm ready for my luck to change.''
Informed in February that the Colts would not be re-signing him to a new contract, Collie is more than five months into a knee rehab that could approach nine months in length. He's doing plenty of pool work, leg weight work, and some light running. His goal is to be 100 percent ready by the time he reports to training camp for his new team, although that may be optimistic, with it perhaps taking until October or so until he's full speed again.
Given his injury history, his market in free agency is likely to develop slowly, with perhaps him having to accept an incentive-laden one-year deal and re-prove himself over the course of the 2013 season. There are NFL teams interested in being a part of his comeback, but they're going to want to bring him in and undergo a thorough physical and neurological exam, and that's going to take time to let the interview process play out. Perhaps the critical juncture of his comeback will be when he learns the assessment of his neurological condition from other team doctors, which could either pave the way for his return, or block it. When it comes to Collie, clearly everyone's antenna will be up.
Collie will perhaps be aided by a relatively weak free agent receiver class, and I'd be willing to bet there's another factor that might end up helping his comeback cause: his former teammate and Colts quarterback, Peyton Manning, now in Denver. I don't know anything for certain, but I'd be surprised if the Broncos aren't among the teams kicking the tires on Collie, given Manning's well-known penchant for working with receivers he's familiar with.
Manning was responsible for ex-Colts slot receiver Brandon Stokley coming out of retirement to play in Denver last year, and former Indy tight end Jacob Tamme signing with the Broncos (No. 18 also lobbied ex-Colts tight end Dallas Clark, who signed in Tampa Bay). With Denver, Collie would have time to continue his rehab while not worrying about learning a new offense, and his presence would give the Broncos a youthful backup option at slot receiver behind the almost 37-year-old Stokley.
"Of course it's crossed my mind,'' said Collie, of a potential reunion with Manning, who he just went on a week-long USO tour of Europe with. "Playing with Peyton was the two funnest years of my life. Would it be fun to do that again? Hell, yeah it'd be fun to do that again. We had something special in Indy. But my No. 1 priority is to get back on a team anywhere, and I don't care where it is. All I say is I know I'm playing this year.''
Plenty of people seem willing and ready to decide Collie's football future for him. His series of concussions, they say, make him foolish and short-sighted for continuing to try to play. But then, Collie was surrounded by magical comeback stories in 2012, wasn't he? He saw Manning's saga unfold so successfully in Denver. He watched the inspirational fight waged by Colts new head coach Chuck Pagano against leukemia in Indianapolis. And he witnessed the Colts themselves pick themselves up after 2011's 2-14 disaster and go a remarkable 11-5, returning to the playoffs with rookie quarterback Andrew Luck and an offense dotted with first-year contributors.
So if Collie wants to dream about becoming the second consecutive ex-Colt to win the NFL's Comeback Player of the Year award -- who knows, maybe even in Denver -- the karma might just be on his side for a change.
"Comebacks can't be predicted or foreordained, they just happen,'' Collie said. "Even Adrian Peterson; look at what he did last season. It has a lot to do with your perception, your head, and where it's at. If you're optimistic and stay positive, it can happen. There's something to be said about the mind and what it can do. Between Peyton and Chuck last year, honestly, it's given me hope. Seeing what they had to overcome, and how they excelled, it's inspiring. Like, 'Okay, we can get this done.' Like those two guys, once I'm back, I'm back. All the way.''
Be it the recovery of his knee, or his head, Collie is determined to fight his way back into the NFL and back onto the field. As he well knows, only time and good health will allow him to shed the label he carries today. Being damaged goods isn't the tag he was meant to wear.