Former Venezuelan leader Chavez had big influence on MLB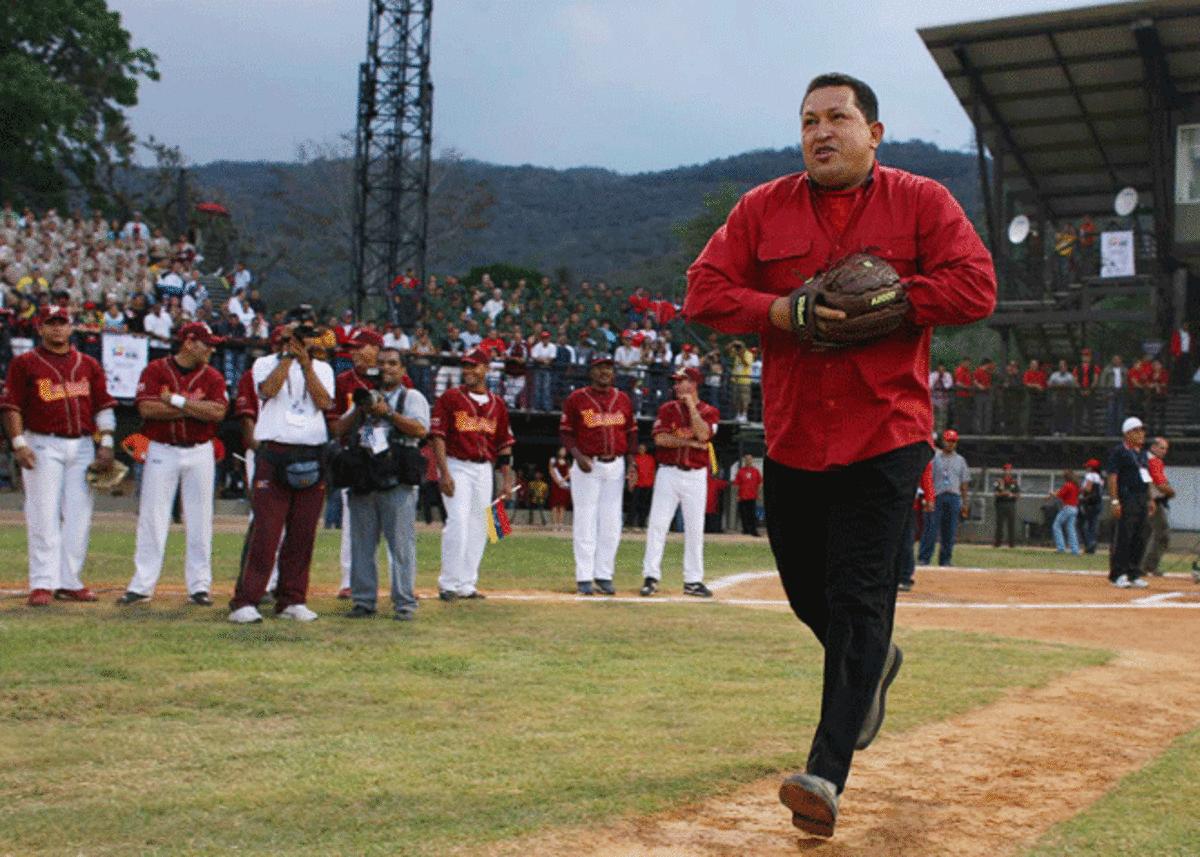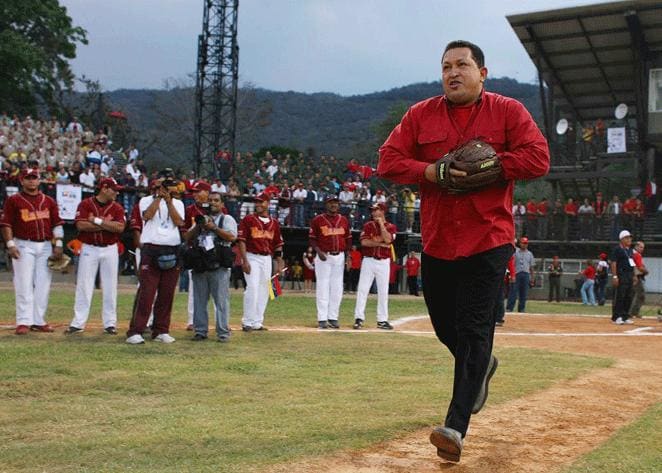 As a teenager growing up in Venezuela, Hugo Chavez often dreamed of making his mark in Major League Baseball by one day pitching in Yankee Stadium. An unspecified injury derailed Chavez's big league career but did little to upend his plans for leaving a lasting baseball legacy. The former player-turned-politician's social policies unintentionally spurred an era of unprecedented baseball success for his homeland.
That a record number of Venezuelan-born players (66) appeared on 2012 Opening Day rosters isn't a coincidence. Chavez, Venezuela's charismatic and controversial president for the last 14 years who died of cancer on Tuesday, implemented policies that eviscerated the middle class, led to record inflation and made Caracas a more violent city than Baghdad during the height of the second Iraqi war. As the country went bust under Chavez, the baseball industry boomed. But why?
An international scouting director who frequently works in Venezuela described walking into the kitchens and living rooms of the young prospects he hoped to sign only to find the boys' mothers pleading with him to sign their sons. "They'll tell me, 'Take him, please. There's nothing for him here.'"
It's a scene Andres Reiner, a retired baseball executive, envisioned a decade before Chavez's rise to power. In 1989, Reiner convinced the Houston Astros to become the first team to have a Venezuelan baseball academy. The academy eventually produced the likes of Cy Young Award winner Johan Santana, Carlos Guillen and Bobby Abreu. "From the 1950s to the early 1980s the country was blooming," Reiner told me in a 2004 interview. "Everybody [here] was happy then, everybody was making money. Youngsters were told to go to university. When I went to talk to parents to try to persuade them to let their sons go to the baseball academy, they'd laugh. It was tough. Now it's pretty easy. It's the parents who want me to look at their sons."
Chavez, a socialist, nationalized many of Venezuela's industries. The result? Many middle class jobs and families have simply disappeared. Baseball, with its American paychecks and Venezuelan passion for the game, seems like a viable option for many families who, a generation ago, would have pushed their sons to attend one of the many rigorous universities across the country. As San Diego Padres pitcher Freddy Garcia told me during the height of the Chavez regime in 2004, "Our parents pushed us to go to school. Now Venezuelans see they can make good money playing baseball. I've got friends who graduated from college, and they can't get jack. They're driving taxis."
Garcia's best friend, former Marlins closer Ugueth Urbina, added: "Thirty years ago Venezuela had a middle class. I don't want my kid to try to be a baseball player. I don't like this trend. I want him to go to school. Then he will have a choice. The problem is, it's really hard to find a regular job now in Venezuela." Fast-forward nearly nine years, and after a turbulent stretch for Urbina, his son, Juan, is a now in the New York Mets' farm system.
But a career in baseball is fraught with perils in Venezuela.
Though players are revered, they are also vulnerable because of their paychecks. Just last week, family members of Detroit Tigers reliever Brayan Villareal claimed armed assailants broke into their home 100 miles outside of Caracas in a botched kidnapping attempt. In November 2011, Washington Nationals catcher Wilson Ramos was abducted for the front of his family home in Valencia, and in 2005 Venezuelan authorities rescued the mother of Urbina, Maura Villareal, from the hands of kidnappers five months and 18 days after she was abducted. Not even Venezuelan icons like the late Chico Carrasquel, who was beaten for his gold watch, or Luis Aparicio, whose daughter was shot and left paralyzed, have been spared from the rampant violence that metastasized under Chavez.
Whether the Venezuelan influence in the majors will continue to rise will take years to tell. Last year Chavez helped pass a Venezuelan law that requires government approval of the contracts signed by athletes between the ages 16 to 18, the period during which most major league teams sign Venezuelan prospects. The effects of such legislation will take years to surface just as the consequences of Chavez's acts will take years to undo should the Venezuelan people elect someone other than his handpicked successor, vice president Nicolas Maduro. The Venezuelan constitution mandates a new presidential election be held in the next 30 days.
During the World Series between the San Francisco Giants and the Detroit Tigers last fall, Chavez gloated that nine Venezuelans appeared on the teams' rosters, including NLCS and World Series MVPs Marco Scutaro and Pablo Sandoval. "What would the major leagues do if Venezuela didn't exist? They'd get bored," Chavez reportedly said. "I think the next World Series, Obama, you're going to have to play it here in Venezuela, because it's Venezuelans all over the place."