Remembering Pat Summerall, an understated yet unforgettable voice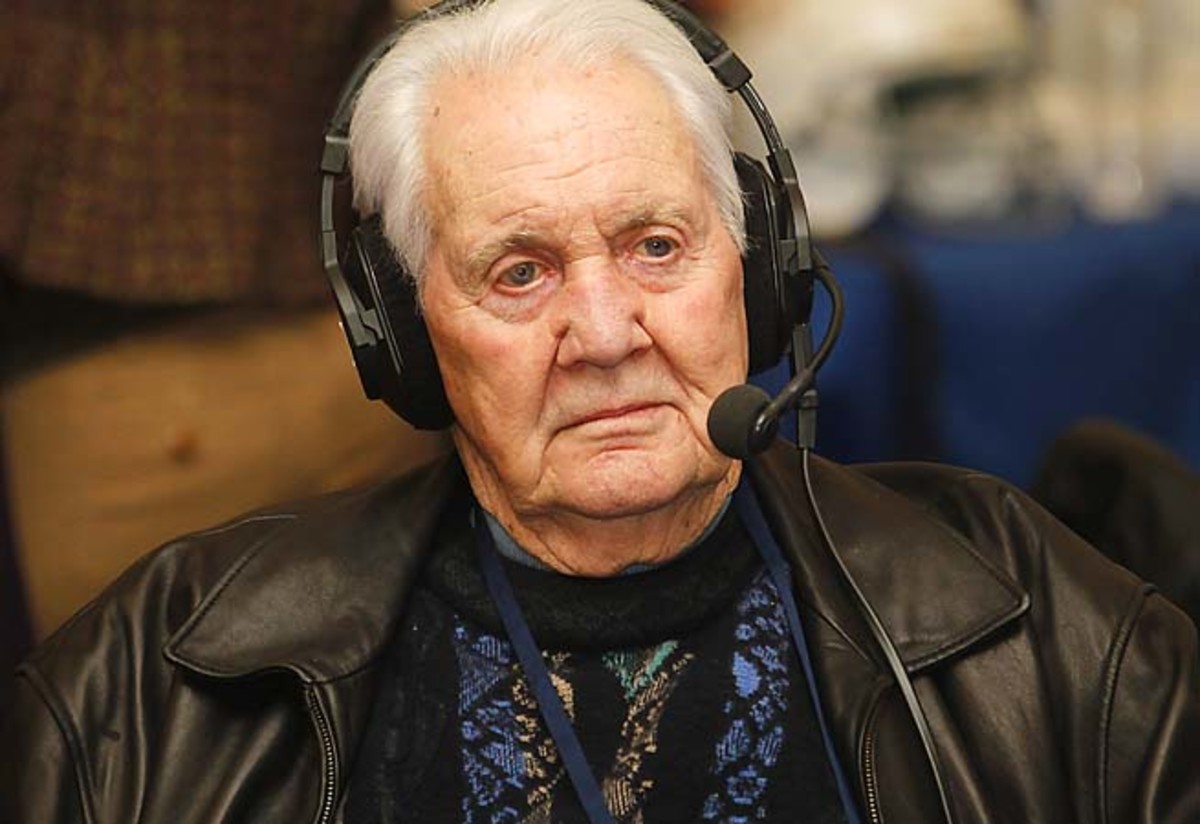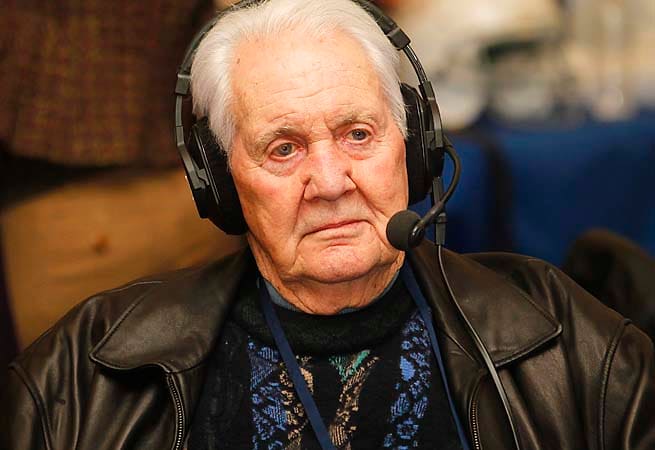 "Here's Marcus Allen...cutting back upfield...and Marcus Allen could be gone."
That's how Pat Summerall described the initial stages of Allen's 74-yard touchdown run in Super Bowl XVIII in 1984. He let crowd noise -- a deep, escalating roar -- take care of the last 50 yards.
Summerall gave pro football a soundtrack of understatement, and as we honor the esteemed broadcaster who passed away Tuesday, that is the prevailing theme. To hear his voice was to know, instantly, that something important was taking place. It could be any Sunday in any NFL season, the matchup irrelevant. If Summerall was working the game, everything about it felt right.
Only now, in retrospect, do we grasp the full measure of his career: 16 Super Bowls, 27 Masters, 20 U.S. Open tennis tournaments. As much as we associate Summerall with the likes of Joe Montana, Troy Aikman and Terry Bradshaw, he made the call on Jack Nicklaus' epic triumph at Augusta National in 1986. His golf broadcasts heavily influenced the career of a budding understudy named Jim Nantz. He wasn't a tennis guy, not by nature, but he learned the sport's nuances working alongside CBS sidekicks Tony Trabert, John Newcombe, Virginia Wade and Mary Carillo.
As a journalist who wrote often on tennis, I was aware that Summerall had his critics. The great Frank Deford wasn't thrilled with his work at the 1980 U.S. Open, writing in Sports Illustrated that Summerall ranked among "the plethora of chatterers" and was "an avuncular not-my-job straight man, the Chris Schenkel of the 80s" (not a glowing endorsement).
Summerall grew to love big-time tennis, however, and in time, he handled the play-by-play as well as anyone. He kept his commentary to a minimum, drew on the expertise of his partners and added that most essential element -- class -- to the proceedings.
Summerall wasn't an intellectual, and would certainly dread the association, but he was a sophisticate, able to condense smart and incisive commentary into a very few words. He was a disciple of Ray Scott, the beloved CBS football announcer who defined understatement for all time ("Taylor ... five yards"), but he became best known as a partner, the unerring voice of reason in a two-man booth.
I never quite grasped the appeal of the Curt Gowdy-Al DeRogatis NFL partnership, and I found Howard Cosell a crashing bore no matter who worked alongside him. I much preferred Summerall and Tom Brookshier, his longtime running mate in the CBS booth and, after hours, the local taverns. These were two great friends who understood the game and didn't take it too seriously, but brought a properly reverential tenor to the high occasion.
It is my contention that Summerall and Brookshier presided over the last great NFL highlights show: This Week in Pro Football, which had a glorious run from 1967 through '75. This was a full hour devoted to NFL Films, each game broken down in exquisite detail, with only an occasional glance at the narrators. That's how these shows had always worked, dating back to the marvelous Jim Leaming in the 1950s. Since that time, on such shows as Inside the NFL, the emphasis has leaned toward in-studio personalities. Endless reels of priceless NFL Films footage go to waste, with only a few key highlights shown. And that's a shame.
On game days, working alongside Brookshier, Summerall was truly in his element. "We had a great connection," he once told The New York Times. "With Brookie, it was more of a conversation, like two guys in a saloon."
Come nightfall, you could take that comment literally. Summerall drank with the heavyweights, from Mickey Mantle to SI's Dan Jenkins, but Brookshier was his primary companion in what he described as a "hedonistic" lifestyle.
Icons share Summerall memories
"We were focused on the next broadcast and how many drinks it would take to get us there and back," he wrote in "Pat Summerall: On and Off the Air," an autobiography published in 2006. "I liked to go out with the guys, stay out, laugh and have a good time."
One night, as legend has it, Summerall and Brookshier got a group of bar patrons to line up in a field-goal formation while the pianist stretched out his arms like goalposts. Summerall grabbed a toupee off the pianist's head and kicked it through -- a nocturnal three-pointer for the ages.
If Summerall ever showed up for work with a hangover, he masked it well. But executives in the CBS offices felt it was time for a change, replacing Brookshier with John Madden in 1981. Thus launched the greatest NFL broadcasting partnership of them all, the perfect blend of knowledge, improvisational wit and the type of down-home commentary that struck pleasant chords everywhere, from ramshackle rural taverns to the slick joints of New York City.
Background was such a crucial element to the Summerall-Madden pairing. Cosell was hardly a noted athlete, nor were Gowdy, Scott or two voices I especially admired so many years ago, Jack Buck and Chuck Thompson. Summerall was a placekicker, and a good one, on the great New York Giants teams featuring Frank Gifford, Charley Conerly, Sam Huff, Jimmy Patton and a couple of assistant coaches named Vince Lombardi and Tom Landry. He kicked a 49-yard field goal, in a snowstorm, that kept the Giants' 1958 playoff hopes alive and led to the so-called "greatest game ever played" against Johnny Unitas' Baltimore Colts.
Madden coached an Oakland Raiders team that, at times, struck observers as the Hell's Angels in shoulder pads. Most young coaches would be overwhelmed and instantly tuned out by the likes of Kenny Stabler, Fred Biletnikoff, John Matuszak, Jack Tatum and Ted Hendricks. But Madden was just 40 years old in January 1977, when he turned this wild, supremely talented bunch into Super Bowl champions.
Just as impressively, neither Madden nor Summerall bombarded viewers with tales of yore. They drew upon the experience, in ways far beyond a viewer's grasp, but never in a boastful manner. Their broadcasts were nostalgia-free, right up to date.
Elsewhere in this time of tribute, you'll read of Summerall's inspired path to sobriety, his horrific episode with a liver transplant, and how his born-again Christianity gave peace and meaning to his final years. I'm thinking mostly of long-ago Sundays with Summerall and Madden, the man so consumed by his fear of flying, he traveled everywhere by land.
Searching through my library of NFL tapes, I came across CBS' telecast of the 49ers">49ers-Bengals Super Bowl in January 1982. That marked the end of Summerall's first season with Madden, and as the two signed off, he was clearly moved by the occasion.
"May I say to you, while we have this one last chance, it's been a great year, an educational year for me," Summerall said. "I can't tell you what a joy it's been working with you."
"Well, I sure enjoyed it," said Madden, laughing softly. "Thank you for everything -- putting up with all my goofy things."
"All I can say to you," said Summerall, "is that I hope the rest of the year continues to be good to you, and may no train pass you by."