NFL treats Michael Sam like just another player on historic draft day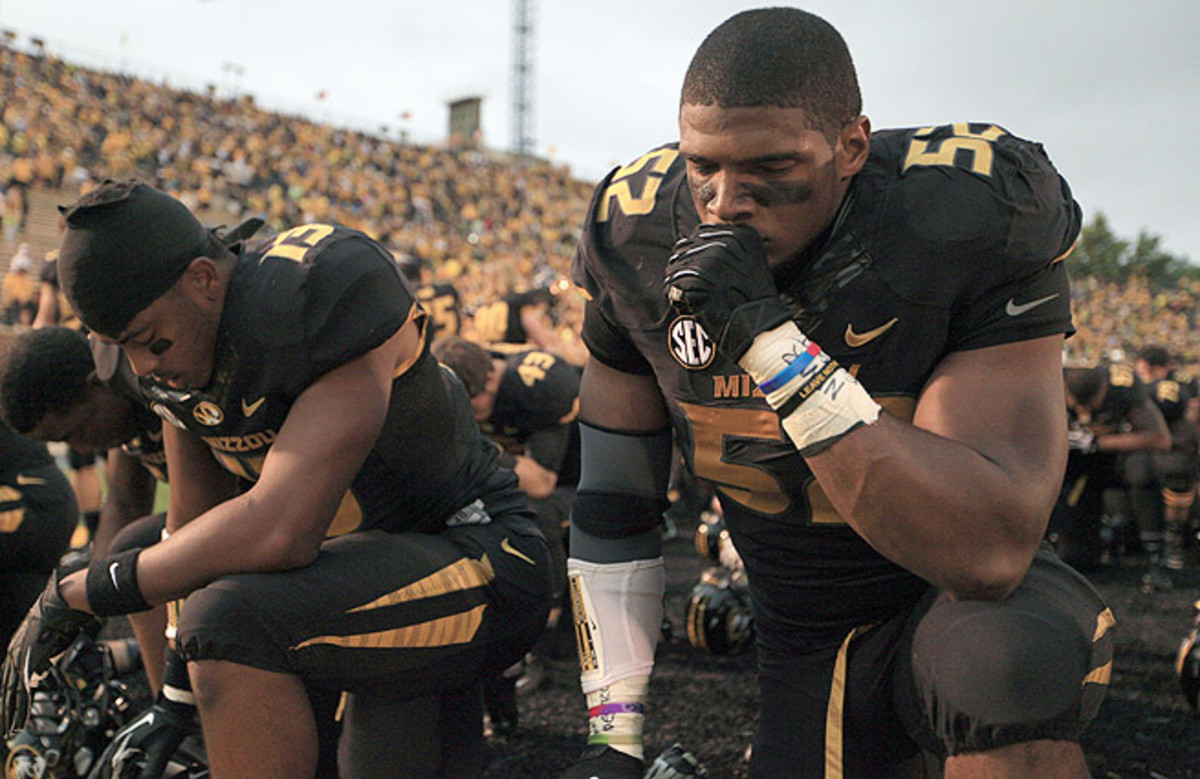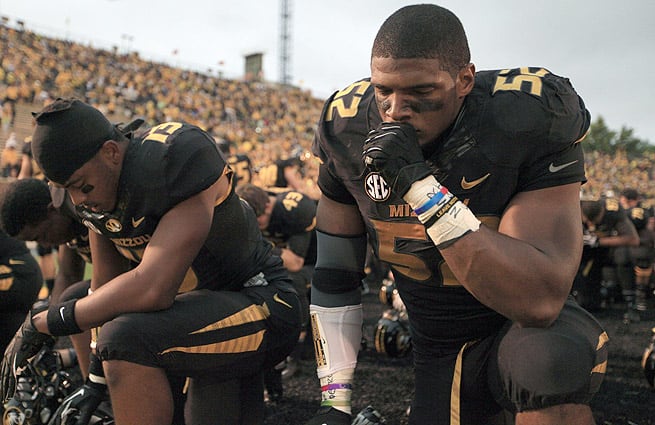 • I'm not a proponent of draft grades, but if I were to single out an entire division that did great work at first glance the past three days, it would be the AFC North, where all four teams had some pretty impressive additions.
Pittsburgh's defense needed to get younger and did with Ohio State outside linebacker Ryan Shazier and Notre Dame 3-4 defensive end Stephon Tuitt, with the Steelers also adding an explosive playmaker in running back/return man Dri Archer of Kent State.
Baltimore looks to be on the rebound with a defense that got an infusion of talent up the middle: inside linebacker C.J. Mosley in the first round, Florida State defensive tackle Timmy Jernigan in the second round, and FSU safety Terrence Brooks in the third. The Ravens' third-day work was strong as well, particularly their picks of Coastal Carolina running back Lorenzo Taliaferro and Wake Forest slot receiver Mike Campanaro.
Don't overlook defending division champion Cincinnati either. The Bengals got their needed cornerback in Darqueze Dennard of Michigan State in the first round, picked up a quality running back in Jeremy Hill of LSU in the second round, and found nice third-day value in fourth-round center Russell Bodine of North Carolina and fifth-round quarterback AJ McCarron of Alabama.
Lastly there was last-place Cleveland, the team that "won'' the Johnny Manziel sweepstakes and quite possible changed the vibe of the entire franchise with the move. The Browns' lack of drafting a receiver was positively baffling in light of the possible Josh Gordon suspension, but Oklahoma State cornerback Justin Gilbert and Manziel in the first round were good gets. As were the selections of Nevada's tough offensive tackle Joel Bitonio in the second round, third-round running back Terrance West of Towson, and intriguing fourth-round cornerback Pierre Desir of small-school Lindenwood.
The NFC West is clearly the best and deepest division in the league, but when the picking started, nobody performed better from Thursday night until Saturday afternoon than the AFC North.
• Reason No. 47 for why Mack Brown had to go: The University of Texas Longhorns had zero players selected in the draft. Texas last went 0-for-the-draft in 1937, which was 14 years before Mack, 62, was born.
For comparison's sake, tiny Concordia (St. Paul) had a player selected on Saturday, when New England used a sixth-round choice on defensive end Zach Moore, the school's first NFL draft pick ever.
• Maybe it doesn't really matter if 49ers head coach Jim Harbaugh and San Francisco general manager Trent Baalke really get along well, or even like each other. Whatever the state of their working relationship is, it didn't stop the 49ers from compiling a quality, forward-thinking draft class.
There was much to commend about San Francisco's selections. I liked Ohio State running back Carlos Hyde in the second round, USC center Marcus Martin, Wisconsin inside linebacker Chris Borland and especially Clemson guard Brandon Thomas (as a redshirt pick, thanks to his recent ACL injury) in the third round. And fourth-round receiver Bruce Ellington of South Carolina, along with the trade for Buffalo's productive Stevie Johnson on Friday, instantly upgrades and diversifies San Francisco's passing attack.
However Harbaugh and Baalke communicate, perhaps they should prioritize keeping things status quo.
• A cautionary word to Aaron Murray, the former Georgia quarterback who found a pretty good fit for an NFL home when Kansas City took him in the fifth round, at No. 163: The Chiefs -- and I still can't believe this is true -- have not won even one game with a quarterback they drafted since 1987. And that distinction is owned by Todd Blackledge, the team's first-round bust of a pick in the legendary 1983 quarterback class.
Murray to the Chiefs does make sense in that he seems like the quintessential Andy Reid quarterback: smart, efficient and an accurate passer who should excel in the West Coast-style offense. And he's a good match in that he plays a very similar game as Chiefs starter Alex Smith, who's entering the final year of his contract. If a long-term deal doesn't get done on Smith's front -- and I think it should -- Murray can learn the K.C. offense while working on his knee rehabilitation this year, and possibly inject himself into the starting picture in 2015.
But 1987? That's 27 years of history to try to overcome for a Kansas City franchise that always seems to find its most successful quarterbacks on other NFL rosters: See Steve DeBerg, Joe Montana, Steve Bono, Trent Green, Matt Cassel and now Smith.
• I think we now definitively know the second sentence in Bruce Arians' obituary, when that sad day arrives: He loved big quarterbacks. The coach who helped a young Ben Roethlisberger take the league by storm in Pittsburgh, and somehow won 10 games with a declining Carson Palmer in Arizona last season, is at it again, drafting 6-foot-6, 240-pound Virginia Tech quarterback Logan Thomas midway through the fourth round.
Thomas, a converted tight end, didn't get chosen that high based on his very average (at best) game tape. He's a new Cardinal today because Arians believes the bigger the better at quarterback, provided there are some tools and athleticism with which to work. Thomas has those qualities in bulk, but he's going to require patience to develop into anything more than a thrower. Thomas has a big-league arm in terms of strength, and a nice smooth release that produces a pretty ball. But his footwork and decision-making need plenty of work.
I don't think Palmer has to be looking over his shoulder at Thomas as potential competition at any point in 2014, and probably 2015. But the ex-Hokie is an intriguing selection, if only because of what Arians has accomplished with super-sized quarterbacks. It probably didn't hurt Thomas' cause one bit that Arians himself was once a big-armed Virginia Tech quarterback, from 1972 to '74.
• Pretty nifty little return on the bargain-basement Bryce Brown investment for the Eagles. They were able to draft Brown in 2012's seventh round, largely because he hadn't played much college ball, and yet they still flipped him to Buffalo Saturday for a conditional fourth-round selection in 2015 -- it can become a third- or fourth-round choice in 2016 if Brown reaches certain incentives this year. The Eagles and Bills also exchanged seventh-round picks in the 2014 draft, with Philadelphia moving up 13 spots in the round.
AUDIBLES: 2014 NFL Drafttrade tracker
Brown didn't figure to have a significant role with the Eagles behind LeSean McCoy, Darren Sproles and Chris Polk on the running back depth chart, but he should come in handy at some point in Buffalo, where C.J. Spiller and Fred Jackson are entering the final years of their contract.
• So much for all that pre-draft buzz about the Bengals maybe challenging Andy Dalton by drafting a quarterback who can push him for the starting job as he enters his contract season. Fifth-round pick AJ McCarron of Alabama does not pose that level of competition, certainly not this year. He's a developmental type quarterback at this point, no matter how gaudy his collegiate won-loss record was with the Tide. The Bengals are Dalton's team as much today as they have ever been.
And for that matter, the same goes for the Rams and Sam Bradford, too. St. Louis head coach Jeff Fisher and Co. smoke-screened a bit on the Johnny Manziel front, but St. Louis has been saying for weeks that Bradford was its guy.
So, thanks for everybody's interest, but we can all move on now, because there's nothing to see here.
• The Chiefs found their new Dexter McCluster in elusive and diminutive Oregon running back De'Anthony Thomas, Kansas City's fourth-round pick. If he's used wisely, he might give the Chiefs those six to 10 plays a game worth of juice that help keep the chains moving. I know the Eagles already traded for Darren Sproles this offseason, but I wonder if Chiefs head coach Andy Reid might have stolen Thomas straight off the third-day draft checklist of Reid's successor, Philadelphia's Chip Kelly, who coached Thomas with the Ducks.
• For a guy who seemed to get widely ripped for not moving quickly enough in free agency, Jets second-year general manager John Idzik seemed to do just fine at getting his draft picks in on time. And I'm pretty high on a lot of them, with New York having systematically addressed need after need.
The void at safety was filled nicely with Louisville's Calvin Pryor in the first round. The crying lack of receiving weapons was blunted once Texas Tech tight end Jace Amaro showed up in the second round, and he eventually was joined by receivers Jalen Saunders (Oklahoma) and Shaq Evans (UCLA) in the third round. The cornerback problem? It got some love in the third round, with New York drafting Maryland's underrated Dex McDougle, a quality cover corner who missed most of last season with a shoulder injury.
What's not to like? The Jets used the draft as effectively as anyone.
• Some day, after head coach Tom Coughlin finally hangs up his whistle, maybe the Giants won't be so prone to take Boston College players in the draft. But until then, Coughlin still loves those kind of Eagles. His latest is fourth-round running back Andre Williams, a big, powerful inside runner (his mother called him "Andre the Giant'' on Saturday) who has good feet and will never be described as a plodder. All Williams did last season was reel off an NCCA-best 2,117 yards rushing, averaging 6.1 yards per carry.
The Giants were an absolute disaster at running back last season, but with free-agent signee Rashad Jennings and Williams leading the rebuilt backfield in New York, new offensive coordinator Ben McAdoo has some quality ground-game weapons to help take some of the playmaking burden off quarterback Eli Manning's shoulders.
• Some people believe Chip Kelly thinks he's always the smartest guy in the room, but the Eagles second-year head coach usually makes a lot of sense to me when he runs counter to conventional wisdom. It's not a rule he's holding himself to exclusively, but Kelly said he prefers to draft players who have graduated from college, and indeed the first six players Philadelphia selected this year have their diploma or will shortly.
As for the why, it's pretty well-reasoned. So well-reasoned that you wonder why other teams haven't taken the same approach. Kind of like those teams that love to draft as many team captains as possible, in search of natural leaders.
"No. 1, I think it shows you the intelligence factor, and No. 2, it shows that they're committed to establishing goals and following through on their goals,'' Kelly told ESPN. "You face some adversity, whether it's in school or on the football field. You've got a bunch of driven guys, and that's evidence that they are driven. It shows you what we're looking for here, that combination of mental toughness and that high football intelligence. That's just another indication for us.''