Hall of Fame Game preview: What to watch as Giants, Bills open preseason
If you've been counting down the days from the Super Bowl until Sunday's Hall of Fame Game between the Buffalo Bills and New York Giants, these are about the only reasons you need to tune in for kickoff:
1. It's football.
2. There's football on.
RANKINGS: QBs | WRs | TEs | Safeties | CBs | DTs | Pass rushers | LBs | OL
Just in case anyone wants to dive a little deeper into that Bills-Giants matchup, though, here are a few things to keep an eye on as the NFL opens its 2014 preseason schedule on Sunday night (8 p.m. ET, NBC):
• Sammy Watkins' debut: The Bills paid a costly premium to move up in this year's draft for the former Clemson star. Watkins has been drawing rave reviews so far in camp -- his stumbling one-handed grab blew up Twitter a few days back. Buffalo head coach Doug Marrone probably will not push his starters much in Sunday's contest (Buffalo, like New York, has five preseason games as opposed to the usual four because of this extra exhibition). But Watkins, second-year quarterback EJ Manuel and most of the first-team offense will be on the field together for at least a few plays.
"I've just got to continue to get the trust in EJ, and he's got to trust in me," Watkins told SI.com's Don Banks. "We've all got to come together as a collective group and just keep doing what we're doing in practice and getting better."
Manuel's improvement from year one to year two as a starter ultimately will determine much of Buffalo's fate in 2014. Establishing an early in-game rapport with Watkins should be a relatively easy step toward success, even as the Bills sort out other issues like their offensive line and depth chart behind Watkins at wide receiver. The Bills are banking on Watkins to help elevate this offense from decent to great.
Don't be surprised if they open their first possession Sunday by getting the ball in Watkins' hands, one way or another.
• Will we see Eli Manning?: The Giants quarterback said earlier this week that he expects to play Sunday night. As with Manuel and Watkins, Manning's actual time on the field figures to be severely limited, as is often the case for starters early in the preseason. The Dolphins actually pushed the Hall of Fame Game envelope last year by using their starters through the majority of the first quarter, then giving extensive run to their second team.
Giants hope new offense can help Eli Manning return to former glory
Manning probably could use a little extra work off a brutal 2013 season that saw him fire a career-high 27 interceptions. Even though the Giants' own Round 1 receiver, Odell Beckham Jr., will not suit up as he deals with a nagging hamstring injury, any game snaps Manning can accumulate with a reworked offensive line and new starting running back Rashad Jennings might help down the road. 
This also will be the first live look at the Giants' modified approach in the passing game, spearheaded by new offensive coordinator Ben McAdoo. He wants to utilize more quick, short passes this year, with the stated goal of getting Manning to a hefty 70-percent completion rate.
Snapshots from NFL Training Camps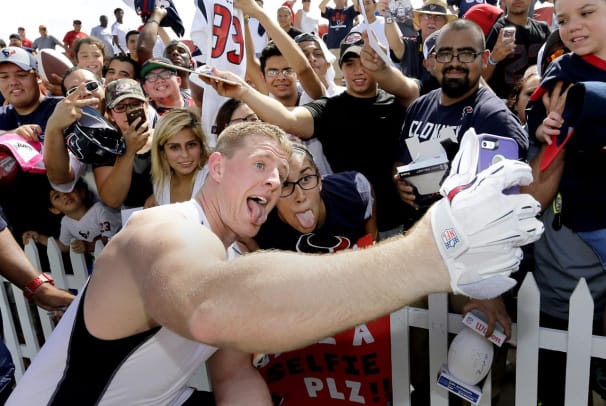 • Modified extra points: While hardly cause for excitement, the NFL will begin testing out a new extra-point format in this game. The ball will be moved back for PATs from the two-yard line to the 15 in an attempt to add a little more drama to the afterthought of a play. (Two-point conversions will take place from the original spot.) The adjusted rule will be in place for this game plus the first two full weeks of the preseason; it could be put into action permanently as early as the 2015 season.
• A little defense: Somewhat quietly, the Giants have put together a secondary that could be among the NFL's best. They got there by signing Dominique Rodgers-Cromartie away from Denver to pair with Prince Amukamara at cornerback, while also picking up Zack Bowman, Quintin Demps and ex-Seahawk Walter Thurmond. Slowing down Buffalo's passing game on Aug. 3 is a long way from dealing with Calvin Johnson, Matthew Stafford and the Lions' aerial attack in Week 1, but as with Manning and the new faces on offense, any chance to mesh is important.
The Justin Tuck-less defensive line also will make its debut, with Jason Pierre-Paul spearheading the unit after his own letdown of a 2013 campaign.
Catching up with Jim Schwartz: The Bills' new defensive coordinator
Meanwhile, Buffalo continues to adjust to life under new defensive coordinator and former Lions head coach Jim Schwartz. Under his watch Buffalo has flipped back into a 4-3 base scheme. The lingering problem for Schwartz at the moment is how to replace injured middle linebacker Kiko Alonso, a standout rookie last season. Nigel Bradham, another potential starter, recently was suspended for the Bills' regular-season opener for violating the league's substance abuse policy. 
Sunday's matchup with the Giants will offer Schwartz a chance to experiment a bit in his linebacker corps, which features the likes of rookie Preston Brown and 2013 undrafted free agent Ty Powell.