Former Steeler great John Stallworth is now a tycoon and philanthropist
John Stallworth is standing in one of his least favorite places, the glow of a spotlight. In a light-blue button-down shirt and dress slacks, he is behind a lectern in a concert hall in his home of Huntsville, Ala., introducing the third annual John Stallworth Legends Round Table, an event he created to inspire and influence young athletes and students.
"Regardless of what you think of us when you look at us in the light of our success, we want you to realize your journey is not terribly different from ours," says Stallworth, 62, moderating a panel that includes former Steelers teammate Franco Harris, ex-­Seahawks receiver Steve Largent and Huntsville's Margaret Hoelzer, a three-time swimming medalist in the 2008 Olympics. "What you're going through, we went through those things," he says.
Stallworth is being generous, since it's unlikely any of the kids in the crowd went through what he did or will reach the same heights. The son of a plumber (David) and a housekeeper (Mary), Stallworth grew up in Tuscaloosa, and at age eight contracted a viral infection that left him temporarily paralyzed on one side. Even after he recovered, he was a clumsy, pigeon-toed kid who'd literally trip over his own feet. Yet, he became a Hall of Fame wide receiver, played in four Super Bowls, and after retiring from football in 1988 developed a multimillion-dollar company and became a part-owner of the very team for which he played 14 NFL seasons.
David Eckstein thrives post baseball with an out-of-this-world business
​Stallworth says his childhood illness "brought out a motivation in me to really extend myself." He didn't play organized football until his sophomore year of high school, enrolling at Tuscaloosa High after being told by a coach he was too small to play for the predominantly black Druid City High, a football power. He became an All-Star running back but was virtually unnoticed by colleges, particularly in-state powers Alabama and Auburn. The Rev. Sylvester Croom Sr., a family friend whose son Sylvester Jr. would play at Alabama and enjoy a long coaching career (he's currently running backs coach for the Titans), recommended Stallworth to his alma mater, Alabama A&M in Huntsville.
Once he arrived on the Normal, Ala., campus, Stallworth transitioned to wide receiver and became a two-time all-conference selection and the alltime leading receiver in school history. Veteran Steelers scout Bill Nunn urged Pittsburgh to draft him; the Steelers made Stallworth a fourth-round pick in 1974, joining future Hall of Famers Lynn Swann (first), Jack Lambert (second) and Mike Webster (fifth) in arguably the best single-year draft haul ever. Swann, out of USC, was the glamor pick, worthy of a 267-word bio in the Steelers' '74 media guide. Stallworth's story was told in just 60.
​"He was an unassuming guy who didn't come in with much fanfare," Harris says, "but you noticed that he steadily kept working hard, pounding away. Before you knew it you said, This guy is good. This guy has talent. He just grew into greatness." Stallworth was twice the Steelers' MVP and still owns Super Bowl records for most yards per catch in a single game (40.3) and career (24.4). He had two touchdown receptions in Super Bowl XIII, a 35­31 win over the Cowboys, and his fourth-quarter, 73-yard TD the following year put the Steelers ahead for good in a 31­19 win over the Rams.
As the Steelers racked up titles in the 1970s, coach Chuck Noll preached to his players about their "life's work" beyond football, saying, "You have to plan for the next step. You can't wait until the day you retire from football and look up and say What am I going to do now?"
"I made up my mind I was not going to play and make a little money and then wonder what happened to it," Stallworth says. Armed with his business degree from Alabama A&M, he returned each off-season to Huntsville, where his wife, Flo, son John Jr. and daughter Natasha lived year-round, and "experimented," earning licenses to sell insurance and real estate and developing apartment complexes while earning his MBA.
Former All-Pro safety Gary Fencik is now a star in the financial world
​Along the way Stallworth met Sam Hazelrig, a retired engineer, through their kids' soccer league. They talked about the burgeoning defense and missile industry in Huntsville, and in 1986, the year before he retired from the Steelers, they created Madison Research Corporation, which provided services, made parts and developed software for the government. Working out of Stallworth's home and typing proposals on an electric typewriter with an out-of-whack T key, Madison Research earned its first small contract with the Anniston Army Depot for two pieces of hardware for an M1 tank in 1987, then gradually blossomed.
"It was difficult [at first] in that people saw me still as John Stallworth the football player and not so much John Stallworth the business person," says Stallworth, who held the titles of president and CEO. "In some aspects it was good, because it got you in the door. In other aspects it was bad, because if people couldn't see you in another role, it was hard for them to do business with you."
By 2006, Madison Research had 375 employees in 15 states. A company that started with a faulty typewriter had come to manage computer maintenance at the Space and Missile Defense Command's Simulation Center in Huntsville. That year Stallworth sold the business for $69 million. He also joined with Bobby Bradley, a family friend and the founder of Computer Systems Technology, to form Genesis II, a holding company that would control their investments, business development plans and charity work. For Stallworth that meant focusing on the John Stallworth Foundation, which has sponsored the Round Table since 2012 and, since '02, a celebrity golf tournament in Huntsville attended by former Steelers such as Harris, Swann, Mel Blount, Donnie Shell and the Dolphins' Dwight Stephenson.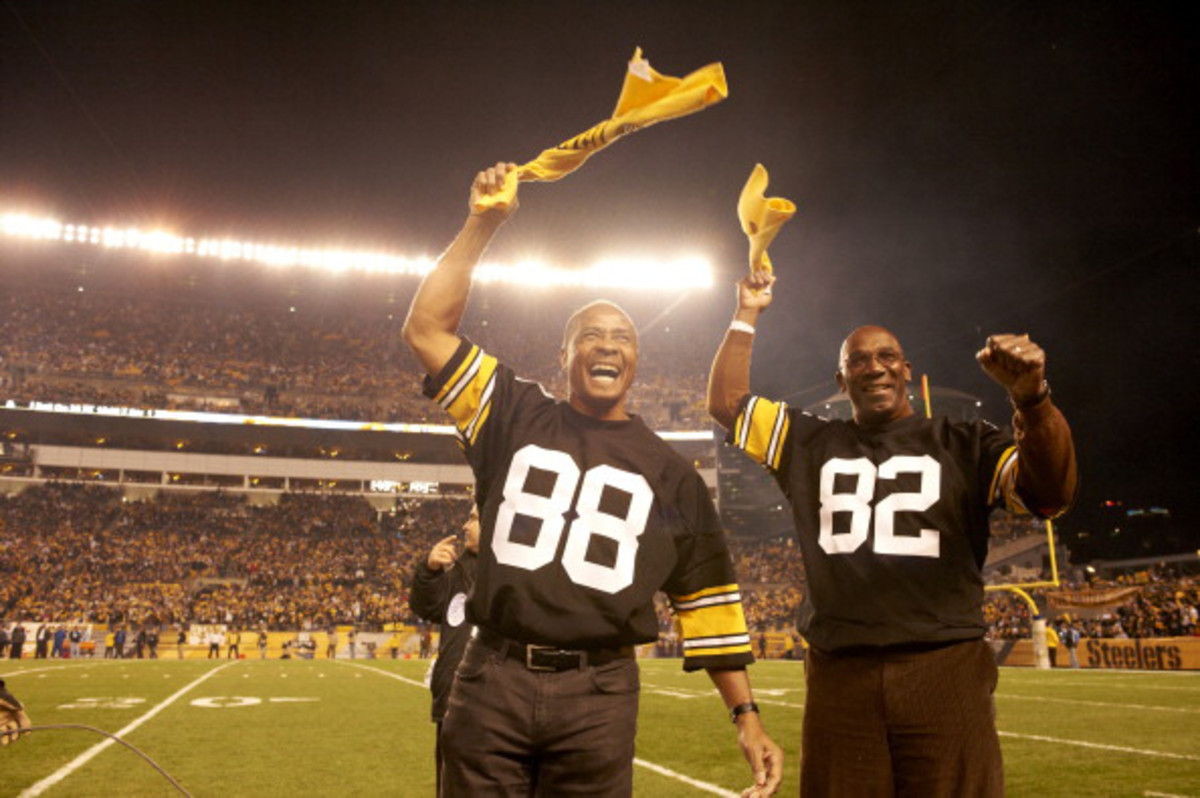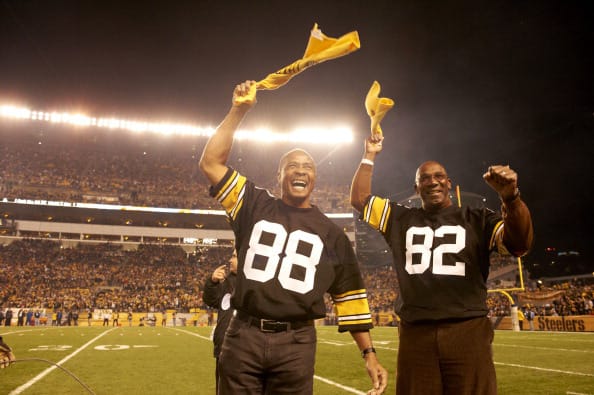 ​The foundation has provided more than $350,000 in scholarship aid to some 135 students attending Alabama A&M and other schools. Says Stallworth, "The money we give to the kids, that changes them. That really excites me. I'm honored to be in a position to do that. I want to be able to look back and say we've been able to help some folks."
​"John is a quiet leader," says Huntsville mayor Tommy Battle. "He tries to stay out of the forefront, but he is one of those people when they move through this community, they make a difference."
Stallworth continues to work at Genesis II, but in 2009 the Steelers threw another opportunity his way, and of course he caught it. Dan Rooney, the Steelers' chairman, asked Stallworth if he wanted to buy part of the team. The ex-player admitted that he first had to come to grips with seeing football from the boardroom instead of the locker room. "I know what I felt was important to me as a player and to players around the league," Stallworth says. "Would I have to junk all of that now to exist in that [owner's] box?"
Former NFL lineman Alex Bernstein reflects on tech success
part of me coming out. I'm thinking how my body felt after 14 games."
Stallworth is more ex-player than owner when he shows up for the Steelers' home game against the Ravens on Nov. 2. Pittsburgh receiver Antonio Brown, with whom Stallworth has developed a close relationship, catches 11 passes -- three games' worth for Stallworth, who in 165 career games amassed 537 catches for 8,723 yards and 63 touchdowns in the run-heavy 1970s and'80s. But Stallworth is not on hand to marvel at Brown, he is there to help honor his former teammate Mean Joe Greene, who is having his number 75 retired. When Stallworth became part-owner, Greene was working in the Steelers' front office. Greene looked quizzically at his old teammate and said, "Do I have to call you Boss now?"
Stallworth laughs as he recalls the moment while sitting in the conference room at Genesis II two mornings after the Round Table. He wears a gray long-sleeve T-shirt and warmup pants that show how remarkably fit he remains and prompts the comment he frequently hears: "You look like you could still play." His stock reply: "I tell myself I have one play left. And I don't want to go out and prove that wrong."