From I to XLIX: Journalists who have covered every Super Bowl look back
His back hurts on most days, plus there's the two herniated disks, hearing aids in both ears and the cataract surgery on both eyes. But, hell, no one reaches 86 without a little body work and Jerry Green figures he fell into a bucket of magic dust given how good he feels. Later this week he will drive 257 miles from his home in Palm Desert, Calif., to Phoenix, the site of Super Bowl 49.
You think Tom Brady playing in six Super Bowls is a big deal? Well, try this one on. Green is one of three sports writers who has covered all 48 Super Bowl games. He joined the Detroit News in 1963 and when the beat writer for the Lions left three years later, Green became his newspaper's pro football reporter, the same year as the AFL-NFL merger. "The timing was perfect," says Green. "That's how I got to Super Bowl I."
• SI.com's coverage of Super Bowl XLIX | Grading every NFL coaching hire
Green worked at the News for 41 years before semi-retiring in 2004 at age 76. His wife Nancy passed away two years earlier and though it was tough, he kept covering Super Bowls. His last companion, Arlene Winer, who he was with for six years, died last year. That shook him, too. But he's leaving for Phoenix this Sunday to cover No. 49.
"I want to keep the streak going as long as I am physically able to do it," says Green. "I don't know how long that will be but I am going to this one. I have to go for myself, that is my motivation."
Through The Lens: 4 photographers who have shot every Super Bowl
Jerry Izenberg will be there too  -- he wouldn't bleeping miss it. At 84, Izenberg drops curses at nearly the same rate he pumped out award-winning columns for the Star-Ledger of Newark before he stepped away from fulltime work seven years ago. He now lives in Henderson, Nev., and is a columnist emeritus for the newspaper and NJ. com. His contract with the Star-Ledger includes covering championship boxing, major horse racing events, bowl games for Rutgers and of course, the Super Bowl. Izenberg had two spinal operations last year and covering Super Bowl 48 wasn't easy given the cold weather in New Jersey. But he slogged through and he'll be at the big game once again.
"On a professional level the streak is important because it is the most important football game played every year," says Izenberg, whose first job at the Star-Ledger was in 1951 as a night copy boy. "On a personal level, it's not as intense as it used to be for me because many of my friends are dead. But I love the kind of writing that it offers, and I'm totally on my own. I have lost a lot of friends but I'm in this for the full 15 rounds."
GALLERY: Four who photographed every Super Bowl
Four Who Photographed Every Super Bowl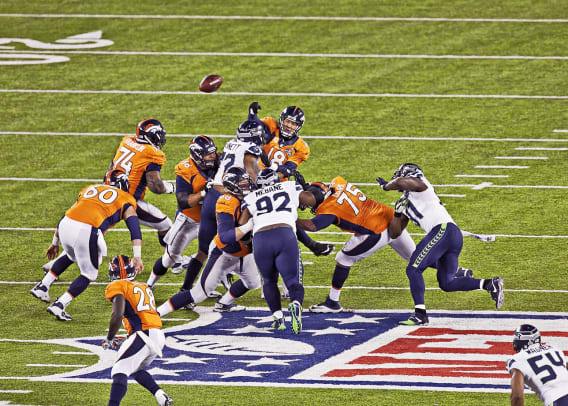 So is Dave Klein, who is still grinding out copy daily at age 74. Klein worked as the Giants beat reporter at the Star-Ledger for 35 years before starting an online Giants newsletter by subscription called e-Giants. He still covers every Giants game -- Klein will tell you that he's lasted on the beat through 10 different coaches -- and will be at this year's Super Bowl just like he was on Jan. 15, 1967 for the Packers-Chiefs.
"I think the streak is a tribute to longevity," Klein says. "I've lost a lot of good friends in the business over the years. Either they retired, or have gone to that great big stadium in the sky. It is an accomplishment, but one I could not have achieved without some pure luck"
So this is the club -- Green, Izenberg and Klein -- who have covered every Super Bowl since the start. (To find the story of the four photographers have been there at every game alongside them, click here.) They were among the 338 media members credentialed for the AFL-NFL World Championship Game at the Los Angeles Memorial Coliseum for the first Super Bowl game and have covered every one since. (Some perspective: Last year the NFL issued credentials to 6,329 media members to cover Super Bowl XLVIII and related events in New York and New Jersey.) Izenberg said a lot of newspapers did not send their columnists for the first game, which is one of the reasons for the group's exclusive status. The other is many of their colleagues have passed away.
Their memories of the first game -- Green Bay's 35-10 romp over Kansas City -- remain sharp. Izenberg recalled how he and his close friend Jack Murphy, the famous sports writer out of San Diego, drove to Santa Barbara to interview Green Bay players at their hotel. At the front of the hotel stood a man on guard. His name was Vince Lombardi.
NFL draft redux: Reprojecting the first round of the 2014 draft
"I knew Lombardi was steaming about being in Santa Barbara," Izenberg says. "We pulled up to the place, the ocean on the right side, and Lombardi is standing in front of the hotel. He says to us, 'What are you guys doing here?' I said, 'Well, we came to talk to your football team.' He said, 'We should not even be here.' I always knew how to push his buttons so I said, 'This is a beautiful place, isn't it?' He said, 'What you mean this is a beautiful place? This is hell. Look how pretty it is.' Then he realizes that there are 10 players listening and looking down. He says to them. 'And none of you guys better be in the pool today either.' And then walks away."
Green said he traveled to Los Angeles mid-week for the first game because the Lions were changing coaches from Harry Gilmer for Joe Schmidt. He remembers going into the hotel room of Chiefs defensive back Fred Williamson with a small group for a 30-minute interview. "We had that kind of access," Green said.  
Izenberg recalled wanting to talk to then-NFL commissioner Pete Rozelle about the Coliseum not selling out and so NFL officials put together an impromptu press conference in Rozelle's hotel suite for a dozen print reporters. This was the inaugural State of the League press conference that the NFL commissioner now gives every year in front of thousands. Rozelle was a genius when it came to understanding the role of the press in the growth of pro football. He wanted the writers and broadcasters to leave Los Angeles following the first Super Bowl thinking how much better pro football's championship was than the World Series. The writer Mickey Herskowitz, then working for the American Football League in promotions and hired by Rozelle to work the game, said each room at the Statler Hilton Hotel (the media hotel) received a cheese and fruit basket that included bottles of bourbon and Scotch. If there was a woman in the room, the league sent a dozen roses. Rozelle also hosted a party for 150 media members during media week.
Media circus starts week early as Pats face questions about controversy
"I can remember the dance floor was sort of like a demarcation zone," said Green, who paid his own way to Miami for Super Bowl II because of a newspaper strike. "All the guys covering NFL teams were on one side and only AFL guys were on the other side. We sort of looked at each other. It took a year or two before we all became friends and colleagues."
Today, Green writes on a Dell computer, but for his first Super Bowl game story, he typed his copy on an Olivetti that he purchased in Hong Kong in 1955 while on leave from his Naval assignment as a lieutenant junior grade officer working as a public information officer in Yokosuka, Japan. Upon finishing his piece, he gave it to a Western Union operator at the game. Hearing him describe the process sounds like something from another galaxy.
GALLERY: Walter Iooss Jr.s' best Super Bowl photos
Walter Iooss Jr.'s Best Super Bowl Photos
[pagebreak]
All three writers in interviews last week talked about the impact of Super Bowl III -- the upstart AFL Jets over the NFL's Colts -- and how memorable the week was to cover. Green was at poolside of the Galt Ocean Mile Hotel in Fort Lauderdale when Jets quarterback Joe Namath conducted an impromptu media session for a dozen reporters who wanted to ask him about guaranteeing a win earlier that week while at the Miami Touchdown Club. This media session produced the iconic photo shot by SI photographer Walter Iosss Jr., one of four photographers to shoot every Super Bowl, of a shirtless Namath relaxing on a lounge chair while talking to the overdressed members of the press.
Green, wearing horned rim glasses and a crew cut, is sitting directly behind a Chicago sports writer named Brent Musburger (whatever happened to that guy?).
"I look like a nerd," says Green.
Klein was also there and part of another scrum interviewing Namath on the beach. "Namath referred to us as the $200-a-week working slobs," Klein recalled.
The three Streakers have definitive opinions on the gigantism of Media Week today. Green said he remembered first being hit in the head by television cameras in the locker room after Super Bowl VI. Izenberg said the last football player he interviewed in his hotel room was Cowboys wide receiver Drew Pearson prior to Super Bowl X.
"Media Day is a f------ joke now," Izenberg says. "You are now dependent on the personality of the guy much more than before because before you were sitting in his room talking to him. At Super Bowl I two days before the game I was sitting in a coffee shop at a Long Beach hotel having breakfast with [Kansas City linebacker] E.J. Holub. We were talking about how if they won the game he would get $15,000. If you lost, you got $7,500. Today that might be tip money, but it was an enormous pay day then. His hands were out and shaking talking to me and he says, 'Look, feel my palms; they are sweating.' I was just a shmucky kid so I asked, 'Is that because you have the opportunity to prove yourself against the NFL?' He said, 'No. It's because if we win, we are going to make $15,000.' To a football player then that was a tremendous amount of money. That tells you what you need to know about that first Super Bowl."
Klein said he also thought things started changing in the late 1970s.
"It's a circus now," he says. "I try not to attend Media Day. It's like being in the middle of a teeming crowd in New Delhi. But the NFL loves it because it attracts people and fans."
Izenberg said one of the moments where he felt the Super Bowl had crossed the Rubicon was when MTV VJ Julie Brown was credentialed for Super Bowl Media Day in 1992. Wearing a tuxedo, she sat on lap of Redskins defensive lineman Dexter Manley for an interview.
"She comes bouncing in, jumps into his lap, strokes his thigh and says, 'Can I talk to you, Dexter?'" Izenberg says. "I said, 'Well, f--- this.' And I walked away and I wrote about it. I've written about it off and on to show you how the league has made a circus with Media Day."
"They are both octogenarians and things change," says Joe Browne, the NFL's longtime public relations head and now a special advisor to the league. "That is what I would tell the two Jerry's. Yes, Media Day has grown. If it is interfering with the legitimate media, I am not in favor of it. … When Pete Rozelle resigned in 1989, the media asked him if he ever could have envisioned the Super Bowl getting as big as it had. He just took a puff of his cigarette and said, 'There was no way.' Now 25 years later it has gotten X times bigger than when Pete was here."
For years this group of three was a quartet. Last year 86-year-old Edwin Pope, the brilliant Miami Herald columnist who had covered the first 47 games, did not cover the game for health reasons. The last Super Bowl for Bob Oates, the famed Los Angeles Times writer, came in 2005. He missed the 2006 game to stay with his wife, Marnie, who had suffered a fall a few months earlier. She died in February of that year, and Oates passed away three years later at 93, never returning to the Super Bowl.
The current trio has had some near misses over the years. Izenberg has Meniere's disease, a disorder of the inner ear that causes spontaneous episodes of vertigo, and it hit him at home two weeks before Super Bowl XXXVII in 2003. He covered the game in San Diego but was very shaky on his feet and recalled how he got dizzy in the upper deck of the stadium prior to kickoff. Longtime Dolphins PR head Harvey Greene helped him back to the press box with a wheelchair.
"I did not go down to the locker room," Izenberg said. "Pete Finney Sr., one of my closest friends, wrote his piece and then grabbed my arm and got me down to the media bus."
Prior to Super Bowl XXXVI in New Orleans in 2002, Green dropped his wife Nancy off at her sister's home in Gulf Shores, Ala. He left his car there and took the bus from Mobile to New Orleans for the game. The morning of the Super Bowl, he received a call that his wife had a stroke.
"I told her, 'I am leaving, I'm coming to see you,'" Green said. "She said, 'What about your streak?' I said, 'I don't care about the streak. I care about you.' But Nancy talked me in to staying. The next morning I took the first Greyhound from New Orleans to Mobile at 5 a.m. By that time she had improved. The streak was important to her." Nancy Green died a couple of months later. The two were married for 40 years, six months and two days.
Green and Izenberg are not overly close but they do share dinner together and like each other. But there is some tension between Klein and Izenberg, former colleagues at the Star-Ledger.
"He was there writing the column, and I was there doing the hard work," said Klein, laughing, about their shared Super Bowl experiences.
Green, an exceedingly friendly man, gets along with both men.
"I use the phrase that Jerry and I are the last two newspaper writers to cover Super Bowls because Dave Klein is not doing it for a newspaper," Green said. "I saw Dave at Media Day last year and we chatted. As far as I am concerned, Dave Klein has been a friend of mine since we covered a championship game in Dallas in 1966. He's fine. I have nothing against him. I know Jerry doesn't like him."
Klein does not see any distinction between he and the newspaper men when it comes to the streak. "No difference at all," Klein says. "I still work at a keyboard. I still write stories. I still am read by people."
But don't get the impression this is the Cocoon version of Tupac-Biggie. Klein says if he sees Izenberg and Green at the Super Bowl he will certainly say hello. "And if they see me, I certainly hope they say hello, too" he says.
The only time Green got chafed in interviews was when talking about the NFL brass' relationship with the Streakers.
"I get the idea that would like us to go away," Green says. "They are not very friendly. They do just a little bit for us where Rozelle used to have a party and [Paul] Tagliabue had a party. There used to be a note in the program that so-and-so had covered every Super Bowl, stuff like that. Now we are pretty much just the same. I am disappointed in that."
Green recalled a couple of years ago seeing NFL commissioner Roger Goodell at a hospitality area during Super Bowl Week. "He looked at my badge and said, 'Oh, you are one of the guys who has covered every one.' I said, "Yes." And that was it. He's a cold fish."
What about their younger media colleagues?
"I would be surprised if most of them were interested in us because they have their own jobs to do and they better be f------ doing them," says Izenberg.
All three men share a great fondness for Rozelle. Last October, Izenberg published a book titled "Rozelle: A Biography" that he says took him 32 years to write. He told the story of how the league set up a conference call with Rozelle and veteran NFL reporters at the 1996 Super Bowl so Rozelle could say a few last words to them via speaker phone (Rozelle died in December that year).
"He was dying, there were no two ways about it," Izenberg says. "I'm thinking this is really going to be hard. We were close. I just hoped it would do some good for him. There was a squawk box and they put each of us on with him. We came there to console him and he wound up consoling us. He had a smart-ass remark for every one of us. He busted me on for my 48-sentence leads. Have a drink on me was the last thing he said. I remember someone yelled out, 'For Pete!,' and we all took a drink."
Streaks can become burdensome in sports, and in life, but all three men have a healthy attitude about it, including some gallows humor.
"It is a reminder," Izenberg says, laughing, "that I am still alive."