Ravens release WR/KR Jacoby Jones
The Ravens cut wide receiver and kick returner Jacoby Jones after three seasons with the team
The Baltimore Ravens released wide receiver and kick returner Jacoby Jones after three seasons with the team, the Ravens announced Wednesday.
Jones signed a four-year, $12 million contract with the Ravens last offseason and was due to receive $2.5 million this season. He had a $3.375 cap number for 2015.
Jones, 30, caught only nine passes for 131 yards last season. He also averaged 30.6 yards per kickoff return. 
He helped the Ravens win the Super Bowl after the 2012 season, catching a crucial 70-yard touchdown pass from Joe Flacco in the final minute of regulation in the AFC divisional playoff game against the Denver Broncos. The Ravens went on to beat the Broncos in overtime and the San Francisco 49ers in Super Bowl XLVII.
NFL's Most Versatile Scorers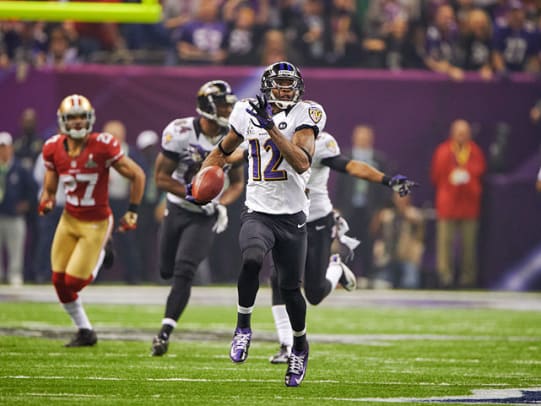 "We think he can still play in the NFL, and releasing him now allows him a better opportunity to land with another team," Ravens general manager Ozzie Newsome said. "We don't win Super Bowl XLVII without Jacoby. Jacoby was an outstanding Raven, good teammate on and off the field."
• KING: Mapping the NFL draft's first 15 picks
Jones has 203 catches for 2,733 yards and 14 touchdowns and another nine touchdowns from punt and kickoff returns in his eight-year career with the Houston Texans and Ravens.
His best season was in 2012, when he averaged 30.7 yards per kickoff return and scored two touchdowns. He was named the first-team All-Pro Kick returner by the Associated Press.
- Scooby Axson