Before he was a broadcaster, Frank Gifford was an eye-popping player
Before he found fame as a Monday Night Football broadcaster, the late Frank Gifford was an eye-popping NFL player who did a little of everything for the New York Giants.
"Wow, the Monday Night Football guy died."
"Kathie Lee Gifford's husband died."
Such was the reaction by many on Sunday when news started spreading about the death of Frank Gifford.  The response is understandable. An entire generation grew up with Frank Gifford's voice coming out of their television sets and his wife doing a talk show with Regis Philbin. Frank Gifford, at least to most of the world not yet 50 years old, was a broadcaster with a famous wife. Period.
Even his considerable on-field exploits with the New York Giants are obscured by the vicious hit he took from the Eagles' Chuck Bednarik on Nov. 20, 1960, a blast that cost Gifford 18 months of his career.  That more than anything is what most remember about Gifford the player.
It would be a shame if that hit and his post-playing success in the booth obscured a simple fact: though he never had eye-popping stats, Gifford was an eye-popping player, a player who could seemingly do it all, and a player who was eventually inducted into the Pro Football Hall of Fame. 
"He could do it all," said current Redskins radio broadcaster and former Redskins and Eagles quarterback Sonny Jurgensen on Sunday night. Jurgensen squared off against Gifford many times including the infamous game that included Bednarik's hit.
"Frank was from [the University of Southern California] and he was kind of the glamour boy for that particular team. But when he played, he was a heck of a player. He could run the ball, he could throw the ball, he could play defense."
Born on Aug. 16, 1930 in Santa Monica, Calif., Gifford finished at USC in 1951 and was taken in the first round of the next year's draft by the Giants. He played the entirety of his career in New York.
He never rushed for more than 819 yards in a single season and never had more than 796 receiving yards. But he had 1,100 or more combined yards three times, including in 1956 when he rushed for 819 yards (5.2 yards per carry) and caught 51 passes for another 603 yards.  He was named the NFL's Most Valuable Player by United Press International that year.
Classic Photos of Frank Gifford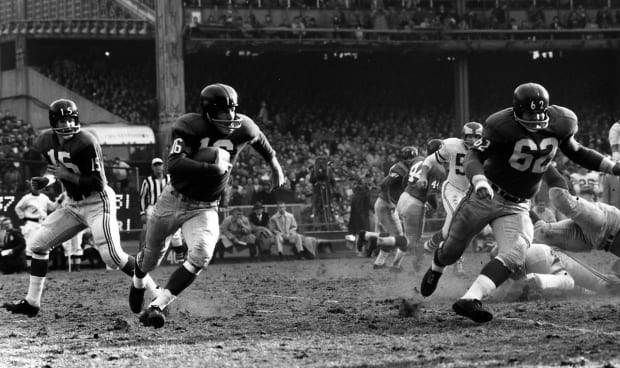 His stat sheet is an interesting mix beyond just the rushing and receiving. Gifford threw the ball 63 times in his career. He only completed 29 of those passes, but 14 went for touchdowns (while six were picked off). He completed eight total passes from 1954-56, seven of them for touchdowns.
As a defender, he had two career interceptions and 17 fumble recoveries from his spot in the secondary.  Early in his career, he also served as a punt and kick returner but he stopped doing that after the 1955 season.
Gifford made the Pro Bowl every year from 1953-59 and again in 1963, his second season back after recovering from the Bednarik hit.  He was a first-team All-Pro four times. The Pro Football Hall of Fame and Pro-Football Reference named Gifford to their All-1950s team. Gifford and the Giants played in five NFL championship games, winning only in 1956 over the Chicago Bears. In 1958, the Giants fell to Baltimore 23-17 in overtime in a game considered by many to be the best in NFL history. Gifford rushed for 60 yards and caught a touchdown pass in that game.
His induction into the Hall came in 1977 after Gifford was a finalist in 1971, 1972, 1974, 1975 and 1976.
"I got to know him a little bit after we played. We played some golf together," Jurgensen said.  "Very good guy, very good player, very good broadcaster."
Gifford's career on Monday Night Football started in 1971 when he took over as play-by-play announcer. He was part of the broadcast team until 1998. Gifford also worked several Olympics among other non-football assignments.
Concrete Charlie: Chuck Bednarik was the NFL's last great two-way player
But before all that, before his 1986 marriage to the former Kathie Lee Epstein, Gifford put together the career that got him into the Hall of Fame.
Jurgensen chuckled at a memory from a practice session the week before his Eagles squared off against Gifford's Giants.
"I'll never forget, we had an assistant coach who'd come to us from the Giants," Jurgensen said. "We're getting ready to play them and I'm supposed to just get in there and run some of their plays. One of the plays I had to run was kind of a running pass that they ran with Frank. They'd hand it to him, he'd run toward the end and he'd throw the pass.
"I did it and this ol' coach, he liked to chew tobacco. He spit and said to me, 'You're no Frank Gifford.'"
Few were.