Snap judgments and snapshots from SI.com's NFL training camp tour
Stretching almost 2,300 miles by car and another 1,600 miles in the air, our 11-stop, 12-team, 16-day NFL training camp tour is in the books.
Stretching almost 2,300 miles by car and another 1,600 miles in the air, our 11-stop, 12-team, 16-day NFL training camp tour is in the books. You can never get the entire picture of a team from spending a day or two in camp, but there are meaningful snapshots to absorb along the way. In Snap Judgments-like format, here are our musings, observations and occasional insight from what we learned on the road...
• It's pretty obvious to me the Bills' braintrust is hoping former Ravens backup Tyrod Taylor wins the three-man race for the starting quarterback job, because when coach Rex Ryan says Taylor has "a little magic to him," he doesn't sound like someone who wants to see the magician hold a clipboard. The Bills love Taylor's speed and mobility and view his upside as much higher than veteran Matt Cassel's. But Cassel's steadiness and ability to make the plays that are there to be made might still win out, because the stated formula in Buffalo this year is to win with defense, the running game and a quarterback who keeps the offense away from the killer mistake.
"In my gut I think we'll have enough [at quarterback]," Bills general manager Doug Whaley told me. "The way our style of play is going to be, we don't have to have a franchise quarterback. And we don't have a guy who has proven to be a franchise quarterback, at least over the long term. Not yet, anyway. Until you get one of those, you've still got to play games. Look at the Russell Wilson model. He doesn't throw over 25 times a game, but they play great defense, they run the ball and they don't turn it over. Now, to Wilson's credit, he'll make those crucial three or four throws a game to either win the game or put the game away. But if we're throwing it 50 times a game, we're in trouble."
KAPLAN: Percy Harvin discusses his latest chance to catch on with Bills
Okay, so the Bills would prefer not to "settle" for Cassel, I get that. But he can keep the chains moving, and that's something Taylor, for all his athletic gifts, has yet to prove he can match. And we have seen Cassel start and win 10 games in the AFC East before (circa 2008 in New England), not to mention the AFC West (2010 in Kansas City). The rest of the preseason figures to make someone the clear winner in Buffalo, if the Bills can get their receivers and running backs healthy enough to make any quarterback look effective.
As for 2013 first-round pick EJ Manuel, he looks done in Buffalo and seemingly has little shot to climb out of the No. 3 slot. The Bills would like to see him play just well enough to find a trading partner for him, but I'm not sure that's happening. What a sad-sack 2013 quarterback class it was. Four passers were taken in the top 100 picks that year, and it has not been a joy ride for any of them: Manuel (16th), the Jets' Geno Smith (No. 37), the Bucs' Mike Glennon (No. 73) and Philly's Matt Barkley (No. 98).
NFL DIVISION PREVIEWS: NFC East | NFC North | NFC South
• Every time I brought up Delfategate in my travels around the camp circuit, I got mostly head shakes and long sighs from club officials and coaches. The longer that over-blown saga has dragged on, the more almost everyone sees it as a lose-lose proposition that has lived well past its expiration date.
What to make of judge's criticisms of NFL's case against Tom Brady
​Steelers general manager Kevin Colbert said it best: "Anything that takes away from what's happening on the field at this time of year, it's a detriment to our game and a distraction. Whatever it is. You really want to focus on the game, the players, training camp, what's going on from a football standpoint. And I know we get dragged away because of the interest in other matters, but to me any time anything pulls away from that, it's disappointing. The things we want to be focused on are the new players, the matchups to come, and the game itself. You take away from that at this time of year, and it's very disappointing."
• The Jets on the head coaching front went from the colorful and quotable Rex Ryan—with all his accompanying side shows—to the steady line that is Todd Bowles. That's a pretty typical pendulum swing for any NFL franchise, because one style tends to play well for a while before it's time to change the dynamic.
Bowles gets that, even his equanimity has been severely tested already this summer by the likes of Sheldon Richardson and IK Enemkpali.
"There's an old quote that says 'To those whom we destroy, we first deem gods,'" he said. "That means everybody wants you at first, then everybody gets tired of you later on and wants to get you out of there."
MythBusters: Do Jets have hope with Ryan Fitzpatrick at quarterback?
Sounds like the Jim Harbaugh era in San Francisco in a nutshell. But don't mistake Bowles's calmness for blandness. There's more to him than that, his players say. And Bowles himself pushes back against that label.
"They felt like I was steady, but if they get to know me, they'll know I'm a little off-kilter in a different kind of way," he said. "For the most part you think I'm quiet and soft-spoken, but then you watch us play and we blitz and try to go for the kitchen sink. So there's got to be some schizophrenia in there somewhere. On the field, I'm going for the throat like everybody else. I'm a calculating killer, so to speak. I'm more of a hitman as opposed to a murderer."
• That pendulum swing is apparent in Pittsburgh this year, where the Steelers went from Dick LeBeau to Keith Butler at defensive coordinator. I asked defensive end Cam Heyward to compare the two men stylistically, and he indicated there will be a different approach taken in some keys ways with the Steelers defense under Butler.
"He's very fiery, whereas Coach LeBeau was more laid back and let the game flow a little bit," Heyward said. "I think with Keith, it's more, 'I'm not losing a single play.' That might just be eagerness on his part, but he's looking forward to the challenge of winning every play."
• It sounds like working out with Randy Moss for a time this off-season helped convince Terrelle Pryor he wouldn't mind making the switch from quarterback to receiver, at least in terms of ego gratification.
"Randy Moss was like, 'Don't get it twisted, being a good receiver is almost the same as being one of the top quarterbacks,'" said Pryor, the Browns' aspiring receiver and former Oakland starting quarterback. "You get the same treatment if you're pretty good at receiver."
Yeah, if you're Moss, at least. But with Pryor trying to make the roster as the Browns' sixth receiver or so, he might want to scale back his Q rating expectations.
KING: Seahawks OC Bevell discusses his infamous Super Bowl call
• Two rookies I saw at camp that had the clearest impact-player status: Rams running back Todd Gurley is going to be a beast whenever he's sufficiently recovered from last November's ACL surgery. No one in St. Louis is willing to say it on the record, but the Rams believe Gurley could be the league's next Adrian Peterson, with an elite set of skills that could lead to a dominant decade of work in the NFL. And after glimpsing up close Gurley's thickness in his hips, butt and thighs, the idea of a him being brought down by a single tackler sounds hard to imagine. He has a small waist but retains the power to still run over people, with the elusiveness to make people miss.
Speaking of thighs, I don't know where the Browns found the football pants that fit defensive tackle Danny Shelton, but they are probably size WB, for widest base I've ever seen. Shelton's athleticism is impressive, but he's going to help Cleveland's 32nd-ranked run defense if all he does is hold his ground at the point of attack. What a load Shelton will be in the middle for the Browns.
In reloaded Rams offense, it's time for Tavon Austin to live up to the hype
• The Rams' approach with Gurley's recovery is the right one because they don't just want Gurley back on the field; they want the Gurley they saw on tape for Georgia the past two years. Rams coach Jeff Fisher told me he doesn't need to see Gurley in a preseason game in order to know he can handle the regular season, and that's why I think it could be Week 2 or 3 or even later before the rookie makes his NFL debut.
"Him getting the strength back in the muscles around the ligament is the important thing," Rams general manager Les Snead said. "And if you play him too soon, and it never gets to 100 percent, then it's like, 'Where's that Gurley we saw in college? Where'd he go? Where's he at?' Then once he gets to the off-season and rests through that, then the next year you see the old Gurley. So that's why we're waiting on him."
• The most dubious signing of the NFL off-season in my opinion was Cleveland giving ex-Chiefs receiver Dwayne Bowe $9 million guaranteed in a two-year, $12.5 million deal in free agency, and when I was in Browns camp, Bowe was sidelined by hamstring issues. He has now been out since Aug. 5. Cleveland general manager Ray Farmer offered a what-me-worry tone when I asked about Bowe's lack of work with quarterback Josh McCown, but coach Mike Pettine was a little less patient in regards to his new No. 1 receiver.
"Being that he's with a new supporting cast and in a new system, he needs reps and that's tough," Pettine said. "He needs to be out there."
Browns' Terrelle Pryor attempting the near-impossible: Switching positions
Farmer and Bowe know each other from their days in the Kansas City organization, and the Browns GM said he has "no concern" about Bowe's readiness for the regular season. "The guy's a pro. He's been in the league," Farmer said. "He's been productive, he's been successful. Come the regular season, veterans know when the bell rings and how to answer it."
Bowe will be 31 next month, and his numbers the past three seasons have not lived up to the standards of earlier in his career, but Farmer doesn't buy the argument that his stats are indicative of anything.
"As far as numbers and touchdowns and all that stuff, that's a product of who you want to throw the ball to and when you want to get it," Farmer said. "I don't believe in No. 1 [receivers], I believe in skill sets. The guy can catch the ball in contested environments, and that's what we lost in Miles Austin: a guy who can catch the ball when there are people in his face. So we replace him with a guy we know can do the same thing."
So Bowe is in Cleveland to replace Austin, who caught 47 passes for 568 yards and two touchdowns for the Browns in 2014, before signing with Philadelphia this off-season? Got it.
• Matt Hasselbeck knows his way around an interview by now, but the best thing I got out of the talkative Colts backup quarterback was on the non-talkative ways of new Colts receiver Andre Johnson, who joined the team this year after playing the first 12 years of his career in Houston.
After years of chasing the Colts, Andre Johnson relishing life as one
"He's pretty much as advertised and kind of exactly what I thought he'd be," Hasselbeck said. "Except he's quieter than I thought. He's next door to me in the dorms [at camp]. I'm across from Adam Vinatieri, who's quiet, and next to that is Robert Mathis, who's quiet. And then there's Andre in the next room. But compared to Andre, those other guys are loquacious. You can see he has a lot of one-on-one conversations with people, but in a group, you just don't hear him much. But I know he's giving up nuggets to guys, and I know guys are listening."
• Eli Manning may be the next starting quarterback in line to get locked up with a long-term deal, but the Rams are determined to get something done this year with their new No. 1, Nick Foles. They don't want to wait too long and see his price go up significantly if he starts the season on a roll, but they also don't want to strike too early before Foles has shown them something in the regular season.
"That's where we're all at, because it's an interesting case study," Snead said. "There's no real precedent in this one. Yes, you've had guys like Joe Montana and Brett Favre and they get traded, but that was an age thing, late in their careers. All of sudden with Nick you've got a young guy who's already been to the playoffs and hey, now he's on our team. It's not like those parameters exist. That's what we work on, but we'll try and figure this thing out.
"I definitely think it's possible, to get something done this year. The when is the question. You'd rather be writing that check than looking for [a quarterback], I know that. I always try to remember that in football, all our problems are ultimately high class problems, right?"
Stars and Scrubs: NFL teams with the most unbalanced payrolls
• Maybe there are some Giants fans and even members of New York's organization who think that new/old defensive coordinator Steve Spagnuolo can be a miracle worker and turn this defense back into a version of the one he won a Super Bowl ring with in 2007.
But Giants general manager Jerry Reese does not sound like he's among that crowd.
"I think he's a terrific coach, but Perry Fewell is a terrific coach," said Reese, of the Giants former defensive coordinator, who was fired this off-season, paving the way for Spagnuolo's re-hiring. "Perry Fewell is a hell of a football coach, I'm telling you right now. [Shoot], we won the same amount of Super Bows with Perry Fewell as with Spags. So you can chop it up however you want to, but we're happy to have him back.
"I think he wants to prove to people that he is really a good football coach and can help us get this thing turned around again. We're excited to have him back, but it's going to be up to the players to play. Spags can motivate them and put them in the right situation, but the players have to make the plays."
Simply put, I don't think Spags has enough players at his disposal in 2015 to make the plays that will make the Giants a playoff team again.
Dawn of a new era: Will defensive change invigorate or inhibit Steelers?
• Mike Tomlin-speak is a language unto itself. When Steelers linebacker Lawrence Timmons told me new Pittsburgh defensive coordinator Keith Butler will be leaving the team's youthful cornerbacks on the island of man coverage less frequently this season than ex-D.C. Dick LeBeau has done in the past, Tomlin dismissed it as only he can.
"I imagine Dick might have done the same thing with young corners this year," Tomlin said. "People who follow that storyline are looking just to create a storyline. If you've got red paint, you paint your barn red."
GALLERY: Snapshots from NFL training camps
Snapshots from NFL Training Camps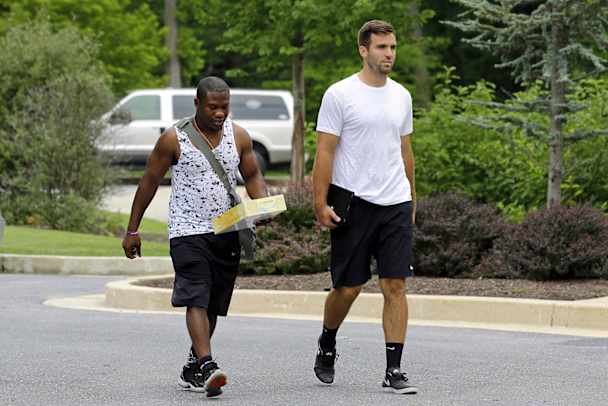 • Power rankings of the 12 teams I saw this preseason...
1. Indianapolis: Andrew Luck and a roster around him loaded to win now, with the added bonus of Arian Foster's injury in Houston, means the Colts will easily rule the AFC South. But about that run defense.
2. Pittsburgh: The Steelers' offense has no significant flaw, and new defensive coordinator Keith Butler seems driven to restore that side of the ball to relevancy.
3. Cincinnati: With a very set roster and a little return to health by some key starters on both offense and defense, the story is again how far Andy Dalton's game can progress in Cincy.
4. Buffalo: The defense and running game should carry the load, but the past week or so has seen the Bills decimated by injuries. If that trend doesn't soon reverse itself, make it 16 years without a playoff berth.
5. Kansas City: There's enough talent here to push Denver and San Diego for supremacy in the AFC West. But I still don't see the Chiefs being explosive enough on offense to outscore the Broncos and Chargers.
6. St. Louis: Don't expect Nick Foles circa 2013, but even last year's version will improve the Rams' passing game and keep a defense-first team in most games.
7. Cleveland: The defense is legit, but without enough playmakers on offense, it's tough to see the Browns climbing even as high as third place in the AFC North.
8. Carolina: The Panthers are solid in many respects, but the loss of big-play receiver Kelvin Benjamin is a crushing blow for Cam Newton and the passing game.
9. New York Jets: Love the defensive talent, and how can you not? Ryan Fitzpatrick at quarterback gives the Jets their best shot at winning early this season, but the playoffs still seem out of reach.
10. New York Giants: The passing game will produce its share of points, but the Giants will give up even more with a defense that has more questions than answers.
11. Tennessee: I liked a lot of what I saw in Titans camp, especially from rookie quarterback Marcus Mariota, but even scratching out a 6–10 record would constitute a major improvement in Nashville.
12. Washington: Jay Gruden's second effort in D.C. will be better, but barring Robert Griffin III recapturing his 2012 magic, Washington doesn't have enough difference-makers to contend in the NFC East.
• Breakout star in 2015—Second-year Steelers receiver Martavis Bryant is still raw in terms of technique, but he's going to be a big-play machine all season long this time around.
NFL All-Redemption Team: Players out for more than participation awards
​• Name you should remember—Colts receiver Duron Carter, son of Cris, had an eye-opening camp in Anderson, Ind., and he's going to find his way onto the field some in Indy's crowded receiver corps.
• Best story of the summer—Eric Berry is back in uniform for the Chiefs and slowly easing his way on to the field after his battle with lymphoma. Something to offset the spate of fighting and endless Deflategate legal wrangling.
• Best coaching addition—I like what new Rams offensive coordinator Frank Cignetti is doing with Nick Foles, Tavon Austin and the rest of the St. Louis offense. But did I mention it's early?
• The x-factor factor—Bengals running back (don't call him a slot receiver) Rex Burkhead has continued the versatile work he flashed in last season's Bengals playoff loss and was making plays all over the field in the two practices I saw.
​