No-Names... For Now
This draft's top prospects might be lacking in the Q-ratings department, but five years ago you could have said the same thing about prospects named Watt and Wilkerson. And like those two stars, the talent atop the Class of 2016 appears to be real
To the casual NFL fan, this year's draft is a tough sell. A naysayer's version of the elevator pitch would go something like this: The best player is an offensive tackle, and the top two quarterbacks are a guy who went 4-5 in the Pac-12 and an FCS champion who missed most of his senior season. But don't worry! There are defensive linemen galore! When it comes to intrigue, Goff-Wentz isn't quite last year's to-the-wire clash between the past two Heisman trophy winners.
Keeping down this cough syrup of a draft would be easier if the anonymity of the quarterbacks were offset by a collection of flashy skill players, but no such luck there either. After the recent deluge of receiver talent entering the league, there's a possibility that only a receiver or two makes it into the first round (with none going in the top 16). Couple that with our continued march through the running back desert—save for the oasis that is Todd Gurley—and it feels like non-draftniks will be left saying, Who? a lot on April 28th.
A draft like this isn't ideal for fans or the league, but that doesn't preclude it from accomplishing exactly what the first round is supposed to: arm teams with stars that ultimately make them better. Based on early projections, as many as a dozen defensive linemen are worthy of first-round picks, compared to only a handful of receivers and running backs. Considering recent history, that is a bit strange. Over the past 10 seasons, the average number of D-linemen and skill players in the first round is about even. Since 2006, 72 front-four players and 67 runners/pass catchers have come off the board in the first round. But if you're looking for a year when the talent level cratered for skill position guys, you don't have to go very far back.
• BEHIND THE SCENES FOR A COMBINE INTERVIEW: An unprecedented look as the Dolphins interview a quarterback prospect.
Seven defensive linemen came off the board in the 2013 first round, and the results were a mixed bag. It's impossible to argue with the impacts Sheldon Richardson and Ziggy Ansah have made. But the inverse is true for Barkevious Mingo and Björn Werner. That same year, only four combined receivers and running backs went in the first 32 picks, and it wasn't until last season that we figured out how fascinating that group is. For DeAndre Hopkins (27th overall) and Tyler Eifert (21st), 2015 was the year they turned into superstars. For Cordarrelle Patterson, it was the season that his fate as a failed wide receiver was probably sealed. The returns truly hit both ends of the spectrum.
That draft is cruising toward a place alongside the worst in NFL history, but that has little to do with the lack of offensive firepower (or EJ Manuel being the sole first-round quarterback). As Peter King wrote before the combine, drafting an offensive lineman in the first handful of picks has become an increasingly dubious proposition. The boss noted that only three of the 17 tackles picked in the top 10 since 2005 have been first-team All Pro, and over that stretch; the 2013 draft is maybe the most egregious offender.
The first two players off the board were Eric Fisher and Luke Joeckel, both of whom can safely be called disappointments to this point. Lane Johnson, a solid building block in Philadelphia, went fourth, but where it comes off the rails is with the two guards also taken in the top 10. Arizona's drafting of Jonathan Cooper sixth overall and Tennessee taking Chance Warmack four picks later felt like a sea change when it happened, a sign that, with the proliferation of quick-trigger passing games, the hierarchal relationship between guards and tackles was eroding. We might have been a little overeager with that one.
That group matters because it illustrates how the quality of a single draft will never be linked to the success, failure, or prevalence of the players we draft in fantasy. Drafts full of linemen can run the gamut. In this case, it was a train wreck. Two years earlier, we had what's shaping up to be one of the greatest drafts in NFL history.
The 2011 draft had the same number of first-round skill position players—four—as the 2013 version, but the big boys taken that season mostly turned into superstars. We're all familiar with J.J. Watt's work, Marcell Dareus is now a wealthy man, and that Von Miller character in Denver seems like he's headed toward big things. What sends the '11 crop over the top are the two superhuman receivers wedged between all that defensive talent (A.J. Green and Julio Jones). But while there aren't any Julio Jones types available this time, the best-case scenario for this year's draft is still an outcome resembling the one from five years ago.
In the current landscape—before we hit Pro Days and before paralysis by analysis sets in—many of the archetypes from this year's group resembles that group from 2011. Jalen Ramsey is a massive, impossibly athletic defensive back in the same mold as Patrick Peterson. They're vastly different players, but Joey Bosa had the same impressive big-conference production that Von Miller enjoyed. And similar to 2011, this year's crew of pass rushers has everything from the traditional edge force (Robert Quinn and Noah Spence) to the position-less wonder (DeForest Buckner and Muhammad Wilkerson).
• RESUSCITATING THE TITANS:  Tennessee has been the worst team in football over the past two years. Good thing the man charged with turning around the team knows a thing or two about coming back from the dead.
With five years' (and a whole lot of sacks') worth of perspective, it's easy to look at the 2011 draft through gold-colored glasses, but at the time, these weren't picks that inspired much enthusiasm. Let us remember that Texans fans booed a guy who'd win three Defensive Player of the Year awards in his first five seasons. No Jets fans were running around the block when they took a guy from Temple with 17 sacks over his college career. Robert Quinn didn't even play his final season in Carolina.
Outside of Bosa, this year's group carries a similarly low level of name recognition, but that won't matter if Buckner turns into Calais Campbell, Kevin Dodd turns into Michael Bennett, and Bosa turns into Ryan Kerrigan. I copped all those comps from the excellent Lance Zierlien of NFL.com, but each actually furthers the point about players and drafts like this.
Before he started dancing in primetime, Bennett wasn't a name. Despite their talent and production, Kerrigan and Campbell still aren't. But each is the sort of player whose presence leads to wins. Campbell is a mainstay for a defense that consistently ranks in the top five, for a team that won 14 games last season. Kerrigan got a $57.5 million extension last summer. Outside of Earl Thomas, Bennett may be the most valuable piece on a defense in the middle of a historically excellent stretch.
This draft may lack excitement, but that shouldn't be confused for lack of quality. It's a deep crop of quarterback-hunting, run-stuffing mountains, and it might not be long before fans are replacing Who? with Wow.
• THE POST-COMBINE MOCK:  Tunsil on top, Cleveland gets Goff, and all the projections for Round 1 of April's draft.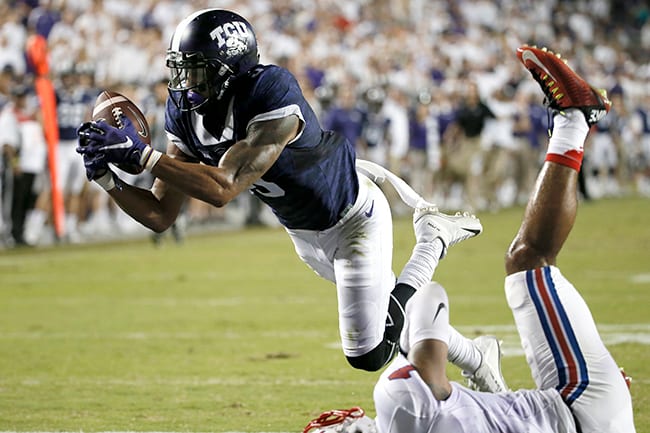 Five Things I Think
1. Drafting for need continues to be a moving target. General managers can usually be found shouting "Best player available!" at clouds, but in the case of the Panthers, the importance of looking past need is readily on display right now. Carolina's release of Charles Johnson means that its two starting defensive ends from the Super Bowl—Johnson and Jared Allen—are gone. That comes a year after the Panthers let Greg Hardy walk. When the Panthers drafted Kony Ealy in the second round with both Johnson and Hardy already in the fold, it left some people scratching their heads. Less than two years later, Ealy, coming off a breakout game in the Super Bowl, stands atop the depth chart.
2. The Cowboys and the siren song of a quarterback. Earlier this week, personnel legend Gil Brandt wrote about the Cowboys' need for a long-term answer at quarterback and the pull of possibly finding that player with the fourth overall pick. Brandt wrote that Jerry Jones told him he will "unequivocally not" take a quarterback at No. 4, which leads to yet another conversation about the prudency of reaching for a quarterback. Johnny Manziel's career to date makes it easy to champion the Cowboys' decision to pass on him in favor of Zack Martin two years ago, but even less disastrous quarterback outcomes still speak to the consequences of pulling the trigger on a signal caller. Jacksonville went after Blake Bortles two seasons ago, and although Bortles started to come on in his second season, Oakland's one-two punch of Khalil Mack and Derek Carr—a combination Jacksonville also could have had—looks a lot better to this point. The pressure for a solution at quarterback is real, but succumbing to it sometimes means leaving valuable talent on the table.
3. Jalen Ramsey gets more enticing by the day. It's been a foregone conclusion that Laremy Tunsil is the odds-on favorite to be the No. 1 pick, but with his monster showing at the combine, it feels like Jalen Ramsey is starting to make a very serious bid as the best player in the draft. If Tennessee thinks Ramsey has the chance to be the cornerback/safety/condor that many analysts do, the appeal of keeping Marcus Mariota clean shouldn't be enough to scare them off from the Florida State star. Tennessee finished 24th in pass defense DVOA a season ago, has a need at both cornerback and safety, and could be well served by a player like Ramsey.
4. What, exactly, is wrong with Josh Doctson? Less than a month out from the Super Bowl, I'm still in the early stages of really getting to know all this year's top prospects. But from what I've seen with Josh Doctson, I'm running out of reasons this guy shouldn't go in the top half of the first round. The former TCU receiver had 79 catches for 1,327 yards and 14(!) touchdowns in 11 games this season, he was the most physically gifted receiver at this year's combine, and his tape is full of catches that just shouldn't happen. He comes down with everything, contested or not, and many of those plays required last-second reactions and adjustments that few receivers can even imagine making. Flexibility is a trait I've increasingly come to value in receivers. On top of otherworldly tools, it's what makes Martavis Bryant terrifying. And along with possibly being Spider Man, it's what has sent DeAndre Hopkins into the upper echelon of NFL stars. Doctson has it in bulk, and I have a feeling a team near the back end of the first round is going to reap the benefits.
5. What if the Chargers—not Dallas—are the team that picks a quarterback of the future? Philip Rivers is still an excellent quarterback, and was just handed a new deal that runs through 2019, has $13.5 million in dead money after this season and includes a no-trade clause throughout. But there's still a way to piece together an argument for why San Diego should consider its future at No. 3:
a) Rivers is 34 years old and has expressed his trepidation about a move to Los Angeles, which still may be in the Chargers' future.
b) Much like the Cowboys and Romo, a healthy Rivers is usually enough to keep San Diego from the top of the draft. A rash of injuries and a set of terrible breaks (see Bell, Le'Veon) gave San Diego the third pick in the draft. As long as Rivers is playing, they may not be there again.
c) On the chance the Chargers do move to Los Angeles, a shiny new quarterback would be a selling point in a new market where they'd be fighting for attention with a team that employs Todd Gurley.
d) If I remember correctly, the Chargers already had a quarterback when they drafted Rivers and sat him on the bench for his first two seasons in San Diego. The situations were very different—Drew Brees was set to be a free agent in two years and was yet to become a star in the way that Rivers has been and still is—but the history does exist.
Not giving Rivers more protection or giving their defense more bite would be a hard sell in the short term. But many of the same arguments are being made for the Cowboys securing their post-Romo future could apply to San Diego. Shocking as it would be, the logic isn't impossible to follow.