How the Jets Landed Christian Hackenberg
The Penn State quarterback won over Todd Bowles & Co. during a secret workout in early April, but he still wasn't a sure thing. At the last minute, New York thought it would lose its man to his old college coach
FLORHAM PARK, N.J. — In late March, NFL agent Rich Rosa fielded a call from the Jets about setting up a workout with his client, Christian Hackenberg, the polarizing quarterback from Penn State. But the team had one non-negotiable condition: it would have to remain absolutely secret.
"The word that comes to mind is intensity, just the level of intensity that they wanted to make sure it was kept extremely quiet and that nobody knew it was going to happen," says Noel LaMontagne, Rosa's business partner at Compass Sports Advisors.
Mired in a contract stalemate with Ryan Fitzpatrick, the Jets' front office didn't want the New York media to anoint Hackenberg as the franchise's lifeline. On April 10, two weeks after the initial call, general manager Mike Maccagnan, head coach Todd Bowles, offensive coordinator Chan Gailey, quarterbacks coach Kevin Patullo, and two scouts drove to State College to conduct the workout at Penn State's indoor football facility. The Jets delegation worked out the young quarterback for an hour, testing him on the aspects of the pro-style offense that weren't a part of the Nittany Lions' shotgun spread offense for the past two seasons.
One of the criticisms of Hackenberg is that he can't make quick throws under pressure. So Jets coaches sped things up and put him through quick-release passing drills. They tested to see if he could throw off balance, watched his footwork closely, and put him in scenarios that they hadn't seen on his game film. "It was about getting a really good feel for the way they are going to coach me going forward," Hackenberg says.
After the workout, the group grabbed an early lunch at Happy Valley Brewery, a popular spot in State College. Rosa and LaMontagne had suggested the group stay at Penn State's facility, where they could remain completely private, but the Jets risked the possibility of being seen with Hackenberg in public. "They said, 'No, we want him in a natural setting. We want to see him in football, but we want to see him as a person, too,' " LaMontagne says. Hackenberg made easy conversation with Gailey about the Masters, which was playing out on the bar's TVs. (Gailey is an avid golfer; Hackenberg is just picking up the game.) Because it was early for lunch on a Sunday, the Jets coaches went unnoticed at the restaurant. 
The pressing need for this trip to Penn State was to spend quality time with Hackenberg, and to settle the controversy of his up-and-down college career. As a true freshman, Hackenberg mastered Bill O'Brien's pro-style offense. But after O'Brien left to coach the Texans, Hackenberg struggled with accuracy in Franklin's shotgun system, throwing more interceptions (15) than touchdowns (12) as a sophomore, and finishing with a 53.5% completion rate his junior year in 2015.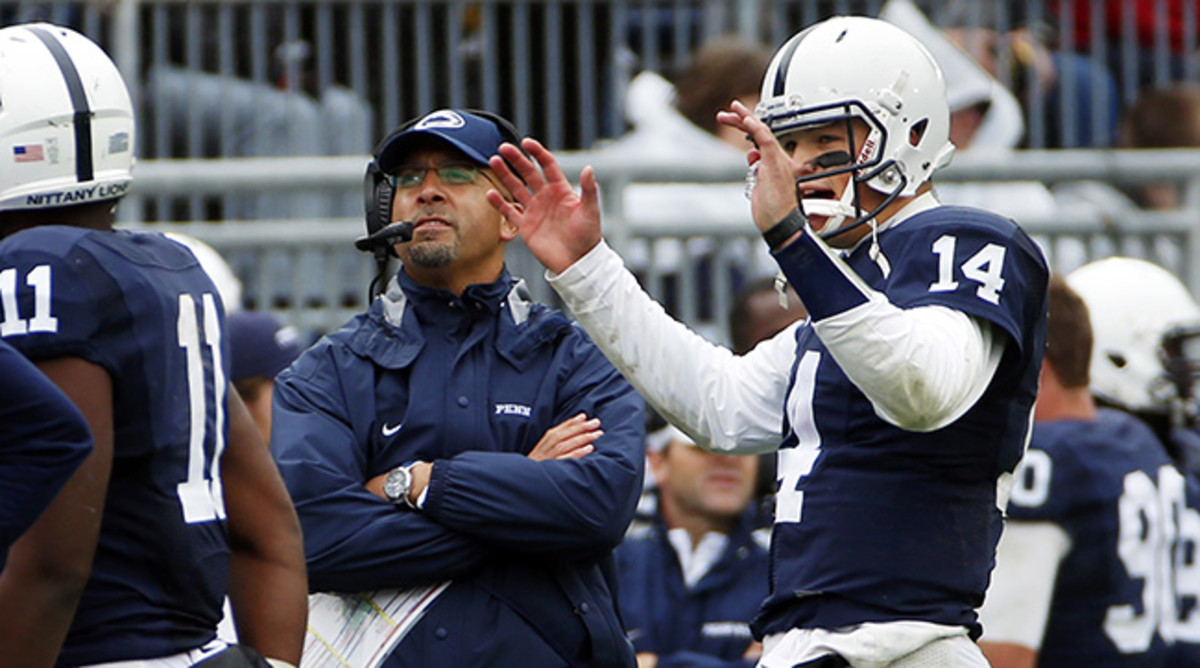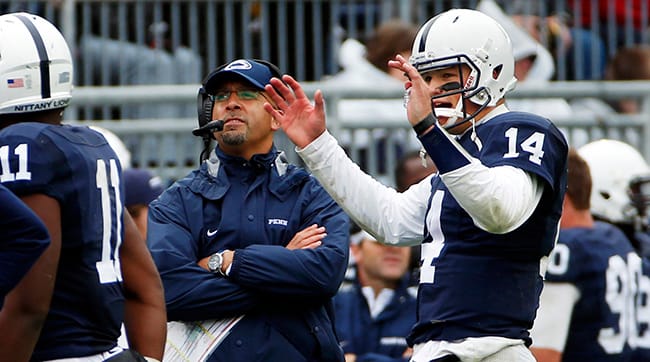 As part of the evaluation process, Bowles wanted to hear Hackenberg explain his challenges with the coaching change, in order put to rest any concerns about his coachability. "I definitely needed to hear from him and hear what his thought process was and how he went through changing cultures and different coordinators in a system," Bowles says. "He was forthright with everything, he understood that he has things he needs to work on, he acknowledged the coaching changes and he tried to do well in both systems. He admitted that he had some bad games but he also had some very good games, so I was very impressed with the way he presented himself."
O'Brien, who remains close with Hackenberg, says the Texans also gave his former charge a high draft grade. "Christian is big and strong and throws a good football," O'Brien says. "He's shown the ability to overcome adversity. It's hard to evaluate his career. There was a coaching change, and he had to adapt. Now, I watched a lot of his film [from 2014 and 2015], and I saw some bad plays, like people talk about. But I saw a lot of good plays too. We had him evaluated as a really good quarterback prospect."
Hackenberg also worked out for Philadelphia, Cleveland, Washington and Dallas. The Eagles were the only other team that kept its workout under wraps to the degree that New York did. "It was more than what you would normally experience from your average, everyday pre-draft workout," LaMontagne says. "You can never read too much into that stuff, because there are always the smoke screens and the games that are being played for the right [draft] position, but sometimes things just feel a little bit different. And there were plenty of red flags, or green flags, depending on your perspective."
According to Rosa, Hackenberg's stock began to rise about two weeks before the draft. "The last couple of weeks he really gained momentum, because the more he got in front of teams, whether it be a private workout or a visit, they got to see how much he loves football and the passion he has for it," he said. "He is a tough kid and he took a beating the last two years and it never fazed him."
Three days after the workout at Penn State, Hackenberg visited the Jets facility in Florham Park, N.J. "I had a very productive conversation with Mike [Maccagnan] after his workout and they felt very strongly about him as a player and his development," Rosa said. And Hackenberg himself thought the workout and visit went smoothly. "I had a really good vibe coming from the Jets," he said.
* * *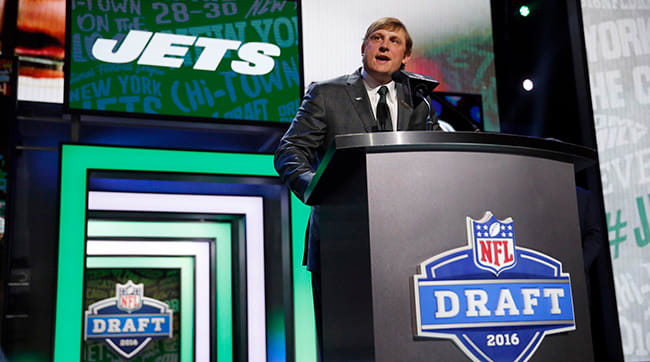 When the Texans traded up two spots to jump ahead of the Jets to pick at No. 50, New York management held their breath. Was this an O'Brien play to rekindle the flame with his one-season-sensation? "The thought did cross our mind," Maccagnan said Friday night after the second and third rounds wrapped up.
Meanwhile, at home in Palmyra, Virginia, Hackenberg thought it was Houston calling him at 8:45 p.m. Hackenberg was in his backyard playing a game of cornhole with his private quarterback coach Jordan Palmer (Carson Palmer's younger brother) and LaMontagne, when his mom ran out the back door and whistled for her son to come inside and pick up his phone. "We walked up the steps of the deck behind him and we're thinking that he is going to Houston," LaMontagne says. "He is going to be a Texan, this is awesome, he's back with Bill. And then Houston ends up picking a center and Jordan and I look at each other and simultaneously, we're like what the f-- , what just happened? Are we witnessing a Mohamed Sanu moment here?"
Drafted by Cincinnati in the third round of the 2012 draft, current Falcons receiver Sanu was the target of a practical joke in the first round. As the Bengals were getting ready to make the 27th pick, Sanu received a phone call. It was a prank caller pretending to be Cincinnati personnel welcoming him to the team. Sanu, his family and his agents all fell for it. But Hackenberg wasn't the butt of a joke; the Jets were on the line. Unsettled at quarterback, it wasn't surprising that New York drafted their ninth quarterback in the past 11 years, a league-high and their fourth for a fourth straight year. But Maccagnan refused to acknowledge the obvious implications of the message sent by spending a valuable second-round pick on the most heavily scrutinized quarterback of this draft. "I wouldn't classify him [as a starter or as a developmental quarterback]," he said. "Every player you take you would like to think they will be a starter. Even if you take a right guard in the second round, you still are going to have the same intention that you think he could be a starting-caliber player. I don't think there is a standard that you have to fall into."
• THE HACKENBERG RIDDLE: Jenny Vrentas on NFL teams attempt to answer the question, who is the real Christian Hackenberg?
AFC East rival Buffalo expressed as much interest in Hackenberg as the Jets did, Rosa said. Though the Bills didn't work him out privately, they attended Penn State's pro day and remained interested in Hackenberg throughout the process. Buffalo wanted to pick a quarterback, but weren't willing to use a high pick on the position. The Bills ended up making their quarterback pick in the fourth round (Cardale Jones).
With the addition of Hackenberg, the Jets now have three backup quarterbacks, including Geno Smith and 2015 fourth-round selection Bryce Petty. But no starter. The team has drawn a line in the sand with Ryan Fitzpatrick's contract, and although Maccagnan has insisted that drafting Hackenberg does not affect the team's goal to resign Fitzpatrick, the underlying message is clear: Fitzpatrick is a bridge, and Hackenberg is waiting in the wings.
Since taking over before the 2015 season, Maccagnan has balanced his strategy between winning now and building for the future. Even though the Jets GM has made big free-agent signings (Darrelle Revis, Matt Forte), the Hackenberg pick proves this front office doesn't view their current roster as an immediate Super Bowl contender. If they did, they wouldn't have spent a second-round pick on a quarterback and they'd be willing to devote significant money to Fitzpatrick's contract.
Maccagnan has a best-player-available draft philosophy, and at No. 51, Hackenberg was in the highest-rated group still on the Jets draft board—a prospect whom the decision-makers viewed, for all his flaws, as a solid kid with a high ceiling. The Jets weren't locked in at the quarterback position with their second-round choice, but of those players rated highest, Hackenberg had the most potential.
"There is a learning curve," Bowles said. "When we picked Leonard [Williams] last year, we had Mo [Wilkerson], Sheldon [Richardson] and Snacks [Harrison]. We knew he wasn't going to come in and start right away. It's no different this year. We picked the best player at the spot and it just happened to be a quarterback."
Gailey will be charged with helping Hackenberg reach his "high ceiling' and O'Brien thinks he's in good hands to do that. "It's a great spot for him," O'Brien says. "I coached for Gailey one year at Georgia Tech, and that's a perfect coach for him to learn from. Chan's a very patient guy. Good teacher."
With the Hackenberg pick, the Jets' quarterback situation is now even more unsettled. But one thing is certain: Of the four quarterbacks, only one has a guaranteed spot on the 2016 roster, and that's Hackenberg. 
• Question or comment? Email us at talkback@themmqb.com