Straight Talk, Homey
Relaxed and rested on a tropical island, Randy Moss took a break from teaching Turks and Caicos youths about football to talk about that ESPN rumor, the catch rule and why everyone should leave Laremy Tunsil alone
Four years removed from his playing days, Randy Moss is keeping himself busy in retirement. While the football world waits for official word on whether the budding TV analyst will join ESPN this fall, Moss, 39, is staying busy this summer teaching football to local children at a resort in the Turks and Caicos Islands. The MMQB caught up with Moss (over the phone, sadly, not at the beach) to talk about his future, the catch rule, how the league should treat marijuana and much more.
KAHLER: Right now you're coaching kids at the Turks and Caicos Islands American Football Academy, hosted by Grace Bay Club. How did you get involved teaching football to kids in Turks and Caicos?
MOSS: I've been coming here for five years for vacation with my wife. She loves the islands, she loves the people and the food. Last time I was here, I met a gentleman by the name of Ryan Jones, and he had an affiliation with and had played in the NFL. I heard that he was bringing American football to the islands. I was really intrigued by it. The more you look around the world, you understand that soccer is the number one sport. So I went to a football game here that day. There was a great turnout. The kids enjoyed it, and the coaches looked like they were having fun. They really want to know about American football and that is a sport that has paved the way for me and my family. I have been blessed in many ways to be able to play in the NFL. I wanted to be able to try to give back. I wanted to bring a few guys over here to help. Vince Wilfork and Aqib Talib are out here with me. It's two-and-a-half weeks before training camp starts, so I wanted to give the guys a place to relax and bring their families and enjoy a vacation, but at the same, do a little bit of working out and teach a little football.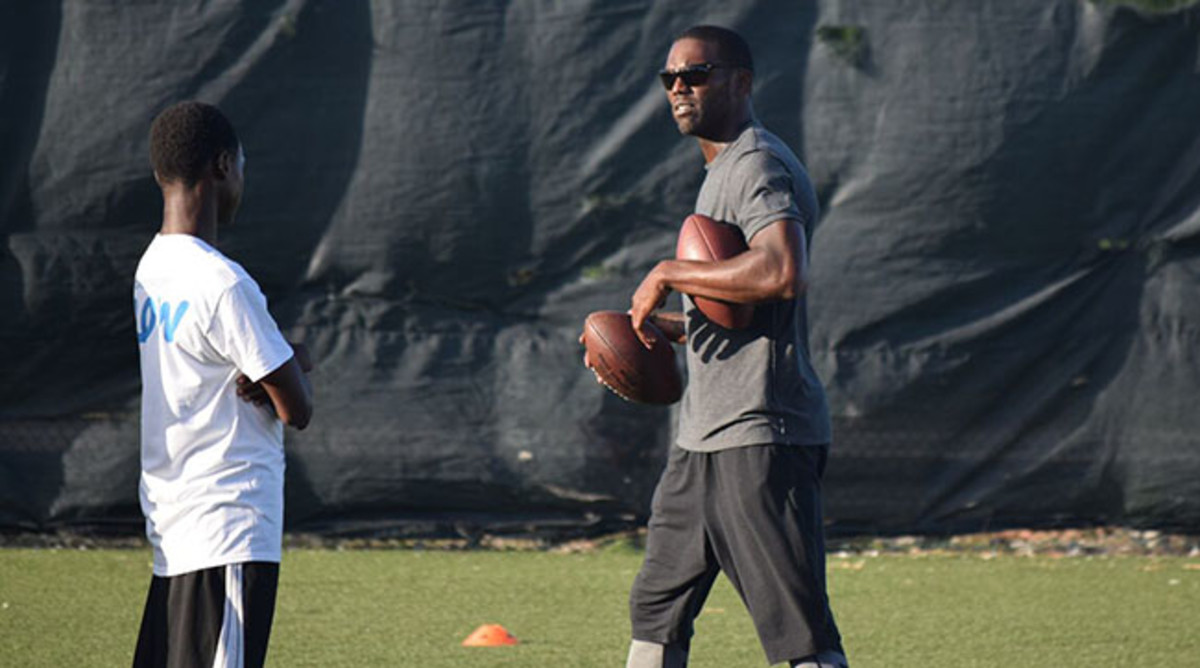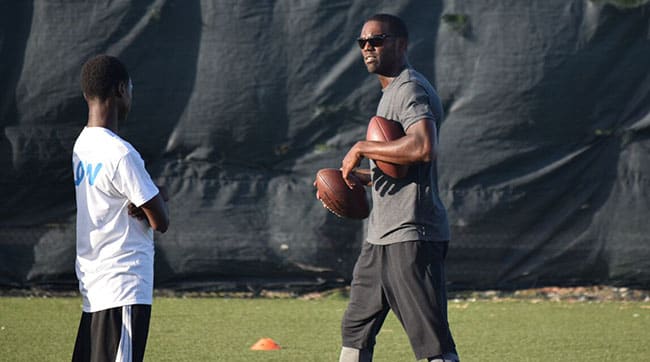 KAHLER: Is American football catching on in Turks and Caicos?
MOSS: Oh yeah, all the kids will holler, "Marshawn Lynch" and "Russell Wilson" and "Colin Kaepernick." The kids love the guys, they really love American football. The residents here on the island are football fanatics, too. There isn't just one team people root for on this island. Everywhere I go they ask me about the Cowboys, the Steelers, the Dolphins, the Saints. There are a lot of football fans here.
• A DAY WITH JARED ODRICK IN CANADA'S COUNTER-CULTURE: Ride shotgun as the Jags defensive end takes The MMQB through his non-traditional offseason routine in Toronto
KAHLER: There are reports that claim you will be leaving Fox Sports for ESPN's Sunday Countdown program. Is there any truth to those rumors?
MOSS: As of right now, I don't know everything that is really going on. There's really no contract in place. As of right now, everything is really preliminary, but if things could work out for me to be on ESPN, it would mean I would continue to be around the game. I love the game of football, I've been playing since I was 6 years old and now that I am retired and not really into it physically, it's all about the mental part of it now. It's just coaching and teaching the game.
KAHLER: You were open about your marijuana usage as a player; you had one positive drug test, and had some off-field problems with it. Marijuana use among NFL players is a hot topic right now, with retired and active players speaking out in support of allowing it. Do you think the NFL should remove marijuana from its list of banned substances?
MOSS: I think the NFL just needs to loosen up the rules and let everybody live.
I don't know what [Tunsil] was smoking in the video on social media, but he wasn't hurting nobody. He was just doing it to himself. That's not a character issue.
KAHLER: Do you think an NFL player will ever negotiate a fully guaranteed contract, like an NBA player contract? Should the NFLPA should try to negotiate for this in the next CBA?
MOSS: I think when you are dealing with the NBA and you are dealing with MLB, they don't have that many guys to account for. When you are dealing with the NFL, you are dealing with [53 men on the roster]. If you are going to guarantee one man's contract, that means you have to guarantee everybody's contract. I think the game is still cool with guaranteeing your signing bonus and getting as much money as you can and then playing out the remaining years of your contract to get the remainder of your money. I think if you start guaranteeing everyone's contract it will start to become a problem because guys get hurt and guys have problems. When you are dealing with [53 men on the roster]​ and guaranteeing everyone's contract, that's when it becomes a problem. I think if it's not broke, then don't fix it. There are a lot of changes going on right now and I think from a business standpoint, there are some things that need to be changed, but not guaranteeing contracts. Signing bonuses are the way to get your money.
• WHY COMPARING CONTRACTS ACROSS SPORTS DOESN'T WORK: An NFLPA executive explains why it's a fool's errand to look at NBA free agency through an NFL lens
KAHLER: You consulted with the NFL's Catch Rule Committee this offseason, alongside Cris Carter, Steve Largent, Fred Biletnikoff, Tim Brown, Jordy Nelson and Chad Lewis. Were the discussions productive to create a simpler catch rule?
MOSS: I really think the people who are involved in the decision-making process, those guys might not have played before or understand the wide receiver position. So why not go out and get help and talk to some of the guys that caught balls as their profession. They asked me to sit in on a couple meetings and give a little bit of input. I looked at some of the catches and no-catches with them. It was a great experience for me to be able to help out the game just a little bit more. Did he get his two feet down? Did he hold onto the ball long enough for it to be ruled a fumble? When you have those type of decisions to make, I think that's why they decided to get input from the guys who did it for such a long time. I was appreciative to be considered to come and give that input.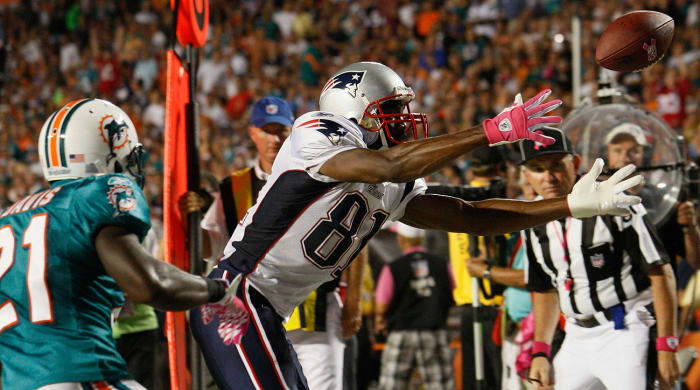 KAHLER: How would you define a catch?
MOSS: I think it is carrying a catch all the way to the ground. The ball doesn't move, the ball doesn't hit the ground. You carry the ball all the way until you get up off the ground. If the ball is moving, or if the ball hits the ground, or if you are getting up without the ball, that's not a catch. There are a lot of questions going on about that, and I would honestly think that the people that should be helping out with that are the guys who caught balls. That's why I joined the Catch Rule Committee and listened to what was going on. Everybody has their own answer of what a catch should be. I say, secure the ball, if the ball is not moving, it's a dead ball, simple as that.
KAHLER: When you were drafted in 1998 you were a "character issues" guy because of your off-field problems. There are "character issue" draft prospects every year, like Laremy Tunsil this past April. How much do you think character issues should influence a team looking to draft a player?
MOSS: My definition of "character issues" is based on if a guy is hurting his teammates. I think when you are caught on camera smoking something or slamming a six-pack of beer, that's not a character issue. I think if a guy is out there driving under the influence, beating women or doing something that will really hurt others, that's where you have to be able to draw the line. I don't know what [Tunsil] was smoking in the video on social media, but he wasn't hurting nobody. He was just doing it to himself. So people are calling that a character issue? That's not a character issue; the young man is just being himself. There are a lot worse things out there that people can put on social media. I think the impact is based on hurting anybody else and putting anybody else's life at risk. There are certain things where you have to draw the line. But there is going to be something new every year, so get ready for this story for next year.
KAHLER: Last week in wake of the deadly attack on Dallas police and the shootings of Alton Sterling and Philando Castille, Carmelo Anthony posted on Instagram a message to all fellow professional athletes to "step up and take charge" and not worry about losing endorsement deals. Do you agree with Carmelo's take?
MOSS: I'm a little different than guys like Carmelo. I was born and raised in rural West Virginia, so when it comes to voicing your opinion or standing up for your community, that is something I have always stood for my whole life. So Carmelo isn't talking to me. I know who I am and I know what I do, I know what I represent in my community. I think that when you see the comment from Carmelo Anthony, I think others do need to take heed from it and understand really what is going on. I'm not talking just about the race factor; there's a lot going on out there other than the race thing. I think what Carmelo was getting to is that a lot of these black athletes are out there making a lot of money and doing a lot of things, but when it comes to situations like these, they go run and hide. I definitely understand where he is coming from, but he wasn't talking to me.
KAHLER: Who is most exciting receiver in the league today?
MOSS: I think it could probably be… Oh man, the best receiver in the league all-around right now is Antonio Brown. I think he is the number one receiver in the league right now. I think you also have to look at Julio Jones and Dez Bryant; those guys are a little bit above the rest of the crew. I'm also a big, big fan of Larry Fitzgerald and he is still drinking that fountain of youth water. He's still out there playing. I am more into the old school guy than I am with the new school guys. I came in young and I had to pay my dues to be considered a vet. To be able to play for over 10 years at wide receiver, that's why I like looking at the older guys like Larry Fitzgerald, Teddy Ginn Jr., Brian Hartline. That's what I'm about. The old guys who are still able to compete with the young generation and teach the younger generation.
• THE ANDREW LUCK BOOK CLUB: The Colts QB explains how his passion for pages led to him sharing books with teammates and eventually starting an eponymous online book club
KAHLER: Speaking of the younger generation, who is the rookie receiver with the most potential?
MOSS: I like the pickup that the Minnesota Vikings made in Laquon Treadwell because he has a quarterback in Teddy Bridgewater. Sometimes you have to look at the quarterback, because there could be a wide receiver who goes to a team where the quarterback may not be that good in terms of arm strength. And sometimes a quarterback may go to a team where the wide receivers really aren't that good. But I think when you look at Laquon Treadwell going to Minnesota, that's a good situation. Teddy Bridgewater is going into his third season, and he's had his feet wet a little bit and has the ability to understand how to move the ball down the field. I am definitely waiting to see how that is going to play out.
KAHLER: What is the method to Bill Belichick's madness?
MOSS: Do your job, be the best at whatever your job description is.
KAHLER: This season Cam Newton got a lot of hate from NFL fans and media for dancing and dabbing after scoring. You also have some experience with criticism for excessive celebration, pretending to moon fans in Green Bay. What do you think of criticism for celebrations?
MOSS: I think the business side of it is taking the fun away from the players. When I came to the game, there were crazy celebrations and then Chad Ochocinco took it to another level with the props and antics. I think now when this younger generation of ballplayers see us celebrating, they say, "Oh, that looks sweet, I want to do that!" Because they can't do it in high school, and they can't do it in college. So when players get to the league, they've been waiting that whole time to celebrate and spike the ball and bust a move. It's one of the little things that comes with being a professional athlete. Those guys have been waiting their whole lives to come on Monday Night Football and showcase their talent and have fun doing it. That's why you saw the crazy antics of me and Ochocinco and Terrell Owens. There's nothing that I take back.
KAHLER: How frustrating was it to lose two NFC Championship Games during your Vikings career?
MOSS: At the time when I was a player I definitely was affected by it because you want to win every game, and I am very competitive in nature. Now that I look back and see how things played out, I had a 14-year career, and I've seen how players come and go, so now I just look back and smile. I had a good run.
KAHLER: In 2001, you said, "I play when I want to play." You caught a lot of criticism from players and coaches for the attitude that quote conveyed. Looking back, do you think that quote had a negative impact on the rest of your career?
MOSS: Not too many people have beaten the odds. And I am one of the ones that has beaten the odds. So any words that I have said or anything like that, that speaks for itself.
KAHLER: Do you still hate the Cowboys?
MOSS: No, I don't hate anybody. When I played, I disliked the Cowboys and now I am just a fan of the game. I hope Tony Romo can get healthy and give Dez Bryant a whole football season as his quarterback. I like the Cowboys, I like Dez Bryant, I like how they drafted. I am anxious to see how the Cowboys will come out this year.
KAHLER: Do fans still come up to you and say, Straight cash, homey?
MOSS: Yeah, that's just something you get used to. I've always said, I take the good and the bad, anything I've ever done that was bad I've owned up to it. Anything that happened that was good, I owned up to it. I've always been the type of athlete who takes the good and the bad.
• Question or comment? Email us at talkback@themmqb.com.