Jacoby Brissett and the Tale of One Snap
Here's the unlikely story of how Bill Parcells, a mentor to the Patriots' rookie quarterback, bestowed Brissett with a nickname that foretold his future. Plus how teams rank after Week 2
Bill Parcells has known Jacoby Brissett since the Patriots rookie quarterback was a Florida teen just old enough to drive. But for the past five months, Parcells hasn't addressed Brissett by his first name. No, when they exchange text messages, the legendary coach calls Brissett a nickname, of sorts: "One Snap."
Yes, that's right. "Hey, One Snap," sounds kind of funny, but don't tell that to Parcells.
"Oh, no. No. We are not making light of that," Parcells said in a scolding tone during a phone conversation Monday. "That's a message. He understood it. I was trying to put his ears up like a German Shepherd. Put your ears up; you are only one snap from playing. Sure enough, it happened."
In Brissett's case, that one snap was Jimmy Garoppolo crashing to the turf on his throwing shoulder while being hit by Miami linebacker Kiko Alonso Sunday afternoon. Until Garoppolo is healthy enough to play, or Tom Brady's four-game suspension ends—whichever comes first—the vaunted job of Patriots QB has fallen to the third-string rookie.
Parcells was at the Giants-Saints game at MetLife Stadium on Sunday when on a nearby TV he caught a glimpse of Brissett taking the field for New England. As hard as it might be to imagine Parcells saying this, he immediately felt like an "expectant father." The Hall of Fame coach is something of an NFL godfather for Brissett and a line of pro-caliber football players to come out of Dwyer High School in Palm Beach Gardens, Fla. Parcells spends the winters in nearby Jupiter, and the pro at his golf club is the father-in-law of Dwyer's football coach, Jack Daniels. Or, as Parcells explains it, "I am a football guy, so I like football, so I go around where football is."
​Brissett won a Florida state championship for Dwyer, but Parcells was drawn to the young QB for reasons other than his strong arm. "He is tremendously dedicated, tremendously committed and he is smart," Parcells said. He followed Brissett's college career, first at Florida, and then after he transferred to North Carolina State. This spring, Parcells advised Brissett during the months leading up to the draft. A couple times a month, they'd meet for lunch and review his schedule of team visits. Before Brissett's pre-draft visit with New England, Daniels remembers Parcells telling the QB that he better be ready to be drilled on every little thing about his college film.
The fact that Bill Belichick, Parcells' defensive coordinator on his two Giants championship teams, used his No. 91 draft pick on a player his old boss has known for seven or eight years is no accident. But far be it from either one to share the details of those conversations. Before Belichick even got Brissett in the building, Parcells had already instilled in him a similar way of thinking. No commercials, no trade shows, Parcells told him. Your only job is to learn the offense.
• MONDAY MORNING QB: Peter King on Sam Bradford's storybook start, five thoughts on Patriots QB situation and much more from Week 2
It was a surreal sight Sunday to watch not Tom Brady, and not even Jimmy Garoppolo, calling out the Patriots play calls in the huddle. After so much focus this summer on if they could win with Garoppolo, now they're looking at trying to winning a game with Brissett. The Patriots are the least personnel-dependent team in the league, making it look so easy to win without their first-ballot Hall Of Fame quarterback, that you can almost forget it's not easy at all.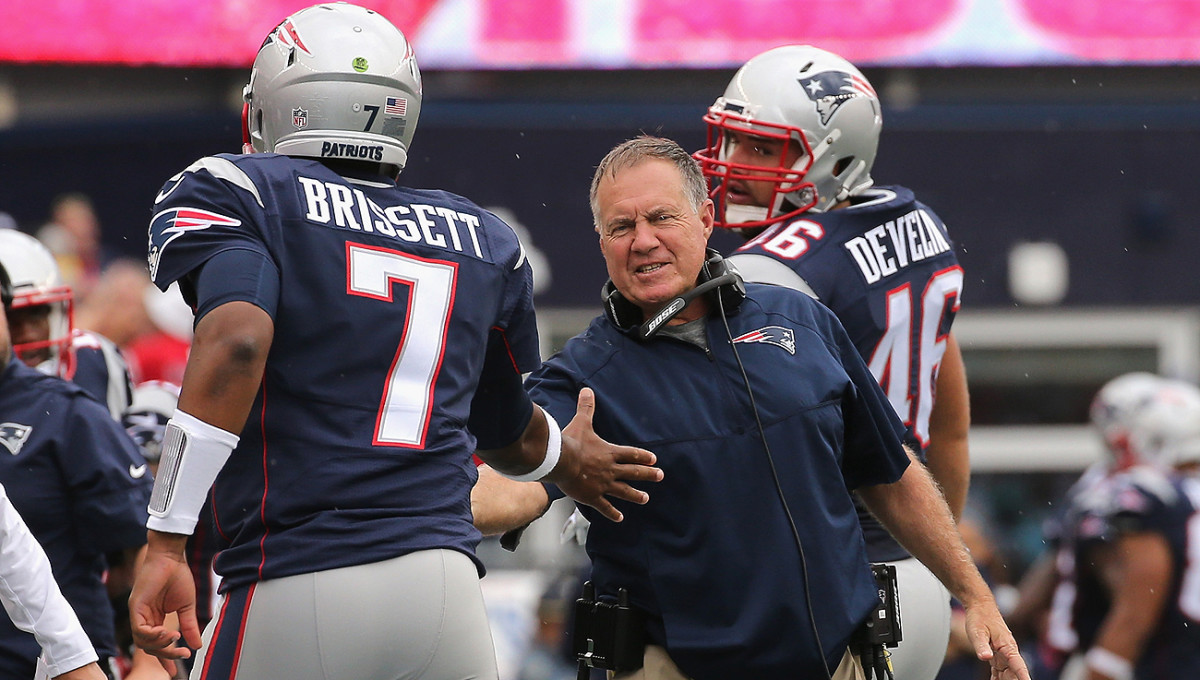 On Sunday, the Patriots had already built a 21-0 lead when Garoppolo was injured. With Brissett in the game, they called 25 run plays and 11 pass plays, leaning on running back LeGarrette Blount and high-percentage throws like screens. The Dolphins staged a late rally, but New England held on for a 31-24 win. This week, Brissett will get to prepare as a starter. Though for Thursday night games, there's really not much of a practice week.
"I certainly wish he had more time to ingest the material," Parcells said. "The keys are always the same keys. Do your work. Do your preparation. Try to comprehend the plan of attack that the coaches have laid out for you and make sure that you have an understanding, to the best of your ability on a short week and your first time around the league and not much experience playing, to give yourself the best chance to be successful, knowing full well it probably won't go smoothly right away."
• BRAINS BEHIND THE BRO: Andy Benoit on why Rob Gronkowski isn't just the best tight end in the game—he's the smartest
Parcells already feels like he's said too much. He does not want to infringe on another coach's territory. He's just a guy with a rooting interest and butterflies in his stomach. And, a pretty acute understanding of what young One Snap is up against come Thursday night.
"I am glad that he is with Bill Belichick," Parcells said. "Because I know that gives him the best chance for success. I'm not going into an exposé about that. I'm just telling you I'm glad he is there, and I think Bill gives him an excellent opportunity to be successful."
* * *
NFL Reputation Update
You may recall that in May, a Congressional report dealt another blow to the NFL's reputation in handling the critical health and safety issues surrounding the game of football. The report, completed by Democratic members of the House Committee on Energy and Commerce, strongly rebuked the NFL for "improperly influencing" the awarding of a $30 million unrestricted grant for research into the link between head trauma and long-term neurodegenerative issues. Well, last week, a report by the Republican staff of the Committee painted a different picture, concluding that "there is little evidence" that anyone from or affiliated with the league acted on behalf of a specific team or research grant application. In addition, Richard Ellenbogen, co-chair of the NFL's Head, Neck and Spine Committee, was cleared in a separate investigation by the University of Washington—where he is a department chair in the School of Medicine—that looked into his role in the improper influence the Democratic staff report has alleged.
• THE MMQB 100: The complete list of people who will shape the upcoming NFL season
The Republican staff report, signed by the chairman of the committee, Rep. Fred Upton of Michigan, referred the matter to the Office of Inspector General for further review, stating that they don't have all the facts to reach conclusions about how the grant money was handled. Without all those facts, the media shouldn't make conclusions, either.  
* * *
The Fine 15
1. New England (2-0). Last Week: 1. All eyes will be on Brissett but more important to the Pats' season goals is how the defense responds after letting the Fins claw back into the game last week.
• THE ALBERT BREER PODCAST: Subscribe on iTunes and get the latest from Week 2
2. Pittsburgh (2-0). LW: 2. Ross Cockrell bottled up A.J. Green. Who woulda thunk?
3. Carolina (1-1). LW: 3. Cam Newton's performance was almost as eye-catching as his post-game hat.
4. Arizona (1-1). LW: 4. "We should have had 50, you know?" Bruce Arians reamed his team after a Week 1 loss. He didn't sound much happier after a big Week 2 win. Expectations are high in the desert.
• GASE GETTING EVERYTHING RIGHT, EXCEPT THE RECORD: Andy Benoit examines the Dolphins' start under their new head coach
5. Denver (2-0). LW: 5.Lawrence Taylor was the last defensive player to win MVP in 1986. (Just making a note, for future reference.)
6. Minnesota (2-0). LW: Not Ranked. Vikings fans, I take a mulligan on this one. I put too much stock last week into the uncertainty about how quickly Sam Bradford could get ready to lead this offense. I put too little stock into how good of coaches Mike Zimmer and his staff are.
7. Green Bay (1-1). LW: 6. Went into this season expecting the Packers offense to be more like 2014 than 2015. But something's still off.
• FOOTBALL LIFESTYLE: Dominic Bonvissuto on The MMQB-Homage T-shirt collaboration and the best gear from NFL Color Rush collection
8. Giants (2-0). LW: 9.Here's a great stat that illustrates the Giants defensive turnaround, courtesy of Newsday reporter Tom Rock: The longest play against the Giants defense so far this season has been 23 yards. They are the only team in the NFL that hasn't allowed a pass play of 30 or more yards.
9. Cincinnati (1-1). LW: 8.Slow start for the Bengals offense this season. And next up is the best defense in the league.
10. Baltimore (2-0). LW: 10.Hard to tell how good this team is after two ugly wins. But this is the Ravens' first 2-0 start since 2009.
11. Seattle (1-1). LW: 7. There are big questions on the offensive line. And no clear answers.
12. Houston (2-0). LW: 13.The Texans are all about taking steps forward from last season. Beating a team that bested them twice last year was a good benchmark.
13. Jets (1-1). LW: NR. That was that really good version of Ryan Fitzpatrick we tend to see early in the season. Now he's gotta keep up that level of play.
14. Chiefs (1-1). LW: 11.The Chiefs could use a jolt. Jamaal Charles, eyeing a Week 3 return, could be just that.
15. Philadelphia (2-0). LW: NR. Sure, their two wins came against two bad teams, but you have to like what you see from Wentz and Pederson.
Also receiving consideration: 16. Dallas (1-1); 17: Atlanta (1-1), 18: Oakland (1-1), 19. Tampa Bay (1-1), 20. (Detroit 1-1).
• Question or comment? Email us at talkback@themmqb.com.